June 8, 2016 at 7:15 pm EDT | by Staff reports
It's all Pride, all the time this weekend in D.C.
Capital Pride returns for another year with a slew of events to "Make Magic Happen," the 2016 Pride theme. Some are official Capital Pride-sanctioned events while others dovetail with the festivities. Full details on all official events are at capitalpride.org.
Friday, June 10
"Sixth in the City Shabbat: National Pride Edition," a Shabbat service, is at Sixth and I Synagogue (600 I St., N.W.) is this evening at 6:30 p.m. Cocktails begin at 6:30 p.m., service is 7:15 p.m. and dinner is at 8:30 p.m.
The Fourth annual D.C. Front Runners Pride Run 5K with Capital Pride begins at Congressional Cemetery (1801 E St., S.E.) tonight at 7 p.m. The timed 5K race concludes with a Finish Line Party with a live DJ, beer and awards. Registration is required.
Leslie Jordan Live! is tonight with shows at 7 and 9 p.m. at Studio Theatre (1501 14th St., N.W.) in a show presented by the Washington Blade. Tickets for the 9 p.m. show may still be available at washingtonblade.com.
Brightest Young Things presents Hex: the Abracadablous Opening Party at Dock 5 at Union Market (1309 Fifth St., N.E.) tonight from 8:30 p.m.-2 a.m. DJ Gring and DJ Lisa Moody will play music. Thorgy Thor from "RuPaul's Drag Race," Pussy Noir, Team Peaches, Pepper Mashay, the Hairy Otter Go-Go Squad and more will make appearances. Tickets are $25.
Saturday, June 11
Crack of Noon, the parade day brunch, is at the Urbana inside Kimpton Hotel Palomar (2121 P St., N.W.) today from noon-3 p.m. with special guest actor Leslie Jordan. A gourmet buffet will be served with complimentary mimosas and bellinis. Tickets are $100.
The Pride Parade is today from 4:30-7:30 p.m. The parade route runs from 22nd and P streets through Dupont Circle and 17th Street, through the Logan Circle neighborhood and ends at 14th Street corridor at S Street. Leslie Jordan will be the grand marshal. Businesses, Capital Pride Heroes and Engendered Spirit awardees, politicians, community groups, drag queens and more will make appearances.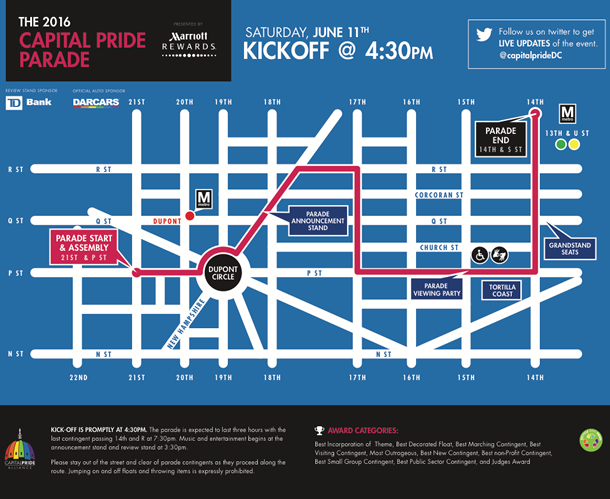 A youth dance is tonight from 6-10 p.m. at National City Christian Church (5 Thomas Circle, N.W.).
The FUSE Women's Party is tonight from 9 p.m.-3 a.m. at Howard Theatre (620 T St., N.W.). Tickets are $15 for this 21-and-up event.
The Distrkt C Men's Party is tonight from 10:30 p.m.-6 a.m. at the D.C. Eagle (3701 Benning Rd., N.E.) with DJs Mark DeMarko and Manny Lehman. Details atdistrict.com.
Sunday, June 12
Cherry Fund & Capital Pride after hours team up for an early morning dance from 3-9 a.m. this morning at Flash (645 Florida Ave., N.W.). Details at cherryfund.org.
The 41st annual Pride Festival is on Sunday, June 12 at Pennsylvania Ave., N.W. between 3rd and 7th streets. About 300 exhibitors showcasing community groups, national sponsors, local businesses, food vendors and more will be displayed. There will be concerts on three stages featuring local performers and national headlining acts. Meghan Trainor, Charlie Puth, Melanie Martinez and Alex Newell are scheduled to perform at the Pride Concert presented by Hot 99.5 today from 1-9:45 p.m. Admission to the festival is free. Exhibit hours are from noon-7 p.m. See schedule below.
"Mother of Dragons," Pride's Official Closing Party is at Cobalt (1639 R St., N.W.) on Sunday, June 12 from 10 p.m.-2 a.m. Tickets will be available at the door.
Capitol Concert Stage (3rd & Pennsylvania) 

1 p.m.

Gay Men's Chorus of Washington

Michele Raymond Band

Wicked Jezebel

Hot 99.5's Drag Queen Divas


2 p.m.

D.C. Front Runners

Ella Fitzgerald

Alex Newell (headliner)


3 p.m.

D.C. Cowboys

Freddie's Follies

Melanie Martinez (headliner)


4 p.m.

Kristina Kelly & the Cobalt Cast

Signature Theater's "Le Cage Aux Folles"

Naomi Smalls "Rupaul's Drag Race" 2016 Finalist


5 p.m.

Team Peaches

EnKore Dance Company

Bob the Drag Queen "RuPaul's Drag Race"  2016 Winner


6 p.m.

Charlie Puth (headliner)


7 p.m.

Meghan Trainor (headliner)


8 p.m.

Capitol Sunset Dance Party with DJ Tracy Young
Monument Festival Stage (6th & Constitution) 

12:30 p.m.

DJ Andre Gutarra


1 p.m.

Shadina

D.C. Different Drummers

Joey Salinas

Drag Cabaret

Da Dollhouze

DJ Andre Gutarra


2 p.m.

Crys Matthews

Billy Winn

Drag Cabaret

Chocolate City


3 p.m.

D.C. Gurly Show

DJ Nick Ayler

D.C. Front Runners

Shadina

Aflocentric


4 p.m.

Oasis Dance Company

Tori WhoDat

Drag Cabaret

Data Recovery Project


5 p.m.

Dolo Fergari

Matthew Jay Kelly

DJ Nick Ayler

Showtyme Soul

Siren

Drag Cabaret


6 p.m.

Drag Cabaret

Sub-Radio

Fire in the River
Dupont Dance Tent (6th & Pennsylvania)

Noon

DJ Jill Jack


1 p.m.

DJ Sean Morris


2 p.m.

DJ Nick Ayler


3 p.m.

DJ Sidekick


4 p.m.

DJ Tim Jackson


4:30 p.m.

DJ Rosie


5:15 p.m.

DJ Keenan Orr


6 p.m.

Madscience