October 20, 2016 at 5:55 pm EDT | by Staff reports
Best of Gay D.C. 2016: MEDIA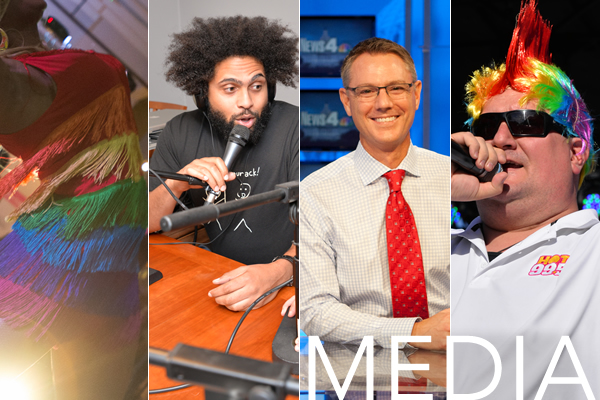 Best Local Blog
Brightest Young Things
Runner-up: DCist
Best Local Podcast
JellyVision
Runner-up: C.L.I.T. by Lezlink
"The JellyVision Show" combines humor with creative entrepreneurship co-hosted by standup comedian Tim Trueheart and Jennifer Crawford, also known as Jelly.
Crawford says she came up for the idea of the podcast in 2010 while running her own creative co-working space. Visual artists, performing artists and writers were coming to work on projects and Crawford was amazed by the level of creativity.
"If you weren't in the building, you weren't in the building," Crawford says. "So I thought if we had a podcast we could expose people who weren't coming into our building to these people that we were meeting every day. We could interview them and if just a few people tuned in it was a few people who didn't know these creative entrepreneurs beforehand. It was really just an experiment."
The experiment turned into a real project once Crawford's business closed. Saddened, she and Trueheart, with whom she had improvised in a theater troupe for years, decided to keep the podcast going.
Now the podcast is recorded from Crawford's dining room every Monday with episodes released on most podcast platforms, including iTunes and Google Play, weekly. The podcast now rakes in 5,000-7,000 downloads per month.
Crawford notes the podcast isn't about how to become a millionaire, but how to live a lifestyle that incorporates doing what you love.
"But we wanted to bring an entertainment value to the table," Crawford says, "so we throw in some fart jokes along the way." (Mariah Cooper)
Best Local Twitter Feed
@DCHOMOS
"News, noise, food, sports, art, charity, fashion, TV, film, happy thoughts, all things LGBT+DC."
(Second consecutive win in this category)
Runner-up: @alexmorash
Best Local TV Personality
Chuck Bell, NBC 4
(2015 runner-up; 2014 winner in this category)
Runner-up: Kidd O'Shea, ABC 7
Best Radio Station
Hot 99.5
"D.C.'s No. 1 hit music station and home of 'The Kane Show.'"
(Second consecutive win in this category)
Runner-up: WAMU 88.5
To see winners in other categories in the Washington Blade's Best of Gay D.C. 2016 Awards, click here.