Us Helping Us leader tells of 25 years in AIDS work
Longtime advocate Ron Simmons to retire in December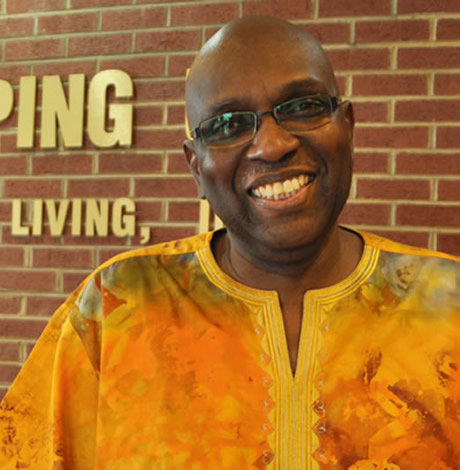 Ron Simmons, executive director and CEO of the D.C. AIDS service organization Us Helping Us, People Into Living, was honored for his 25 years of service with the organization during its annual fundraising gala on Oct. 29.
Simmons has been credited with playing a key role in transforming Us Helping Us from a volunteer support group for black gay men with HIV in 1992 into a nationally recognized health and wellness center with 27 full-time employees and an annual budget of $2.5 million.
In August, Simmons, who holds a doctorate degree in communications from Howard University, announced he would retire at the end of December.
In an interview with the Washington Blade, Simmons told of how his lifelong quest for social justice, including culturally sensitive HIV prevention efforts for LGBT African Americans, had its roots in his years as a student activist in the 1970s.
While attending the State University of New York at Albany, Simmons said he immersed himself in the early gay rights and the anti-Vietnam War movements while working on his bachelor's degree in Afro American Studies and separate master's degrees in African History and Educational Communications.
"Well Stonewall was in '69 and I was 19 in '69," Simmons said. "And I had just really come out in college. And then we had the student strike in 1970, which really changed me profoundly," he said. "It opened my eyes as an activist. I was involved with the student strike."
He was referring to the eruption of student protests following President Richard Nixon's decision to escalate the Vietnam War by ordering U.S. troops to invade Cambodia. A short time later, National Guard troops shot and killed four students and wounded nine others during an anti-war protest at Kent State University in Ohio, triggering more student protests and strikes, or the boycotting of classes, at college campuses across the country.
Simmons moved to D.C. in 1980 to begin his doctorate studies at Howard. Five years later, unbeknownst to Simmons, the Rev. Rainy Cheeks and activist Prem Deben founded Us Helping Us as a support group for black gay men with HIV. Its founding came at a time often described as the dark days of the AIDS epidemic, when an HIV diagnosis was viewed as a death sentence because no effective medical treatment had been developed.
As a gay man with HIV, Simmons has said he joined and began attending the Us Helping Us support group in March 1991, a development he has called "life changing." At the time he was an assistant professor at Howard and was being urged by friends to begin treatment with AZT, an early AIDS drug that had debilitating side effects that activists have said often hastened the death of AIDS patients.
"At the time basically no one, no black organization, was telling people with HIV that they could live," said Simmons. "Everyone was saying you're going to die. Us Helping Us was the only black agency that said you can live with this disease."
Lacking an effective drug to treat people with HIV, Cheeks and Deben developed what they called a holistic regimen of nutrition, stress management, meditation, and exercise.
"I thought it was incredible," said Simmons, who joined the group as a volunteer after completing a 12-week introduction to the regimen.
"It was a cultural based group," he said. "Every week that they came they learned something else about how to preserve their health by looking at the body, the mind and the spirit," he said. "And then for the last part we talked about the issues about the experience of self that we need to look at in order to live with HIV."
He said he rejected the advice of friends to begin treatment with AZT, a decision that may have saved his life, Simmons said. He notes that he is among the people who became HIV positive in the early years who lived to benefit from the availability of life-saving AIDS drugs that emerged in the middle to late 1990s.
"I remember friends of mine dying every seven to 10 days," he said. "Now that we're down to a pill a day I think it's incredible. And I am on these drugs. I started taking medications in 2003. So I swear by them."
Simmons tells of how Cheeks persuaded him to become Us Helping Us's first executive director in 1992 after Simmons lost his teaching job at Howard.
Simmons was honored Oct. 29, at the Us Helping Us annual event called A Passion for Living, A Celebratory Night of Giving at the University of the District of Columbia's Student Center Ballroom.
Marvin Bowser, D.C. Mayor Muriel Bowser's brother, read a proclamation at the event issued by Mayor Bowser declaring Oct. 29 Ron Simmons Day in the District of Columbia.
Simmons gives a first-hand account of his life's journey before and after his tenure at Us Helping Us in his interview with the Blade, which follows.
Blade: Let's start with where you are from and where you were born and raised. You've said before that you're from Brooklyn, N.Y.?
Simmons: Yes, Brownsville.
Blade: Did you go to high school in Brooklyn?
Simmons: Yes, I went to Franklin Delano Roosevelt High School – FDR High School.
Blade: Your resume shows you went to the State University of New York at Albany for your undergraduate degree?
Simmons: Yes, I graduated in 1972 and I went back there in '77 for my masters.
Blade: What year did you graduate from high school?
Simmons: I graduated from high school in 1968. I went to college. I graduated in 1972. Then I worked for the Newark, New Jersey Board of Education. I was the public relations man for the superintendent of schools.
Blade: So you went back to Albany for your masters?
Simmons: Yes, MA in history and an MS in educational communications
Blade: When did you move to Washington?
Simmons: 1980 – the summer of 1980 in August.
Blade: Was it a short time later that you went to Howard University for your Ph.D.?
Simmons: I came to D.C. to get my Ph.D. from Howard. So basically I came here in August and I was in class like the last week of August. So I did that. I was going for my doctorate and I was a teaching assistant. I taught like two classes a week. And then in 1986 they hired me full time. I hadn't finished my doctorate yet. I finished my doctorate in '87. And after I finished my doctorate they hired me as an assistant professor and I was in for another five years.
Blade: You said you became an activist during your student years in Albany?
Simmons: Yeah. In my senior year – I did my college yearbook. I was the editor in chief of the yearbook. And it was quite controversial. In fact someone told me it was denounced on the floor of the New York State Senate the day it came out.
Blade: Why was that?
Simmons: Because it was very controversial. It had a gay section. It had a section about the Vietnam War. The section on the Vietnam War had a surprise climax that a lot of people didn't like.
Blade: Was the tone of it against the war?
Simmons: Oh yeah. It was very much against the war.  There was this picture taken of two Vietnamese soldiers holding up two severed heads. I don't know if you ever saw that…And this guy, this solider was holding up two severed heads.
And so when I talked about the whole war section I put in this picture from a book called Vietnam Incorporated. So I had pictures of the soldiers with themselves relaxing. Then I had pictures of the horrors of the war. And it ended with that shot of the guy holding the severed head. And it said something like if this makes you uncomfortable you can imagine how they feel.
And then when you flip the page it's the same guy with the two heads but you see it cropped. They were the same pictures three times on the page. By the time you get to the last one it's cropped down to just a square of the severed head. Then when you flip it over the senior section starts with all the senior pictures and the severed head runs through the middle row. A lot of people were upset by that.
But a lot of people loved it. Kurt Vonnegut said that he thought it was really cool.
Blade: Were you active in other student activities?
Simmons: Yeah. Well frankly the yearbook pretty much consumed my senior year because it was a lot of work, a lot of writing. But I was involved with the gay group.
Blade: Wasn't that in the early years for having student gay groups? Did it start right after Stonewall?
Simmons: Right. Well Stonewall was in '69. And I was 19 in '69. And I had just really come out in college. And then we had the student strike of 1970, which really changed me profoundly. That's when I really became open minded. It opened my eyes as an activist. I was involved with the student strike.
Blade: That was against the Vietnam War, wasn't it?
Simmons: Right, when Nixon invaded Cambodia all hell broke loose. And so campuses around the country were going out on strike.
Blade: And then Kent State happened, right?
Simmons: Right. Yes, Kent State happened. All of that – the whole turbulent time – and it really forced you – well it forced me to grow up in a lot of ways because after we shut down the university we reopened it the next day after we got the faculty to agree to stop the semester, give everybody a pass-fail grade, right? That was maybe in April or so. We reopened the school and we had what we called liberation classes. There were classes about the Vietnam War.
That was when I really became an activist and began to appreciate what was involved in being an activist. It also made me a much better student.
And after the yearbook I wanted to outdo myself. And I started doing a column for the student newspaper that was written from the perspective of a black gay male. I think that was the first time in history that was ever done. That's what someone told me. But anyway it was a column called Faggot Tales. It was a takeoff on fairytales.
Blade: Did you actually call it Faggot Tales?
Simmons: Yes, Faggot Tales. And needless to say it was really controversial. The gay students hated it. The black students hated it. But it was really a funny column.
It was very controversial. I guess the most controversial essay I wrote was a column on cruising campus tea rooms for gay sex.
Blade: Oh boy.
Simmons: Yes, it was really funny because I found this out of the way bathroom that I didn't even know existed…Then I said next thing we're going to talk about how to seduce the faculty or how to get As to replace their Bs.
So that was the article. The local newspaper in the city of Troy, the Troy Record – it was their lead editorial — they called it quote, and I love this, they called it the most vile and disgusting thing they ever read about homosexualism. Oh my God, homosexualism.
Blade: Did the college administration allow the columns to continue?
Simmons: They couldn't stop us the same way they couldn't stop the yearbook. The yearbook had a photo of a girl that looked like she was committing felatio. Now she was eating a hot dog, but I cropped it so it looked like she was doing felatio. And the publisher, or the printer, they wrote back and said I had to get faculty approval for them to do that.
But as part of the student strike of 1970 when all hell was breaking loose the compromise was that we would come back and be good but we would get rid of the faculty overseeing student activities. So the faculty person who normally would have overseen the yearbook to make sure it was good and clean, we got rid of them.
Blade: What was your reason and rationale for the highly controversial content in the college yearbook and your column in the student newspaper at Albany State?
Simmons: Part of it was my protesting of what I thought was an unjust system. The whole thing about the Vietnam section in the yearbook, which was around the time of the student strike, was that here we were at this beautiful campus going to school as if nothing was wrong and people were being killed through our taxpayer's money and our brothers 6,000 miles away. So in essence it was bringing the war home so people could see there was a whole other reality going on.
So that was why I did it. Looking back I think I would probably do it again because I think I had to make that point. The yearbook was dedicated to what I called the silent majority, and I said that includes blacks, homosexuals, prisoners, and poor people. That's where I was coming from.
Blade: What about the student newspaper column Faggot Tales?
Simmons: I thought of it as a clever take-off on fairytales. I thought it was hysterical. And of course the gay students just had a fit. And the fact that I was black the black kids had a fit too.
Blade: Could you have been way ahead of your time, with young LGBT people now insisting on using the term Queer to describe themselves?
Simmons: Well yes. But part of that was also part of the black cultural expression of taking back the term [N-word]. Back in the '60s the issue was whites call us that and so we can't use it. And some would say no, take possession of it and define it for what it is. It's the whole question of taking ownership of your term so you can define it. I'm not saying I think that way per se. But that's how I thought at that time when I was like 23 years old.
Blade: Can you tell a little about what you did in D.C. after you moved here in 1980?
The first time I came to D.C. was for the first Third World Gay Conference that was held the same week as the gay march, and that was in 1979. And that was profound. And that also introduced me to D.C.
Blade: Was that held in conjunction with the 1979 gay march?
Simmons: Well it was held during the same time. The march did not organize it but – Billy Jones. You know Billy Jones.

Blade: Sure.
Simmons: Billy Jones and the D.C. Coalition of Black Gays and Lesbians – they said since people would be coming to D.C. from all over the country for that weekend, why don't we have a third world gay conference. So they put on the conference. It was held at the Harambee House, the hotel near the Howard campus. About 400 people came from all over – black, Latino, Native American. People came from Mexico. Some came from Canada. It was maybe half men, half women. It was incredible because none of us had seen anything like that. It was the first time something like that had been done. It was historic.
So I got to know D.C. people. I got to know Sidney Brinkley, who was doing Black Light [magazine] – that publication way back then. I met Billy Jones and people with the coalition. And I also met Essex Hemphill. And that's how he and I became friends. It was a black city where black people were in charge and the gay and lesbian community partied together.  And I was so impressed I said I've got to live here.   So I moved to D.C. a year later…
Blade: Your Ph.D. was in mass communications. What prompted you to focus on that?
Simmons: That's because that's what I wanted to learn. I wanted to become a TV producer and produce TV shows…It took me seven years to get my Ph.D. And that was because after I finished my class work in two and a half years and then I had to write my dissertation — what I wanted to do is become a TV producer. I didn't want to write a dissertation.
So I got involved with the Howard TV station. At that time I was working as a teaching assistant, then eventually as an instructor in the Radio, TV and Film Department. So I was so busy having fun between teaching my classes and doing video production that I forgot about the dissertation…
Blade: You've said in the past that Us Helping Us founder, Rev. Rainy Cheeks, invited you to be the executive director in 1992.
Simmons: Yes, he wanted me to volunteer as the executive director. And I told him no because I was teaching at Howard and I was this big time Dr. Simmons. I had a very swollen head.
Blade: At that time you had your Ph.D.?
Simmons: Yes, I had my Ph.D. I had been teaching with my Ph.D. at Howard for five years. I had been teaching for a total of 12 years, the last five of which I had my Ph.D. I was HIV positive and I had gone to Rainey's Us Helping Us support group that was meeting in Rainey's apartment. And I thought it was the best thing since sliced bread. I've talked about this in interviews in the past.
At the time basically no one, no black organization was telling people with HIV that they could live. Everyone was saying you're going to die. Us Helping Us was the only black agency that said you can live with this disease.
I thought it was incredible. And we taught people how to live with this disease. So I was with the 12-week support group. It was a cultural based group. Every week that they came they learned something else about how to preserve their health by looking at the body, the mind and the spirit. There was everything in terms of the body – about food and nutrition and herbs and water and exercise.
Then for the mind we'd talk about how to meditate and how to visualize and how to deal with mind by dialogue and how to deal with stress management. And then for the last part we talked about the issues about the experience of self that we need to look at in order to live with HIV. It was incredible.
Blade: And when was that?
Simmons: I joined the group in '91 and I became the head of it in '92.
So Rainy asked me if I would serve as the volunteer ED and I said no. He said OK, I'll pray on it. I said to myself you go pray all you want, honey, the answer is no, OK? Then a few months later Howard told me they were not going to renew my contract. After 12 years of teaching I was devastated.
Blade: Did Howard University give you a reason for not renewing your teaching contract?
Simmons: They said it was because I hadn't published enough. I think that was their excuse. But I wasn't going to contest it.
Blade: Your resume shows a lot of writings that you published.
Simmons: Yeah, I know. So basically they were upset that I was the official gay faculty person and the student newspaper had my picture on the front page as the first gay faculty. I heard they were talking about me in meetings among the faculty because, listen now, in the School of Communications there were faculty who were having Bible sessions in their offices when I'm showing videos of the gay march in my classroom. So it was just a matter of time.
Blade: So you went back to Rainey Cheeks?
Simmons: I needed someone to cry on. I called Rainey. Rainy said oh that's horrible. He said maybe now you can be the ED at Us Helping Us. And that was how it started.
Now none of us had a background in business. I didn't have an MBA. I didn't know anything about business or organizations. But I had an instinct. So I said Rainey the fact that we're telling people they can live with HIV at a time when doctors say no you cannot – that makes us look like quacks. So we really need a board of directors that will give us credibility. So we went to a bunch of people and said look we don't want you to give us any money. We just want you to be on our board, come to board meetings, and let us use your name.
So they said fine we'll do it. We had Robert Washington, the former commissioner of mental health for D.C. He was our board chair. We had Elizabeth Thompson, who was the director of the Mayor's Commission on Food, Nutrition and Health. She was on our Board of Directors. We had a social worker on our board of directors. We had two doctors on our Board of Directors. We had a minister too.
Basically we had a Board of Directors that gave us credibility so you couldn't just write us off. And since I had just done a dissertation I was good at writing grants. That was in '92. In '93 we got the board to agree to rent a two-bedroom house for our headquarters on L Street right around the corner from the Bachelor's Mill.
Then in '95 we got our first grant from the city, our first technical assistance grant. They asked me what do you want technical assistance in. Do you want board development, staff development, program development, or fiscal management? And I said I want fiscal management.
And that was when Barbara Prince came. Barbara Prince has been our comptroller since she came to us in '96 or so. She really has taken care of our finances in ways that I could not appreciate.
Blade: Is she an accountant?
Simmons: Yes, she's a CPA…So that was like 20 years ago that Barbara came to Us Helping Us. Between her keeping track of the money and my writing the grants grew Us Helping Us from a support group in Rainey's living room to what I think we are the oldest and the largest black gay AIDS organization in the world.
Blade: Have you seen the AIDS epidemic change significantly since you started at Us Helping Us?
Simmons: Definitely. People were dying. Like every seven to 10 days someone was dying.
Blade: This was before the new drugs were available?
Simmons: Yeah. The only drug they had was AZT and then I think they got something called D4T. I had done my research on AZT. And so I knew I would never take that shit. That drug made no sense. As you researched that drug you realized that it was crazy. AZT was originally developed as a cancer drug. But it was killing people so they put it on the shelf. For some reason they said maybe this will work for HIV. And so they gave it to people with HIV. And they were saying it may give you two more years of life.
I was saying, two more years of life? I want 30 or 40 years more of life. I don't want two years. So why would I take that shit? And as a cancer drug it stopped the body from reproducing cells because cancer cells were cells reproducing out of control. So it stopped the body from producing cells, but it stopped the entire body from producing cells. So my question was why would you give a drug like that to someone whose body can't make T-cells? If your T-cells are dropping, why give you something that stops the body from making cells? It made no sense. So I said I'm not going to touch it.
Friends of mine said oh please Ron, take it. You'll die if you don't take it. And I was like, one, I don't plan to die. And two, I don't want just two years of life. I want more than two years of life. And I feel fine now so why should I take this drug? Everyone who I saw took it looked worse when they took it than before. I was like, no?
Blade: Were they asking people who were HIV positive but who were yet sick to start taking it?
Simmons: No, I think at the beginning they didn't start asking you to take drugs until your T-cell count was below 200.
So anyway, now today we're down to one pill a day. That to me is incredible. I remember seeing people walking down the street with Kaposi's lesions all down their body. I remember friends of mine dying every seven to 10 days. Now that we're down to a pill a day I think it's incredible. And I am on these drugs. I started taking medications in 2003. So I swear by them.
So we stopped doing our holistic sick support group. Once they came out with protease inhibitors in '96 and '97 we felt conflicted because we knew the pills worked. And we knew the holistic approach didn't always work. Or it worked for some people for like five or 10 years and then it would stop working. So the question became are we doing a disservice if we continued to teach people a holistic approach to HIV when we now have pills  that can extend life 20, 30, to 50 years? And so we stopped our holistic support group at that point. We still have a support group for HIV positive men but now we urge them to get linked to care and get on the medication…
History of acquiring current building
Simmons: At that point we were using a widow-less room in the ICAN office, which was the Inner City AIDS Network. And Andre Scott, who I think was the associate ED – he was one of the original incorporators of Us Helping Us. They let us use a window-less room for a dollar a year. That was my first office with Rainey. Rainey had an old computer, a Tandy 800. That was our first word processor.
Blade: Are you talking about the early '90s?
Simmons: Yes, the early '90s. The first computer we purchased was a used Commodore 260. Remember those? So we started writing grants. I finally talked the board of directors into renting the house on L Street that Herb owned. So we moved to L Street.
Blade: Where was the ICAN building at that time?
Simmons: The ICAN building at that point was at 3rd and K, N.W. So they folded. And we moved to the house on L Street.
Blade: Do you mean near the Bachelor's Mill?
Simmons: Near the Bachelor's Mill at 809 L St. And that was our home for maybe three years. And we were happy there – our HIV positive support group. Everything was fine.
Then in '95 the Health Department came to me and said look, Ron, you're one of the best agencies we have.
So they said we would love to give you more money but we can't because you're only dealing with positive men. We deal every day with negative men. Would you consider expanding your mission to positive and negative men and start doing prevention work rather than just support services and care?  They said as a positive support group the most we can give you is $30,000. If you also dealt with prevention we could give you $100,000.
And I thought about that. I also thought about that if you're serious about reducing HIV among black gay men you can't be behind the curve only dealing with those who are positive. You need to get in front of the curve and deal with the negative so they don't become positive if you really want to deal with HIV. So to make a long story short, I went back to the board, we deliberated, we went back and forth and the board said ok let's do it. So we changed the mission to include negative men.
Our main headquarters was at 811 L St., S.E. And then we had the building at 809 L and then as we grew bigger and started getting more grants we had case management across the street on the first floor. Mental health services were up the block. The transgender job center was two blocks away. It was crazy. At one point we had six locations in a four block radius.
And so my staff was saying Ron we've got to get a building. And of course we didn't have any money for a building but I kept saying yes, fine…So I said you all go out and look for one and leave me alone.
They came back three days later and said we found it. I said you found it? They said we found it and you have to come and look at it. I said OK, OK. So the next day I looked at it. It was the building on Georgia Avenue.
It looked nothing like the way it looks now but I said this could work. It had a basement. It had offices in it…I looked at it and said you know this can really work. They wanted $475,000 for it. I went back to my board of directors and said I think we should look at buying this. That was one of the most cantankerous board meetings I ever had. One board member was like you've got to be crazy – buying a building when we don't have the money.
We had a lawyer come and look at our books and look at can we buy this building? The lawyers said yes we can buy it and that's the perfect spot to get it because they are going to redevelop Georgia Avenue. So you really should get it now…And they were right.
So we purchased the building. Remember how I said Barbara became instrumental? She came in and found the money for us to get the down payment.
Blade: You had enough revenue coming in the make the monthly mortgage payments?
Simmons: Yes, but that's another story and the genius of Barbara.
After we purchased that building in 2001 we went to the Washington AIDS Partnership because they were our first real funder. They looked at us as their favorite child because they gave me money for my salary when we were just in Rainey's living room. And they saw how we progressed.
So we drew it all up and we started a capital campaign.
Blade: Do you know how many square feet the building has?
Simmons: I think it's 66,000 square feet.
Blade: What's the address of your building?
Simmons: 3636 Georgia Ave., N.W. And it's in Ward 1.
Blade: Was Jim Graham helpful in dealing with the building?
Simmons: Yes, when Jim Graham was a Councilman. After we got the building and renovated and moved in Jim Graham called me and said I think I can get you some money for your building. He got me a half million dollars.
Blade: Did he mean money from the city?
Simmons: Yeah, from the city…I want to say it came from the Health Department. He gave us $500,000; we used $400,000 for our construction and $100,000 for our programs. He really helped us out. So I've always been thankful to Jim Graham for that.
So he said to me – David Catania, who was on the Council then – he said Us Helping Us went to Jim Graham to get some money. And I was like I can't believe he said that to me. So I said no, we didn't go to Jim Graham. Jim Graham came to us, and that's the difference. So I've always appreciated Jim Graham for that.
Blade: Can you tell a little about what Us Helping Us has been able to do with your clients and other things since moving into that building?
Simmons: So now we have like 10 different programs. We have a youth program for young men 18 to 29. That's at our satellite site in Hyattsville. And that's funded by the CDC. We've had that now for five years and the guys are doing tremendous stuff. We're testing about 3,000 persons a year because we now have a mobile testing van. In fact, the AIDS Healthcare Foundation just gave us $15,000 to buy a new van because we had a big two unit van but it didn't have running water. And we do HIV testing as well as STD screening. So we screen for everything from syphilis and gonorhea to chlamydia and hepatitis C.
But to do some of those screenings you need to have running water. So we had to get a van that had running water. And we needed $15,000 and the AIDS Healthcare Foundation helped us out. And they gave us $15,000. We are shopping for it as we speak – a brand new van with running water.
We now have a program for HIV-positive women that we're really proud of and it's doing great work. Historically, D.C. used us to do the early research on transgender people in 2000.
Jessica Xavier was lobbying the city to start doing research on the needs of transgender people and HIV. They said fine, we'll do it but since you're not in business we can't give you the money. So they said we're going to give the money to Us Helping Us and Us Helping Us will subcontract with you to do the study and that we'll subcontract with Jessica.
Once she did that study and we gave it to the health department then they could say we need to fund an HIV prevention program for transgender people because clearly we have found a problem. We have evidence that there is a problem.
So they then gave us money to open the first transgender drop in center and Earline Budd was the head of our center. And we had that for like two years.
Then when the women at the center decided to form their own organization called Transgender Health Empowerment – remember them?
Blade: Yes.
Simmons: So we said OK, fine. So then the Health Department came to us and said OK, they want to start their own organization. We're going to give you money to give them technical assistance. We want you to get them incorporated. We want you to give them board training and there was one other thing. We gave them board training. And they became their own organization.
So since we did that we didn't want to compete with them for money so we purposely said we would not seek any transgender funding because we wanted it all to go to Transgender Health Empowerment. And that's what happened. But as you probably know, a few years ago Transgender Health Empowerment collapsed.
Blade: Yes, they went bankrupt.
Simmons: Yes. So transgender people have been coming to us asking about when we are going to start doing something again. So we're looking at it.
Our staff is now having a staff meeting for strategic planning. We're looking at it. We've started to do some programming for transgender people again. We don't have a drop in center but we're definitely looking to do it because there is a need.
Blade: The write-up released by Us Helping Us about your retirement says the budget is now $2.4 million. Is that about right?
Simmons: It's $2.5 million.
Blade: And we see that there might have been a little bit of a shortfall in 2014 based on the most recent 990 form?
Simmons: Yes, yes. The way it is we may be short but that's common for a non-profit. There are years when we come in in the black and years when we come in in the red. I think last year – because we just got our 2015 audit – and we sent it to the bank and the bank said it looks really good. But the May 2016 doesn't look as good. So in a non-profit business where we're really grant dependent – and that's one of the things about Us Helping Us.
And I will admit it. The biggest weakness for Us Helping Us is about 85 percent of our money is government funded, which is bad news because if Donald Trump wins we could go bankrupt overnight. So whoever comes to take my place – and both the board and I have told the search firm – we said whoever you bring in they're going to need to know how to bring in unrestricted dollars.
Ideally you want to have 50 percent of your money coming in unrestricted and 50 percent coming from the government. We have very little unrestricted money. And that's one of the reasons we end up often times – not always but often times – with having a shortfall because government money is highly restricted. It only pays for certain things. And you end up with other things that the government will not pay for and thus you have to find money to pay for it and if you don't find it you end up with a shortfall.
I'm good at writing grants but I'm not good at asking people for money. Give me a 200 page grant that will make me a couple of million dollars and I'm in heaven. I like writing those kinds of grants — the bigger the better. A hundred seventy-five pages, 200 pages – no problem. But asking someone to give me 50 bucks – particularly if I don't like the person's politics – it's really hard for me to do that.
And the new person to replace me is going to have to be really good at that.
Blade: At this point about how many clients does Us Helping Us have?
Simmons: We serve about 3,000 people a year. I think we have about 80 people in case management. For the youth group we have four paid staff over there plus we have volunteers.
Blade: The write-up announcing your retirement says Us Help Us currently has 27 full-time employees. Is that correct?
Simmons: Yes, 27 full-time and about six part-time. We have a couple of vacancies and we have my vacancy that's coming up. But also our group manager of prevention – we are looking to fill that too. We're taking resumes for that. I think that's it that we're hiring for.
Blade: Some people might want to know what's next for you after retirement. Do you plan to stay in the D.C. area?
Simmons: Oh yeah. I'm going to stay in the D.C. area. I can't afford to leave my house. I can't afford to buy a house in D.C. So now I've got to hold onto what I've got.
So what do I plan to do? First thing I definitely want to write my book. I've wanted to write my memoir for many years now. I have so many stories to tell – about Us Helping Us, my early days in Washington, D.C., about hanging out with Essex Hemphill and Marlin Riggs and doing the film Tongues Untied and helping write the book Brother to Brother – all that stuff. So I definitely want to do a book.
There are two other things I want to do. One is I want to do an intervention, an HIV intervention for young black gay men 18 to 24 who are sexually naïve. And I'm working on that now.
The third thing is I plan to do more international work. I've been invited to be a part of the international steering committee for the International Conference on AIDS in Africa. Africa has its own AIDS conference. A lot of people don't know this. And it's sponsored by the Society of AIDS in Africa. I think they do it every two years.
I met them when I went to South Africa in July for the World AIDS Conference. And they asked me if I would be on the Steering Committee. And I said yes I would love to. So I'm going to Ketuvah in the end of November for the first meeting because their conference will be in December of 2017. So the first meeting of the steering committee is going to be Ketuvah, West Africa in the end of November. So I'm trying to get my Visas and my shots for that because I'm really excited about that.
So those are my three things – my memoir, developing this intervention, and beginning to do international work. And my life has been one where just fate will happen. So who knows what will come in my lap that I'll also be doing.
Blade: Thanks so much, Ron.
Simmons: Thank you.
IDAHOBiT events to promote intersectionality, resilience, allyship
HRC president to participate in virtual panel in Canada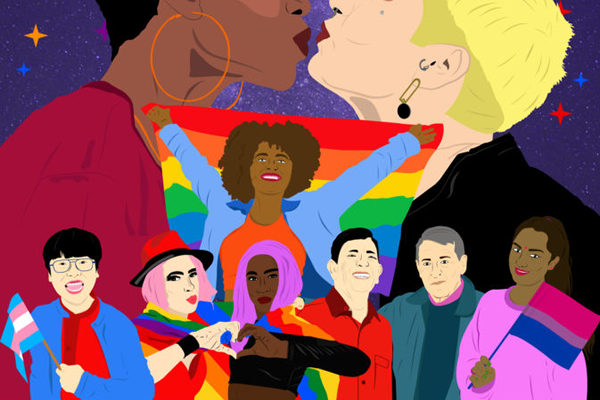 Intersectionality, resilience and allyship are among the themes that this year's International Day Against Homophobia, Biphobia and Transphobia events will highlight.
Dignity Network Canada and the Black Coalition for AIDS Prevention on May 17 will hold a virtual panel that will feature Human Rights Campaign President Alphonso David, Canadian Center for Gender and Sexual Diversity Executive Director Debbie Owusu-Akyeeah, Kaleidoscope Trust Executive Director Phyll Opoku-Gyimah, COC Nederland Executive Director Marie Ricardo and Rainbow Railroad Executive Director Kimahli Powell. The British High Commission and the Dutch Embassy in Canada have co-sponsored the event.
"We hope that this will be a really interesting and important conversation on intersectionality and transnational solidarity — and what it means for these leaders and their organizations during these times," reads a description of the event.
The U.N. LGBTI Core Group on May 17 will host a virtual IDAHOBiT event that will focus on ways to develop an "inclusive and diverse post-pandemic world." The World Bank Group, the International Monetary Fund, the European Bank for Reconstruction and Development, the Inter-American and Asian Development Banks host a similar IDAHOBiT commemoration.
"In order to heal from the economic, social, and public health dire impact the pandemic has had and still has, every plan of recovery must take into account a human-rights based, intersectional and gender responsive approach that addresses the specific needs of LGBTI persons in order not to leave them further behind," reads a description of the U.N. LGBTI Core Group event.
Several Russian LGBTQ rights groups on May 17 will hold a "Vaccine for Acceptance" event that seeks to bolster allyship in the country.
Retired South Africa Constitutional Court Justice Edwin Cameron on May 16 will moderate a virtual panel that will focus on religion and anti-LGBTQ violence.
Workplace Pride and the Dutch Embassy in Budapest on May 17 will host a symposium on LGBTQ-inclusive workplaces in Hungary. M.V. Lee Badgett, an economics professor at the University of Massachusetts, on the same day will participate in a webinar the U.S. Embassy in Singapore is hosting with Oogachaga, a local LGBTQ advocacy group.
Haver Srbija, a Serbian NGO, on May 15-16 will hold Falafel, a film festival that seeks to build "bridges and promotes Israeli, Jewish and LGBTQI culture and communities" and highlight "various social issues in the context of the fight against prejudice, discrimination, anti-Semitism, homophobia and xenophobia and encourages the audience to develop critical thinking on the issue of these topics." Proud Lebanon is slated to hold a series of six webinars between May 17-22 that will focus on feminism, LGBTQ rights and other topics.
The National Center for Sexual Education in Cuba will hold a series of virtual forums and other events through the month to commemorate IDAHOBiT.
CENESEX Director Mariela Castro, whose father is former Cuban President Raúl Castro, during a May 4 press conference in Havana said the IDAHOBiT events are part of the process of amending the country's family code to make it more equitable for LGBTQ Cubans. Mariela Castro said a bill to amend it will be introduced in the Cuban Parliament in July.
"I was able to appreciate that the majority of the population … is in favor of recognizing the rights of LGBTI+ people and especially the rights in the family sphere that include the possibility, the option, of marriage," said Mariela Castro during the press conference, according to Tremenda Nota, the Washington Blade's media partner in Cuba.
IDAHOBiT commemorates the World Health Organization's 1990 decision to declassify homosexuality as a mental disorder.
This year's events will take place against the backdrop of a pandemic that continues to exacerbate existing inequalities for LGBTQ people and other vulnerable groups around the world.
Consensual same-sex sexual relations remain criminalized in dozens of countries. Violence based on gender identity and sexual orientation remains rampant in the U.S. and throughout the world.
Mixed reviews from transgender Republicans on Caitlyn Jenner's run
Remarks on kids in sport a sore point among LGBTQ advocacy groups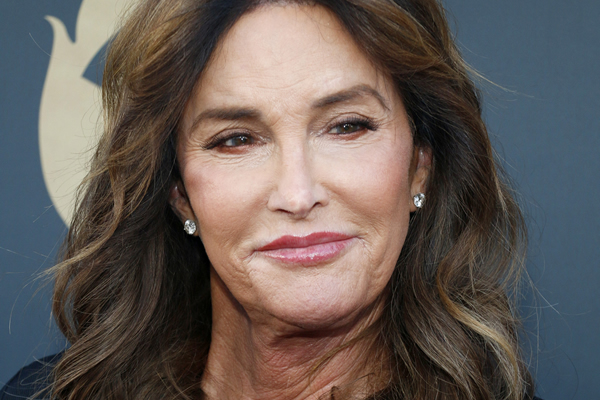 Caitlyn Jenner was quickly repudiated by LGBTQ advocates after she entered California's recall election as a gubernatorial candidate — and her fellow transgender Republicans are mixed over whether or not to back her up.
Transgender Republicans are few in number, but some are in high-profile positions and have been working with their party to change its approach and drop its attacks on transgender people, whether it be in the military, public bathrooms, or school sports.
Jordan Evans, a Charlton, Mass.-based transgender Republican who unsuccessfully last year ran to become a Massachusetts Republican State Committee Woman, told the Washington Blade she had high hopes for Jenner as a fellow transgender candidate, but they were quickly dashed after her campaign launched.
"My feelings changed quickly after Caitlyn made it clear that she was less interested in using this opportunity to present the Republican Party and conservative movements with an accessible and high-profile introduction to the trans community and simply wanted to be a trans woman who espoused the same destructive approaches that we just so happen to be seeing all over the country," Evans said.
Evans said the high hopes she had were based on the transgender advocacy she said Jenner was doing behind the scenes and the potential for two prominent LGBTQ Republicans to run for governor in California. After all, Jenner may soon be joined in the race by Richard Grenell, who was U.S. ambassador to Germany and acting director of national intelligence before becoming the face of LGBTQ outreach for Trump's failed re-election.
But Jenner's approach to the gubernatorial recall in California, Evans said, is "putting trans youth at risk for a campaign that isn't even transformative for Republicans during this volatile time."
"Even her current messaging is superficial and does nothing to help dispel claims that she's unqualified," Evans said. "The only positive thing that I've seen come from this is conservative mainstream media using her correct pronouns, but that is not worth the damage that she's inflicting."
Much of the disappointment over Jenner's campaign is the result of her essentially throwing transgender kids under the bus as part of her campaign at a time when state legislatures are advancing legislation against them, including the bills that would essentially bar transgender girls from participating in school sports.
Jenner, declining to push back on these measures and assert transgender kids have a place in sports, instead essentially endorsed the bills shortly after she announced her candidacy.
"If you're born as a biological boy, you shouldn't be allowed to compete in girls' sports," Jenner told TMZ, which asked her about the hot-button issue during a Sunday morning coffee run.
Jenner dug deeper into MAGA-world at the expense of solidarity with the transgender community. Last week, Jenner retweeted Jenna Ellis, who has a notoriously anti-LGBTQ background and was criticized just last year for refusing to use the personal pronouns of Rachel Levine, who's now assistant secretary of health and the first openly transgender presidential appointee to win Senate confirmation.
Jennifer Williams, a New Jersey-based transgender Republican who unsuccessfully ran for a seat in the New Jersey General Assembly last year, said via email Jenner "did much good for several years by educating millions of people around the world about transgender folks," but won't countenance the candidate's remarks on transgender kids in sports.
"In regard to her current run for California governor, her recent comments regarding transgender youth playing sports are confusing," Williams said. "Just last year, she said that she supported transgender female athletes. Caitlyn should consult with tennis great Billie Jean King, soccer star Megan Rapinoe or WNBA legend Candace Parker on the subject of transgender athletes in women's sports, as they are very well versed on the matter."
At a time when state legislatures are pushing through legislation targeting transgender youth, restricting their access to sports and transition-related care, Jenner's refusal to repudiate those measures has become a focal point for opposition to her candidacy from LGBTQ advocacy groups, who say she's "out of touch" (although none were supporting her even before she made those comments).
The LGBTQ Victory Fund, which supports LGBTQ political candidates and public officials, has signaled it wants nothing to do with Jenner.
Sean Meloy, vice president of political programs for LGBTQ Victory Fund, said Jenner hasn't applied for an endorsement from the Victory Fund "and she shouldn't bother to."
"Her opposition to full trans inclusion – particularly for trans kids in sports – makes her ineligible for the endorsement," Meloy said. "There are many great trans candidates running this cycle who are champions for equality."
To be sure, Jenner used her celebrity status as a former reality TV star and Olympic champion on behalf of transgender lobbyists, urging donations to groups like the National Center for Transgender Equality and going to Capitol Hill to lobby Republicans on transgender issues. Jenner has also given money for transgender kids to attend college, giving transgender advocate Blossom Brown a check for $20,000 on "The Ellen Show" in 2015.
Blaire White, a transgender conservative and YouTube personality, drew on these examples of Jenner helping transgender youth in a video earlier this month and said the two once had dinner together, but wasn't yet ready to make a endorsement.
"I will say that until she lays out all of her policy positions and until she's more on record in long form really talking about what she wants to do for the state of California, I can't say for sure I would vote for her and would not vote for her," White concluded in the video. "What I can say is: I'm interested. And also, being under Gavin Newson's governorship, I would literally vote for a triple-amputee frog over Gavin Newsom, so she already has that going for her."
Jenner's campaign couldn't be reached for comment for this article on the repudiation of her campaign from LGBTQ advocacy groups.
Gina Roberts, who's the first transgender Republican elected to public office in California and a member of the San Diego GOP Central Committee, said she's neutral for the time being as an elected Republican Party leader, but nonetheless had good things to say about Jenner's candidacy.
"I think it's awesome," Roberts said. "It's kind of indicative of how cool the Republican Party in California is because nobody really cares or it makes any difference. I mean, I was the first elected GOP transgender person in California and I think we're ready for No. 2."
Asked whether Jenner's comments about allowing transgender kids in sports was troubling, Roberts said that wasn't the case because she has her own reservations.
"I have pretty much the same opinion because … there's so many nuances in that," Roberts said. "If somebody transitions after they've gone through puberty, there is a big difference, especially in high school. If they transition beforehand, it's not a big deal."
A gun enthusiast and supporter of gun owner's rights, Roberts said she competes in women's events in shooting sports, but there's a difference because she doesn't "really have any advantages all those young, small ladies can pull a lot faster than I do and shoot faster than I do."
Roberts concluded she'll personally make a decision about whom she'll support in the California recall election after Grenell announces whether or not he'll enter the race, but can't say anything until the San Diego GOP Central Committee issues an endorsement.
"He's a good friend of mine, too," Roberts said. "I know both of them. I think they'd both be certainly better than Gavin Newsom, I have to stay neutral until the county party decides who they're going to endorse. I will support somebody or another in the endorsement process, but I can't publicly announce it."
Although LGBTQ groups want nothing to do with her campaign, Jenner's approach has garnered the attention of prominent conservatives, who are taking her seriously as a candidate. One of Jenner's first interviews was on Fox News' Sean Hannity, a Trump ally with considerable sway among his viewers. Hannity was able to find common ground with Jenner, including agreement on seeing California wildfires as a problem with forest management as opposed to climate change.
Kayleigh McEnany, who served as White House press secretary in Trump's final year in the White House and defended in the media his efforts to challenge his 2020 election loss in court, signaled her openness to Jenner's candidacy after the Hannity interview.
"I really enjoyed watching @Caitlyn_Jenner's interview with @seanhannity," McEnany tweeted. "I found Caitlyn to be well-informed, sincere, and laser-focused on undoing the socialist, radical, a-scientific policies of Biden & the left. Very good."
In theory, that support combined with Jenner's visibility might be enough to propel Jenner to victory. In the recall election, California will answer two questions, whether California Gov. Gavin Newsom should be recalled, and if so, which candidate should replace him. The contender with the plurality of votes would win the election, even if that's less than a majority vote, and become the next governor. There isn't a run-off if no candidate fails to obtain a majority.
With Jenner's name recognition as a celebrity, that achievement could be in her reach. After all, Arnold Schwarzenegger won the 2004 recall election in California as a Republican based on his celebrity status, and ended up becoming a popular governor.
But the modest inroads Jenner has made with the acceptance of conservatives and potential to win isn't enough for other transgender Republicans.
Evans, for example, said Jenner's candidacy is not only a disappointment, but threatening the potential candidacies of transgender hopefuls in the future.
"It's difficult to be in electoral politics, and that's even more true when you're a member of a marginalized community," Evans said. "Caitlyn's behavior is making it even more challenging for the trans community to be visible in a field where we desperately need to be seen. She's casting a tall shadow on our ability to have a voice and is giving credibility to lawmakers and local leaders simply unwilling to view us with decency and respect."
Williams said Jenner should avoid talking about transgender issues over the course of her gubernatorial run "and instead focus on the hard, critical policy issues facing California."
"It is a state in crisis and she has to run a very serious campaign and not rely on her celebrity or LGBTQ status to win over voters' hearts and minds — just like all other LGBTQ candidates around the country need to do when they run for public office," Williams said.
100th anniversary celebration of Dupont Circle fountain set for May 17
GWU student creates tribute video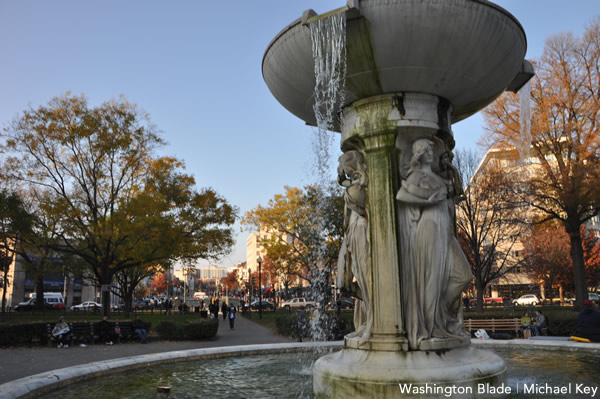 LGBTQ residents and longtime visitors to D.C.'s Dupont Circle neighborhood are expected to be among the participants in the 100th anniversary celebration of the installation of the Dupont Circle fountain scheduled to be held at the circle on Monday, May 17.
Aaron DeNu, president of Dupont Festival, a nonprofit arts and cultural programming group that's organizing the celebration, says it will take place from noon to at least sunset inside Dupont Circle.
The celebration will take place one week after the May 10 release of a YouTube video, "How Dupont Circle Evolved as a Hub for LGBTQ+ Life in the District," produced by George Washington University student Dante Schulz. Schulz is the video editor for the G.W. student newspaper The Hatchet.
Among those appearing in the documentary video are veteran LGBTQ rights activists Deacon Maccubbin and his husband Jim Bennett, who owned and operated the Dupont Circle LGBTQ bookstore Lambda Rising beginning in the 1970s, which is credited with contributing to Dupont Circle's reputation as the epicenter of D.C.'s LGBTQ community for many years.
Also appearing in the video is longtime D.C. gay activist and Dupont Circle area resident Craig Howell, a former president of the Gay and Lesbian Activists Alliance.
"At this point in time due to COVID restrictions we're not going to be doing any particular formal gathering of folks," DeNu told the Washington Blade in describing the May 17 celebration. "But we'll have a soundtrack that's playing throughout the day from that original ceremony – the same songs they used in the original dedication a hundred years ago," he said.
DeNu said the event will also feature "historic imagery" related to Dupont Circle and the people who have gathered there over the years.
"So, we're really just inviting people to come and have lunch, stop by the park after work, and just stop and reflect on 100 years of Dupont Circle fountain, take a look at the imagery and see some old friends and hopefully stop by and see the Dupont businesses that are around the area," DeNu said.
The LGBTQ video produced by Dante Schultz can be accessed here.