May 19, 2017 at 5:01 pm EDT | by Michael Radkowsky
Wedding attire debate triggers chain reaction of resentment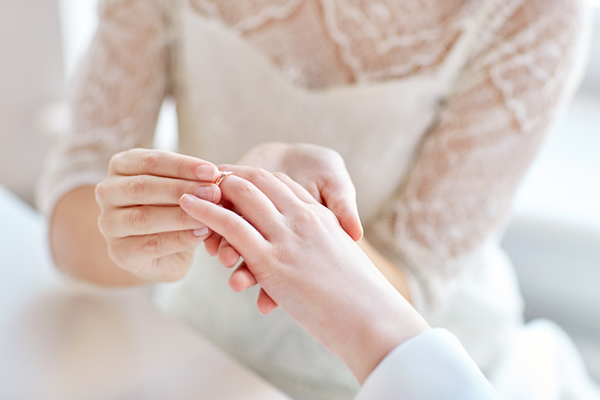 Michael,

My wife and I got married last August. We were such a happy couple until the wedding. Our friends used to say they were going to get diabetes from being around us because we were so gooey. Now we are arguing way too often.

And it really started with the wedding, over a ridiculous disagreement. Were we both going to wear white dresses? Jen had her heart set on that, but I thought it was a dumb lesbian cliché and wore a tux (which I guess is another dumb lesbian cliché but more my style). I felt Jen's anger and disappointment during the whole wedding.

Since then all sorts of things set us off. What route to take when we visit her parents? Can you please turn down the TV volume? Whose turn it is to change the cat litter? Please don't look at your phone when I'm talking to you. How should we celebrate our first anniversary (which we don't actually feel like doing anymore)?  Why do you have that tone in your voice?

The problem is, sometimes I do have a tone in my voice. She'll seem angry at me and then I'm on edge and angry at her. She'll seem pissed off and I get fed up and don't want to keep being conciliatory. Probably if you asked her, she'd say I start it. And sometimes I'm sure I do. I don't want to be angry, but I don't want to always have to say "yes" to keep the peace.

I think we're both miserable that things are going so badly after less than a year. I don't know how we lost our ability to agree and just get along. We used to always see things the same way and now it sometimes feels like we hate each other.

I'm beginning to wonder if this relationship is doomed, though everything seemed so wonderful at the beginning. Do other couples go through things like this and survive? If so, how do we get to the other side?
Michael replies:
Most couples are really gooey when they first get together. The idyll of new love renders us starry-eyed, gives us butterflies and leaves us feeling so blissful that we are happy to think everything the other person says and does is wonderful. We feel super connected and it's easy to be on the same page all the time.
This gooey period is a great stage, because it creates a loving foundation on which to build a relationship.
But it's just a stage. After a while, you find that you can't always agree. You're two different people and sometimes you're going to have very different opinions. This is where you two now are.
Your anger at each other is a waste of energy. If you want to stay happily married, you should instead strive to embrace, with some humor, that you will sometimes disagree with each other over matters both small and profound.
This will require giving up the fantasy that you should always be able to agree, and giving up the belief that something is wrong if you don't.
It will also require accepting that you aren't right: you just have a different opinion from your spouse. Trust me on this: if you are trying to prove that you're right, then you're trying to prove that she's wrong. And once you start down that road, it's all downhill.
So in place of browbeating each other in an effort to get your way when you want two different things, take on the never-ending challenge of figuring out what you might do instead.
Do you agree to go along with what Jen wants? Do you stand your ground, even if it means that she stays home while you go to that movie she doesn't want to see, or you skip her family reunion because you can't stand her parents? And what happens when you disagree over a really big issue like what city to live in?
I can't give you a rule book for how to resolve any of these scenarios, but here are some guiding principles: if you and Jen want to build a strong relationship that can tolerate your not always seeing eye to eye, you will both need plenty of generosity. You're also going to have to accept that sometimes you will be disappointed in each other's choices. That's life.
Your first move, regardless of what Jen does, could be to stop being so wedded to your own positions. While there will be times that it is important that you do not yield, save that for more important matters than cat litter.
Michael Radkowsky, Psy.D. is a licensed psychologist who works with LGBT couples and individuals in D.C. He can be found online at michaelradkowsky.com. All identifying information has been changed for reasons of confidentiality. Have a question? Send it to Michael@michaelradkowsky.com.