July 14, 2017 at 11:56 am EDT | by Marvin Bowser
Lotus and Water Lily Festival is July 15-22 in D.C.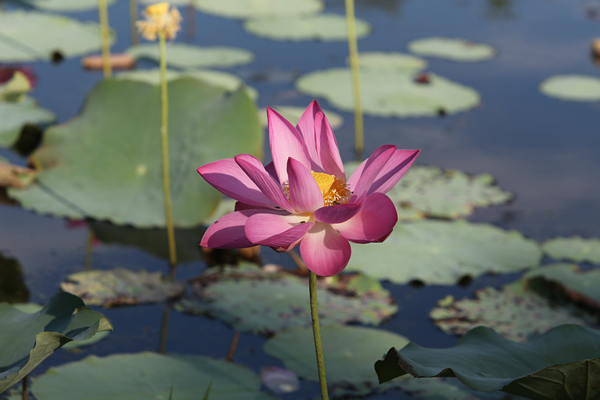 The Lotus and Water Lily Festival starts Saturday, July 15 and runs through Saturday, July 22 at the Kenilworth Park and Aquatic Gardens operated by the National Park Service.
The water plants harness the Anacostia's marshy terrain, heat and humidity to create and thrust skyward blooms of striking beauty and grace.  Some lotus blooms dance in the breeze almost six feet in the air and are the size of a man's head. You can smell their sweet scent as you walk between the ponds. It's wonderfully calming to be surrounded by these masterworks of nature.
Lotus leaves remind one of elephant ears that capture harsh midday sun. The Victoria water lily produces massive pads up to 6 feet in diameter in this area by August or September.
The Kenilworth Park and Aquatic Gardens is the only national park devoted to water plants. The park is located in Washington, nestled on the east bank of the Anacostia, south of New York Ave./Rt. 50 and west of highway 295. You can bike there by taking the East Branch Bike Trail.   Bring a reusable water bottle and  a lunch and enjoy the shady picnic area. Most of the paths are gravel and grass so wear good walking shoes and dress for the Washington summer.
The National Park Service is also arranging a free shuttle service from nearby metro stops.
You can find additional details about the Festival, including Paddle Night — a canoe tour lead by the Anacostia Watershed society — on the National Park Services website here.
Marvin Bowser is a lifestyle blogger and Blade contributor. Follow him on Instagram @FirstBroDC.