January 25, 2018 at 1:35 pm EST | by Lou Chibbaro Jr.
Brother Help Thyself awards $75,000 in grants
The LGBT charitable group Brother Help Thyself on Jan. 20 presented grants totaling $75,000 to 34 non-profit organizations serving the LGBT and HIV/AIDS communities in the Washington, D.C.-Baltimore region.
BHT presented the grant awards in a ceremony held at the Baltimore Eagle, a gay bar in Baltimore, in which Baltimore Mayor Catherine Pugh and Maryland Department of Health official Jeffrey Hitt attended.
"The story isn't that BHT gave out $75,000 today," said BHT's grant reception chairman. "The story here is that in the era we find ourselves in today, where our freedoms and rights, and healthcare choices are being threatened, these 34 non-profits, without our help, are out there each day and every day fighting to preserve and defend those rights and freedoms in support of our community," he said.
"We are proud to play a small role in that work," he added.
In addition to awarding the grants, BHT issued four annual community service awards: The Anthony J. Bachrach Award for Outstanding Service to an individual to Baltimore activist Rik Newton-Treadway; the Billy Collison Award "to an underdog and grantee" to the D.C. Latino GLBT History Project; the George Dodson Business Award to a business supportive of the LGBT community to the Baltimore Eagle; and the Founders Award to a non-profit to the D.C. Wanda Alston Foundation.
BHT released the following list of the 34 organizations that received grants at the Jan. 20 ceremony:
AIDS Action Baltimore, $4,140
Athletes United for Social Justice of D.C. 'The Grassroots Project,' $1,130
Black, Gifted & Whole, Inc. of D.C., $5,830
Breaking Ground of D.C., $2,930
Capitol Hill Arts Workshop of D.C., $830
Casa Ruby, Inc. of D.C., $4,390
D.C.'s Different Drummers, $1,130
D.C. Center for the LGBT Community, $2,360
Dickey Memorial Presbyterian Church of Baltimore, $150
Heart to Hand, Inc. of Prince George's County, $3,410
Gay Men's Chorus of Washington, D.C., $560
FreeState Justice of Maryland, $920
Gay & Lesbian Community Center of Baltimore, $770
Health Options & Positive Energy Foundation (HOPE DC), $3,790
HIPS D.C., $3,580
HopeSpring, Inc. of Baltimore, $3,350
D.C. Latino GLBT History Project, $2,200
LULAC Council 11125 of D.C., $1,000
Mary's House or Older Adults, Inc. of D.C., $8,280
Metro D.C. PFLAG, $850
Mid-Atlantic Deaf & Interpreter Fund of Baltimore, $1,670
Mosiac Theater Company of D.C., $350
New Ways Ministry, Inc. of D.C., $1,980
PFLAG Columbia-Howard County, Md., $1,020
PFLAG Westminster, Md., $1,020
Rainbow History Project Foundation of D.C., $790
Rainbow Theater Project of D.C., $540
SMYAL of D.C., $1,690
St. Margaret's Church Vestry – 'Charlie's Place' of D.C., $3,030
Transgender Education Association of Greater Washington, $1,460
UUC of Rockville Rainbow Youth Alliance, $4,740
Wanda Alston Foundation of D.C., $2,470
Washington Renegades Rugby Football Club, $560
Lou Chibbaro Jr. has reported on the LGBT civil rights movement and the LGBT community for more than 30 years, beginning as a freelance writer and later as a staff reporter and currently as Senior News Reporter for the Washington Blade. He has chronicled LGBT-related developments as they have touched on a wide range of social, religious, and governmental institutions, including the White House, Congress, the U.S. Supreme Court, the military, local and national law enforcement agencies and the Catholic Church. Chibbaro has reported on LGBT issues and LGBT participation in local and national elections since 1976. He has covered the AIDS epidemic since it first surfaced in the early 1980s. Follow Lou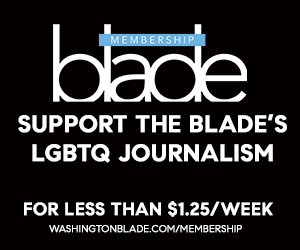 Sign Up for Blade eBlasts