Cleveland Park restaurants Bindaas and Sababa go bold on cocktails
Drinks designed to be vibrant, exotic without going too extreme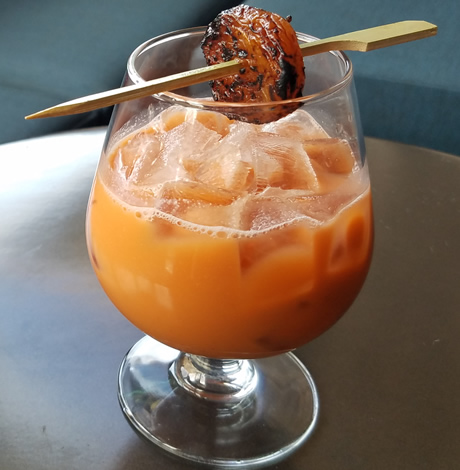 The bespoke cocktail bar is no longer an entirely new idea in D.C. To step up the cocktail game, two new restaurants are pouring exciting, wildly original drinks made to match the vibrant, exotic flavors of the dishes.
On a busy stretch of Connecticut Avenue in Cleveland Park, adjoining restaurants Bindaas (3309 Connecticut Ave., N.W.) and Sababa (3311 Connecticut Ave., N.W.), serving casual Indian and Israeli food, respectively, are shaking up a small revolution in cocktails. They are run by Ashok Bajaj, the veteran D.C. restaurateur of the white-tablecloth variety, including the Oval Room and Rasika.
Bindaas is the older of the two restaurants, opened in August 2016. In place of the tablecloths are lots of napkins — the street-food concept can get messy. The menu is a set of snacks (chaats), plus heartier dishes like kathi rolls, kebabs, and yes, plenty of naan.
Next door is Sababa, where Bajaj has taken another exciting leap. Just  opened in March, Sababa offers a menu of fresh hummus and salads, kebabs, shakshuka and more, using recipes from the diverse ethnic mix that is Israel — flavors and ingredients that span the Middle East, the Mediterranean and Eastern Europe.
Besides sharing space and the same brash, modern style, the twin eateries also share names. Both Bindaas and Sababa mean "cool" in Hindi and Hebrew slang (and Arabic as well). And what's cooler than cocktails that represent two flavorful cuisines? This being Bajaj, the dishes are street food, but elevated, and therefore require equally thoughtful drinks.
To create the menus, Bajaj enlisted Max Hill, a veteran behind the bar in D.C. The drinks are designed to reflect the cuisines of their respective countries. Hill has done his homework, researching history, herbs and spices to come up with the concept.
There are ingredients both uncommon and familiar, "like borage flowers, which tastes like cucumber," Hill says, that he then pairs with gin and lemon. Some ingredients are more obscure, like rosehip, sumac and fenugreek.
Still, he notes, "None of them are so obtuse or so arcane as to be unenjoyable."
Hill calls his approach to drinks "culinary." When he devises the drinks, he works to "do what great chefs do: highlight certain flavors, using spices to accent rather than dominate."
The drinks have cheeky names that echo culture and geography. At Sababa, quaffers find options like Halva World Away, referring to halva, a sesame candy. The flavors mirror those in halva, but turned way up. In the glass, there are elements of pistachio, cardamom and rosewater; the garnish an apricot rehydrated with brandy and then blasted by a blowtorch. It's a mingling of sweet and bitter, perfect to prepare the palate for a range of flavors.
During the meal, a drink like Cradle of Civilization brings together everything on the plate: various ancient grains sneak into a drink built like an old fashioned. The liquor base is Scotch (with barley) and a Virginia bourbon (corn, wheat, rye), macerated with toasted rye to kick up the spice factor. Sorghum molasses is added for sweetness, along with house-infused caraway-sesame bitters. To round it out, it's served with a caraway-sesame butter cookie. They both would pair well with fierce harissa-spiced meats.
Over at Bindaas, naan finds company in drinks like Instant Dharma. This one's a bright palate-cleanser to stand up to heavier meats and wraps. It begins with sour tamarind and an herbaceous blanco tequila, topped with refreshing sparkling wine. To better wed the flavors, there are also touches of fennel, dried ginger and cloves.
The drink called Fool's Gold is also nothing to laugh at. It's a colorful drink crafted from a soda that Hill has been tinkering with for years, including citrus, cardamom, coriander, fennel, mace, and the showstopper, saffron. He works with D.C.'s own Cotton & Reed rum for its distillation from fresh sugarcane. The drink ends up tart and fresh, earthy and sweet.
Hill looks to local purveyors when possible, so the menu includes One Eight Vodka, Green Hat Gin, Filibuster Whiskey and others. But, true to the food menu, it also features native spirits. At Bindaas, there's Amrut whisky and dark rum form India; at Sababa, the bar carries Israeli Arak (similar to ouzo).
Whether Israeli or Indian, Sababa or Bindaas, all the cocktails are different, cool and exciting.
Jane Jane brings throwback joy to busy 14th Street
Cocktail bar characterized by warm Southern hospitality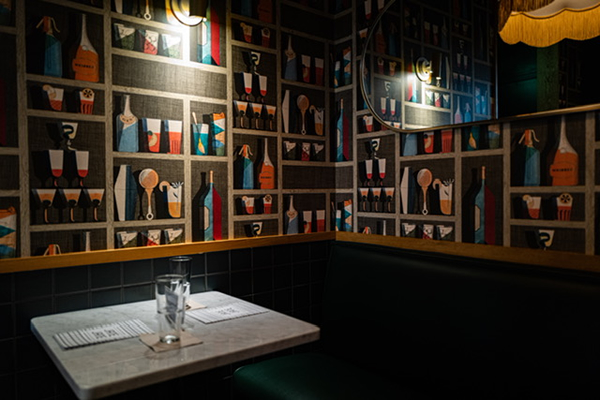 There is no standing at Jane Jane, the new classic cocktail bar in the heart of 14th Street. Its 850 square feet is for sitting and savoring, drinking in the relaxed retro vibe and the thoughtful craft cocktails.
At the foot of the mixed-use Liz development where Whitman-Walker is the major tenant, Jane Jane's creative use of a shoebox-sized space brings throwback joy to a busy thoroughfare.
In the pre-COVID days of 2019, Whitman-Walker approached the Jane Jane owners, hospitality veterans Jean Paul (JP) Sabatier, Ralph Brabham and Drew Porterfield, all gay men, to make good use of the vacant parcel, and ensure it would be run by LGBTQ entrepreneurs. "It required some gymnastics because of the layout," says Brabham, "but we came up with this cozy classic cocktail concept."
The hangout spot is an effort by the trio to "celebrate hospitality. We want everyone who walks into the space to feel like friends of ours we are having over for drinks or a bite. Its a cocktail party in our home," he says. They felt connected to the idea of a tiny bar—a space where they would want to have a drink.
Named for Brabham's mother, Jane Jane is as alluring and lively as it is intimate, each detail in the experience characterized by warm Southern hospitality—right from the bowl of spiced nuts that swiftly appear at each table at the beginning of service.
Sabatier, who has held stints at D.C. institutions like Rappahannock Oyster Bar, Maydan, and Compass Rose, oversees the bar and cocktail program, organized by spirit. (For their part, Brabham and Porterfield, romantic partners, also act as co-owners of Beau Thai and BKK Cookshop; Porterfield is also the current Curator and Director of Long View Gallery in Shaw.)
Sabatier has presented classic cocktails with a few noteworthy nods to current zeitgeist, as imagined by his lengthy experience behind the bar. The booklet-like menu includes a broad selection of familiar favorites like a Negroni, Manhattan, martini, but also features Sabatier's handpicked favorite classics like the Boulevardier (a whiskey Negroni), Last Word (gin married to herbaceous green chartreuse) and Air Mail (rum, honey and cava). Drinks fall in the $13-$16 range; a "Golden Hour" runs daily until 7 p.m. featuring beer and wine specials and a punch of the day.
Sabatier's creative juices flow on the first page through cocktails like the vividly named Tears at an Orgy, with brandy, orange and maraschino, as well as the best-selling, highly Instagrammable Crop Top, a gin cocktail with a red-wine floater—and a name that matches the look of the bi-color drink. "It's fun, delicious, and speaks to the space," says Sabatier. He notes that their vodka of choice comes from Civic, a local, women- and LGBTQ-owned distillery.
Sabatier, a classically trained chef and Culinary Institute of America graduate, also oversees the small selection of bar bites (the space has no kitchen, part of the required "gymnastics" to make it functional.)
Beyond the complimentary vessel of rosemary-flecked mixed nuts, other bar snacks run from pickled vegetables to a Southern-style Pimento cheese dip and an onion dip creamy enough to make your grandmother blush. The "Jane's Caviar" dish is a spread of trout roe and crème fraiche and comes with a towering mound of shatteringly crisp chips. A weekend brunch is in the works, which will serve goodies from local bakeries.
The retro-style interior recalls both California and the South, with only 32 seats inside and a 14-seat patio. Cozy booths done up in a hunter green as warm and inviting as a cool aunt are slung below walnut-wood walls and bar. Bright patterned tiles run the length of the floor; the back wall has playful cocktail wallpaper. A charming needlepoint by the restrooms kindly requests of guests, "please don't do coke in the bathroom."
The owners note that while Jane Jane is not explicitly a gay bar, its location in a traditionally gay-welcoming institution means that it has LGBTQ in its bones.
"Supporting LGBTQ people, businesses, and causes has been in Jane Jane's ownership's DNA at every establishment at which they have been involved," they say, having supported local LGBTQ+ organizations like Casa Ruby, Victory Fund, SMYAL and the Human Rights Campaign, among others.
Porterfield says that they were surprised that, given the locale, people assumed Jane Jane was a gay bar. "It's not a gay or straight bar, just a fantastic cocktail bar that welcomes anyone to hang out with us," he says.
Nevertheless, the owners have taken into consideration the significance of being in the Liz development, as both gay men and as part of the hospitality industry. "It highlights the lack of representation as gay owners in this bar and restaurant world," says Porterfield. They note the lack of women, LGBTQ and BIPOC representation.
"It's very special to us that we opened in this space," says Porterfield, "so we want to show that we have opened a place that is all about inclusivity."
Seven new restaurants to try this fall
D.C. restaurant scene thriving again after rough year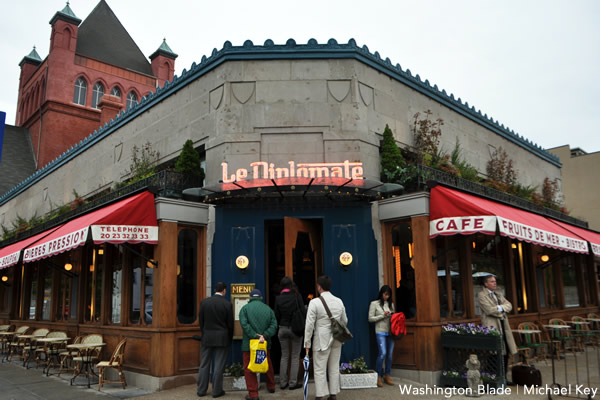 The fall dining scene is as hot as ever. Here are some of the top tickets to look out for:
RAMMYs: Sept. 19 marks the annual D.C.-area restaurant industry awards, the RAMMYs. Many of the categories this year are unique to the challenges restaurants faced in 2020. Held at the Walter E. Washington Convention Center, the awards "created timely categories that speak to all the ways the region's uniquely met those challenges," according to the RAMMYs. Such categories include "most innovative to-go packaging", "outstanding COVID-safe redesign," and "most impressive pivot to provision or market."
Jane Jane (1705 14th St. NW):
Highly anticipated retro-chic cocktail bar Jane Jane quietly opened after more than two years in the making. Co-owned by gay men Drew Porterfield, his partner Ralph Brabham, and friend JP Sabatier, Jane Jane's mid-century-style throwback offers classic cocktails and upgraded bar snacks. It's located in the new Liz development on 14th Street.
Thirsty Crow (3400 11th St. NW):
Part sports bar, part cocktail bar, Thirsty Crow opened just last week in Columbia Heights. It sits in the subterranean level of Michelin Bib Gourmand-winning Makan, serving cocktails and bites inspired by Malaysian flavors, like its sister restaurant on the ground level. Chef James Wozniuk of Makan is overseeing the menu of snacks like shrimp chips and larger plates like spicy fried chicken with sambal.
No Goodbyes (1770 Euclid St. NW):
The Line Hotel previously played host to a suite of restaurants: A Rake's Progress, Brothers and Sisters, and Spoke English. When these restaurants left this Adams Morgan hotel, the spaces sat mostly vacant until No Goodbyes slid into the ground floor. An all-day dining place that "taps the farmers, fishers, and small-time ranchers in DC's own backyard," according to its website, the menu sits squarely on a Chesapeake Bay foundation. Mid-Atlantic dishes, from fish to fowl, play large on the menu.
Bread Alley (1250 5th St NE):
The intoxicating tower of carbs that greets diners when they walk into buzzy Le Diplomate is getting its very own dedicated space, aptly named Bread Alley. A tiny location in the Union Market area, the shop just launched selling only the three types of bread that arrive complimentary at the start of any Le Dip meal: thick-crusted classic baguette, multigrain boules, and cranberry-walnut boules. It will eventually also sell pastries, jams, butter, honey, and other accouterments. Bakers begin their craft at 3:30 a.m. and offer their wares starting at 9 a.m. until 5 p.m. or sold out, whichever arrives earlier.
Bistro Du Jour (99 District Square SW)
Bistro Du Jour will be gay-owned KNEAD Hospitality + Design's third waterfront venue at the Wharf. A café in the Parisian style, it will lean heavily on croissants and cappuccinos during the day, moving to Champagne and larger savory dishes by night. The bistro will sell current partner Mah-Ze-Dahr Bakery's fresh baked goods and pastries, and will showcase traditional fare like coq au vin, French onion soup, steak frites, and foie gras for lunch and dinner. The bistro will display an extensive bubbly section, as well as a chic espresso bar and an outdoor patio. Brunch is in the works.
SUCCOTASH Prime (915 F St., NW)
After a yearlong hiatus, SUCCOTASH Prime recently reopened at the end of August. SUCCOTASH Prime, also run by gay-owned KNEAD Hospitality + Design, is an updated version of the restaurant, still with Chef Edward Lee at the helm. The refreshed SUCCOTASH opened as a southern steakhouse with an Asian twist, featuring smoked steaks, fried oysters, collard greens, ham, and kimchi side dish. Live music is also planned.
Via Roma (4531 Telfair Blvd #110, Camp Springs, Md.)
Via Roma is a restaurant where you can enjoy the pies, you just can't call it "pizza." Just opened a few weeks ago, the restaurant serves pinsas, a pizza-like dish using dough made from a heady mixture of wheat, soy, and rice flours, and then proofed for more than a day. The spot calls itself the first Pinsa-certified restaurant in Maryland, and aims to reflect the laid-back, Mediterranean atmosphere of Naples (the owner also runs an Associazione Verace Pizza Napoletana-certified restaurant in Maryland). Beyond Pinsa, it also serves Maryland crab tater tots, panini, pasta, salad, and Aperol spritzes.
D.C. Restaurant Week returns
Celebrating a revitalized dining scene after COVID closures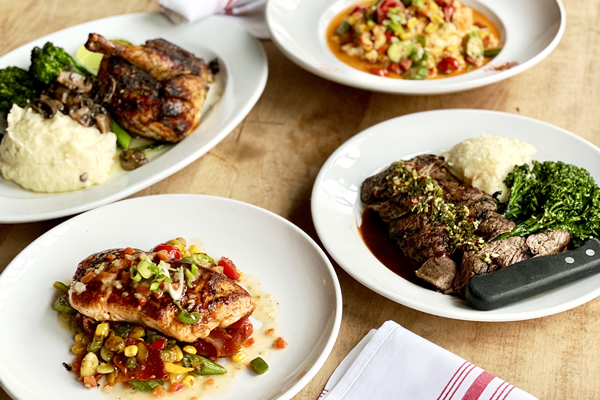 After being confined to a to-go program for the last two iterations, Washington, D.C.'s Restaurant Week is back this summer to celebrate the revitalized dining scene in the city. Summer Restaurant Week 2021, run by Restaurant Association Metropolitan Washington (RAMW), is scheduled to kick off Monday, Aug. 9, and last through Sunday, Aug. 15.
The signature summer dining event returns to a one-week promotion this year, though restaurants have the option of extending their promotions. Diners can enjoy three-course menus at a range of indoor/outdoor comfort levels at more than 200 restaurants, ranging from fast-casual eateries to fine-dining destinations. In addition, the to-go family-style options that were introduced last year are not gone, however, as many restaurants will also offer this off-premise option. Of course, many spots plan to include a cocktail pairing as well.
Dinner is the main event for participating restaurants, with the classic three-course dinner priced at $35 per person. Several restaurants with higher overall price points are also offering an elevated $55 dinner with exclusive items. Three-course lunches run $22, and weekend brunch is also $22.
Finally, many restaurants will also offer "RW-To-Go" dinner meals, available at two price points: $60 or $120 for two people and $100 or $200 for four people.
These RW-To-Go dinner meal packages are available for takeout or delivery, and diners can order RW-To-Go either directly from the participating restaurant or check their delivery app for the offer.
D.C. restaurants remain open at 100 percent capacity, but Mayor Bowser last week reinstated mask mandates for indoor spaces.
New restaurants participating in Summer Restaurant Week include Angolo, ANXO, Flower Child, Le Sel, GATSBY, Glover Park Grill, Gypsy Kitchen, and Truluck's in D.C.; and Spice Kraft Indian Bistro in Virginia.
"This year's Summer Restaurant Week is not only providing diners with great options at great prices for dining out, but is also the first time all restaurants across our region are able to accommodate diners at full capacity both indoors and outdoors," says Kathy Hollinger, president and CEO of the Restaurant Association Metropolitan Washington. "Being fully open is a step toward recovery for the industry and also toward a return to our dynamic local restaurants in their spaces which help to elevate the dining experience."
RAMW is the regional association representing restaurants and the foodservice industry in the D.C. Metropolitan Area. RAWM also runs the RAMMYs, the awards for the food and beverage industry.
Restaurant operators themselves reinforced how important the promotion is to them. "Restaurant Week is an opportunity for us to showcase our resilience and commitment to serving our staff and community," says Salwa Laaraichi of Station 4. 
For Eric Heidenberger, a partner at The DC Restaurant Group, which owns spots like Shaw's Tavern and 801 Restaurant, the past year has been a challenge. But RAMW, he says, "has been very supportive to the D.C. restaurant community and a key a resource in helping us navigate the challenges of the pandemic. We're excited to participate in the first "normal" restaurant week in almost a year and a half. Restaurant week is a great opportunity for us reach new diners and showcase new dishes to our regular/repeat customers."
All of gay-owned KNEAD Hospitality + Design's locations are participating in Restaurant Week. Co-owners Jason Berry said that he hopes that Restaurant Week "offers a way for diners to begin dipping their toe by taking advantage of these well-priced promotions. Restaurant Week brings a much-needed lift to August revenue and is especially meaningful this year as so many restaurants have been hurting these last 16 months."
As for what's going to be offered at his restaurants, which include Gatsby, The Grill, Mi Casa, Mi Vida, and Succotash, most of which debuted just this year, "each of our restaurants takes a unique approach to offering seasonal additions, fun new items and crowd pleasers so that all guests have something for them during Restaurant Week."