Pulse survivor claims he is no longer gay
Luis Javier Ruiz will reportedly attend a march for 'former homosexuals'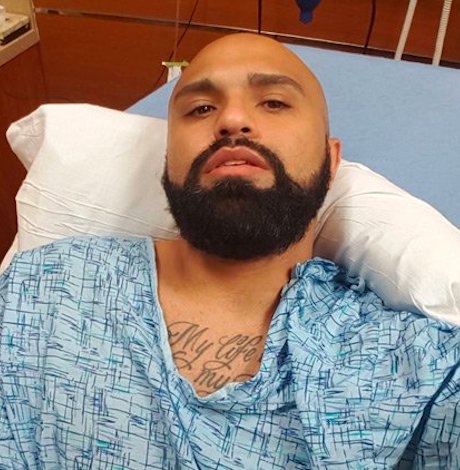 Luis Javier Ruiz, a survivor of the June 2016 Pulse nightclub shooting, has claimed he is no longer gay because he has found Christ.
In a Facebook post that has since been deleted, Ruiz shared that he believes God saved him from the "struggles of perversion."
"I should have been number 50! Going through old pictures of the night of Pulse, I remember my struggles of perversion, heavy drinking to drown out everything and having promiscuous sex that led to HIV. My struggles were real ! The enemy had its grip, and now God has taken me from that moment and has given me Christ Jesus," Ruiz wrote.
He continued, "I've grown to know His love in a deeper level. 2 out of the 49 were my close friends and are no longer with us. They lost their life that night. I should have been number 50 but now I have the chance to live in relationship and not religion – not just loving Christ but being in love with Christ and sharing His love. I know who I am and I am not defined with who the enemy says I use to be – but who Christ Jesus says I am."
Ruiz hinted at his new belief in an interview with the Florida Catholic in 2017.
"I survived because I believe God still had a purpose for me," Ruiz said at the time. "My life really did change after Pulse. I am a different person now. Life is really a blessing. … I hate that I lost so many friends, but at the same time I know these beautiful guys are all in heaven. My life has changed, but do hate the fact that it took this tragedy to change my life."
The Christian Post reports that Ruiz will attend the Freedom March at the National Sylvan Theater on Saturday, May 5. The event describes itself as a celebration of "freedom from homosexuality and transgenderism."
The Freedom March event page reposted Ruiz's Facebook message with the message "Share if you believe homosexuals can change."
Rachel Levine on becoming four-star admiral: 'It comes from my desire to serve'
Trans official sworn-in to U.S. Public Health Service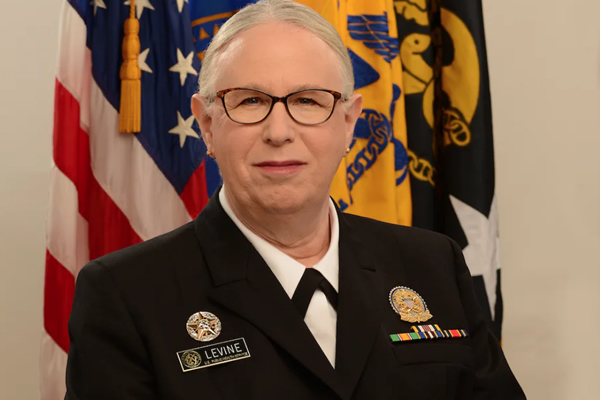 For Rachel Levine, the appointment to her new role as a four-star admiral complementing her existing duties as assistant secretary for health is another way for the first openly transgender Senate-confirmed presidential appointee to serve.
"I think that this just really comes from my desire to serve in all capacities," Levine said in an interview Tuesday with the Washington Blade. "To serve the first day in my field of academic medicine and pediatrics, but then in Pennsylvania and now in the federal government, and it furthers my ability to do that."
Levine, 63, also recognized the importance of the appointment as a transgender person within the U.S. Public Health Service, for which she was ceremonially sworn in on Tuesday
"I think for the LGBTQ+ community, it is a further sign of progress and our president's commitment to equity, to inclusion and diversity," Levine said. "So I think that it is a very important milestone, and I'm pleased to serve."
As part of her duties, Levine will lead an estimated 6,000 public health service officers serving vulnerable populations, including deployments inside and outside the country for communities beleaguered with the coronavirus, according to the Department of Health & Human Services. The role involves working closely with U.S. Surgeon General Vivek Murphy, whom Levine called her "friend and colleague."
The U.S. Public Health Service, Levine said, has deployed "many, many times," including its greatest number ever of deployments to vulnerable populations during the coronavirus pandemic. Among the places the service has deployed, Levine said, was in her home state of Pennsylvania, where she recently served as secretary of health.
Not only is Levine the first openly transgender person to serve in the uniformed health service as a four-star general, but she's also the first woman to serve in that capacity.
"We have 6,000 dedicated committed public servants really all focused on our nation's health, and they serve in details to the CDC and the FDA and the NIH, but also clinically with the Indian Health Service, and the federal prison system," Levine said. "They're also detailed and deployed throughout the country, and they deployed like never before for COVID-19 as well as the border, as well as dealing with floods and hurricanes and tornadoes."
Although the Public Health Service is primarily focused on addressing public health disasters within the United States, Levine said it has a record of deployments overseas, including years ago when it was deployed to Africa under the threat of Ebola.
Secretary of Health & Human Services Xavier Becerra had high praise for Levine in a statement upon news of taking on a leadership position in the service.
"This is a proud moment for us at HHS," Becerra said. "Adm. Levine — a highly accomplished pediatrician who helps drive our agency's agenda to boost health access and equity and to strengthen behavioral health — is a cherished and critical partner in our work to build a healthier America."
Levine, however, was careful to draw a distinction between her appointment within the Public Health Service and being a service member within the U.S. armed forces.
"It is not a military branch, it's not the armed forces: It's a uniformed force, so it's different," Levine said. "For example, the Army, the Navy, our military, there are two other uniformed branches, and that is ours, the United States Public Health Service Commissioned Corps and NOAA."
The new role, Levine said, would complement her duties as assistant secretary for health. Although not only secretaries of health have been commissioned to take the uniform, Levine said she wanted to undertake that as part of her role in the Biden administration.
The two appointments were not simultaneous, Levine said, because of a general process she undertook, which was completed just this week.
It hasn't been an easy road for Levine. During her Senate confirmation process, when she was hounded by anti-transgender attacks in conservative media and rude, invasive questioning by Sen. Rand Paul (R-Ky.) on her gender identity.
Levine, however, said she hasn't encountered any hostility regarding her new role (as of now) and shrugged off any potential attacks in the future and said the move is about her career "to serve and to help people."
"I've continued that for our nation as the assistant secretary for health and this is just a further demonstration of my commitment to service," Levine said. "I don't know what others will say, but that's the genesis of my wanting to serve in the United States Public Health Service Commissioned Corps, and to place on the uniform."
Levine's new appointment comes shortly after a group of Democratic senators led by Sen. Chris Murphy (D-Conn.) sent her a letter dated Sept. 30 calling on her and Miriam Delphin-Rittmon, assistant secretary for mental health and substance use, to issue new guidance for hospital or residential care on mental health needs of transgender people.
Asked about the letter, Levine said mental health issues are under the authority of Delphin-Rittmon and the two "will work together and we will respond."
Specifically, the senators in the letter call on the Behavioral Health Coordinating Council, or BHCC, and experts in the field of adolescent trans care to offer guidance on best practices for inpatient mental health care among these youth.
Asked what the response will look like, Levine said, "We're going to work on that."
"We will be looking at what they're asking for and the requirements, and we'll talk with them and the stakeholders and we'll look to issue appropriate guidance," Levine said.
Biden endorses Roem for re-election
Former journalist is first out trans person in any state legislature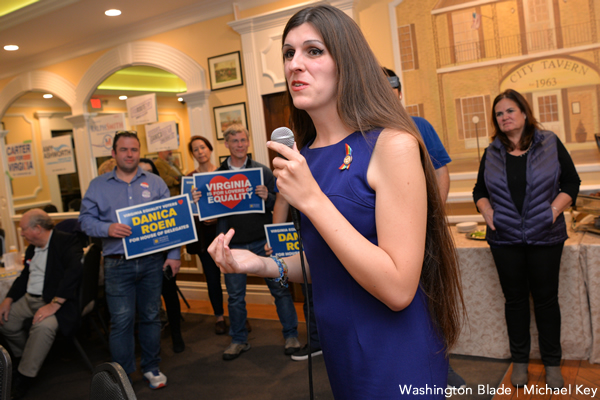 President Biden on Tuesday endorsed Virginia state Del. Danica Roem (D-Manassas) for re-election.
Speaker Eileen Filler-Corn (D-Fairfax County) is among the other Democratic members of the Virginia House of Delegates who Biden backed. Biden in his tweet also stressed his support of Terry McAuliffe, who is running against Republican Glenn Youngkin to succeed Democratic Gov. Ralph Northam.
"Building back better starts in the states," tweeted Biden. "Since flipping the legislature in 2019, Virginia Democrats have been a model of progress—including helping us vaccinate folks to beat the pandemic. To keep our progress, we must elect Terry McAuliffe and Democrats up and down the ballot."
Building back better starts in the states. Since flipping the legislature in 2019, Virginia Democrats have been a model of progress—including helping us vaccinate folks to beat the pandemic. To keep our progress, we must elect @TerryMcAuliffe and Democrats up and down the ballot. pic.twitter.com/NsJiiPNzlv

— Joe Biden (@JoeBiden) October 19, 2021
Roem, a former journalist, in 2018 became the first openly transgender person seated in any state legislature in the U.S.
Biden called Roem on the night she defeated then-state Del. Bob Marshall and congratulated her. A Washington Post picture that showed Roem crying moments later went viral.
The Manassas Democrat who represents the 13th District in 2019 easily won re-election. Christopher Stone, the Republican who is running against Roem in this cycle, opposes marriage and adoption rights for same-sex couples.
Cómo las empresas impulsan la inclusión e inserción laboral LGBTQ
Uno de cada 20 jóvenes de la comunidad tiene su negocio propio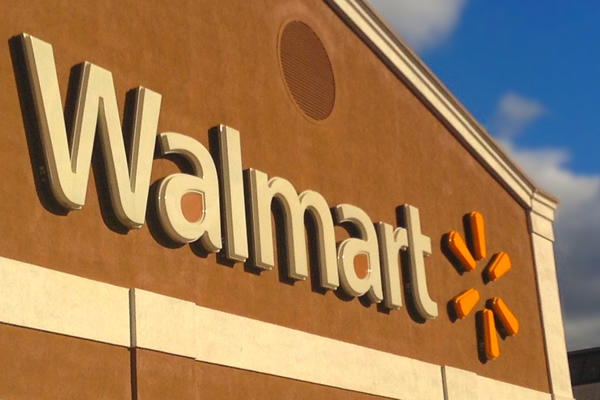 Reportar sin Miedo es el socio mediático del Washington Blade en Honduras. Esta nota salió en su sitio web el 15 de octubre.
CIUDAD DE GUATEMALA — Apenas el 5 por ciento de los jóvenes LGBTIQ+, es decir uno de cada 20, tiene negocio propio. Esa es una de las cifras reveladas en el webinar "Empresas y derechos humanos: perspectiva LGBT", que se desarrolló durante la IV Semana de Empresas y Derechos Humanos.
El taller se llevó a cabo con apoyo de la organización diversa Visibles, la embajada del Reino Unido en Guatemala, Walmart México y Caricam. En la actividad se abordaron los retos que las empresas afrontan de cara a la inclusión.
Al preguntarle a las personas LGBTIQ+ sobre sus oportunidades laborales, ¿Qué tendencias vemos?@hg_duarte explica los hallazgos de nuestra investigación y cuenta algunas de las experiencias en el evento de Empresas y Derechos humanos de @UKinGuatemala pic.twitter.com/NiIvtWCmRj

— Visibles (@visibles_gt) October 14, 2021
El tema se remonta a 10 o 20 años, en los que han surgido empresas con un enfoque de recursos humanos y políticas de no discriminación que incluyen orientación sexual e identidad de género.
Estas organizaciones ofrecen prestaciones y licencia de paternidad, además igualan el tiempo que se da a padres del mismo sexo, ofrecen seguros médicos que incluyen necesidades de personas transgénero y redes LGBTIQ+.
Por otra parte, empiezan a llevar a cabo eventos por el mes del orgullo LGBTIQ+.
Una campaña multinacional
La Human Rights Campaign se ha lanzado en Brasil, Argentina, México, Chile y Estados Unidos, país donde nació. En el caso de las iniciativas multiactor, algunas de estas empresas están empezando a abrirse a otras empresas y tratan de ofrecer algún tipo de apoyo.
Muchas compañías ven el acrónimo LGBT como si se tratase de un grupo homogéneo.
Es decir, ven a las poblaciones diversas sin distinguir entre personas gays, lesbianas, transexuales, transgénero e intersexuales, no separan la orientación sexual de la identidad de género.
"Las personas LGBTIQ nos enfrentamos a una discriminación estructural social y cultural que no nos permite acceder a empleo, salud, educación, justicia y derechos civiles, entre otros derechos…" @danberezowsky en foro de empresas y DDHH de @UKinGuatemala pic.twitter.com/HaLVkxeIsW

— ReportarSinMiedo (@ReportarSin) October 14, 2021
Estas empresas tampoco distinguen las experiencias de las personas dentro del acrónimo y hacen una sola campaña, como si se tratara de todas las personas por igual.
Esto es muy importante porque estamos en una semana de empresa y derechos humanos. Se trata del punto de entrada en la discusión, no el punto de entrada de riesgo.
"Esta investigación aborda la violencia para la población joven, de 18 a 23 años", explicó el Investigador de la Asociación Visibles de Guatemala, Gabriel Duarte. "Fue un proyecto regional que se llevó a cabo en Guatemala, El Salvador y Honduras. En Guatemala, el proyecto se realizó de 2019 a 2020 con enfoque, investigación y acción participativa. Entrevistamos a 30 jóvenes de la diversidad sexual y de género".
Solo uno de cada 20 jóvenes es empresario
En 2020, más del 40 por ciento de los jóvenes LGBTIQ+ de 15 a 29 años tuvieron su primera experiencia en el mundo laboral como asalariados y menos del 5 por ciento (uno de cada 20) tuvieron negocio propio, según el Instituto Nacional de Estadística (INE).
El Estado hondureño tiene debilidades que afectan a la población joven LGBTIQ+. Una de ellas es que el artículo 14 del Código de Trabajo prohíbe la discriminación por diversos motivos, pero nunca aborda la orientación sexual o género.
En cuanto a las discriminaciones contra la comunidad LGBTIQ que pueden llevar procesos legales, no hay ninguna tipificación de delito.
"Uno de los obstáculos del diseño de políticas públicas es no contar con estadísticas oficiales que muestren qué porcentaje de la población se autoidentifica como LGBTIQ+", enfatizó Duarte.
Menos acceso a educación igual a menos oportunidades
Según Gabriel Duarte, la falta de acceso a educación de calidad impacta directamente en el tipo de empleo y la remuneración económica.
"Muchas personas LGBTIQ+ que entrevistamos en esta investigación describían de que al salir del clóset tuvieron que abandonar su hogar porque su familia no los había aceptado", dijo Duarte.
Esta primera ponencia resalta la necesidad de cerrar brechas de acceso a oportunidades de educación.
"Cada vez más empresas crean políticas inclusivas para incluir a personas LGBTI+ en sus organizaciones. UK esta combatiendo la discriminación desde todos los frentes, pasando por los clientes, empleados y la cadena de valor" dijo @WhittinghamFCDO en evento sobre empresas y DH. pic.twitter.com/Ob79eqXovf

— ReportarSinMiedo (@ReportarSin) October 14, 2021
También propone tener políticas de inclusión y de prevención de la discriminación dentro de los lugares de trabajo, ya que muchas personas mencionaron que no sufrían necesariamente violencia física, sino psicológica dentro de estos espacios laborales.
Duarte resaltó que la oficina del Alto Comisionado de las Naciones Unidas recomendó asegurarse de que no haya discriminación en el acceso a los servicios básicos, incluso en el contexto del empleo y de la atención de la salud, y ofrecer educación y capacitación para prevenir la discriminación y estigmatización de las personas LGBTIQ+.
El caso de Walmart
"Cambiar la mentalidad no solo de nuestros asociados, sino también del contexto guatemalteco», dijo la representante de Walmart, Ana Valeria.
Agregó que es necesario dejar de creer que es posible llamar "pobrecita" a una persona con discapacidad.
Según Valeria, Walmart les ha dado valor a estas personas de aportar su talento y habilidades al desarrollo de las unidades de trabajo.
"Walmart en Guatemala cuenta con 367 asociados y asociadas con discapacidad que día a día muestran la pasión y el compromiso de seguir trabajando y aportando en cada una de nuestras metas", dijo la representante de la multinacional.
Ana Valeria Escobar de @WalmartMXyCAM habla sobre la política de inclusión que ofrecen la compañía a mujeres, personas con discapacidad y personas LGBTI+. "Ofrecemos un lugar seguro y libre de discriminación". pic.twitter.com/48IgXej9Rl

— ReportarSinMiedo (@ReportarSin) October 14, 2021
Un carnet para identificar el género
Walmart enfrenta los retos sociales y culturales de las regiones de Guatemala, agregó Valeria, "garantizamos entornos laborales seguros y diversos. Comunicamos de forma abierta y clara nuestra postura como compañía hacia la inclusión y el apoyo a la Comunidad LGTB. Tuvimos resultados que se transformaron en un gran reto y opiniones diversas de los sectores de Guatemala".
Walmart ha avanzado en la integración del talento diverso, según Valeria. "Quienes forman parte de la comunidad LGTB pueden ahora identificarse con un gafete de Walmart. Creemos que estos asociados tienen la libertad de ser ellos mismos y elegir al momento de utilizar esta identificación. Pueden portar el nombre que les permita ser ellos mismos y expresarse con sus características únicas dentro de cada una de nuestras tiendas".
La compañía con sede en Arkansas, Estados Unidos, da también paquetes de beneficios en igualdad de condiciones para sus asociados, dijo Valeria.
Walmart "no limita las oportunidades de carrera, ascensos, información e igualdad de condiciones para sus asociados".
La compañía, considerada "el empleador más privado más grande del mundo" tiene, según su representante, "la responsabilidad de impactar positivamente en las sociedades y comunidades donde operamos".
En muchos países de América Latina, faltan leyes que protejan y reconozcan identidades LGBTI.

Pero ese NO debe ser pretexto para que las empresas se laven las manos.

¡Al contrario! Es una oportunidad para dar el ejemplo y usar su influencia para generar cambios en la ley. 🏳️🌈

— Daniel Berezowsky (@danberezowsky) October 14, 2021