May 17, 2018 at 1:57 pm EDT | by Alex Morash
Having D.C. bars pay workers won't cause sky to fall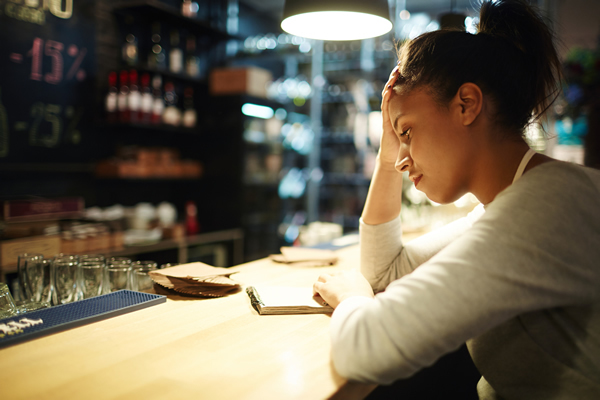 Washington, D.C.'s gay bars would have you believe that passing Initiative 77, which would pay tipped workers the full minimum wage plus tips, is unnecessary and would destroy D.C.'s queer nightlife. In reality, Initiative 77 makes bars and restaurants play by the same rules as everyone else.
Tipping can be a wonderful way to thank someone for a job well done — a great extra perk. However, relying mostly on tips as the salary paid to an employee is problematic, especially if the worker is a woman and/or nonwhite. On March 11, the New York Times released a scathing report on how wait staff, especially women, frequently endure harassing behavior because they don't want to risk losing tips. Vox's food site Eater reported that the average white wait staffer receives more in tips than all other racial groups.
On June 19, D.C. voters will be asked to weigh in on Initiative 77 to eliminate the tipped minimum wage, and pay wait staff the same minimum wage that is applied to everyone else. The increases would be phased in by 2026. Restaurant owners' reaction to the idea that they should be responsible for paying their workers hasn't exactly been positive: The owners of Trade, Number Nine and Town formed an election committee No2DC77, and — being sure to avoid the dramatic — stated that if passed "jobs will be lost, consumer prices will skyrocket, venues won't survive." Yet, the truth is far less campy: ensuring a basic minimum wage is about raising wages, protecting workers, and creating a level playing field for all businesses in the District.
Forcing wait staff to rely on tips raises concerns about harassment and racism, and it also says something about how we want to do business. Restaurant and bar owners want to have one set of rules for themselves and another set of rules for the rest of us. Everything from cafes, gift shops, fast food chains, and grocery stores all seem to be able to survive paying at least the minimum wage, but somehow restaurants and bars cannot? Their rationale seems more farce than fact.
No2DC77's dire predictions of job losses fall apart when looking at the numbers. Researchers at Cornell University looked at how restaurant employment was affected by increases to the minimum wage and found little to no change. They did look very hard to find a change — they looked at data from over a 20-year period at increases to tipped minimum wages and increases to the non-tip minimum wages across multiple states. They even looked at California, a state that does not have a different minimum wage for tipped workers. Still they didn't find raising wages would kill jobs.
Findings that raising the minimum wage helps restaurant workers earn more would seem to be common sense, but that hasn't been the case with opponents of Initiative 77. Mark Lee, a consultant for No2DC77, bemoaned the initiative in the Washington Blade on May 10, and claimed it would reduce the incomes of wait staff, who he asserted make "typically … $25, $35 or more an hour."
Talking to people at gay bars and around town, I have noticed this idea that most wait staff make significantly more than the minimum wage is a common misconception. I can see why some would oppose the initiative if wait staff are already making $25 or $35 per hour, thinking it would not be needed. That idea isn't illogical, except for fact that the Bureau of Labor Statistics actually reports the average waiter or waitress in Washington, D.C. makes $17.48-per-hour.
Some are doing very well, one bartender I talked to at Uproar even mentioned he has made up to $500 on busy nights. Yet, with an average of only a few dollars higher than the current minimum wage, for every person Lee asserts makes $35-per-hour, you would need four people making $13.10-per-hour to reach that average.
The saddest part of this is that the owners of Trade, Number Nine and Town are fighting this initiative claiming they are doing it to protect LGBTQ wait staff. Not only has research found raising minimum wages helps all wait staff see better wages, minimum wage increases have been found to dramatically reduce the poverty rate for LGBTQ families. The LGBTQ think tank the Williams Institute reported that when the full minimum wage is raised to $15-per-hour there would be a 46 percent drop in the poverty rate for lesbian couples, and for gay male couples it would be a decline of 35 percent. And while there's no trans specific data, we know that transgender people are four times more likely to live on incomes below $10,000 a year.
If the owners of these bars truly want to support LGBTQ people then perhaps they should join the National LGBTQ Task Force Action Fund in support of Initiative 77. The Task Force came out to support the initiative because we want to ensure fair working standards and living wages for all LGBTQ people. You can learn more about the campaign at OneFairWageDC.com.
Alex Morash is a writer based in D.C. He used to write about economic issues for Media Matters; currently, he is the media director for the National LGBTQ Task Force Action Fund.