Happy 150th anniversary to influential 'Little Women'
Gender-bending novel still resonates with queer readers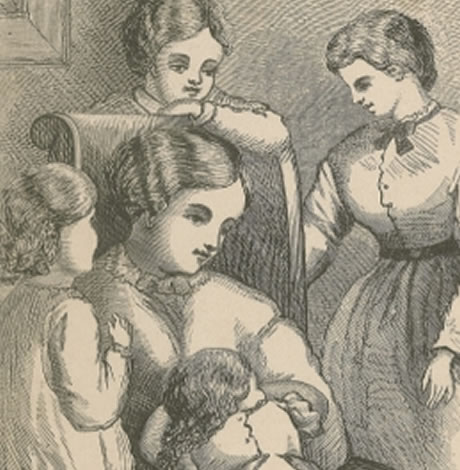 When I was 10, I didn't want to wear a skirt, comb my hair or learn to keep house. I wanted to run around outside and to write. I felt alone, like an alien dropped into GirlLand: the other girls were so different from me. Until I read "Little Women" by Louisa May Alcott. When I met Jo March, the novel's gender-bending sister, I no longer felt alone.      
"Little Women" has been adapted numerous times for the stage, screen and TV. Who can forget Katharine Hepburn as Jo March in the 1933 movie of the novel directed by George Cukor? A movie adaptation of "Little Women," directed by Clare Niederpruem, will be released nationally on Sept. 28. Another movie of the novel, directed by Greta Gerwig of "Lady Bird," will be out in 2019.
Even if you live in a cave, you've likely heard of "Little Women" published 150 years ago this month. Set during and after the Civil War, the novel tells the story of Meg, Jo (short for Josephine), Beth and Amy – the four sisters of the March family.  The family is poor.  Meg and Jo have to work. Their father is largely absent: he's away as a chaplain in the war, and a figure in the background when he comes home. Their mother ("Marmee"), as a single parent, holds the family together. Lawrence, a.k.a., Laurie, a rich teenager, lives next door with his grandfather.
This would be a boring, unremarkable, outdated story if not for some surprising twists.  Meg wants what every girl in the 19th century is expected to aspire to: she hopes to find a man, marry, set up house and have children. Beth, like other fictional 19th century invalids, is practically an angel. She's too otherworldly to think of marriage and kids. But, Amy, girly, likable, though shallow, is a bit unusual for girls of her time. She's not only a fashion plate and social butterfly, she loves art and devotes herself to her drawing.
Jo's gender-bending practically leaps off the page. Jo doesn't want to be the least bit girly, to marry or to be mired in domesticity. "I hate to think I've got to…wear long gowns…," Jo says, "…I like boys' games and work and manners! I can't get over my disappointment in not being a boy."
More surprising, at a time when women were discouraged from pursuing careers and being authors, Jo is a writer. Alone in her garret, eating apples, Jo in her "vortex" writes stories.  She uses the money that she earns from her stories to help her struggling family. As Anne Boyd Rioux, author of the new book "Meg, Jo, Beth, Amy: The Story of 'Little Women' and Why It Still Matters," says, Alcott's novel has inspired writers from bell hooks to Barbara Kingsolver to Susan Sontag to John Green to Anne Tyler to Jhumpa Lahiri.
"I was able to tell myself that I too was like her [Jo]," said Simone de Beauvoir, "I too would be superior and find my place."
I wouldn't have written any poems if I hadn't read "Little Women" in the attic as a kid.
The genderbending isn't limited to the girls in "Little Women."  Laurie goes against the conventional view of masculinity.  While his grandfather wants him to go into business, he's intent on becoming a musician.
In its 150th year, "Little Women" still resonates for queer people. "Meg, Jo, Beth, and Amy: A Graphic Novel: A Modern Retelling of Little Women" written by Ray Terciero and illustrated by Bre Indigo will be out in February.  In this retelling the March family is blended, multiracial and LGBTQ inclusive.  Terchiero, who is queer said in a statement, "…Bre and I wanted to see ourselves in the characters…which is why we made the family diverse and one of the characters LGBTQ."
From your fans, Happy anniversary, "Little Women!"
Kathi Wolfe, a writer and a poet, is a regular contributor to the Blade.
O'Shae Sibley's murder is an attack on LGBTQ people and their expression, as both rise
More than 350 anti-LGBTQ attacks reported between June 2022 and July 2023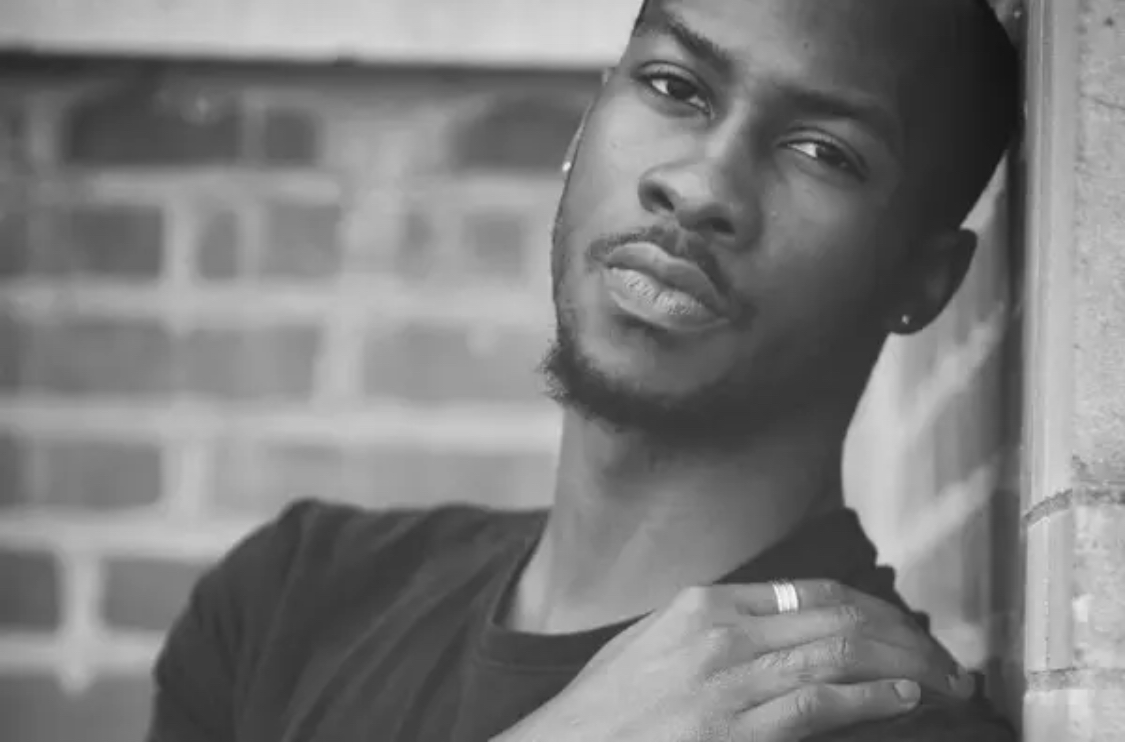 BY HENRY HICKS IV | What do the banning of a children's picture book about two male penguins, white supremacist stand-offs outside of weekend brunches and a killing during impromptu dancing at a gas station have in common? Plenty. Each impinges on the escalating trend of attacks on LGBTQ+ people and their right to free expression. 
On the evening of July 29, O'Shae Sibley pulled into a Brooklyn gas station parking lot with his friends to fill up their gas tank. As they waited for the tank to fill, the group spilled from the car and used the moment to move joyfully in the hot summer night, cranking the car radio's volume and dancing together. Sibley, a gay man, was also a skilled professional dancer and choreographer. He displayed his talents this night, voguing to the sounds of Beyoncé, an artist that Sibley and his friends were fans of. By coincidence, the artist was performing just a few miles away that night, with professional voguers joining her on stage.
Vogueing, a dance style born out of the traditionally queer ballroom scene, is known for its electrifying dips, drops and duckwalks. The style has been prominently featured in the Golden Globe-winning television show "Pose" — and, more recently, on stage in Beyoncé's all-consuming Renaissance World Tour. The energy of the ballroom scene has spirited communities across the country, as Beyoncé's tour has touched down city-by-city, and Sibley and his friends were not exempt to this reach. He was, in fact, eager to participate in his artistry as someone known for his role as a dancer, choreographer, and active member of New York's ballroom community. 
As he and his friends vogued to Beyoncé in the parking lot, moves that Sibley was adept in as an artist himself, they grabbed the attention of hostile onlookers. As captured on surveillance footage, Sibley was first berated with homophobic slurs — Sibley's vogue performance seeming to signal his sexuality to his attacker. Shortly following the verbal assault, things turned violent. Sibley was stabbed and murdered in a tragic hate crime, fueled by homophobia and triggered by Sibley's open expression as a dancer and artist.
In mourning, and in defiant protest in the days following, the New York City queer community  hosted a memorial at the site of his murder where they honored his memory through performance, with a vibrant and resistant ball. 
"You won't break my soul. / You won't break my soul, no, no. / I'm telling everybody," Beyoncé sings defiantly in her single, "Break My Soul."
The murder of O'Shae Sibley was devastating — and a signal of a disturbing trend. Increasing violence toward LGBTQ+ people, and attempts to quash their personal and artistic expression, are on the rise in the United States. Advocacy organizations such as GLAAD and the Anti-Defamation League have reported surges in harassment, vandalism and physical violence against LGBTQ+ people — with 356 instances being reported between June 2022 and April 2023. Transgender people, as well as drag performers, have been targeted at notably high rates. The Human Rights Campaign reported 34 murders of trans people — mostly trans women of color — in 2022 (HRC emphasizes that the actual number is likely higher, as most attacks go unreported, or are reported inaccurately.)
Drag shows across the country have faced threats and intimidation from armed protesters, including the far-right extremist group, the Proud Boys. Gay bars have been targeted by armed assailants, such as the tragic massacre thatoccurred at Club Q in Colorado Springs, Colo., last November. Hospitals providing gender-affirming care to transgender youth have been targeted with bomb threats. On Aug. 18, a California store owner was shot and killed for displaying a Pride flag. Harassment, threats of violence, and hate crimes against the LGBTQ+ community have steadily risen in recent years. It is clear that this bigotry has been emboldened and its first goal is to silence the free expression of LGBTQ+ people, through violence if necessary. 
The exponential increase in physical violence against LGBTQ+ people over the last few years cannot be divorced from the recent legislative environment that has grown ever-more hostile to LGBTQ+ expression. Bills categorizing drag shows as obscenity, book bans targeting LGBTQ+ authors and stories about queer identities in schools and public libraries, as well as other legislative attacks are part of this trend against the LGBTQ+ community. The attacks, both physical and through laws and bans, risk enabling a culture that normalizes repression of queer voices and increases the risk of violence aimed, in part, at suppressing expression of LGBTQ+ people, even when individuals are simply voguing to Beyoncé in public.
Starting in 2021, we've seen a historic surge in book bans around the country, targeting LGBTQ+ voices and stories at a disproportionately high rate. PEN America has reported that among the top eleven books targeted by bans in the first half of the 2022-2023 school year, four focused on LGBTQ+ narratives. These challenges, paired with the historic number of bills targeting LGBTQ+ people in state legislatures across the United States — with at least 566 bills ensnaring the broader LGBTQ+ community, according to the Trans Legislation Tracker — contribute to the normalization of repressing personal and artistic expression of queer people. As these policy attacks continue to advance, violence against the LGBTQ+ community has surged.
And while O'Shae Sibley's murder occurred in New York, a state that has passed no anti-LGBTQ+ bills in the most recent legislative session, his brutal killing shows just how pervasive the impact of anti-LGBTQ+ legislative attacks on free expression in other states are, shaping a culture that spills across borders and impacting LGBTQ+ people throughout the country. Even states perceived to be supportive to the LGBTQ+ community, such as New York, are not immune to the cultural reach of anti-LGBTQ+ repression and intimidation: the home and office of Erik Bottcher, a gay city councilmember in New York City, was vandalized last December after he voiced support for Drag Story Hour, and more recently, a rainbow Pride flag at a Manhattan restaurant was intentionally lit on fire.
Political threats to LGBTQ+ expression, whether it be through restricting and chilling on-stage performance or making it virtually impossible to even acknowledge the existence of LGBTQ+ people in Florida and other states' schools, have and will continue to put LGBTQ+ people at risk everywhere, chilling their ability to express themselves and potentially even sending them back into the closet, which, at its core, is a form of self-censorship.
A culture of free expression, where people can speak, write — or dance — free from fear of violence, is essential to a thriving democracy. LGBTQ+ people deserve to equally enjoy this right — through creative performance, gender expression, or displays of joy. The ongoing trend of legislative attacks on drag, attempts to label LGBTQ+ stories as "obscene," and the accompanying trend of violent assaults on LGBTQ+ people are attacks on free expression and must be condemned as such.
Henry Hicks IV is the coordinator for PEN America's U.S. Free Expression program. PEN America is committed to defending against attacks on LGBTQ+ free expression.
Pinto leads Council in working with Bowser to fight crime
We must not coddle young criminals or repeat offenders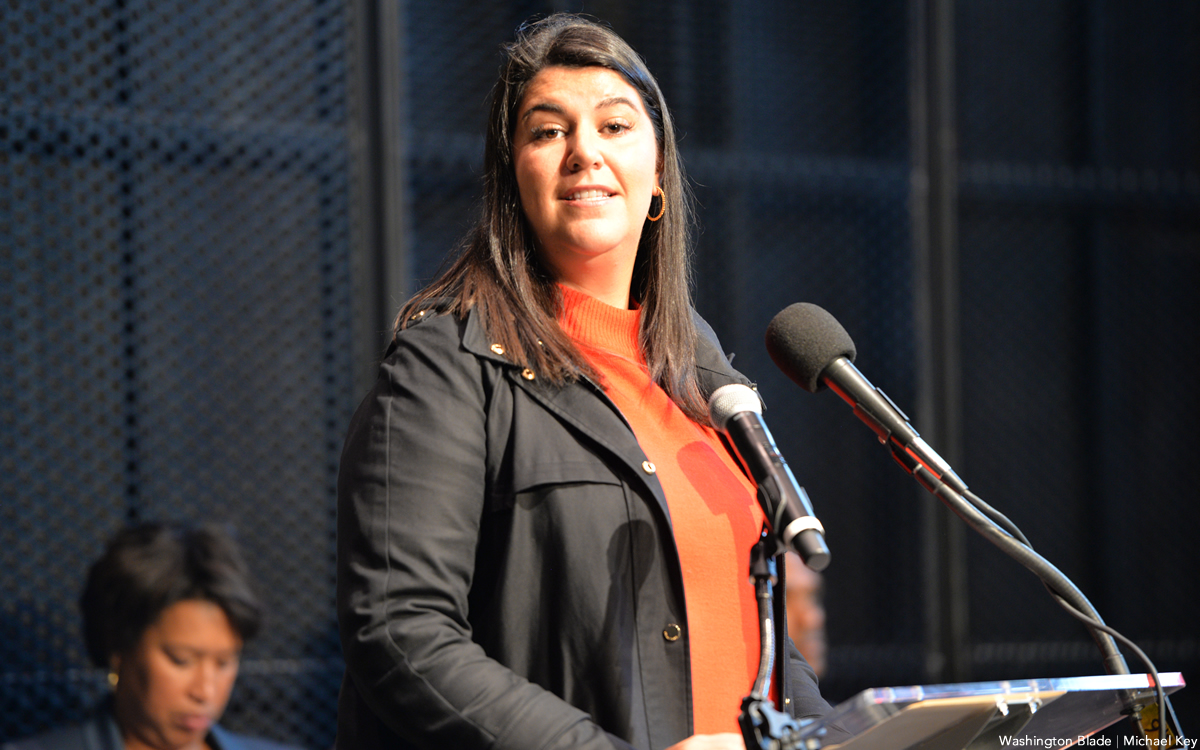 The time has come for the D.C. Council to join with Mayor Bowser and pass her crime bill on a permanent basis. Councilmember Brooke Pinto worked to pass part of it in July as emergency legislation. We must accept residents are scared. Some for good reason; others because of hyped media reporting. But the spike in crime is real, though not evenly spread across the city. Most don't know crime fell from 2021 to 2022. But it is here today, and we must do everything we can to stem it.
We can no longer coddle young criminals or repeat offenders. We can't say if only we could deal with the root causes of crime things would be OK. While we must do that, work to provide better housing, enough food, better education, and family life, let's also recognize most young people in our community, including those who deal with some of the same issues as the criminals, are not turning to crime. How they deal with the hardships they face, manage to go to school, and live productive lives, should be a focus so we learn from them. Recently the D.C. attorney general awarded the eighth annual Right Direction Awards. Thirty young people were saluted for overcoming significant challenges on their road to achievement. We need to share more of their stories.
How do they manage to stay away from guns and drugs? What allows them to succeed? It's time for the media in D.C. — the Washington Post, and TV and radio stations — to report more comprehensively on youth in the city. For every crime story reported, find a positive story to tell. There are clearly more positive stories out there. It requires more work than following the police blotter. Send reporters into schools, recreation centers, libraries, houses of worship, and they will find the good stories.
I have long advocated for working with Congress to set up internships for D.C. students in every congressional office; 535 kids a year would get experience, good connections, and a resume boost. If we are serious about this, and have a focus on our youth beyond those who commit crimes, everyone will benefit.
Council Judiciary Committee Chair Brooke Pinto introduced several bills including the The Active Act. This legislation would further beef up penalties for gun crimes, creating a new offense for illegal disposal of a gun or ammunition while a person is fleeing police. Then increasing penalties for endangerment with a firearm and firing many bullets at once. At the same time, she looks to expand alternatives to incarceration, creating a task force to examine possibilities for diversion programs to avoid jail time for nonviolent misdemeanor offenses such as drug possession. The Active Act also creates more hurdles for pretrial release in cases involving people charged with violent or dangerous offenses. It would require judges to issue written explanations if they decide to release before trial a person charged with committing a violent offense.
In response to the LGBTQ community, Pinto with Council members Christina Henderson, Robert White, Charles Allen, Vincent Gray, Matt Frumin, Janeese Lewis George, and Anita Bonds, introduced the "Transgender and Gender-Diverse Mortality and Fatality Review Committee Establishment Act of 2023." Pinto wrote, "Although data are limited, some studies suggest transgender people are "twice as likely to die as cisgender people" due to "heart disease, lung cancer, HIV-related illness and suicide," with trans women being "two times as likely to die" compared to cis men and "three times as likely" compared to cis women being disproportionately vulnerable to the aforementioned risks, as well as to violence and murder, with one in four trans women likely to be victimized by a hate-related crime." It is anticipated the information from this committee will contribute important data and analysis, and provide important resources, for the National Center for Fatality Review and Prevention and for transgender and gender-diverse people across the country informing future strategies and interventions to drive down the disparate outcomes we are currently seeing.
We must ensure the legal system is not a revolving door. That crimes committed with guns are punished seriously, and young people who commit violent crimes can be held without bail if they are ongoing serious threats to the community. Clearly, going easier on violent criminals is not working the way some hoped it would. Again, simply saying we will deal with it by getting to the root of crime will not deal with the crime we have today. It should happen, and will have an impact, but not right away, and we need to reduce crime today.
Peter Rosenstein is a longtime LGBTQ rights and Democratic Party activist. He writes regularly for the Blade.
Is anyone else sick of Cassidy Hutchinson?
Trump loyalist feted by mainstream media after belated change of heart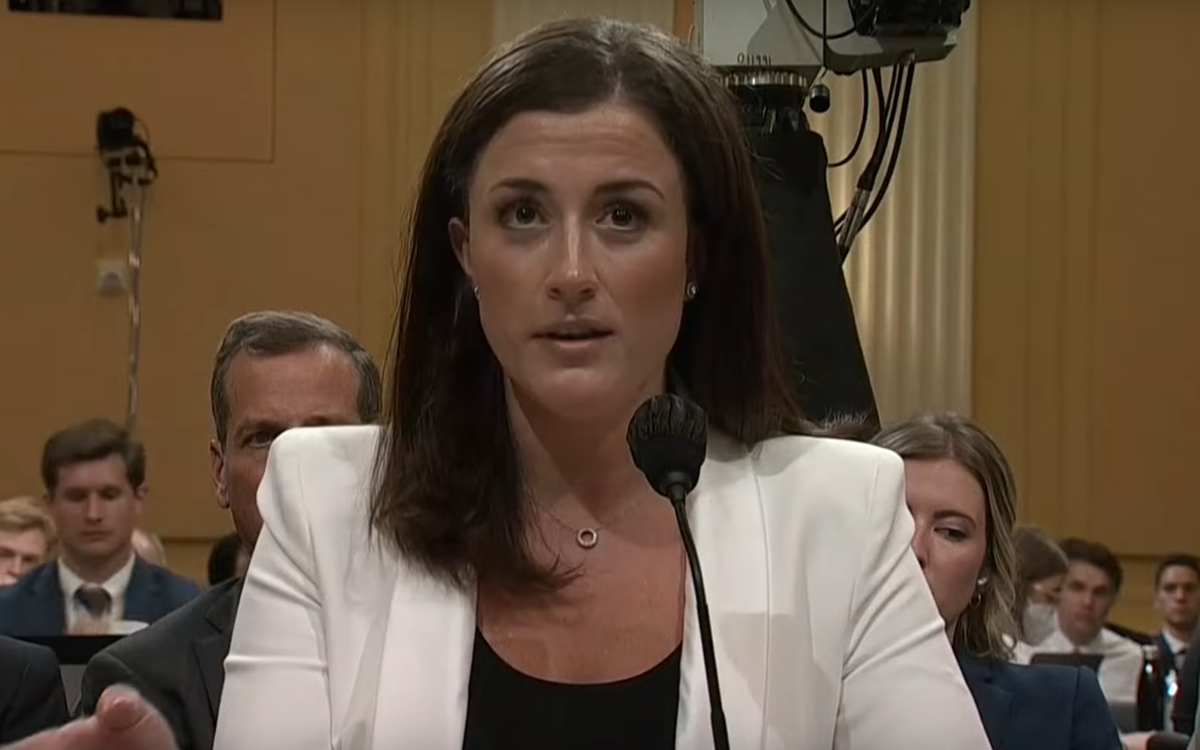 Cassidy Hutchinson, the former Trump loyalist who belatedly turned on her boss, the man she "adored," is this week's mainstream media obsession, turning up multiple times on CNN, MSNBC, NBC, "The View," and seemingly everywhere else. The only person getting more airtime this week is Taylor Swift, after urgent news broke that she's dating an NFL player. (The "Today" show led twice with that very important story this week.)
For sure, Hutchinson's testimony before the Jan. 6 committee in front of 13 million viewers took courage, given how many Trump supporters are inclined to violence against his critics.
But Hutchinson remained loyal to Trump even after the Jan. 6 insurrection and planned to move to Florida for a job with him after he left the White House on Jan. 20. She initially took the advice of Trump's attorneys to claim she didn't recall the events leading up to the attack on the Capitol.
Some of us saw Trump for what he is back in 2015: a racist criminal and pathological liar, an '80s has-been and washed-up reality show host in orange makeup and a bad wig.
Where's our party?
Easily duped people like Hutchinson helped elect Trump and then supported him throughout all the too-numerous-to-mention scandals — mocking the disabled, insulting a Gold Star family, ridiculing war heroes, siding with Neo Nazis in Charlottesville, and on and on. Not to mention a botched response to a pandemic that killed more than one million Americans. Trump refused to wear a mask (we recently learned because it smeared his extensive makeup) and poked fun at Joe Biden for wearing one.
Most of Trump's die hard supporters jumped ship after Jan. 6, but not Cassidy Hutchinson. She even told Mark Meadows that she would "take a bullet" for Trump. She told "The View" that it was a "difficult moment" to watch former White House staffers denounce Trump after Jan. 6, due to her blind loyalty to him. She resisted her own mother's pleas to abandon Trump and not move to Florida with him. She blamed Trump's advisers for his bad decisions.
It all smacks of brainwashing. Anyone who is so weak willed that they are easily manipulated by the "charms" of Donald Trump has no business anywhere near the White House. Hutchinson has demonstrated not just bad judgement, but disastrous judgement.
And now that she has a book to peddle, the mainstream media predictably line up to sing her praises and she spills all sorts of tea, from Rudy Giuliani allegedly sexually assaulting her to Mark Meadows burning White House documents in his office fireplace. She didn't follow the parade of staffers who quit after Jan. 6 and she didn't report Meadows for allegedly destroying government property. And now we're supposed to shell out $30 for her vapid book about finally seeing the light, long after the rest of the world had figured out Trump for the incorrigible threat to democracy that he represents.
Hutchinson deserves our gratitude for her Jan. 6 committee testimony. But nothing more. And the mainstream media have got to stop their practice of reckless revisionist history and praising the undeserving.