FALL ARTS 2018 CONCERTS: Troye, Elton, Xtina and — Stop! — Miss Ross
Region simmering with fall concerts of all genres and ilks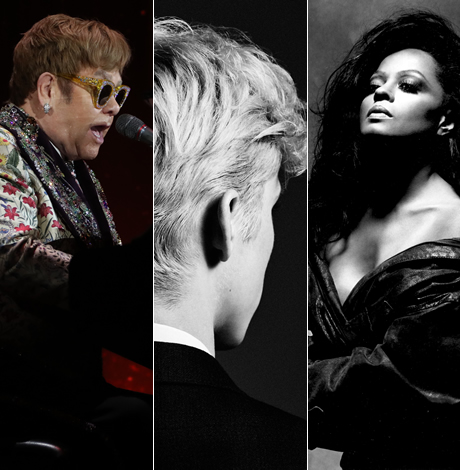 Pop icon Elton John brings his "Farewell Yellow Brick Road" tour to Capital One Arena (601 F St. N.W.) on Friday, Sept. 21-22 at 8 p.m. The three-year-long tour will be his last. Tickets range in price from $190-1,000 and can be purchased at ticketmaster.com.
Nineteen-year-old DJ and music producer prodigy Whethan ("Superlove," "High") performs Friday, Sept. 21 at the 9:30 Club (815 V St. N.W.) at 10 p.m. Filipino electronic artist Sweater Beats ("Glory Days," "Faded Away") and dance artist Andrew Luce ("Take Me," "DIAMOND GIRL") will also perform. Tickets are $25 at ticketfly.com, and parking passes for the 9th St. parking lot are $20.
Diana Ross plays the Strathmore Sept. 25-26. Tickets are $69-239. She's played the region often in the last several years but this is her first Strathmore engagement since 2010.
Rock band The National ("I Need My Girl," "The System Only Dreams in Total Darkness") performs at Merriweather Post Pavilion (10475 Little Patuxent Pky., Columbia, Md.) on Friday, Sept. 28 at 7 p.m. Doors open at 5:30. Singer/songwriter Cat Power ("Sea of Love," "Lived in Bars"), whose album "Wanderer" will be released in October; and folk rocker Phoebe Bridgers ("Motion Sickness," "Scott Street") will also perform. Tickets range from $46-76 and can be purchased at ticketfly.com.
Christina Aguilera performs her "Liberation" tour at The Theater at MGM National Harbor (101 MGM National Ave., Oxon Hill, Md.) on Sunday, Sept. 30 at 8 p.m. The tour follows the June release of her album, "Liberation." Tickets range from $112-3,432.
Troye Sivan's "Bloom" tour is coming to The Anthem (901 Wharf St. S.W.) on Thursday, Oct. 4 from 7:30 p.m.-midnight. He headlined at Capital Pride in June. The tour follows the August release of his album by the same name. Transgender pop princess Kim Petras ("Heart to Break," "I Don't Want It At All") opens. Tickets range from $61-468.
English indie rock songstress Florence+the Machine comes to The Anthem (901 Wharf St. S.W.) on Saturday, Oct. 6 at 8 p.m. The doors open at 6:30 p.m. The tour follows the June release of her album, "High as Hope." Synth-pop artist and former frontwoman of Gossip, Beth Ditto ("Fake Sugar," "We Could Run") will also perform. Tickets range from $104.50-179.50.
The versatile group Pink Martini ("Amado Mío," "Let's Never Stop Falling In Love") performs at The Anthem (901 Wharf St. S.W.) on Sunday, Oct. 7 at 8 p.m. The band dabbles in classical, pop, Latin and jazz. They will be joined by frequent collaborator radio journalist Ari Shapiro, co-host of NPR's "All Things Considered." The show is open to all ages, and doors open at 6:30 p.m. Tickets range in price from $35-95.
British electropop group Years & Years, ("If You're Over Me," "King") performs Thursday, Oct. 11 at the Lincoln Theatre (1215 U. St. N.W.). Their "Palo Santo" tour follows the July release of their sophomore album of the same name. The performance will also feature sets by pop singer/songwriter CYN ("Only With You," "Believer") and pop artist Tunde Olaniran ("I'm Here," "KYBM"). The show is sold out.
Jake Shears, lead singer of the pop group Scissor Sisters, performs solo at the 9:30 Club (815 V St. N.W.) on Wednesday, Oct. 31 at 7 p.m. The performance follows the August release of his eponymous album. He is joined by the multimedia pop group Ssion ("At Least the Sky is Blue," "Comeback"). Their album "O" was released in May. Tickets are $25.
Elle King ("Exes and Ohs," "Shame") brings her "Shake the Spirit" tour to the Lincoln Theatre (1215 U St. N.W.) on Friday, Nov. 2 at 8 p.m. Doors open at 6:30 p.m. The tour promotes her upcoming album's release of the same name. Rock band Cordovas ("I'm the One Who Needs You Tonight," "All I Found") opens. Tickets are $30 and go on sale Friday, Sept. 14 at 10 a.m. Eastern time.
French synth-pop artist Christine and the Queens ("Tilted," "Girlfriend") perform at the 9:30 Club (815 V St. S.W.) on Sunday, Nov. 4 at 7:30 p.m.-10:30. The concert follows the Sept. 21 release of her new album, "Chris." Doors open at 7 p.m. Tickets are $35 and parking passes for the back parking lot on 9th St. are $20.
City Winery D.C. (1350 Okie St. N.W.) hosts an Evening With Jennifer Knapp ("Undo Me," "A Little More") on Tuesday, Nov. 6 from 9-10 p.m. Doors open at 8. Knapp, a folk-rock, formerly gospel musician, has released six albums as well as a memoir. In 2017, Knapp released her latest album, "Love Comes Back Around." The event will be held in the Wine Garden. Tickets are $15.
Multi-platinum singer/songwriter and Broadway actor Josh Groban comes to the Capital One Arena (601 F. St. N.W.) on Thursday, Nov. 15 at 8 p.m. His "Bridges" tour follows the Sept. 21 release of his album of the same name. Broadway icon Idina Menzel, known for her roles as Elphaba in "Wicked" and Elsa in "Frozen," will join him. Tickets range from $49-1,432. With every online ticket purchase there is a choice of a free "Bridges" CD or digital download.
Washington Arts Ensemble to host immersive concert
Creating a dialogue with D.C.'s history and culture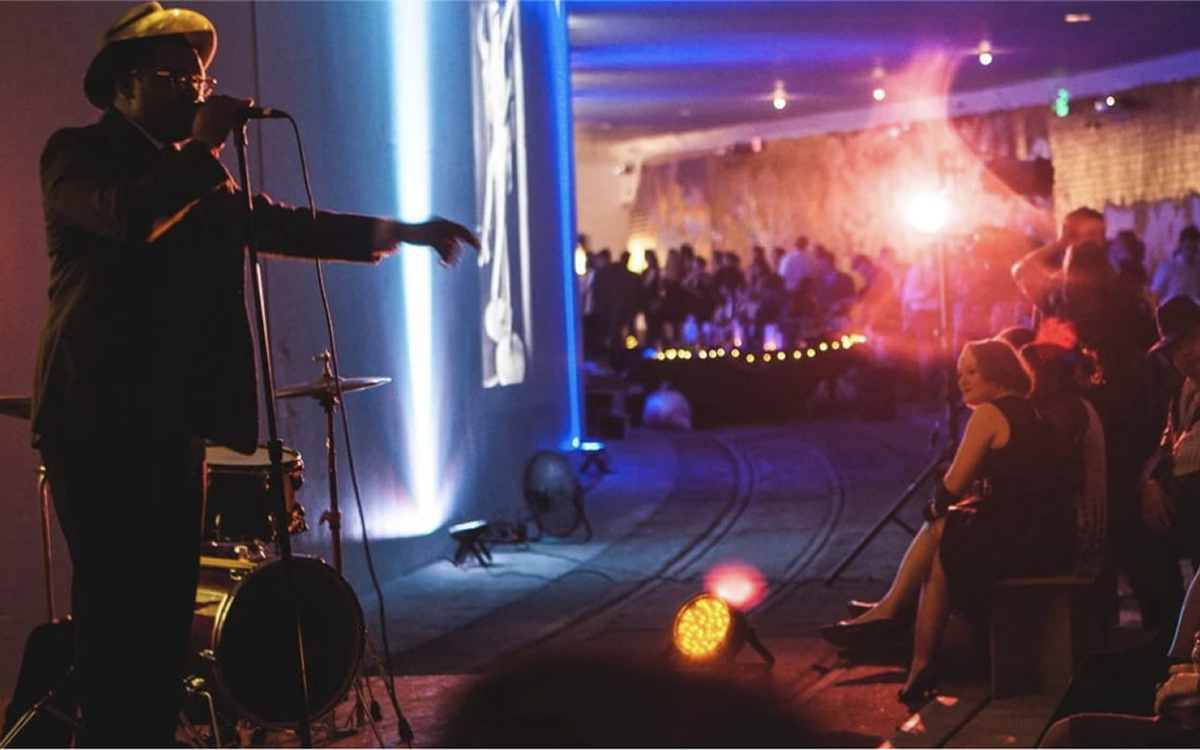 The Washington Arts Ensemble will host an immersive concert experience on Saturday, June 18 at 7 p.m. at Dupont Underground.
This concert will show how distinct genres influence pop culture and articulate the commonality between classical, jazz, and electronic music while creating a dialogue with D.C.'s history and culture.
Some of the works that will be performed include "Switched-On Bach selections" by Wendy Carlos, "The Swan" from The Carnival of the Animals by Camile Saint-Saens, among other works.
Tickets cost $25 and can be purchased on the Washington Arts Ensemble's website.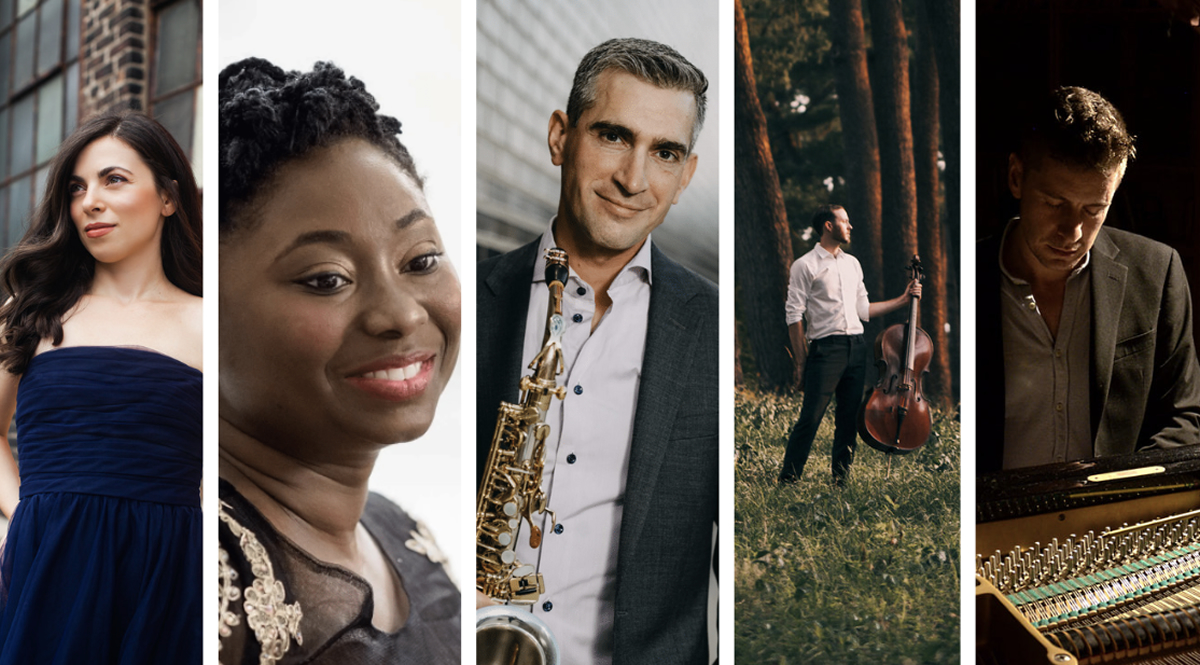 John Levengood releases anthem "Say Gay!" to protest discrimination
Slated to perform new song at 2022 Capital Pride Festival in June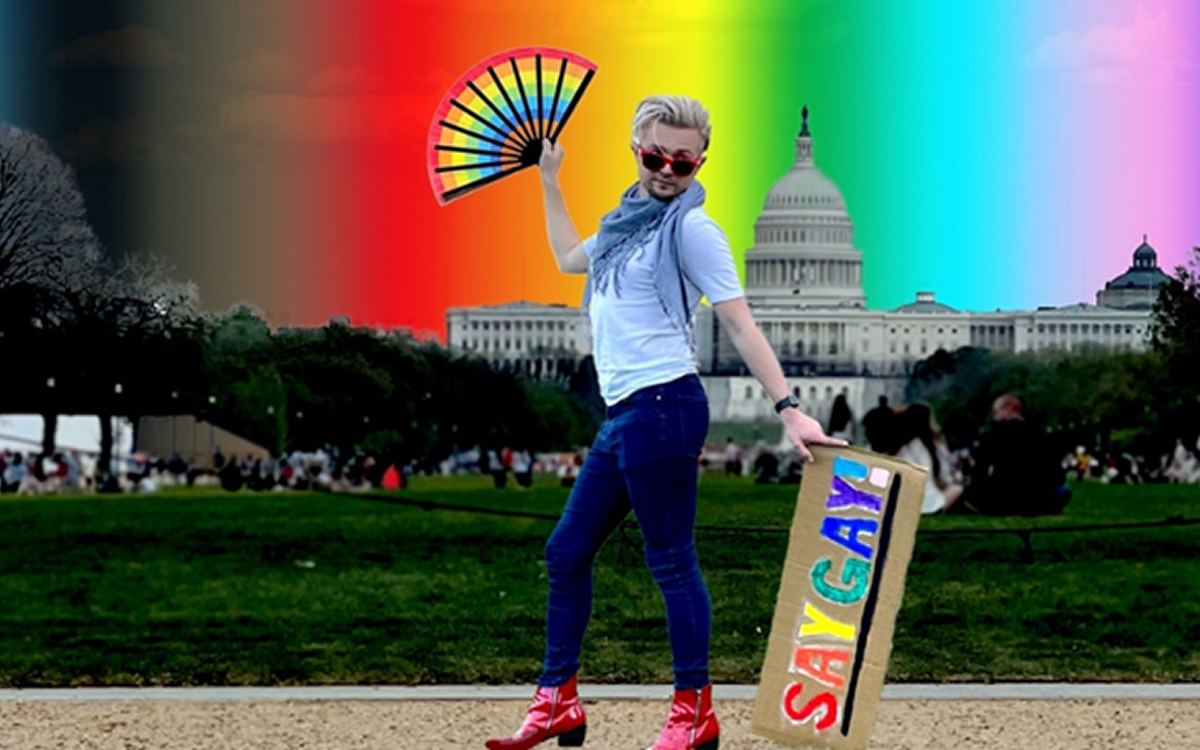 "Say gay! Say gay! Say gay!
"Say what? Say what?
"One little law won't shut us up!"
Slated for digital release this Friday, recording artist John Levengood's latest song "Say Gay!" confronts anti-LGBTQ legislation such as the "Don't Say Gay" law by encouraging others to "profess their queerness loudly, proudly, and never in the shadows," Levengood said in a press release shared with the Blade on Tuesday.
On June 12, Levengood is set to perform the song's live debut at the 2022 Capital Pride Festival in Washington, D.C., to streets teeming with community members, food trucks, and local vendors, according to the press release.
"The rise in oppressive legislation and proposals have many in the LGBTQ+ community alarmed," the press release says. Levengood "hopes this song can be used as a metaphorical weapon to blast holes in the argument that teaching children about acceptance and diversity is more appropriate at home than school."
The bill, enacted by the Florida Legislature earlier this year but not yet in force, would limit teachers' ability to teach LGBTQ topics in some school settings and obligate school officials to disclose students' sexual orientation and gender identity to their parents upon request.
A D.C. resident himself, Levengood currently works over the weekends as resident host and karaoke emcee at Freddie's Beach Bar in Arlington, Va., an LGBTQ bar and restaurant.
Levengood is no stranger to the music scene, in 2013 moving through multiple rounds of auditions for the third season of "The X Factor" before coming up short of formally appearing on the show, according to the release.
Growing up in the Shenandoah Valley of rural Virginia, the press release added that music has been an outlet for Levengood to express himself from an early age. The new song marks his seventh musical release.
Tori Amos spins magic at Sunday night D.C.-area concert
First show in the area since '17 finds Gen X icon vocally subdued but musically energized
As with many veteran rock stars, it's sometimes hard to get a handle on how hot or cold Tori Amos's 30-year-old solo career is at the moment. It sometimes seems like she's moving past the take-her-for-granted-because-she's-never-away-for-long phase, and there certainly was that sense in the air Sunday night for her D.C.-area stop of her current "Ocean to Ocean Tour," her first show here since 2017, which, with COVID, feels like a lifetime ago.
But there are also signs that it's never been chillier for Amos in the overall pop culture landscape. It's been a decade since she charted a single on any chart and there were no videos or singles from her "Ocean to Ocean" album last fall. It landed just outside the top 100 on the U.S. Billboard 200 album sales chart altogether, a new low that would have been unthinkable even a few years ago when her "regular" (i.e. non-specialty/concept) albums were almost guaranteed a top 10 debut.
The slide has been swift, too: 2014's "Unrepentant Geraldines" hit No. 7, the next album (2017's polarizing "Native Invader") only made it to 39, then came "Ocean's" thud at no. 104. There's a lot you could point to to explain it — streaming, her aging Gen X fan base, the endless undulations of the music industry itself — but in some ways it has started to feel like she's getting less and less return on her artistic dollar than one would expect.
Yeah, that always happens with veteran female pop stars once they hit their 50s and beyond, but Amos and her small but mighty fan base, who for decades exhibited a devotion of Grateful Dead-like proportions, outran the trend for so long, to see it finally catching up is a bit bewildering.
But then you go hear her live at a decent-size venue like The Theater at MGM National Harbor (which seats 3,000 and was about 97 percent full), and it feels nearly like old times. Sure, some of the excitement was just that we're all gagging at being at concerts at all and having mask restrictions and vaccine requirements paused, but there was an electricity that, while mellower than it was at Amos concerts in the '90s, still felt magical. I've never in my life seen so long a line for the merch table.
The concert itself was, for the most part, sublime. It was the first time since 2009 she's toured with a band and while her solo shows are great too, there was pent-up yearning to hear her unleash full-on with a solid rhythm section (Jon Evans on bass, Ash Soan on drums) again. Beat-heavy songs like "Raspberry Swirl" and "Cornflake Girl" sounded tepid with canned beats the last few times out, so to hear everything truly live (save a few BGVs and effects) last night was heavenly.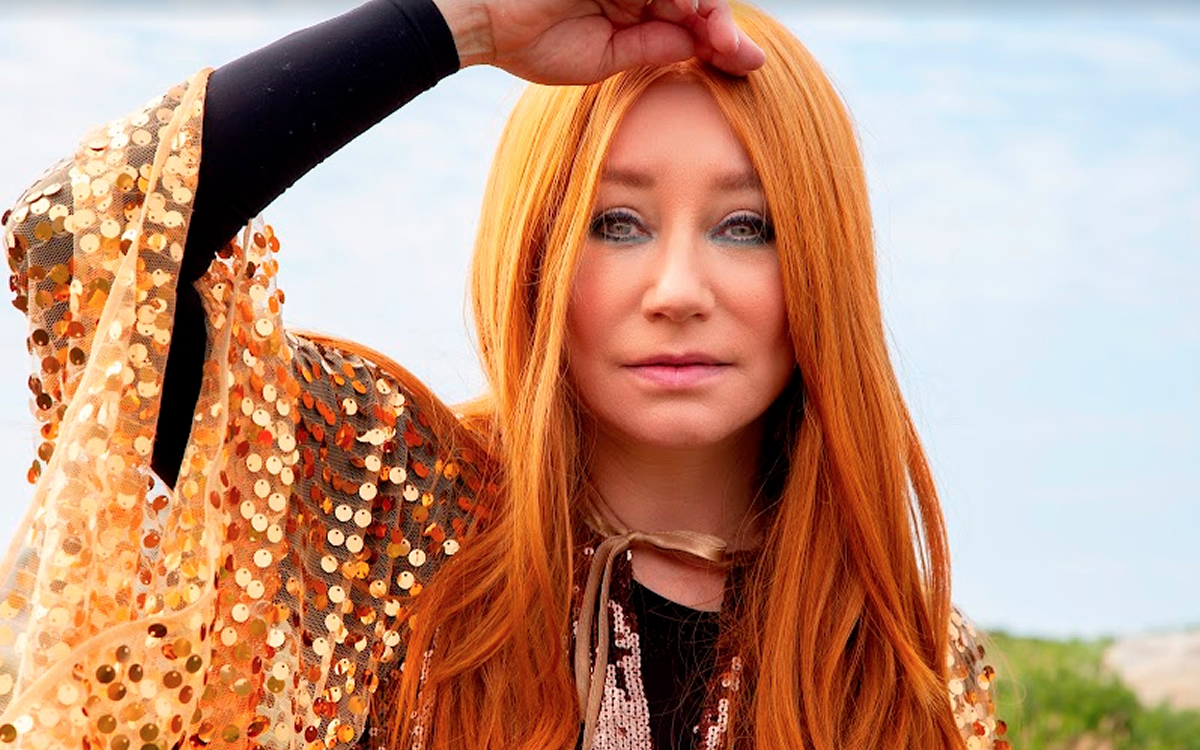 The show had special poignancy too, as Amos grew up in the region. She has written and commented heavily on the immense toll her mother's 2019 death took on her personally and artistically, so that the date happened to be Mother's Day gave the proceedings added gravitas. "Mother Revolution" and "Jackie's Strength" spoke, of course, to the holiday, though (and this is quibbling) I would have vastly preferred "Mother" from "Little Earthquakes," a deep cut we haven't heard live in eons.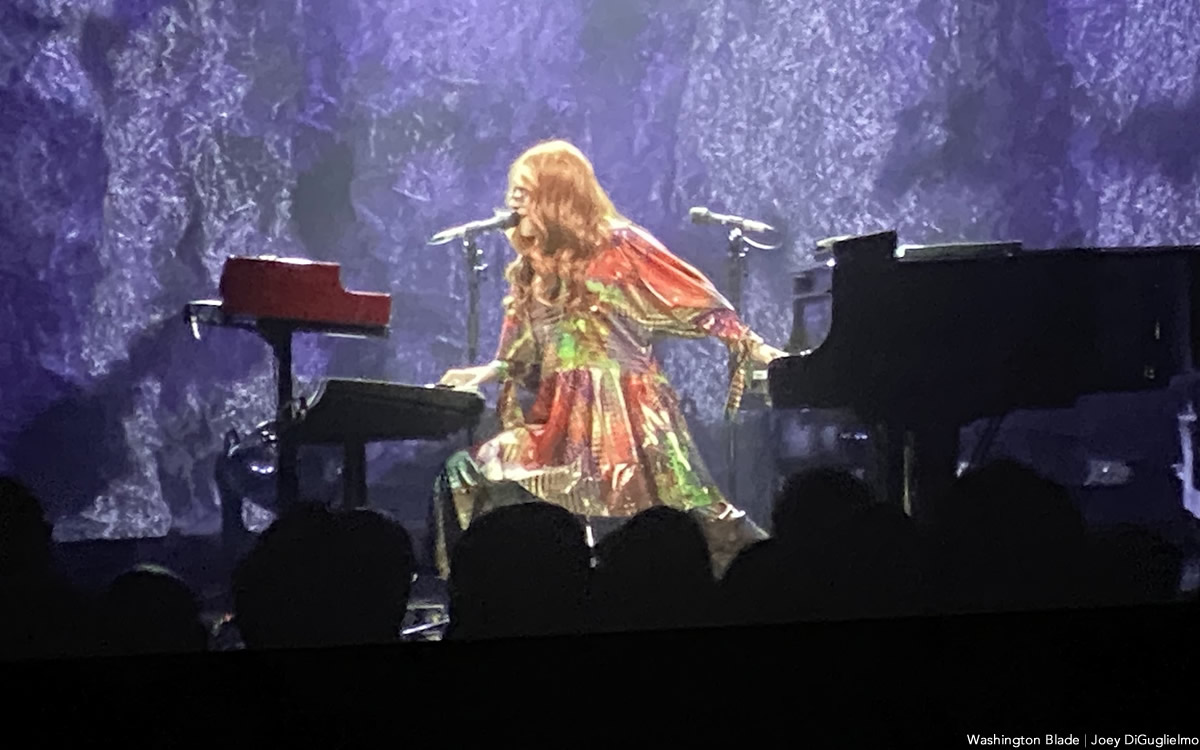 Highlights included the slinky, rhythm-loopy opener "Juarez"; "Ocean to Ocean," one of three cuts performed from the new record, which shimmered with Philip Glass-like piano arpeggios; the vampy, slinky interplay between the three musicians on "Mother Revolution"; and unexpected fan favorite "Spring Haze." Amos, overall, is varying up the set list quite a bit less than is her norm, so it was one of the few surprises of the evening. 
The lengths of several of the songs were drawn out considerably. At times — "A Sorta Fairytale," the aforementioned "Revolution" — that worked well and gave the band time to languidly jam. At other points, it felt a bit self-indulgent and even slightly boring — as on "Sweet Sangria" and "Liquid Diamonds."
"Russia," a bonus cut from the last album, sounded just how it did when Amos performed it here in 2017, but took on added resonance because of current events. Closing line "Is Stalin on your shoulder" was chilling.
Overall, the show — lighting, pacing, everything — largely worked. The sound mix, which fans have said has been muddy at some venues recently on the tour, was pristine. Pacing only lagged a few times in some of the mid-tempo cuts from later albums, but just when you felt some were zoning — the flow of those entering and exiting is a good barometer — Amos whipped things back together with a fan favorite like "Past the Mission" or "Spring Haze."
It all came to a satisfying, audience-friendly climax with "Cornflake Girl," then the two encore cuts, "Precious Things" and "Tear in Your Hand," both from the first album.
Vocally, the range was there and sounded lovely, but the oomph was considerably held back. Vocal preservation for the many dates ahead? Probably. It's understandable. Amos, at 58, may lack the stamina she had 20 years ago, but it did feel underwhelming in passages that in years past would have been full on, balls out like the "Bliss" bridge or the "nine-inch nails" passage from "Precious Things."
Not one acknowledgment or mention by Amos of the female folk duo openers Companion. I'd have invited them out for a few numbers to sing BGVs. I mean, heck, they're in the house, why not? And other than the welcome, a brief soliloquy on Mother's Day was the only Amos comment of the entire night.
Still Amos never came off as aloof. She seemed genuinely excited to be playing live again and the queer-heavy crowd responded in kind.