Migrantes LGBTI en Tijuana 'buscan una oportunidad para vivir'
Miles de personas en la ciudad mexicana deseen entrar los EEUU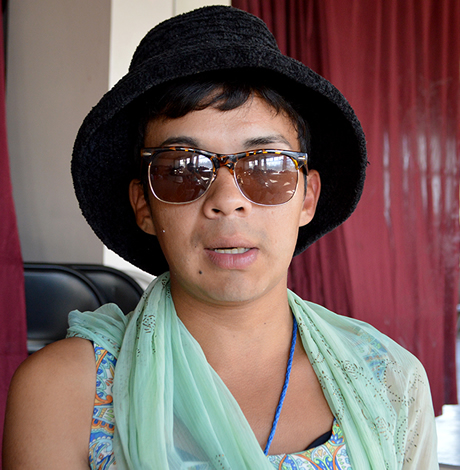 TIJUANA, México — A Melani Sofía Rosales Quiñones, una mujer transgénero de la Ciudad de Guatemala, la esperaba una banda de homofóbicos a la vuelta de su casa. Era julio de 2017 y al pasar junto a ellos les dijo: Buenas noches y solo eso fue el pretexto para una agresión atroz.
"Me golpearon con bates y palos", narra ahora Melani. "Me quebraron la mandíbula y el maxilar izquierdo. Estuve tres días sin despertar en el hospital y luego de 15 días me hicieron una cirugía para reconstruirme el rostro. Me pusieron placas y tornillos. Estuve cuatro meses en recuperación".
Un año antes, las pandillas, que enferman de odio y violencia a medio Latinoamérica, codiciaban su casa como depósito para drogas. Su madre nunca aceptó e interpuso una denuncia por el acoso de las también llamadas "maras".
"Saliendo de la policía llaman a mi mamá y la amenazan. Le dicen que con ellos no se jugaba y matan a mi hermano menor de 15 años", ella dice.
Melani cuenta parte de su vida al Washington Blade desde una casa de acogida en el centro de Tijuana, donde momentáneamente amparan a los miembros LGTBI de la caravana migrante, que llegaron a esta ciudad fronteriza unas semanas atrás con el objetivo de solicitar asilo político en los Estados Unidos, una nación en la cual piensan vivir sin temores y con prosperidad económica.
Los migrantes LGTBI, al igual que la caravana, se han dispersado por toda la frontera norte del país. Lo que antes de llegar a México era un grupo compacto, que enfrentaba ofensas y malos tratos de la propia caravana, hoy no son más que pequeñas y débiles fuerzas dispersas en Tijuana, Baja California y Nogales, otro pueblo limítrofe con EEUU, perteneciente al estado de Sonora.
Las historias detrás del sueño americano
No es la primera vez que Melani se lanza en dirección norte para tocar suelo estadounidense. En mayo de este año "subió" a Tijuana con otra caravana pero otra agresión le postergó el anhelo. "Me llevé una gran decepción porque oficiales de Tijuana me golpearon cuando me dirigía a la garita de El Chaparral. Luego, fui al hospital y puse una denuncia a los policías en Inmigración", dice Melani.
Entonces Melani retornó hasta un pueblito entre Guatemala y México, "en territorio 'nulo'", dice con la ilusión de que, en algún momento, volvería a caminar hacia su sueño americano. No podía volver a Guatemala, pero tampoco a Tijuana. Por esa época se volvió casi ermitaña. Ella, una chica extrovertida y sociable, vivía alejada de la gente. "Trabajaba en una panadería y de ahí para mi casa. Sin decir alguna palabra, sin saludar", añade.
Melani huía de una Guatemala donde la violencia se percibe como natural y se manifiesta más aguda contra las comunidades LGBTI. Allí soportan "insultos, sobornos, detenciones arbitrarias y agresiones físicas, que no pocas veces terminan en asesinatos, pero que no se denuncian por temor a las represalias. Las personas LGBTI viven con miedo y no cuentan con redes de apoyo comunitario que les ayuden a enfrentar los escenarios violentos en que habitan", especifica un diagnóstico sobre la situación de esta comunidad en cuatro países centroamericanos.
Un total de 39 mujeres trans, como Melani, fueron asesinadas de enero a julio de 2017 en Guatemala, según el Observatorio de Personas Trans Asesinadas, ubicando a la nación en el puesto número seis dentro de la lista de países de América Latina y el Caribe con mayores cifras absolutas de personas trans asesinadas.
En Honduras, por otra parte, 40 personas LGTBI han muerto entre 2007 y mayo del presente año, indicó en un comunicado el estatal Comisionado Nacional de los Derechos Humanos en Honduras (Conadeh). Cattrachas, una red lesbiana feminista, indica que 288 personas LGBTI han sido asesinados en Honduras entre 2009 y 2018.
No solo es una situación de inseguridad. Este colectivo en Honduras posee muy bajas posibilidades de empleo. Según reportó Infobae "no existen en el país antecedentes de ninguna persona trans que haya ingresado a un puesto de trabajo en una empresa privada o en una dependencia estatal".
Amelia Frank-Vitale, antropóloga de la Universidad de Michigan, quien lleva más de un año viviendo en Honduras para estudiar temas de deportación, migración y violencia, confirmó al Blade que "las personas de la comunidad LGBTI están expuestas a todas las formas de violencia que vive cualquier persona en Honduras, que es la mayoría de la población urbana, joven y pobre, pero además están discriminadas, estigmatizadas por su orientación sexual y en muchos casos el Estado está ausente en temas de justicia. Es siempre más crítico para la comunidad LGBTI".
De esa situación vienen huyendo Alexis Rápalos y Solanyi, dos identidades que habitan un mismo cuerpo robusto de 38 años. En la entrevista con el Blade es Alexis quien habla. Lleva un gorro que cubre una cabeza casi sin pelos y las palabras apenas le salen.
Viene de una familia con bajos recursos y nos ha revelado que, desde los diez años, sufre el flagelo de la discriminación por las calles de su ciudad, San Pedro Sula, la que por cuatro años fue reconocida como la urbe más peligrosa del planeta. De nadie tuvo que despedirse, pues desde que murió su madre hace un año, vive solo.
Sastre y chef de cocina, trabajaba en un restaurante en su país natal, pero decidió sumarse a la caravana en busca de un futuro con más seguridad y una vida sin los sobresaltos de una homofobia generalizada.
Partió sin más que un pantalón y una camisa en su mochila y alcanzó la caravana en la frontera entre Guatemala y México. "Fui descubriendo amigos en la caravana", refiere Alexis. "Y luego a la comunidad gay. Venimos luchando, peleando muchas cosas porque nos discriminan bastante, nos insultan".
"El camino ha sido bastante duro", sostiene Alexis. "A veces nos quedamos dormidos en lugares muy fríos, con tormentas. Yo me enfermé de la gripe con una tos horrible, pero gracias a Dios nos han ayudado con medicinas, con ropa".
Arribaron a Tijuana pidiendo jalón (auto-stop), a ratos en autobuses y suplicando por la caridad ajena para comer. "Llegamos al albergue que había en la Unidad Deportiva Benito Juárez, pero nosotros estábamos en nuestro grupo aparte. Nos han tratado bien, con ropas, medicinas, comida", insiste como tratando de agradecer días atenciones recibidas.
Hasta ese albergue, donde las condiciones de insalubridad y hacinamiento eran una constante, los persiguió la homofobia que viaja con algunos de sus coterráneos y los ubica en una posición aún más desfavorable que la del resto. Alexis detalla que eran abucheados en las filas para los alimentos y hubo ocasiones en las que no los dejaron comer. La situación se repetía en las frías duchas a la intemperie, donde la privacidad era un lujo impensable.
Allí, junto a los casi 6.000 centroamericanos que llegaron a aglomerarse en el albergue habilitado por las autoridades de la ciudad, sintió la crudeza del frío de madrugada, durmió en la calle porque no tenía una carpa que lo protegiera y la inusual lluvia de la temporada le humedeció hasta el alma cuando vio empapadas sus pocas pertenencias.
"En el albergue (Benito Juárez) sí pasamos humillaciones, críticas, hasta nos hicieron quitar la bandera gay. Recibimos mucha discriminación, nos dicen que no podemos hacer la misma fila para la comida y para el baño nos dejan de últimos y aquí (Enclave Caracol, nuevo albergue) nos están apoyando demasiado, nos dan nuestro lugar, tenemos baño aparte y todo", comenta Bairon Paolo González Morera, un gay guatemalteco de 27 años.
Cuenta Bairon que se travestía por las noches y ejercía la prostitución como Kiara Paola, una actividad que le dejó varias cicatrices en su cuerpo. "Yo me dedicaba a trabajar para llevarle comida a mi hermano gemelo y al más pequeño", dice. "Ahí mi familia se enteró que era gay. Mi madrastra me discriminó y mi papá no me apoyó y hasta hoy día estoy luchando por mi bienestar, a pesar de que me han dado trabones en la espalda y en diferentes partes de mi cuerpo, pero he salido adelante".
Vivía solo y constantemente era extorsionado, por lo que decidió unirse a la caravana. Cuando los migrantes arribaron a México, ya trabajaba en un restaurante en Tuxpan y no pensó dos veces unirse a la caravana, que en opinión de la experta en migraciones Frank-Vitale es "un movimiento de desobediencia civil contra un régimen global … La caravana es la forma que se ha reconocido que se puede cruzar México sin estar tan expuesto a los grupos criminales, las autoridades corruptas y sin pagar un coyote para buscar una oportunidad de vivir".
A la espera del asilo
Una larga fila se ha formado a las afueras del Enclave Caracol, un espacio comunitario ubicado en la calle primera, en el centro de Tijuana, que ha acogido a esta fracción de la caravana LGBTIQ, que llegó semanas después de la primera.
Bajo unas carpas, los propios migrantes se organizan para repartir la comida que ellos mismos han preparado en el interior del edificio, que semanas antes también brindó su espacio para el matrimonio de varias parejas gays.
Nacho, quien prefirió solo presentarse así, es colaborador de Enclave Caracol, y dijo que están apoyando "a la comunidad con la alimentación y agua, el uso de baño, acceso a Internet, uso de teléfonos para que puedan llamar prácticamente a cualquier parte del mundo y en algún momento ha funcionado como albergue".
En los primeros días de auxilio a estos desplazados eran los trabajadores del lugar quienes cocinaban gran parte de los alimentos y garantizaban la limpieza. Pero, dice "poco a poco se han ido involucrando personas de la caravana. Actualmente ninguna persona del Enclave ha estado en la cocina. Estas últimas semanas hemos recibido donaciones y también hemos ido a los mercados por la merma y la limpiamos, la procesamos y se cocina. Ellos mismos están organizando la limpia y entrega de la comida".
Nacho declaró que varias personas de la sociedad civil de Los Ángeles, San Diego y de la propia ciudad de Tijuana aportan dinero, comida, voluntariado, productos de limpieza, platos y vasos desechables para aliviar la tensa situación que se vive ahora mismo por la llegada de miles de migrantes a esta urbe fronteriza, muchos de los cuales no han iniciado su proceso de asilo político.
Y es que, al decir de la académica Frank-Vitale, este proceso se ha puesto intencionalmente difícil en EEUU. "Hay una lista muy larga de personas que solicitan el asilo, que se han entregado en la garita y buscan seguir el proceso correcto, bajo la ley internacional", dice. "Se ha dicho que van a tener que esperar hasta dos meses para tener la oportunidad de hablar de su caso, y eso para personas vulnerables, que huyen de una persecución, que viven bajo la lluvia, el frío, a la intemperie todo ese tiempo, la verdad es una crisis humanitaria fatal".
"A veces uno se desespera porque no hay un lugar estable. Nos vamos de aquí para allá. Dicen que hoy nos van a llevar para otra casa para esperar a los abogados que nos van a ayudar con los papeles", dice esperanzado Alexis.
Sin embargo, Melani es más realista al comentar sobre su petición de asilo: "La situación de nosotros está un poco difícil porque siguen llegando muchas personas. Donald Trump cerró la frontera y el trámite está muy complicado. Por eso las personas van a la frontera a meter presión".
Frank-Vitale considera que el actual sistema de asilo debe cambiar para reconocer las formas modernas de violencia y persecución a las que se ven expuestas las personas y en especial los grupos LGTBI. "Tomando todo eso en cuenta, sí es posible. Hay casos de Centroamérica que entran perfectamente en el sistema, siempre y cuando tengan realmente el temor por sus vidas en sus países y mucha gente tiene un miedo muy verdadero".
Ese temor, que ha colmado gran parte de la vida de Melani, la acompañará, incluso, en territorio norteamericano, pues en "la caravana anterior había una chica que se llamaba Roxsana, quien murió porque tenía VIH, pero la autopsia reveló que había sido agredida por los oficiales del Servicio de Inmigración y Control de Aduanas (ICE) de Estados Unidos".
La primera autopsia realizada en Hernández, una mujer trans hondureña con VIH que murió bajo custodia de ICE en Nuevo México el 25 de mayo, menciona la causa de muerte como un paro cardíaco. La segunda autopsia a la que se refirió Melani muestra que Hernández fue golpeada, pero no identifica las personas que la atacaron mientras estaba bajo custodia.
La autopsia original realizada en Hernández, una mujer trans hondureña con VIH que murió bajo custodia de ICE en Nuevo México el 25 de mayo, menciona la causa de la muerte como un paro cardíaco. La segunda autopsia a la que se refirió Melani muestra que Hernández fue golpeado, pero no identifica quién la atacó mientras estaba bajo custodia.
El tema ha llegado hasta el Senado estadounidense, pues tres senadores invitaron recientemente al Servicio de Aduanas e Inmigración y Aduanas y Protección de Fronteras de EEUU a entregar documentos relacionados con el caso de Roxsana, una mujer trans hondureña con VIH que murió bajo su custodia el año pasado.
Pese a todas estas situaciones, pese a un presidente xenófobo que comanda al otro lado, pese a un poderoso ejército atrincherado en la frontera, pese a las largas filas para ser escuchados, pese a la incertidumbre constante, Bairon se mantiene firme en su decisión: "Ya estamos acá. Con tanto trabajo que nos costó, yo no regreso".
Ya sabemos por qué.
U.S. demands more access to Brittney Griner in Russia
Out WNBA star detained in Moscow in February
U.S. Ambassador to Russia John Sullivan on Tuesday said Russian officials have denied consular visits to detained WNBA star Brittney Griner three times this month.
"For the third time in a month, Russian authorities have denied an embassy visit to detained U.S. citizen Brittney Griner," said Sullivan in a statement the U.S. Embassy in Moscow posted to its Twitter account. "This is unacceptable. We call on @mfa_russia (Russia's Foreign Affairs Ministry) to provide timely consular access, in line with Russia's international and bilateral obligations."
#AMBSullivan:  For the third time in a month, Russian authorities have denied an Embassy visit to detained U.S. citizen Brittney Griner. This is unacceptable. We call on @mfa_russia to provide timely consular access, in line with Russia's intl & bilateral obligations.

— Посольство США в РФ/ U.S. Embassy Russia (@USEmbRu) May 17, 2022
Griner — a center for the Phoenix Mercury and a two-time Olympic gold medalist who is a lesbian and married to her wife — was taken into custody at Moscow's Sheremetyevo Airport in February. Russian officials said customs inspectors found hashish oil in her luggage.
The State Department earlier this month determined Russia "wrongfully detained" Griner.
A Russian court on May 13 extended her detention for another month. The Women's National Basketball Players Association, a union that represents WNBA players, has endorsed a Change.org petition that urges the Biden administration to "prioritize" Griner's release.
State Department spokesperson Ned Price on Tuesday told reporters during his daily press briefing that a consular official "was able to speak with" Griner "on the margins of her court proceedings" on May 13.
"That consular official came away with the impression that Brittney Griner is doing as well as might be expected under conditions that can only be described as exceedingly difficult," said Price.
"But sporadic contact is not satisfactory," he added. "It also may not be consistent with the Vienna Convention, to which Russia has subscribed. That is why we continue to urge the Russian government to allow consistent, timely consular access to all U.S. citizens detained in Russia, in line with those very legal obligations, and to allow us to provide consular services for U.S. citizens detained in Russia."
Price on Tuesday also said Secretary of State Antony Blinken "had an opportunity in recent days to speak with" Griner's wife.
Blinken spoke with her on May 14.
"He conveyed once again the priority we attach to seeing the release of all Americans around the world, including Brittney Griner in the case of Russia, Paul Whelan in the case of Russia — those are Americans who we consider to be wrongfully detained," said Price.
Capital Stonewall Democrats backs Robert White over Bowser
LGBTQ group endorses Erin Palmer over incumbent Mendelson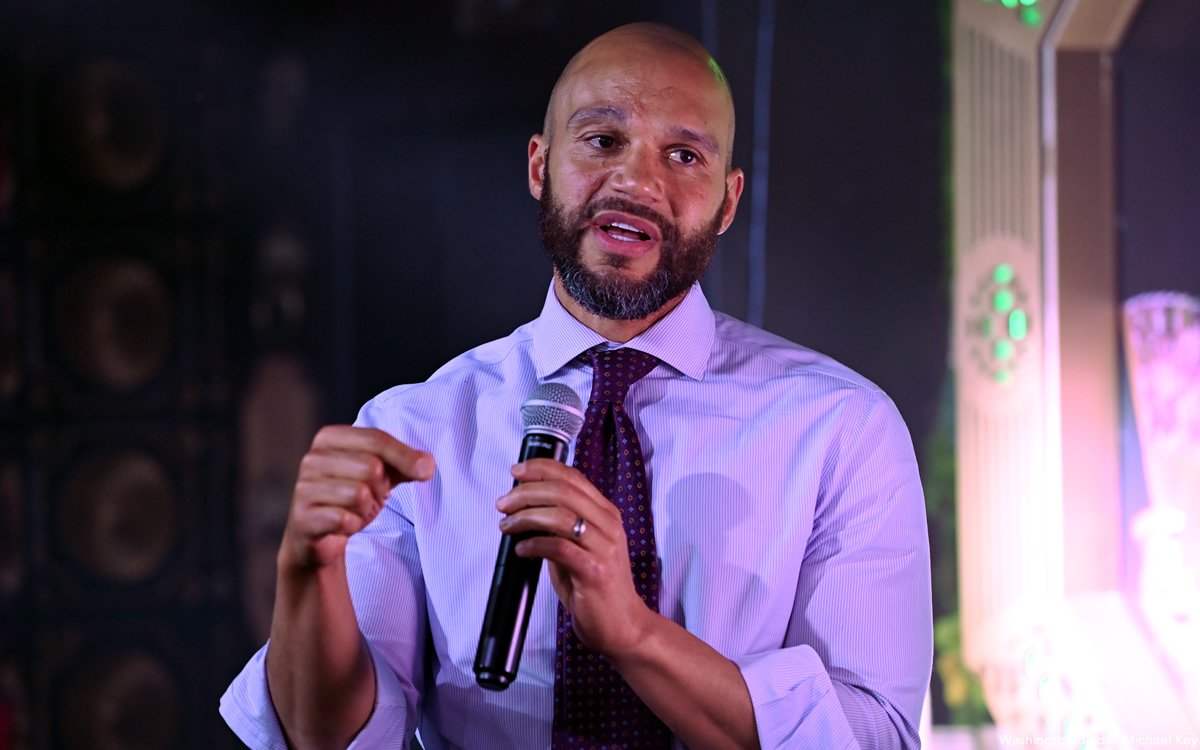 The Capital Stonewall Democrats, the city's largest local LGBTQ political group, announced on May 17 that it has selected D.C. Council member Robert White (D-At-Large) over incumbent Mayor Muriel Bowser and political newcomer Erin Palmer over D.C. Council Chair Phil Mendelson as its endorsed candidates in the city's June 21 Democratic primary.
With Bowser and Mendelson as well as White having longstanding records of support for LGBTQ rights and Palmer expressing strong support for the LGBTQ community, local observers say the LGBTQ Democratic group's 163 voting members appear to have based their endorsement decisions on other pressing issues facing the city rather than only LGBTQ specific issues.
In other races, Capital Stonewall Democrats, formerly known as the Gertrude Stein Democratic Club, which was founded in 1976, voted to endorse incumbent Ward 1 Council member Brianne Nadeau over gay former D.C. police officer Salah Czapary and community activist Sabel Harris who are running against Nadeau.
In the Ward 5 Council race, the group has endorsed gay D.C. Board of Education member Zachary Parker in a five-candidate contest for the seat being vacated by incumbent Council member Kenyan McDuffie, who ran unsuccessfully for the office of D.C. Attorney General.
The group has also endorsed Council member Charles Allen (D-Ward 6), who is running unopposed in the primary; D.C. Congressional Del. Eleanor Holmes Norton (D), who's favored to win re-election against two lesser-known opponents; and D.C. shadow U.S. Rep. Oye Owolewa, who's also favored over a lesser known opponent.
Capital Stonewall Democrats announced it did not make an endorsement in the Ward 3 and At-Large D.C. Council races and in the D.C. Attorney General race because no candidate received a required 60 percent of the vote under the group's longstanding rules for endorsements.
By not endorsing in the At-Large race, the group passed over incumbent At-Large Council member Anita Bonds, a longtime supporter of LGBTQ issues. Bonds is being challenged by Advisory Neighborhood Commissioner Lisa Gore, former D.C. shadow House member Nate Fleming, and former D.C. Council staffer Dexter Williams.
In the hotly contested Ward 3 Council race, nine candidates are competing for the seat being vacated by incumbent Mary Cheh, another longtime LGBTQ rights supporter.
In the race for attorney general, three prominent local attorneys — Brian Schwalb, Ryan Jones, and Bruce Spiva — are competing for the AG position being vacated by incumbent Karl Racine, who chose not to run for re-election.
Capital Stonewall Democrats' endorsements follow a series of five LGBTQ candidate forums the group held virtually in which most of the candidates running in the various races attended.
In the group's mayoral form, Bowser was the only one of the four mayoral contenders that did not attend. Her supporters said she had a conflicting event organized by gay Democratic activist Kurt Vorndran that prevented her from attending the Stonewall event.
Those who attended the mayoral forum were Robert White, D.C. Council member and mayoral candidate Trayon White (D-Ward 8), and former attorney and community activist James Butler.
A detailed vote tally released by Capital Stonewall Democrats shows the vote count for each of the endorsed candidates as well as candidates in the races for which the group did not make an endorsement.
In the mayoral race, Robert White received 120 votes, or 74.5 percent. Bowser came in second place with 37 votes or 23.0 percent; Trayon White received just two votes or 1.2 percent, with Butler receiving just 1 vote at 0.6 percent. One vote was cast for no endorsement.
In the D.C. Council Chair race, Palmer received 89 votes or 60.1 percent, just surpassing the 60 percent threshold needed for an endorsement. Mendelson received 48 votes or 32.4 percent. Eleven votes were cast for no endorsement.
In the Ward 1 Council race, Nadeau received 100 votes or 69.4 percent compared to gay candidate Czapary, who came in second place with 23 votes or 16.0 percent. Candidate Sabel Harris came in third place with 9 votes or 6.3 percent, with a no endorsement selection receiving 12 votes or 8.3 percent.
In the Ward 5 contest, gay school board member Parker received 91 votes or 64.5 percent. Candidate Faith Hubbard came in second with 31 votes or 22.0 percent. The remaining candidates received fewer than 10 votes each, including former At-Large and former Ward 5 Council member Vincent Orange, who received 5 votes or 3.5 percent.
"Since Capital Stonewall Democrats has only 221 members, and only 163 bothered to vote, this is clearly not representative of the LGBTQ+ community in the District," said gay Democratic activist Peter Rosenstein, who is supporting Bowser for mayor.
But longtime D.C. LGBTQ rights advocate A. Billy S. Jones-Hennin is among the local activists who view the Capital Stonewall Democrats' endorsement of lesser-known challengers – most of whom have progressive, left-leaning views – as a reflection of changes in the demographics of the LGBTQ community and the Stonewall group's members.
"At the forefront for voters is who they feel can address core problems like crime, open drug transactions, and increased homeless populations," Jones-Hennin told the Blade. "Just asking voters for support based on their support of the LGBTQ+ community in the past does not cut it," he said. "We are multi-faceted voters looking for new, more progressive and aggressive leadership."
The Capital Stonewall Democrats list of endorsements as well as races with no endorsement can be viewed below:
• Mayor: Robert White, with 74.5% of the round one vote
• DC Attorney General: No Endorsement
• DC Council Chair: Erin Palmer, with 60.1% of the round one vote
• Ward 1 Council: Brianne K. Nadeau, with 69.4% of the round one vote
• Ward 3 Council: No Endorsement
• Ward 5 Council: Zachary Parker, with 64.5% of the round one vote
• Ward 6 Council: Charles Allen, with 83.2% of the round one vote
• At-Large Council: No Endorsement
• Delegate to U.S. House of Representatives: Eleanor Holmes Norton, with 69.7% of the round one vote
• U.S. Representative: Oye Owolewa, with 66.1% of the round one vote
Brian Sims, three other LGBTQ candidates lose races in Pa.
Gay, trans hopefuls competing for Philly state house seat lose to straight ally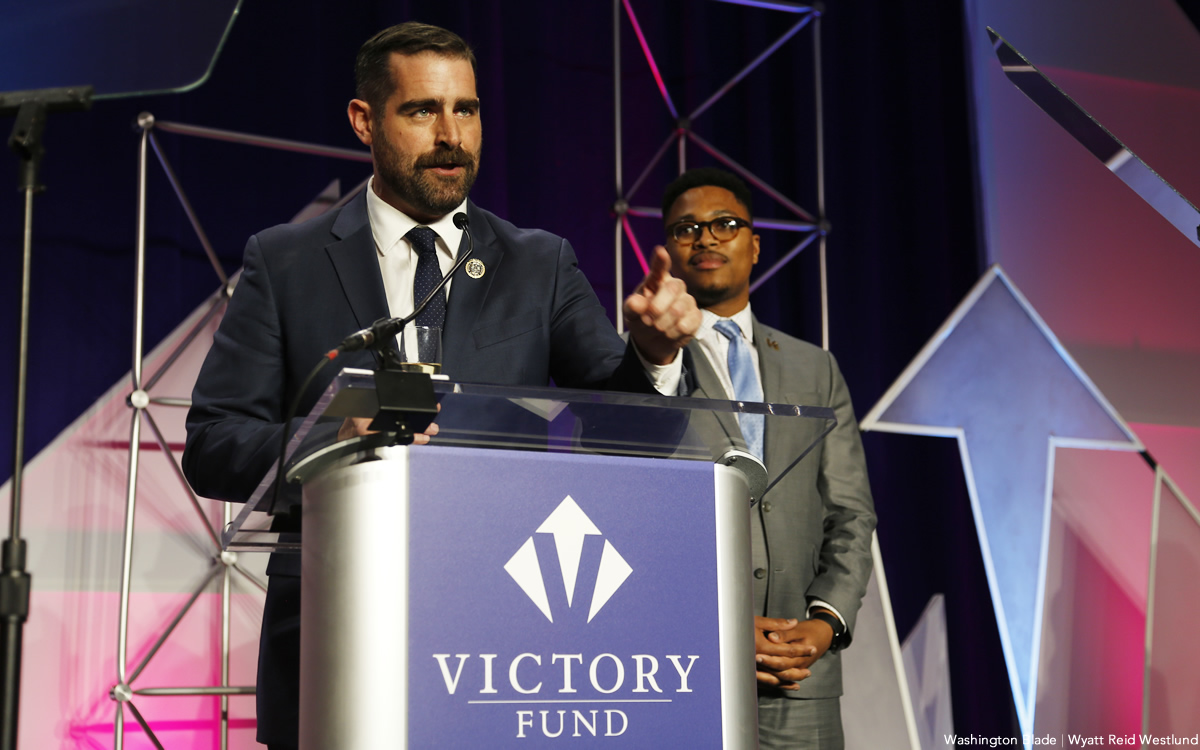 LGBTQ candidates running for the U.S. Senate, lieutenant governor, and a seat in the Pennsylvania House of Representatives in Philadelphia's 'gayborhood' each lost their races in the Keystone State's May 17 Democratic primary.
Transgender community activist Deja Alvarez and LGBTQ rights and economic development advocate Jonathan Lovitz, who ran against each other in a four-candidate race for the 182nd District State House seat in Center City Philadelphia, were thought to have the best shot at winning among the four LGBTQ candidates running in the state primary.
The two were running neck-and-neck to one another but were trailing far behind straight LGBTQ ally and businessman Ben Waxman as of late Tuesday evening. With the votes counted in 52 of 59 of the district's electoral divisions, Waxman had 41.6 percent of the vote, Lovitz had 19.1 percent, with Alvarez garnering 18.6 percent. Café owner, community activist, and LGBTQ ally Will Gross had 20.5 percent of the vote.
Lovitz and Alvarez along with Waxman and Gross were running for the seat held by gay State Rep. Brian Sims, who gave up the seat to run in Tuesday's primary as the state's first out gay candidate for lieutenant governor.
Sims lost that race to fellow State Rep. Austin Davis by a margin of 63.3 percent for Davis and 24.5 percent for Sims with 88 percent of the votes counted. The Associated Press declared Davis the winner early in the evening. A third candidate in the race, Ray Sosa, had 12.2 percent of the vote.
In a development that surprised many observers outside Pennsylvania, more than 40 prominent LGBTQ leaders from across the state endorsed Davis over Sims earlier this year, saying Davis is a strong and committed supporter of LGBTQ rights and has the best chance of winning in the general election in November.
Davis also received the strong backing of Pennsylvania Attorney General Josh Shapiro, who ran unopposed in Tuesday's primary for the Democratic nomination for governor. Shapiro, who also received strong backing from LGBTQ activists, said he considered Davis to be his running mate in the primary.
The fourth of the LGBTQ candidates running in Tuesday's Pennsylvania primary, State Rep. Malcolm Kenyatta of the 181st District in North Philly, ran as a longshot candidate for the state's U.S. Senate seat being vacated by GOP incumbent Patrick Toomey. Kenyatta lost to Democratic Lt. Gov. John Fetterman, who was declared the winner with 88 percent of the votes counted.
Fetterman had 59.3 percent, with Kenyatta finishing in third place in a four-candidate race with 10.0 percent of the vote. U.S. Rep. Conor Lamb finished in second place with 26.6 percent of the vote as of early Wednesday morning, with IT specialist and former small business owner Alex Khalil finishing fourth with 4.2 percent of the vote.
Kenyatta, who was one of three gay speakers who joined others in delivering a joint keynote address at the 2020 Democratic National Convention, received the endorsement of the Philadelphia Gay News in his bid for the U.S. Senate seat.
The race in which Lovitz and Alvarez competed for the State House seat in the 182nd District, which is believed to have more LGBTQ residents than any other legislative district in the state, drew the most attention among LGBTQ activists both in Philadelphia and in other parts of the country.
Both have been involved in LGBTQ rights issues for many years. Lovitz drew support from a wide range of LGBTQ and labor and small business leaders who he knew in his past role as senior vice president of the National LGBT Chamber of Commerce. Alvarez, a widely known transgender activist who led local community-based organizations providing services to the LGBTQ community, would have been the first transgender person to serve in the Pennsylvania General Assembly if she had been elected to the State House seat.
The LGBTQ Victory Fund, the national group that raises money in support of LGBTQ candidates for public office, drew criticism from some activists for endorsing Alvarez over Lovitz. Some argued that the group should have remained neutral or backed Lovitz, who had raised far more money for his campaign and appeared to be the most viable of the two candidates. Others expressed concern that two LGBTQ candidates running in a four-candidate race could result in a split in the LGBTQ vote that would help the straight candidates, who were known LGBTQ rights supporters.
As it turned out, the approximate combined share of the vote that Alvarez and Lovitz received — 38.2 percent — still fell short of the 42.6 percent of the vote received by Waxman.