January 12, 2019 at 12:13 pm EST | by Kevin Majoros
Local athletes find niche in triathlon community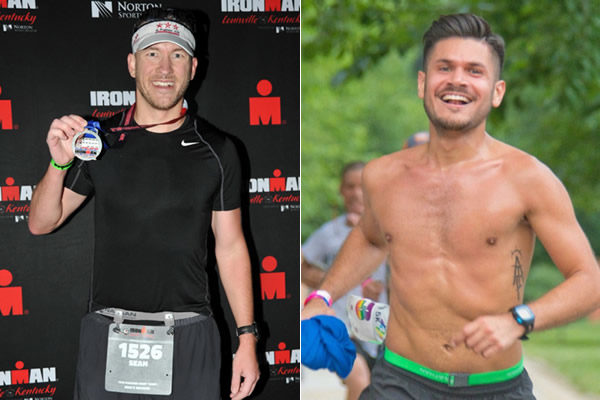 TriOut Multisport. is the LGBT community group under the DC Tri Club umbrella. This week in the Blade's All Star series, we spotlight the path of two LGBT athletes who have found their niche in the triathlon community.
Like many triathletes, Sean Maloney has a list of goals. This year, he'll compete in his third full Ironman triathlon and hopes to one day be selected for the Kona Ironman World Championship through its Ironman Legacy Program.
He also wants to run a full marathon on all seven continents. Even though he's marking off sports achievements that many people only dream about, he still says he is not athletic.
"I don't feel any more athletic now than when I started doing triathlons," Maloney says. "When I think of athleticism, I think of talent and coordination. I am just a normal guy."
As a kid in Corning, N.Y., Maloney's father pushed him to try sports, but none of them stayed with him. He spent two years on the tennis team in high school but says he was more interested in a less rigid sense of masculinity and just being himself.
While attending Binghamton University, he began running at a nearby nature reserve and continued through his graduate work at Syracuse University. After working as a clinical social worker at an LGBT community center in rural Pennsylvania, Maloney moved to D.C. in 2010.
He was only running up to three miles at the time when a spin instructor asked him to run the Annapolis Ten Mile Run. It was his launching pad race and he goes back every year to participate and mark the spot where he got started.
Maloney's first triathlon was the Carolina Beach Double Sprint in 2014 and there were many lessons along the way.
"I signed up at the YMCA for swim training and couldn't make it past 12 yards at my first session. When I saw the five-foot swells at the triathlon, I had a panic attack. I didn't even know how to get past the breakers," Maloney says. "After I completed the race, the feeling of accomplishment was totally novel to me. It was different and addicting. I did two more triathlons that year including the Cleveland Gay Games."
Maloney, who works as director of development at Women for Women International, returned to the Gay Games in Paris last year to run the full marathon. Coming up he will be doing the Geneva Musselman sprint triathlon with his father and twin sister, and then completing the half Ironman the next day on his own.
"The triathlon community has given me so much. There are built-in training partners that help you cut through the noise," Maloney says. "I have found my best friend, a sense of community and a sense of self."
Jorge Alvarez discovered something in the triathlon community that he didn't know was inside of him: a competitive sports spirit. Growing up in Venezuela and the United Kingdom, there was a small amount of swimming and tennis, but most of his focus was on playing cello.
His music kept him busy, but he put aside time for running and biking while attending Shepherd University. After moving to D.C. in 2013, he began dating a runner, ran a few 5Ks and then went right for a longer distance taking on the Marine Corps Marathon.
"Running long distances was starting to hurt my knees and I ended up splitting from my boyfriend," Alvarez says. "I was in a dark place and I needed something positive to keep me busy."
Alvarez started training on his own for a triathlon and completed his first sprint at the Nation's Triathlon in 2017. He was hooked and joined TriOut Multisport for race and nutrition advice before moving forward to compete in more triathlons.
"My competitive drive kicked in after that first race when I realized that sports were helping me stay out of that dark place," Alvarez says. "I love all of it — the discipline, the research, the dedication. It fulfills me and makes me happy."
Alvarez has many things keeping him busy outside of triathlon training. Along with working as an accountant at a nonprofit, he plays cello with NIH Philharmonia, teaches music to youth and has played in Stonewall Kickball.
And like all competitive athletes, he has sports goals.
"I am aiming to complete a half Ironman this year and would like to try and make the elite team with DC Tri," he says. "I am proud to be dedicated to my racing. If you work really hard, you can get to a better place."