January 16, 2019 at 5:09 pm EST | by Michael K. Lavers
Larry Hogan sworn in for second term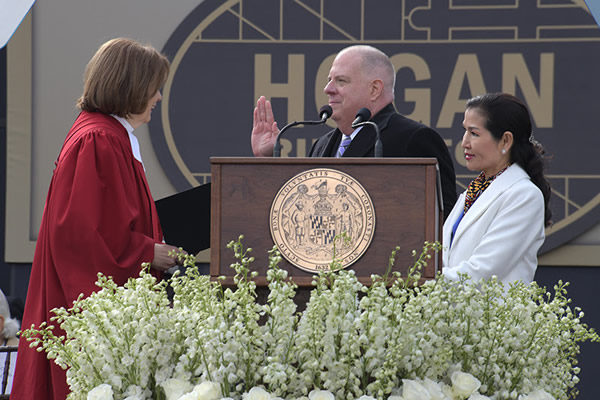 Maryland Gov. Larry Hogan on Wednesday was sworn in for a second term.
Former Montgomery County Executive Ike Leggett, a Democrat, and former Florida Gov. Jeb Bush, a Republican who who ran for president in 2016, both spoke at the ceremony that took place at the Maryland State House in Annapolis. Hogan in his inaugural speech did not specifically reference LGBT issues, but he made a number of veiled criticisms of President Trump and Congress.
"Let's repudiate the debilitating politics practiced elsewhere — including just down the road in Washington — where insults substitute for debate, recriminations for negotiation and gridlock for compromise; where the heat, finger-pointing and rancor suffocates the light, and the only result is divisiveness and dysfunction," said Hogan.
Hogan took office in 2015. He became the second Republican Maryland governor re-elected in the state's history last November when he defeated former NAACP President Ben Jealous.
Hogan last year signed a law that bans so-called conversion therapy for minors in Maryland. Hogan in 2015 allowed two measures — one that enables trans Marylanders to change their name and gender on their birth certificates without sex reassignment surgery and another that ensures lesbian couples have equal access to fertility treatments — to take effect without his signature.
Hogan in his inaugural speech described his first term in office as "a humble, tolerant, respectful, and effective government that has worked together and found bipartisan, commonsense solutions."
Former state Sen. Rich Madaleno, who ran for governor in 2018, and others have expressed concern over Hogan's second term. FreeState Justice Executive Director Mark Procopio told the Washington Blade earlier this month that he remains optimistic Hogan will not oppose LGBT-specific bills in this year's legislative session.