January 28, 2019 at 11:25 am EST | by Kevin Naff
Remembering Harris Wofford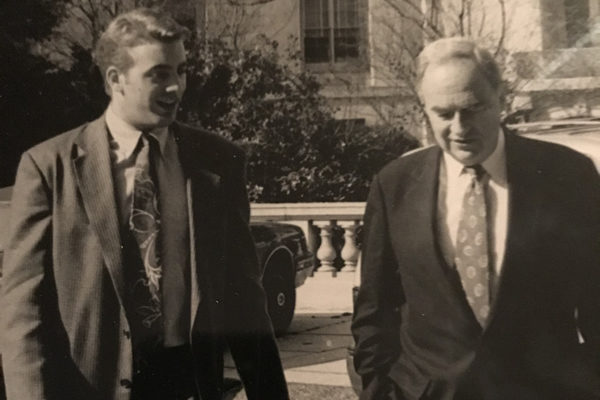 The death of former U.S. Sen. Harris Wofford (D-Pa.) barely registered on the mainstream media's radar last week, lost amid the never-ending obsession with covering the latest Tweet storm from the Oval Office.
What a contrast in style and character — the selfless, honorable career of Wofford, who traveled extensively in India, studying non-violent protest from followers of Gandhi and who later marched in Selma — versus the crude, grammatically challenged and racist demagoguery of the current president.
Wofford, who came out late in life, died at a Washington, D.C. hospital last week after suffering a fall. He was 92.
Wofford had a long career in civil rights activism before joining the Senate. He graduated from Howard University Law School and marched with Rev. Martin Luther King Jr. He served in the Kennedy administration as special assistant for civil rights and was instrumental in creating the Peace Corps before moving to academia where he served as a university president.
Wofford was married to his wife Clare for 48 years before she died in 1996. They had three children. He recalled their romance in a 2016 New York Times essay, writing, "Our romance and adventure continued for five decades. When I was running for election to the Senate in 1991, Clare gave up her job to become an all-out campaigner, helping us win in a landslide. In my narrow losing re-election campaign of 1994, astute Pennsylvanians observed that if Clare had been the candidate, she would have won."
In that same essay, Wofford shared his coming out story. At age 75, he met Matthew Charlton, 50 years his junior, on a Fort Lauderdale beach. The two became close friends, eventually lovers, and married in 2016.
"Too often, our society seeks to label people by pinning them on the wall — straight, gay or in between," Wofford wrote. "I don't categorize myself based on the gender of those I love. I had a half-century of marriage with a wonderful woman, and now am lucky for a second time to have found happiness."
Wofford was appointed to fill the Senate seat of John Heinz, who was killed in a 1991 plane crash. He later held the seat in a special election upset, defeating the popular Richard Thornburgh, in part because of his focus on health care reform. Three years later, Wofford was defeated in his re-election bid by Rick Santorum, who would go on to become one of the Senate's most notorious homophobes.
I worked for Wofford in 1993 in his Senate press office and reconnected with him years later after he came out in the Times essay, teasing him that he should have come out in the Blade. I used to interview him for his office's weekly radio service and we had many meaningful conversations. In February 1993, I accompanied him to a book signing for his inspirational work, "Of Kennedys & Kings: Making Sense of the Sixties."
In it, Wofford quotes everyone from Tocqueville to Lincoln, lamenting "the cynicism about all government that has paralyzed our politics." And that was 1993. Things have only gotten worse in that regard, something that clearly upset Wofford who believed strongly in the importance of public service and academic rigor, noting presciently in his book that energy is no substitute for wisdom.
After reconnecting at an Obama White House event, I had the pleasure of meeting Matthew. They were a loving, dashing couple. Our country could use more smart, thoughtful, selfless people like Harris Wofford in public service. 
Kevin Naff is editor of the Washington Blade. Reach him at knaff@washblade.com.