February 6, 2019 at 9:18 pm EST | by Joey DiGuglielmo
D.C. man represents LGBT Catholics in Panama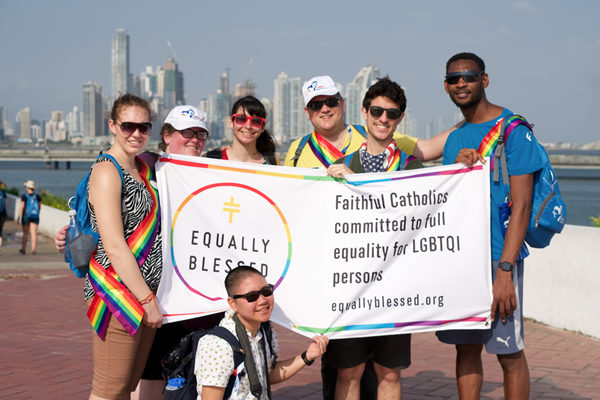 A 31-year-old, gay Washington man and federal employee just returned from Panama City, Panama where he attended the 16th annual World Youth Day Jan. 22-27. The Roman Catholic Church-sponsored gathering, started by Pope John Paul II in 1985, is held every two-three years at various international locales.
Keith Hall, a member of Dignity Washington, a local LGBT Catholic church not recognized by the Vatican, went as part of a contingent of young professionals representing Equally Blessed, an umbrella organization that represents three LGBT-affirming Catholic groups — Call to Action, DignityUSA (Dignity Washington's parent organization) and New Ways Ministry.
No numbers were immediately available on how many attended this year's event, but 6 million attended a Mass celebrated by Pope Francis in the Philippines at a previous World Youth Day in 2015, according to media reports. By any gauge, it's a mammoth gathering.
Though he's only been a Catholic for two years, Hall (raised Baptist) said it was important for him to go represent LGBT believers at this event. He and five other Catholics ages 23-33 wore rainbow sashes to the various services and gatherings to represent LGBT Catholics. Though many lay Catholics — especially in the U.S. — support same-sex marriage, for instance, official church teaching is that any gay sex act is a mortal sin. Dignity advocates for LGBT recognition in the church.
Hall says overall they were warmly received.
"We got a few stares and comments, but the overwhelming majority welcomed us from priests down to parishioners," Hall, a statistician with the International Trade Commission, said. "It was a very nice and friendly atmosphere."
Outdoor liturgies were held throughout the conference and the Equally Blessed group squeezed in some beach and sightseeing excursions as well.
"It was nice," Hall said. "We'd have kids as young as 14, 15 come up to us and say, 'Can I get a picture with you?' We're not out, but we'll keep this photo,' or others would say, 'Yeah, yeah, yeah — you can post my pictures, please share it.' We had a few parents say the same thing. They'd get a picture and say, 'I would love to show this to my son or daughter.' It was amazing to be there with such nice, friendly and affirming people."
Organizers at a few services asked if the group was planning to disrupt or protest the proceedings. They assured them they were not.
"Our banner was pretty bright and out loud and we were in the back, but we just said, 'No, no, no — we're not here to cause a disruption,' and it was fine," Hall says.
Hall was looking for a church three years ago upon moving to Washington for work. He saw a Dignity Washington ad and attended a Mass. Two months later he joined, buoyed by the presence of younger believers at Dignity's service. He visited a few Baptist churches in Washington but said he could tell right away they were not LGBT-affirming. He only heard, he says, about LGBT-affirming local protestant churches such as Foundry or MCC after he joined Dignity. He says converting was "different but not a huge change."
Hall says he thinks eventually the Roman Catholic Church will affirm non-celibate LGBT members.
"I think we're making inroads," he says. "I'm hopeful."