February 13, 2019 at 11:41 am EST | by Lou Chibbaro Jr.
Will resignations lead to anti-LGBT GOP takeover in Va.?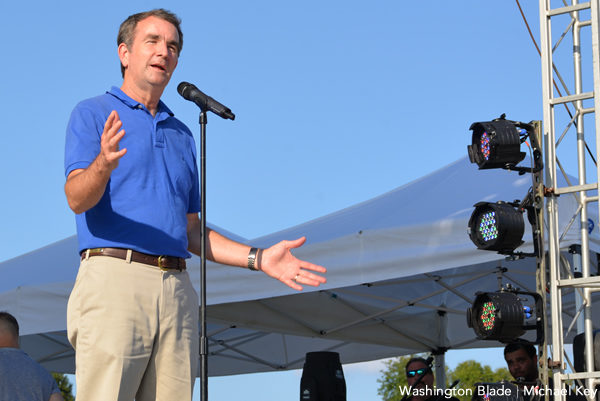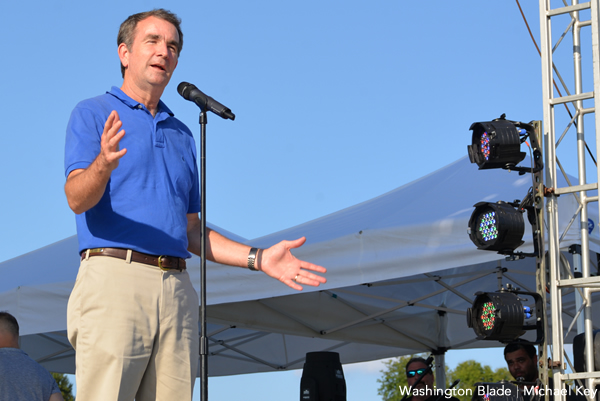 Virginia Gov. Ralph Northam, Lt. Gov. Justin Fairfax, and the state's Attorney General, Mark Herring, this week continued to resist calls for their resignations following scandals that have rocked the state and the Democratic Party of which all three are members.
Although most political observers think it's now unlikely, if all three were to resign around the same time, the Republican Speaker of the Virginia House of Delegates, Kirkland Cox, a staunch conservative and outspoken opponent of LGBT rights, would become governor.
Under the Virginia Constitution, Cox, as governor, would have the authority to appoint the next lieutenant governor and attorney general, who would remain in office until the next general election, according to most political observers.
Cox would likely pick fellow Republicans from the Virginia Senate or House of Delegates who share his hostile views on LGBT issues to fill the Lt. Governor and Attorney General positions, many observers believe.
"That would be a catastrophe," said Alexandria transgender resident Kris Ammradit, who was among more than 120 mostly Alexandrians that turned out Sunday night, Feb. 10, for a town hall "Listening Session" organized by gay Virginia House of Delegates member Mark Levine (D-Alexandria).
Levine said he called the gathering of his constituents and other nearby residents to give them a chance to inform him of their views on the dramatic developments engulfing the state that are touching on issues of racism and sexual assault.
"I want you to just say what's in your heart and what's on your mind," he said in welcoming the crowd to the event, which was held at the historic black Third Baptist Church in Old Town, Alexandria.
With Northam struggling over how a racist photo appeared in his medical school yearbook page in 1984, he and Herring admitting to having used blackface makeup years earlier, and Fairfax accused of sexual assault by two women on separate occasions in 2000 and 2004, the notion that all three might resign remains possible.
Levine and the four other openly LGBT members of the Virginia General Assembly, all Democrats, have joined their fellow Democrats in the legislature in calling for both Northam and Fairfax to resign, despite the fact that the two — as well as Herring — have strong records of support for LGBT rights.
Under the Virginia Constitution, Fairfax would be next in line to become governor if Northam should resign and Herring would become governor if both Northam and Fairfax resign.
Levine told the Blade shortly before convening his Sunday night Listening Session that he is confident the "worst case" scenario that Cox would become governor and he would appoint an anti-LGBT lieutenant governor and attorney general will not happen.
He said that with most Democratic officials only calling for Northam and Fairfax to resign, if those two agree to resign, Herring would become governor. And Herring, Levine said, would appoint LGBT supportive and progressive Democrats to serve as lieutenant governor and attorney general.
Levine noted that the state constitution says the governor has authority to appoint a lieutenant governor when there is a vacancy for that office and has authority to appoint an attorney general when that office is vacant only when the General Assembly is in recess. The constitution says the General Assembly, which is currently Republican controlled, is authorized to appoint an attorney general when it is in session.
With Fairfax facing an intense onslaught of women's rights activists and Democratic leaders across the country calling for his resignation, and with Northam making it clear he will not resign, observers say the most likely development could be a Fairfax only resignation. If that happens, Northam would be expected to appoint another Democrat to replace Fairfax as lieutenant governor.
But not everyone agrees with that line of succession. Experts on the Virginia Constitution point out that the constitution says the governor has authority to appoint replacements for vacancies in all high-level state offices unless the constitution or state laws call for a different means of succession for a specific position.
University of Virginia law professor A.E. Dick Howard, an acknowledged expert on the Virginia Constitution, has provided information to news media outlets, including the Blade, about the possible succession of the lieutenant governor's position if Fairfax was to resign.
Howard told the Blade in an email that a state law declares that when there is a vacancy in the lieutenant governor's position "the duties of that office shall be discharged by the President pro tempore of the Senate." Howard said although it doesn't say so explicitly, the law suggests that the governor could still appoint a replacement for the vacant position, at which time the state Senate President pro tempore would withdraw from carrying out the duties of lieutenant governor.
But others have told the Washington Post that Republican lawmakers interested in retaining GOP control of state government offices could threaten to file a lawsuit to challenge an attempt by Northam or another Democratic governor to appoint his own person to become lieutenant governor.
The current President pro tempore of the Virginia Senate is Stephen Newman (R-Lynchburg), another staunch conservative with a long record of opposition to LGBT rights and progressive causes. In 2006, Newman was one of the lead sponsors of the Marshall-Newman Amendment, which banned same-sex marriage in Virginia. In recent years he was among the Republicans opposed to Medicaid expansion in Virginia.
Levine, an attorney, said he believes the state constitution makes it clear that the governor can appoint a lieutenant governor and attorney general if those two offices become vacant.
"If the governor and lieutenant governor were to leave office, even if they both did it at once, the Constitution of Virginia is very clear," Levine said. "The Attorney General would become governor – no ifs, whats or buts," he said. "And the attorney general could then appoint a new lieutenant governor and a new attorney general once he becomes governor," said Levine.
But Levine noted that the new governor could not appoint a new attorney general until the General Assembly is in recess, which is expected to take place in two weeks. Levine said he would expect that under the now unlikely event that Northam and Fairfax decide to resign they would wait to do so until after the General Assembly goes into recess so that the new Democratic governor could appoint their replacements.
"So as long as all three don't leave at once, gay folks don't have to worry about a terrible situation," he said.
Except for Levine, the other LGBT members of the General Assembly have remained mostly silent on the controversy swirling around Northam, Fairfax, and Herring. State Sen. Adam Ebbin (D-Alexandria-Arlington) and Del. Danica Roem (D-Prince William County), who became the nation's first seated transgender member of a state legislature last year, issued short statements on social media last week calling for Northam's resignation.
They and the other two LGBT Virginia lawmakers – Del. Mark Sickles (D-Fairfax County) and Del. Dawn Adams (D-Richmond) – joined Levine, Ebbin and Roem along with all other Democrats in the House of Delegates and Senate in signing onto separate joint statements calling for Northam and Fairfax to resign.
A Washington Post-George Mason University poll last week found that Virginia residents were evenly split over whether Northam should resign, with 47 percent of those polled saying he should resign and 47 percent saying he should not.
The poll found that African-American Virginians believe Northam should remain in office by a margin of 58 percent to 37 percent.
The controversy surrounding Northam surfaced on Feb. 1 when the ultra-conservative blog Big League Politics published a photo from Northam's personal page in his medical school's 1984 yearbook that included a photo of a man in blackface and another person wearing a Ku Klux Klan robe and masked hat.
Northam shocked the state's political establishment by issuing a statement that same day apologizing for being in the photo. He didn't say whether he was the one in blackface or wearing the KKK robe.
The next day Northam stated in a nationally televised press conference that he was not in the photo and that someone who helped produce the yearbook 35 years ago mistakenly placed it on his page. But he said that during that same year in 1984 he brushed black shoe polish on his face when he appeared in a dance contest in Texas while impersonating Michael Jackson.
He said he now recognizes the offensive and racist implications of blackface and apologized, saying he is a different person now and has been for many years in his career as a doctor and public official.
Similar to the Post poll, more than two-dozen people who spoke at Levine's Listening Session event on Sunday appeared to be divided evenly between those who wanted Northam to resign and those wanting him to remain governor.
Armradit, the transgender woman who spoke at the event, said she was concerned about the impact the resignations of the three officials could have on the LGBT community and on efforts to bring about racial equity throughout the state.
"I think definitely the governor and lieutenant governor need to resign," she said. "I'm not sure about the attorney general. I think we need time to understand. But definitely I think those two should resign, but not in a way that they would be replaced by people who are even worse."