February 14, 2019 at 2:48 pm EST | by Mariah Cooper
Jussie Smollett details reported attack that left him 'forever changed'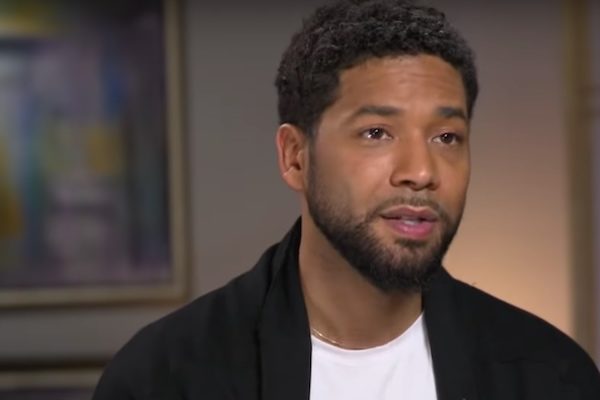 Jussie Smollett publicly detailed his alleged homophobic and racist attack for the first time in an interview with "Good Morning America" on Thursday.
The "Empire" star recalled the incident, which occurred on Jan. 29 in Chicago, to Robin Roberts saying that it left him "pissed off."
Smollett says he was picked up from the airport by his creative director Frank Gatson. After arriving at Smollett's apartment, Smollett wanted to get food. Smollett went to a local Walgreens but the location was closed. He decided to go to a Subway across the street. As Smollett was leaving Subway, he was on the phone with his manager, who was in Australia. He says that is when he heard someone yell "Empire" at him.
"And, I don't answer to Empire, my name ain't Empire," Smollett told Roberts. He claims that he was then called "F**got, Empire, n***r!" Smollett recalled that the attackers also yelled "MAGA country."
"So I turned around and said 'What the f*c*did you just say to me' and I see the attacker masked," Smollett said. "He said 'This MAGA country nr' and he punched me in the face so I punched his a** back."
Smollett says the fight ended up near some stairs and a second person kicked him in the back. The suspects ran away and Smollett picked up his phone which had fallen. Smollett says his manager was still on the line and he told him he had been attacked.
"It felt like minutes but it probably was like 30 seconds," Smollett continued. "I can't tell you honestly. I noticed the rope around my neck and I started screaming."
Chicago Police released an image from surveillance camera footage of the area which shows "potential persons of interest."
Chicago police release surveillance images of "potential persons of interest wanted for questioning in reference to the assault & battery" of "Empire" star Jussie Smollett. https://t.co/eIoTNF3CFi pic.twitter.com/jjwGYxRKOe

— ABC News (@ABC) January 31, 2019
Smollett told Roberts he believes those are the suspects who attacked him.
"Because I was there," Smollett says. "For me, when that was released, I was like, 'O.K., we're getting somewhere.' I don't have any doubt in my mind that that's them. Never did."
As for the skeptics who aren't convinced of Smollett's story, the actor says people have an issue with his description of the suspects.
"It feels like if I had said it was a Muslim, or a Mexican, or someone black, I feel like the doubters would have supported me much more," Smollett says
Smollett, who grew emotional at various parts of the interview, says he is "forever changed" by the incident.
"I will never be the man that this did not happen to," Smollett says. "I am forever changed. I don't subscribe to the idea everything happens for a reason, but I do subscribe to the idea that we have the right and the responsibility to make something meaningful out of the things that happen to us, good and bad."