February 15, 2019 at 10:58 am EST | by Thom Murphy
New Ariana Grande album traces breakup with sly sarcasm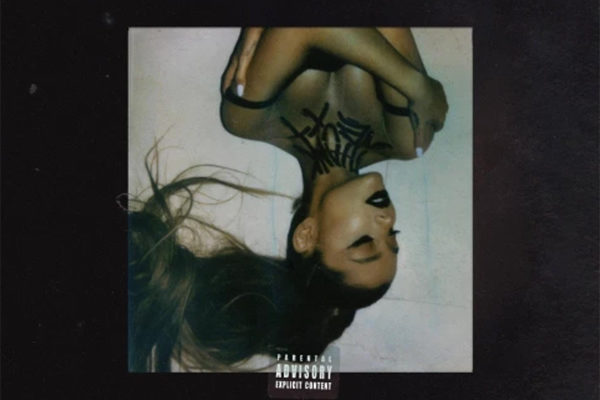 It's hard to imagine someone more on top of music world than Ariana Grande right now. It's been less than six months since the release of "Sweetener," which just won the Grammy for best pop vocal album of 2018, and Grande is already out with a follow-up. "Thank U, Next" is the fifth album from the 25-year-old singer and focuses on a darker side of her relationships.
The album's release around Valentine's Day is no doubt a strategic choice, but an interesting one at that. "Thank U, Next" is a breakup album and functions as the B-side of the more cheery "Sweetener." The album cover art suggest as much, which, like "Sweetener" features an upside-down picture of Grande, but this time in black in lieu of pastels and platinum blonde.
In between the release of the two albums came Grande's widely publicized break-up with SNL cast member Pete Davidson. But shortly after the split, Grande released the new album's titular single, "Thank U, Next," which became her first Billboard no. 1 single in the U.S.
If we've learned anything from Taylor Swift, it's that break-ups are an inexhaustible source of song material. But Grande has none of Swift's vengeful hyperbole. Instead, she treats her past relationships with playful sarcasm that nonetheless celebrates her independence. "Thank U, Next" does this in a clever way: "Plus, I met someone else/We havin' better discussions/I know they say I move on too fast/But this one gon' last/'Cause her name is Ari/And I'm so good with that."
At this point the high quality of Grande's musical output is a given and "Thank U, Next" doesn't disappoint. But her ability to tap into the current cultural moment before it becomes cliché should not be sold short. "Self-care" has become the operative phrase governing millennial attitudes toward romantic relationships and friendships and Grande has written the "self-care" anthem.
The album opens with "Imagine," a sexy R&B song that sets the tone. R&B has always been an important element of Grande's music, but here it returns as the dominant influence for the first time since her 2013 debut "Yours Truly." But even if R&B carries the day, she still pulls from a variety of places, including Broadway show tunes and trap music.
"NASA" is another excellent track. It starts with a play on Neil Armstrong's famous phrase, spoken by none other than drag performer and three-time "RuPaul's Drag Race" contestant Shangela: "One small step for woman, one giant leap for womankind." And the song is full of clever wordplay. "Baby, you know time apart is beneficial/It's like I'm the universe and you'll be N-A-S-A" goes the pre-chorus, followed by the line "You know I'm a star; space, I'ma need space" in the chorus.
"Ghostin" begins with sweeping synth sounds, creating a spacy, ethereal effect. Like the rest of the album, the production value on this track is extraordinary. It's too slow for radio, but is not to be overlooked. "Bloodline" is another great track and hearkens back to her sound on the 2016 album "Dangerous Woman."
The video for the most recent single "Break up with your boyfriend, I'm bored" has gained attention for Grande's almost kiss with the girlfriend of her love interest in the video. It's a suggestive choice for an artist who is particularly admired in the gay community.
What's missing from "Thank U, Next" are the big dance tracks that have featured prominently on her last three albums — "Into You," "Break Free," "One Last Time," "Problem" and "no tears left to cry" all come to mind. The single "7 rings" perhaps comes closest. The tune is adapted from Rodgers and Hammerstein's "My Favorite Things," but with a trap-influenced twist. Like much new pop music, getting into it requires more than one listen but it quickly becomes a ruthless earworm. The song is innovative, but far from the best track on the album.
The album shines brightest on tracks like "Bloodline," "Ghostin," "NASA" and "Needy." But it struggles to measure up to "My Everything" (2014) and "Dangerous Woman," which have set an almost impossibly high bar. Nonetheless, it's a great complement to "Sweetener" and has more than enough substance to keep us hooked until the next one.