February 27, 2019 at 3:05 pm EST | by Chris Johnson
D.C. churches wrestle with Methodist decision to uphold gay ban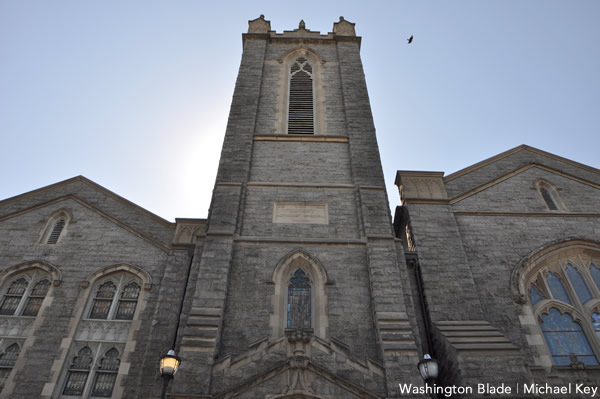 Methodist churches in D.C. are weighing their next steps in the wake of their denomination's decision to uphold its ban on gay clergy and same-sex marriages — and while the possibility of leaving the United Methodist Church is part of the discussion, at least one pastor says schism won't happen.
Donna Claycomb Sokol, pastor of Mount Vernon Place United Methodist Church, said the General Conference's decision during a special session in St. Louis to tighten anti-gay restrictions is a "complete heartbreak."
"I serve a congregation with a large number of LGBTQIA individuals, and while our church is an incredibly different expression of much of what was said or took place over the last few days in St. Louis…the General Conference is known as the only body that can officially speak for the denomination, and so to have a body that is charged with that task speaking brutal fatal into a congregation like ours is devastating and heartbreaking," Sokol said.

Rev. Ginger Gaines-Cirelli, senior pastor at the Foundry United Methodist Church, said the anti-LGBT rejection brought "outrage, heartbreak and disappointment."
"Part of me was not surprised because we knew we were fighting an uphill battle against a well-funded, well-oiled machine that has been seeking to disrupt and find a way to tighten the grip in control of LGBTQIA people and their allies for many, many years," Gaines-Cirelli added.
At the special session this week in St. Louis for the United Methodist Church, 864 half lay, half clergy delegates from all over the world met to discuss and act on the report of the Commission On A Way Forward, which sought to reevaluate the church's position on sexuality.
An initial plan before delegates sought to ease the church's policy with respect to gay clergy and let local church bodies decide individual policies. The proposal, however, was voted down 449-374.
Delegates then took up a competing measure known as the "Traditional Plan," which sought to go the other direction and tighten enforcement of the LGBT bans, encouraging Methodists who disagree to leave the church. It won majority support in a preliminary a 438-384 vote and now heads to the Judicial Council for ratification.
According to the Associated Press, the Traditional Plan succeeded as result of an alliance of conservatives from both the United States and abroad. An estimated 43 percent of the delegates are from overseas, mostly from Africa, and overwhelmingly support the anti-gay policy.
The United Methodist Church is America's second largest Protestant denomination and boasts 12.7 million members, 7 million of which are in the United States.
Sokol said the "complexities" the general conference, such as the mixture of U.S. members and those overseas, contributed to the affirmation of the Traditional Plan.
"The complexities are incredibly hard to interpret," Sokol said. "And so, you're left with an incredibly devastating headline that will take decades to reverse and to unravel."
Two-thirds of U.S. delegates voted against the Traditional Plan, according to pro-LGBT pastors in the church, and would have eased restrictions for LGBT members. Nothing passed at the special session would take effect until January 2020.
Gaines-Cirelli said the Methodist church is "not in schism" and was confident the Judicial Council would determine based on its prior rulings the Traditional Plan is unconstitutional.
"The Traditional Plan came into the General Conference so full of holes, it was crazy," Gaines-Cirelli said. "The Judicial Council had already done a full review of it, and found…maybe 40 percent of the legislation was deemed unconstitutional. They brought the legislation in, still put it before the body and we were able to keep the amendments from being made that would make it constitutional. They were trying to kind of fix it. We were able to block a lot of that. And so, what got passed is still largely unconstitutional and we voted to refer it back to Judicial Council, so it's really important for people to understand that."
Gaines-Cirelli said she "absolutely" expects the Judicial Council to rule against the Traditional Plan. Although she said some parts may be deemed constitutional, she added "when you take out the stuff that's unconstitutional, I'm not sure what you're really left with."
In recent years, the Methodist Church's policies have resulted in hardship for its members and the perception the church is fostering anti-LGBT animus.
In 2017, for example, the Methodist Church rescinded the appointment of out lesbian Bishop Karen Oliveto, pastor of the San Francisco-based Gilde Memorial United Methodist Church. The South Central Jurisdiction of the Church had challenged Oliveto's appointment.
But individual parishes, including many in D.C., have bucked the anti-LGBT policy, drawing on a concept LGBT supporter Bishop Melvin Talbert coined in 2012 called "Biblical Disobedience."
LGBT pastors have delivered sermons at local churches, where same-sex marriages are ordained and recognized. (Transgender people are not barred from ordination on the basis of gender identity in the United Methodist Church and an attempt to ban such ordinations failed in 2008, according to the Human Rights Campaign.)
Jay Brown, the Human Rights Campaign Foundation's acting senior vice president, spoke out in a statement against the Methodist Church's decision to uphold its anti-gay ban.
"Countless LGBTQ Methodists, including young people and their families, are yearning for a welcoming church family," Brown said. "Unfortunately, today the United Methodist Church decided against taking meaningful steps that would include LGBTQ Methodists fully in the life of the church."
Brown, however, was hopeful for members of the church, referencing the work of the Reconciling Ministries Network, which strives for greater LGBT inclusion in the Methodist denomination.
"Despite this decision, it's clear that LGBTQ Methodists and allies will continue to push for inclusion — not in spite of their faith, but because of it," Brown said.
The decision of the Methodist Church stands in contrast to the approach to LGBT people under other Christian denominations. The Episcopal and Presbyterian denominations, for example, have recently loosened their language to allow same-sex marriages and have admitted gay clergy. The Catholic faith, however, still bans recognition of same-sex unions and chastity is required for priests.
Bishop Ken Carter, president of the Council of Bishops for the United Methodist Church, said in a statement following the vote in favor of the "Traditional Plan" the Church continues to be welcoming.
"We continue to teach and believe that all persons are welcomed in the church, all persons are persons of sacred worth and we welcome all to receive the ministry of Jesus," Carter said. "Human sexuality is a topic on which people of faith have differing views. Despite our differences, we will continue to work together to make disciples of Jesus Christ for the transformation of the world and share God's love with all people."
Gaines-Cirelli said "Foundry's not going anywhere" and "will continue to practice sacred resistance, radical hospitality, inclusion and marriage equality."
"I will continue to do weddings, as I've been doing, and we'll welcome people in the fullness of their beautiful created nature," Gaines-Cirelli added.
Within many local communities and congregations, the reaction was intense against the anti-gay policy. In New York City, protesters gathered at America's Center to protest the decision by singing. Police were called at around 6 p.m., although there were no reports of arrests.
Sokol said on Wednesday morning, she received a phone call from people who've indicated they'd no longer give financially to the Mount Vernon Place United Methodist Church as a result of the anti-LGBT decision. Sokol also predicted "significant heartache" during an upcoming meeting of an LGBT small group.
"There's a whole lot of pastoral care work to be done in ways that I don't think people can even imagine, and pastors, many of us, are barely holding on at the same time, and doing our very best to show up for people while we're just as heartbroken," Sokol said.
Leaders within the United Methodist Church supportive of gay clergy and same-sex marriage have called for another meeting of pastors and leaders to gather to evaluate the next steps. Departure is on the table, but the potential results of this discussion aren't yet clear.
Sokol predicted "a new expression of Methodism" would emerge. Although the results are uncertain and many observers are wondering if departures will take place, Sokol expressed solidarity and said the Methodist theology "is second to none."
"It is based upon grace and mercy and our interpretation of scripture is never to simply rest on scripture alone," Sokol said. "It's scripture, tradition, reason and experience, and I have great hope that something new is going to come out of this."
The new framework for this expression, Sokol said, would take some time to emerge that would be "longer than three days, which is how long it took for Jesus to be resurrected."
"The folks who were for the Traditional Plan have already awakened a whole other group of people who are eager to be part of the conversation," Sokol said. "And so, it's going to take a whole lot longer than three days, but it's going to happen."
Sokol said her expectation for Mount Vernon Place United Methodist Church is "we will be as deeply faithful as possibly can be, that we will seek to be the widest possible expression of God's love and light that we can be."
"It doesn't mean necessarily leaving the United Methodist Church," Sokol said. "When I say new expression, it doesn't mean that, but something new is going to come out of the death and destruction that happened."
Gaines-Cirelli said Foundry has "no intention of going anywhere" when asked if the church would remain in the Methodist denomination.
"I was with a group of our contingent who came to be present as a witness here in St. Louis," Gaines-Cirelli said. "We had more than 35 members of Foundry come and just be here and be helping in a variety of ways around the edges. I was with a core of that group last night and the tenor of the room was they're not taking our church, we're not going anywhere. We've been Foundry Church for more than 200 years and the church needs us more than ever right now. They don't need to see that we're abandoning them."
The reaffirmation of the ban on LGBT clergy and same-sex marriage took place at a special session of a general conference to reevaluate the policy. The regular session will happen in 2020, which presents the United Methodist Church an opportunity to reconsider the decision.
Sokol, however, was less than optimistic about a change in the position for the denomination as a whole during the session next year.
"I'm more hopeful for the church to be the church than I am for general conference to make decisions that I think Jesus would have," Sokol said.