April 17, 2019 at 8:00 am EDT | by Brian Gaither
How we talk about Mayor Pete matters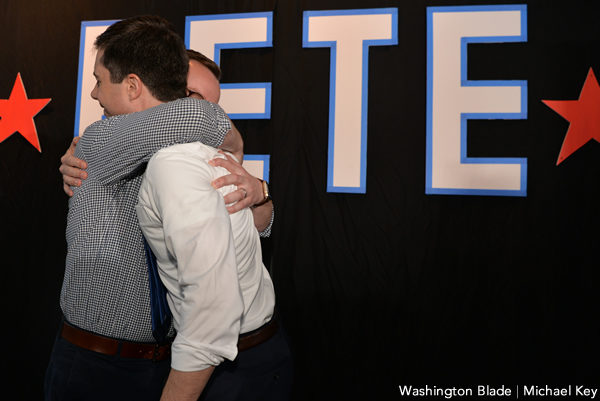 Have you heard about Pete Buttigieg? He's gay. He's the Mayor of South Bend. He went to Harvard. He's a Rhodes Scholar. He worked at McKinsey. He's a veteran. He speaks Norwegian. He came out and won re-election. He was on "The View." He was on CNN. He was on MSNBC. He was on Ellen. He raised $7 million (that's more than Gillibrand). He's surging in the polls in Iowa. It's "BOOT-edge-edge." That's how you say it. Just call him Mayor Pete. He's amazing. He's super smart. His husband is adorable. They met on Hinge. It's not like Grindr. And it's totally official now; he's running for president.
So, let's all talk about Mayor Pete.
We've come to the point where an openly gay man is being seriously considered as a candidate for president of the United States. Pete Buttigieg's campaign is not only historic for the nation, but it's also an event of great importance for the LGBTQ community. Whatever its final outcome, this campaign is going to influence our current and future efforts to achieve full equality.
For many people, Pete's candidacy itself is a symbol of our progress. He's a married gay veteran who began his public life when it was not legal for him to openly serve in the military or marry another man. He represents the long struggle to repeal "Don't Ask Don't Tell" and the Defense of Marriage Act.  His visibility before millions of people in the media is inherently a reflection and celebration of our social acceptance. Simply being an openly gay candidate on the national stage is the most important aspect of his campaign.
For others , he's overly heteronormative and curates his gay identity in order to satisfy a liberal appetite for diversity. He hasn't actively contributed to the struggles that enabled his run for presidency; nor does he adequately demonstrate empathy for the most marginalized segments of the LGBTQ community. When and how he came out of the closet matters, more so since his gay identity is the reason for his prominence among media tastemakers in a crowded field of highly qualified competitors.
Either way, a frank and ongoing discussion of this candidacy is necessary. As a community we express ourselves publicly in many ways, and our current political ambitions are far from monolithic. We cannot be defined by a single candidate. In order to represent the range of LGBTQ people, we have to have a conversation that includes all LGBTQ voices. We have to talk about what Mayor Pete means to all of us, not just some of us.
At the same time, this discussion is our opportunity to highlight the persistence of bigotry and discrimination. When Mayor Pete mentions a  mythical "straight pill," we need to reinforce the fact that parents in 34 states can subject LGBTQ children to harmful "conversion therapy." When he details his coming out, we need to emphasize that LGBTQ people who can't or won't "pass" can still be fired in 27 states. And when he reminds us that he has more military experience than any President since George H.W. Bush, we must denounce the naked bigotry in the sitting president's ban on trans service members.
Perhaps most importantly, we need to be credible arbiters of LGBTQ identity on behalf of American voters. Only we have the expertise to explain how the campaign's deployment of Buttigieg's gay identity speaks to his character; and only we can judge this. Only we can fairly examine his political courage and integrity on LGBTQ issues. And we need to discuss all of it in order to help the country decide if he's the best candidate to lead the country.
The evolution of the Buttigieg campaign is of consequence to each one of us. Those who want to celebrate Buttigieg, the man or the candidate, should do so. But it's not our universal obligation to allow his gay identity to shield his candidacy from a critical evaluation. Nor is it in our best interest.
So let's talk about Mayor Pete. Let's amplify our voices in the national media at this moment when the candidacy of an openly gay man has put them at the center of all American life.
Brian Gaither (@briangaither) is the Treasurer of the Maryland LGBT PAC and a Co-Founder of the Pride Foundation of Maryland.