April 24, 2019 at 4:00 pm EDT | by Lou Chibbaro Jr.
AHF ribbon-cutting marks opening of expanded D.C. healthcare center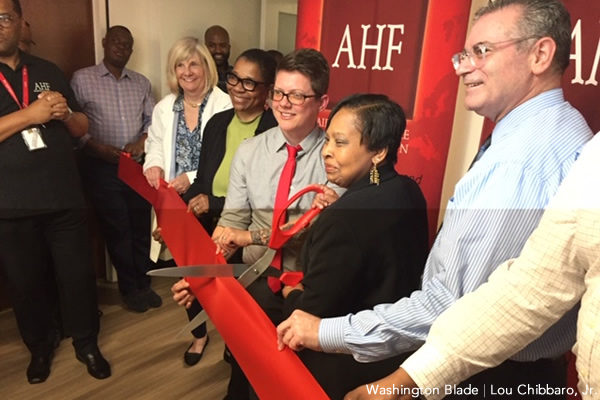 About 50 people turned out on April 18 for a ribbon-cutting ceremony celebrating the opening earlier this year of the AIDS Healthcare Foundation's expanded offices in D.C. and the 10th anniversary of its D.C. Blair Underwood Healthcare Center.
The Underwood Center, one of three HIV clinics AHF operates in the D.C. area, provides state-of-the-art HIV medical treatment and care and related services for more than 600 patients at its expanded offices at 2141 K Street, N.W.
AHF is the world's largest nonprofit HIV/AIDS service organization and AIDS advocacy group, with healthcare centers located throughout the U.S. and in 42 other countries in Africa, Asia, Europe and the Americas.
"AHF is proud of the impact that we've had over the past decade in addressing the growing HIV epidemic in D.C., and getting those living with HIV connected and sustained in care," said Michael McVicker, AHF's D.C. regional director, who participated in the ribbon cutting ceremony.
Others joining him were Dr. Roxanne Cox-Iyamu, medical director of the D.C. Underwood Center; Michael Kharfen, Senior Deputy Director of the D.C. Department of Health's HIV/AIDS, STD and Tuberculosis Administration; Sheila Alexander-Reid, director of the Mayor's Office of LGBTQ Affairs; and DeMarc Hickson, executive director of the D.C. HIV/AIDS and health services group Us Helping Us.
With a giant pair of scissors, Cox-Iyamu cut a large red ribbon inside the main lobby at the AHF Underwood Healthcare Center office, saying she was proud to have been a part of the office's growth over the past 10 years.