D.C. hospitality is 'hood-group hood-winked
ANCs, citizens groups abuse licensing system to circumvent city laws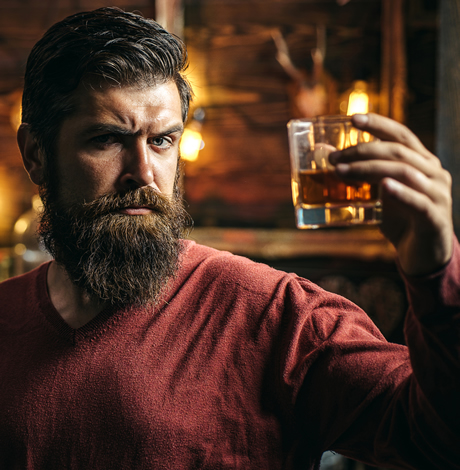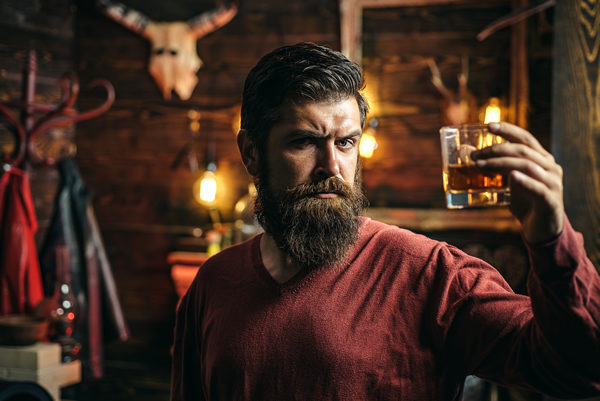 Hoodwinking season is at full bloom in neighborhoods throughout D.C.
Triennial liquor license renewals are now underway for restaurants in the District. Unless on an alternate schedule due to time of business initiation or a prior cycle-affecting licensing modification, large red renewal placards currently adorn local restaurant-class alcohol-serving establishments. Most bars and nightclubs will similarly undertake the same process later this year.
It might seem superfluous to warn restaurateurs to be wary of attempts by advisory neighborhood commissions (ANCs), often in concert with small self-proclaimed citizens groups and tiny clusters of NIMBY neighbors, manipulating the licensing system to circumvent city regulations and operating privileges. These groups have, after all, been doing that for years.
Sounding an alarm, unfortunately, remains necessary.
Such cautionary advisories result from the expanding implicit or even explicit admonishment by ANCs that signing an area-centric "cookie-cutter" restrictive operating agreement is required in order to attain or retain licensing approval. It's a false assertion contrary to local law and signals to community businesses not aided by billable attorneys enduring lengthy meetings while simultaneously fearful of costly procedural delays that coerced concurrence is obligatory.
Operators may be able to locate obscure notation on the Alcoholic Beverage Regulation Administration (ABRA) website indicating there is no such obligation. This might-as-well-be-hidden clarification is subverted, however, by agency personnel eager for easy resolutions to prevent being overwhelmed by individual case-by-case board adjudication.
D.C. Council members, likewise, long ago offloaded and distanced these hyper-local matters for ANC input on ABRA licensing and have too-long-tolerated these procedural exploitations.
The agreements, previously called "Voluntary Agreements" when bandied about as anything but that, were legislatively renamed "Settlement Agreements" several years ago. The name-change was intended to underscore their functional purpose in resolving specific issues or addressing actual problems associated with a particular venue's operation when renewing a license or mitigating unique concerns at initial licensing.
This moniker revision was designed to halt the widespread abuse of these agreements for imposing special micro-area regulatory "policies." This creates discordant and unequal business environments among varying ANC districts, additionally causing competitive business disadvantages and inequitable amenities between commercial areas.
That effort, regrettably, has failed.
Some ANCs simply shove "template-style" documents toward venue operators while commanding agreement to restrictions superseding citywide regulations. Businesses challenging such ANC directives confront arched eyebrows, are queried as to why they consider themselves "special" exceptions to localized rules, and are threatened with licensing protests before the city alcohol board.
Worst of all, these discussions are now commonly conducted not with elected neighborhood commissioners, but instead with committees comprised of haphazardly random or self-selected residents sometimes devoid of even a single elected ANC representative.
The blanket provisions typically cover a broad range of limitations. While no business constraint seems off-limit, included are restrictions on operating hours, especially for sidewalk patios or outdoor spaces and rooftop decks regardless of commercial zone location or property configuration, music and entertainment limitations, trash pickup and product delivery scheduling prohibitions contrary to city regulations, and numerous other operating stipulations. Certain provisos have unintended consequences hindering standard business activities, such as specifying non-truncated operating hours effectively disallowing city-extended holiday service.
Confusion caused by these ANC contentions leave operators perplexed regarding both licensing procedures and purported necessity of conceding to a "one-size-fits-all" agreement. These practices are also enterprise barriers to entry and serve as ongoing success opportunity obstacles due to the imposition of inconsistent rules on an arbitrary basis in differing areas.
Both ABRA and the new Mayor's Office on Nightlife and Culture should make abundantly clear that ANC and citizens group demands that community businesses concur with cardboard-cut-out covenants inconsistent with citywide ordinances is not a conditional licensing requirement.
Venue operators must outright refuse to sign these agreements and instead indicate a willingness to review and negotiate any real, substantiated, and legally legitimate perturbations specifically evidenced by demonstrable facts. Only then will licensing fairness and regulatory equity prevail.
Mark Lee is a long-time entrepreneur and community business advocate. Follow on Twitter: @MarkLeeDC. Reach him at [email protected].
Congress must act, Democrats in Virginia must vote
Fighting to save our democracy from Trump loyalists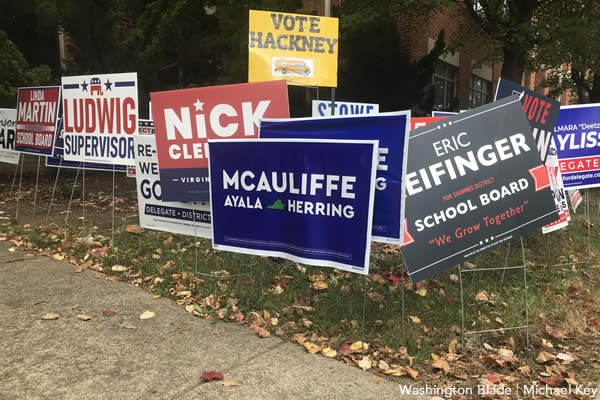 The time has come for Democrats in Congress to vote on both the hard and soft infrastructure bills. Failure to do so will invariably lead to Republicans taking back Congress and that is unthinkable considering where they stand on so many issues.
To stop that from happening the House of Representatives must first pass the trillion-dollar hard infrastructure bill, already passed by the Senate, in time for Terry McAuliffe to stand up in his race for governor of Virginia and show what Democrats in office can do. This bill will bring billions to Virginia. But that is not enough. Virginia Democrats must come out to vote in record numbers to keep Trump stand-in Youngkin from winning. Make no mistake he is only a stand-in for the former president. He is a lacky with a lot of money trying to buy the race with lies and innuendo. He is anti-abortion, anti-LGBTQ, and has gleefully accepted the endorsement of a liar, misogynist, sexist, racist pig who is still trying to destroy our democracy. Democrats must come out and vote to show the nation and the world that is not who America is and we aren't dumb enough to fall for his stand-in lackey.
All that Democrats really should need to know to vote against Youngkin is his acceptance of Trump's endorsement. The man who had his top aides and advisers plan to overthrow our government on Jan. 6. One simply needs to read the story in the Washington Post on how Giuliani, Bannon and others had a 'command center' at the Willard Hotel, steps from the White House, to plan the Jan. 6 insurrection. As reported, "The effort underscores the extent to which Trump and a handful of true believers were working until the last possible moment to subvert the will of the voters, seeking to pressure Pence to delay or even block certification of the election, leveraging any possible constitutional loophole to test the boundaries of American democracy."
This despicable collection of people who met at the Willard, and their leader Trump, can truly be called out for treason. These people are homegrown terrorists. They instigated a riot at the Capitol that threatened the lives of members of Congress and the rioters even threatened to hang the vice president if he didn't do Trump's bidding. This is the endorsement happily accepted by Trump stand-in Youngkin.
So it comes down to whether Democrats will come out to vote in Virginia on Nov. 2. Will they show the world they care enough to act and vote? Will they convince their family, friends, and neighbors of the importance of this election and of voting for Terry McAuliffe and the entire Democratic slate? If they don't the headline won't read 'Youngkin wins,' it will read 'Trump wins'. That has to be an unacceptable outcome for any decent person.
As reported, "Republicans Christine Todd Whitman (former governor of New Jersey and EPA Administrator in the George W. Bush administration) and Miles Taylor (chief of staff of the Department of Homeland Security (DHS) in the Trump administration) have an important message they wrote in their New York Times piece, "We Are Republicans. There's Only One Way to Save Our Party From Pro-Trump Extremists," stating "Rational Republicans are losing the party civil war. And the only near-term way to battle pro-Trump extremists is for all of us to team up on key races and overarching political goals with our longtime political opponents: the Democrats." We can only hope decent Republicans will take that recommendation under consideration this year and vote for McAuliffe in Virginia.
The McAuliffe election will be a lens into what can happen in the mid-terms in 2022. If Democrats lose in Virginia it will just motivate Trump Republicans to get out and vote and fund other Trump lackies across the nation. Instead of Trump finally fading into obscurity he will be revitalized and that will be sad for the nation. If McAuliffe wins and Joe Biden can sign those two  infrastructure bills, along with ending the war in Afghanistan, Democrats will know what is possible. They will be motivated to work to ensure Democrats keep Congress. It is what we need to save our democracy.
Peter Rosenstein is a longtime LGBTQ rights and Democratic Party activist. He writes regularly for the Blade.
What do the gays do about Facebook?
We are hopelessly hooked on dangerous social media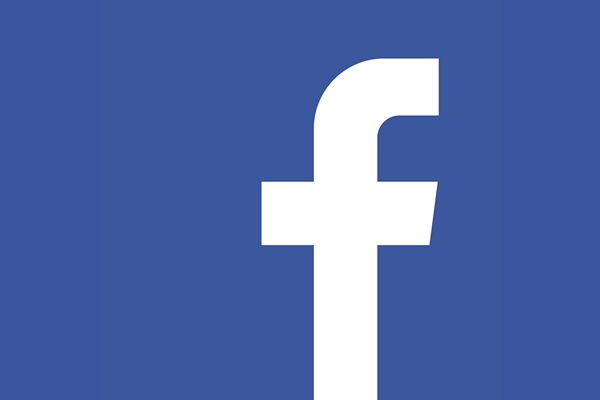 Let me just put all my cards on the table — I enjoy Facebook. I get a lot out of it. Instagram, not so much. But I think that's more of a generational thing. But after recent events, I just feel a little icky about it all. I mean, don't you?
After the damning and didn't-we-know-all-along Senate testimony by former Facebook employee Frances Haugen, being on Facebook just seems, well, a little gross. Yes, I know the irony that I am criticizing Facebook via a column that will ultimately be shared on Facebook, so don't bother pointing that out.
The long and short of it — evidence shows that Facebook is lying to us all about making any real progress against hate speech, violence, and the spread of misinformation. And aren't those all red flags for the queer community? Essentially, Facebook isn't just harmful to the self, but to whole groups and even societies. The parallels between this and the queer community are obvious ones. Again, aren't our physical safety and overall wellbeing fairly paramount issues for the queer community?
Take this one point for example: the evidence of harm to ourselves by ourselves. According to the documents Haugen supplied, Facebook's sister company Instagram essentially makes 13.5% of teen girls have thoughts of suicide. Have there been any thoughts on how social media might be impacting LGBT teens? According to the Trevor Project's 2020 study, 15% of LGBT teens attempted suicide in the past year. Forty percent had thoughts about it. Both numbers are staggeringly high on their own and also staggeringly higher than for their straight counterparts. I would like to know what role social media plays in this. But, like Haugen's Senate testimony, I think we all know the answer to that already. What with bullying and the spread of hate speech, it simply can't be good.
And that's just the issue of self-harm. What about the other issues of hate speech and misinformation? Yes, the queer community has enjoyed greater social acceptance in America. But that is by no means universal. Take the plight of trans teens, last year one of the far right's go-to punching bags and boogey men — this time for the non-issue of high school sports. Talk about the spread of misinformation. I could enlighten us all by doing a deep dive on the right's social presence, spreading their general talking points on the trans community, but such an exercise would be both stomach churning and time consuming.
As for queer adults, I'm not sure if things can be much better. You sometimes hear that life is just high school with money. To that I would add: then gay men can be at times that mean group of eighth grade girls. Yes, it's true. We can be pretty damn ugly to one another. Facebook and Instagram clearly aren't helping any of this. But can we let it go? Aren't we all hooked? Sometimes you'll hear when someone snaps a picture of a group event or party, post it on Facebook 'or it didn't happen.' Granted you don't hear this much anymore as so many folks, especially younger gays, have drifted off to other platforms, but honestly is there much of a difference? And to post it or it didn't happen? Who is that for but those who weren't there?
Who knows what will happen? I mean, what with octogenarian superstars Sens. Chuck Grassley and Diane Feinstein on this, I'm sure meaningful reform and oversight are just over the horizon. Maybe it's time we start policing ourselves? Demanding better from our community on social media first? I'm wondering what that might look like. Until then, I guess we'll just keep scrolling, like we have been doing. Over and over and over. 
Brock Thompson is a D.C.-based writer. He contributes regularly to the Blade.
McAuliffe YES, Trump NO, for governor of Va.
Youngkin is a stand-in for disgraced former president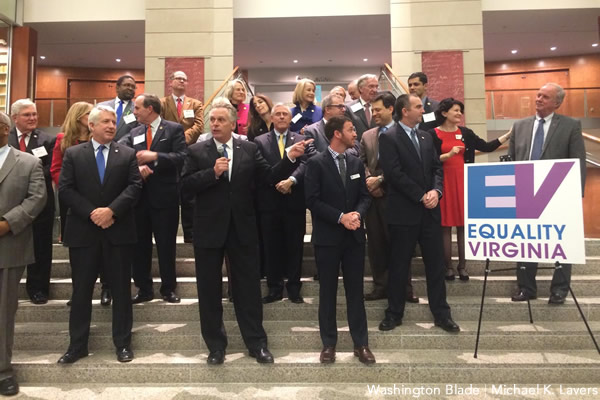 Vote Terry McAuliffe for governor of Virginia because he will be a great governor. Reality is the alternative is Donald Trump who may be calling himself Glenn Youngkin in Virginia, but don't be fooled, Youngkin is only a stand-in for Trump.
Virginians know and respect McAuliffe. He was a successful governor in his first term and is a decent and honorable man. Had Virginia law allowed him to run for a second consecutive term he would have won easily. He has a stellar record of moving the state forward on equal justice and equal opportunity, civil rights, women's rights, and LGBTQ rights.
The first executive order McAuliffe issued upon taking office in 2014 banned anti-LGBTQ discrimination against state employees. He vetoed religious freedom bills, created Virginia's LGBTQ tourism board, and became the first Virginia governor to declare June as Pride month. He was the first governor of a southern state to officiate a same-sex wedding.
He recently said, "As governor, I will fight my heart out to make Virginia the most open, welcoming and inclusive state in the nation, and break down the disparities that LGBTQ communities, and particularly communities of color, face in education, health care, the economy and more. Together, we'll move Virginia forward into a better, brighter future for all."
When it comes to women's rights McAuliffe staved off attacks by extreme Republicans who controlled the Virginia Legislature during his tenure. He fought for women's health care rights and fought to keep open every women's health clinic in the state. He vetoed legislation that would have harmed women, including a bill that would have defunded Planned Parenthood in Virginia.
On civil rights he said one of his proudest accomplishments was being able to reverse a racist Jim Crow law disenfranchising hundreds of thousands of Virginians. McAuliffe restored the right to vote to more than 200,000 Virginians with felony convictions allowing them to fully participate in democracy after serving their time.
He was good for business and during his term as governor had a record of bringing more than 200,000 good paying jobs to the state and oversaw a lowered unemployment rate and an increase in personal income of over 13 percent. McAuliffe understands early investments in the state's infrastructure helps the state to be a national leader in clean energy.
These and so many other positive reasons are why Virginians should vote for Terry McAuliffe.
But there are also many reasons to vote against Trump stand-in, Glenn 'Trump' Youngkin. The first is Trump saying, "he has my complete and total endorsement!" 
Youngkin continues to spread the Trump lie by still fighting the 2020 election and calling for an audit of Virginia election machines. He regularly speaks out of both sides of his mouth. He got caught on tape behind closed doors telling donors he won't "go squishy" on banning abortion and defunding Planned Parenthood. He added, "As a campaign topic, sadly, that in fact won't win my independent votes that I have to get." Then he is still casting doubts on the COVID vaccine. He claims he is telling people to get vaccinated against COVID and then is recorded telling others it is their choice. He is against mandating vaccines for teachers and healthcare workers. His ads feature a teacher, who is a Trumper, endorsing his education program (a disaster) but who is opposed to mandating vaccines for teachers. They feature healthcare workers endorsing him who are against a vaccine mandate for healthcare workers.  Youngkin is trying to buy the Virginia election saying he would raise $75 million but most from his own vast fortune, actually trying to buy it for Trump. 
Virginia Democrats and right-thinking independents and Republicans must come out in large numbers to repudiate Donald Trump once-and-for-all by casting their votes for Terry McAuliffe.
Let's hope Trump voters in Virginia stay home this year. But McAuliffe can't count on that to win. It will take Democrats in huge numbers to give McAuliffe the same big win Joe Biden had over Trump in Virginia in 2020. If that happens Democrats will also keep the House of Delegates and win the other statewide races.
Remember, when you vote for McAuliffe you vote for the man named "Public Official of the Year" by Governing magazine in his last term. Virginians should give him a well-deserved second term.
Peter Rosenstein is a longtime LGBTQ rights and Democratic Party activist. He writes regularly for the Blade.