April 26, 2019 at 9:57 am EDT | by James Driscoll
Mike Pence doesn't get to define Christianity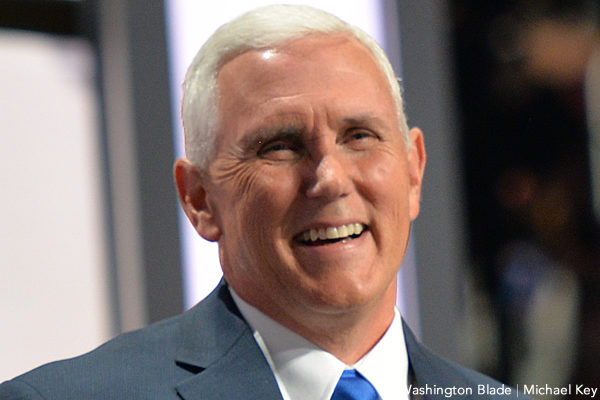 Jesus beat him to it: "Do unto others as you would have them do unto you." The Golden Rule and Rabbi Hillel's corollary are the tap root of our nation's democratic principles. "All men are created equal" extended the Judeo-Christian ethic into the political realm. "Equal protection of the law" puts the ethic in our legal system.
Jesus never mentioned homosexuality; for those who would condemn LGBTs he left a warning, "Judge not that ye be no judged." To find a biblical mandate our detractors must go back to Leviticus, which also forbids eating pork, shellfish, and rabbit, condemns adulterers to death, and makes other cruel and senseless judgments that few Christians support today.
Vice President Mike Pence and Second Lady Karen Pence are expected to set a standard for America. Recently, Karen Pence resumed her employment in a school whose official policies systematically discriminate against LGBT Americans. Mike and Karen Pence excused this by claiming that condemnation of homosexuality is part of the Christian religion. Actually, it's a social bias in violation of the religion's ethical core, the Golden Rule. Cutting the Pences slack here sets a precedent that may be used to sanction more dangerous forms of anti-LGBT discrimination in the name of religion.
In the past many professed Christians have defended slavery, and promoted racial discrimination and anti-Semitism in the name of their religion. Human sacrifice was part of the Aztec religion. Every kind of barbarity and inhumanity has been defended on the grounds of religion. That is why human rights must take precedence over religious claims, and why the founders forbade establishing a specific religion in America.
The Judeo-Christian ethic disallows forms of discrimination and bias that are not needed to maintain social order. An ethical defense of discrimination (e.g. against drunk drivers) must show it protects public health and safety. Otherwise discrimination is just a custom that can be prohibited when it violates the rights of others. America took a long time to wake up to the truth that racial discrimination violates the Judeo-Christian ethic and the spirit of our Constitution. The learning curve on LGBT rights has been even slower. It seems particularly slow with Mike and Karen Pence.
The Pences have accused Mayor Pete Buttigieg of making their religion an issue in an election year. However, it is Karen Pence's decision to affiliate with a school that aggressively discriminates against LGBTs that raised the issue. Mike Pence indignantly charges Mayor Pete with attacking his wife for her Christian beliefs. LGBTs must not allow Mike Pence to define the Christian religion for us, or for America. To allow Mike Pence to use Christianity as a license to discriminate is to fail to take the Christian ethic seriously. Mayor Pete has criticized the Pences precisely because he strives to be a serious Christian.
Pence shows profound insensitivity to the long history of violation of LGBT rights, nearly always done in the name of religion. I have personally suffered employment discrimination in the past for being gay. Many friends suffered similar fates then. Today LGBT youth attempt suicide at four times the rate of their straight peers, for bullied youths the rate is ten times higher. But with recognition of gay marriage their suicide rate has begun to drop. What do Mike and Karen Pence conclude from this? Do they care?
Anti-LGBT bias promotes abuse of LGBT people; it is ugly, unethical, and all too prevalent in American society. Our criticism of using religion to excuse discrimination is far outweighed by what LGBTs still suffer for being who we are — for being, as Mayor Pete might say, what God created us to be.
Listen up politicians. Time is not on the side of discriminators. With each passing year, more LGBTs self-identify in exit polls. Our number has risen to 6 percent of voters, as many as Jews and Mormons combined. Considering that Asians are from disparate cultures and races, LGBTs are the third largest minority. Every year more Americans support gay marriage and refuse to judge our lifestyle. The majority for fairness is 70 percent.
When President Trump runs again in 2020, 70 percent of voters will want a president with a running mate who represents all Americans, not just the dwindling minority who want to discriminate against LGBTs. If Pence expects to fit that bill, he must show greater sensitivity to and understanding of the discrimination LGBT people have suffered and continue to suffer.
James Driscoll, Ph.D., is a long time AIDS activist and registered Republican who endorsed and voted for Donald Trump in 2016. He is author of 'Shakespeare and Jung: The God in Time.'