Those awful, scary people over there
Democrats are bringing Robert's Rules to a gunfight
The bees at Lafayette Square are familiar to me. They have buzzed around me before, curious but not hostile. When they approached again the other day, I greeted them like the bird woman in the original Mary Poppins, saying how glad I was they had not been wiped out by pesticides.
I mention the bees as an example of our need to coexist with others. This appears to be a foreign concept to Trump supporters. Take Franklin Graham. Please.
Graham tweeted on April 24, "Mayor Buttigieg says he's a gay Christian. As a Christian I believe the Bible which defines homosexuality as sin, something to be repentant of, not something to be flaunted, praised or politicized. The Bible says marriage is between a man & a woman—not two men, not two women."
Graham conveniently passes over lots of Biblical barbarity. Besides which, America is not governed by the Bible. Meanwhile, Graham eagerly backs President Seven Deadly Sins. Like Mayor Pete, many LGBT people are Christians who use the Bible not as a bludgeon but a source of reflection. Scolds like Graham resemble a man who cuts "The Last Supper" into tiny squares, rearranges them into something monstrous, and attributes the result to da Vinci.
When those who loudly cry "religious freedom" are silent about that of non-Christians, they show they are not about freedom, but supremacy.
This is not an abstraction for me. I loved and was loved by a Muslim. Our last night shines in my memory. He arose just before dawn, unrolled his prayer mat, put on his kufi hat, knelt, and prayed. Then he put the things away and returned to bed. Give me my sin again, as Romeo said.
If you would not be judged by the worst of your kind, do not judge another by the worst of his. We build a society with many small acts of recognition and respect. It is not monochromatic. Blind hacks and fanatics use fear and ignorance to pull us apart.
Presumptuous people who claim God speaks to them tend not to mean it in Walt Whitman's mystical sense of "letters from God dropt in the street," but literally. Oddly, the voices in their heads never seem to tell them anything they don't want to hear.
If one of these frauds got Jesus on the line, imagine Him saying, "Child, would you mind reading the Gospel?" They deserve a rebuke for the contrast between their noxious emissions and the teachings of the Nazarene carpenter's son.
Massachusetts Judge Shelley M. Richmond Joseph was indicted April 25 for helping an undocumented immigrant evade an Immigration and Customs Enforcement officer. Elie Mystal writes, "The irony is rich. The same forces that refuse to hold the President of the United States accountable for his multiple documented acts of obstruction of justice are trying to punish this judge for her compassion."
Henry David Thoreau wrote in Civil Disobedience, "Under a government which imprisons any unjustly, the true place for a just man is also a prison."
Men like Sen. Lindsey Graham and Rep. Jim Jordan want to turn the tables and investigate the investigators. Democrats fearful of fighting need reminding that the vandals will attack anyway. We can mock Trump's constitutional illiteracy in vowing to appeal an impeachment to the Supreme Court; but with his dictatorial instincts, stonewalling, incitements, witness intimidation, and Mitch McConnell helping him pack federal courts, our laughter may prove hollow.
While I was toasting friends at their wedding on April 27, white nationalists disrupted a book chat at Politics and Prose bookstore a few miles north—right down the block from Comet Ping Pong where Hillary was accused of running a child sex ring. The targeted author, Jonathan M. Metzl of Dying of Whiteness: How the Politics of Racial Resentment is Killing America's Heartland, took it in stride. "In case anybody's wondering what's happening right now, they're illustrating my point."
We have nowhere to hide. Democrats who stay in a defensive crouch are bringing Robert's Rules to a gunfight. Guess who wins?
Thoreau said, "Cast your whole vote, not a strip of paper merely, but your whole influence." The Stonewall anniversary is approaching. Time to rekindle our rebel spirit.
Richard J. Rosendall is a writer and activist. He can be reached at [email protected]
Copyright © 2019 by Richard J. Rosendall. All rights reserved.
Turkey Pride crackdowns only strengthen LGBTQ resistance
Hundreds arrested in Istanbul on Sunday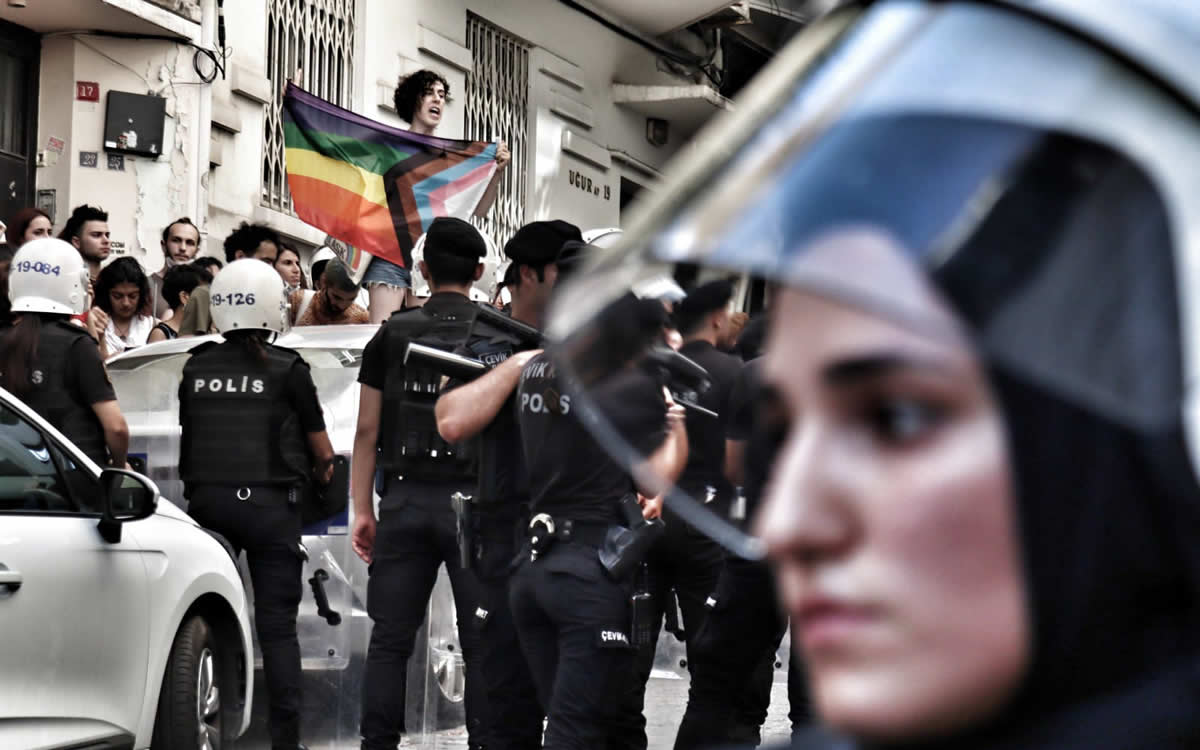 The waving colors of the thousand shades inside of a rainbow,
The sparkling joy from the pride and honor of self-declaration,
The echoing sounds of the steps for solidarity in the cobblestone streets of İstanbul, 
To unite for equality, for justice, for solely our right to be.
This was our goal, our expectation and our hope for Pride Turkey 2022. It has, however, been overshadowed by the government's vicious attempts to repress the colors of the LGBTQI+ community.
First, it started with the ban of Pride speeches and panels that many district governors and other local authorities across Turkey announced. Local police officers raided the many event venues as if "illegal" activities were being conducted.
As in the last couple of years, it was already expected the government would ban the Pride marches in many cities. It was, however, the first time the government officially tried to prevent even face-to-face community gatherings of LGBTQI+ organizations. It was a type of intervention reflecting the level of fear and intolerance of the government regarding the growing connection, solidarity and public visibility of LGBTQI+ community.
Nevertheless, oppression often brings out the most creative means. As such, Pride committees have carried all the activities on digital platforms. Many activists and civil society representatives have shown support by participating in live broadcasts from event venues, and the voice of LGBTQI+ solidarity still reached a wide audience.
Subsequently, the most drastic pressure by the government has manifested itself during the Pride marches. The police violently intervened and used unproportionate force against marchers in many cities, which resulted in a radical number of unwarranted detentions.
While 530 LGBTQI+ activists were taken into custody over the last 37 days across Turkey, 373 of them were arrested during the Istanbul Pride march on June 26. This constitutes a first, since the Istanbul Pride arrests constituted the largest number of people taken into custody during a street march since the Gezi protests.
Will these enormous efforts to pressure win the day? The answer is "definitely no." On the contrary, it sparked a backlash by triggering strong solidarity among Turkey's queer community. The outstanding resistance of LGBTQI+ marchers gained public recognition on social media, while persistent legal support of LGBTQI+ initiatives canceled all the detentions. In the end, the exhaustive pressures of the government could not manage to fade the multicolor of LGBTQI+ identity. In fact, it helped our rainbow flag to shine even more glamorous and visible.
We, as members of the LGBTQI+ community, have once again proved through this entire experience that solidarity, togetherness and collective resistance are the most powerful facilitators in our fight to exist equally.
In honor of the unbreakable resistance of Turkey Pride 2022 supporters,
Thanks to you, the cobblestones of Istanbul and every street in Turkey echoed with the steps of LGBTQI+ solidarity.
Dilek İçten is a journalist, researcher and civil society expert with a demonstrated history of working in interdisciplinary and investigative research projects examining the socio-cultural dynamics of media, gender and migration. The focus of her work varies from freedom of expression, media censorship and journalistic independence to gender based-discrimination and hate speech against disadvantaged groups and minorities.
Supreme Court, GOP are sliming our democracy
Protests are fine but we must all vote for Democrats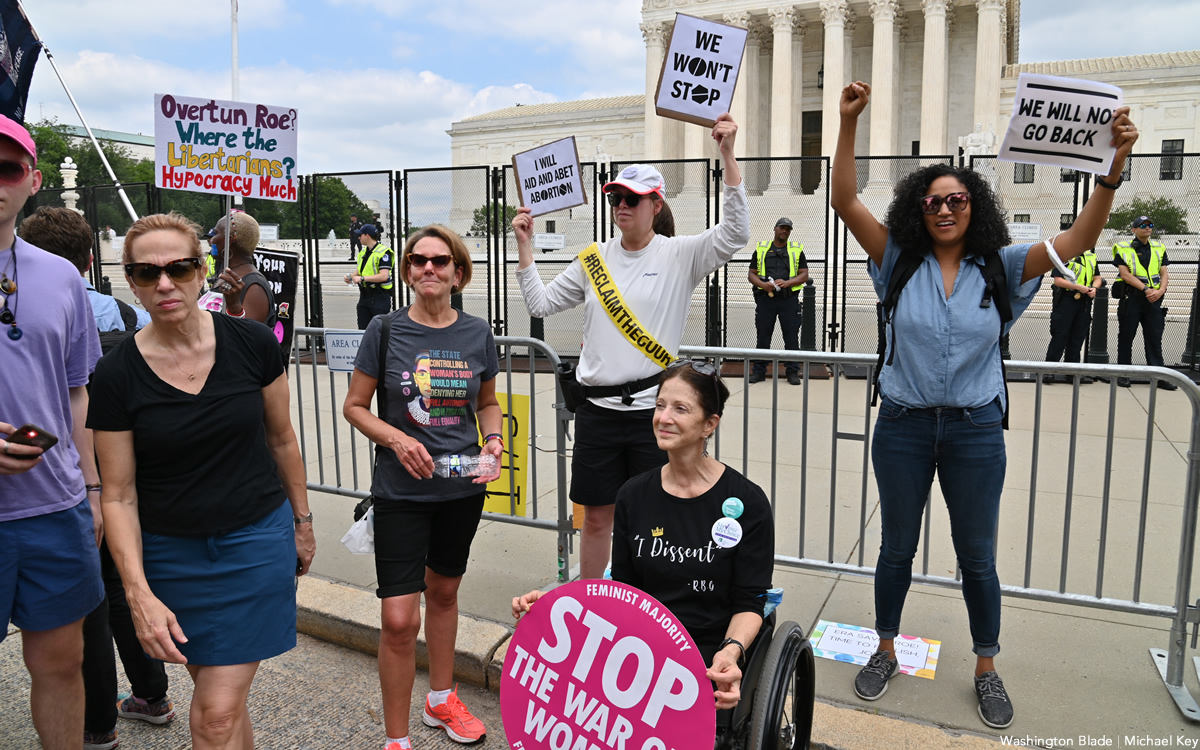 In two decisions — one throwing out New York's gun laws and the other overturning Roe v. Wade — the Supreme Court and the Republican Party who put them there, have slimed the American public and in essence our democracy.
With the decision on Roe v. Wade, for the first time, the court has taken away a constitutional right. One recognized by previous courts and upheld for nearly fifty years. Justices Thomas and Alito finally had the votes, with Trump's three stooges, to do what they have wanted to do for decades. We now understand how far this court is willing to go to take rights away from the American people, and we should all be afraid.
They proved they have the votes to attack women and we must believe the LGBTQ+ community could easily be their next target. They almost certainly are not finished with their attacks on women as they can come down on contraception and other pharmaceuticals. Then they can end affirmative action even though it was what got Thomas to where he is. Clearly, we should have listened to Anita Hill. Thomas's written decision could even put into question the Loving decision, which allowed interracial marriage and made it legal for him to marry his wife. We must believe the court will look at all these issues.
There is a sickness in the land and we will either succumb to it, or fight it. My answer is we have to fight it with all we have. We must collectively stand up and say "no more!" Allowing Republicans to continue to take the nation in this direction is unacceptable. The only way we can do something about it and stand up for our democracy is by VOTING. Every poll shows Americans are against what the Supreme Court is doing. Yet we are stuck with a court, which as Nancy Pelosi says "gave a slap in the face to women." Justices clearly care more for an unborn fetus than a living child. A living child who could be mowed down by the guns they are allowing on the streets.
As Democrats, and all decent people, mull over how to react, we must come together as never before. We can march until we are blue in the face but if we don't vote, we lose. We need to elect Democrats to statehouses and state legislatures, and keep majorities in both Houses of the Congress. The House has already passed legislation curbing guns and codifying Roe v. Wade. We now need more senators to go along. It actually could take only two more who would agree to end the filibuster to move these issues forward.
I have written before to the LGBTQ+ community that parades and parties celebrating Pride are wonderful, but if every person who participates in them doesn't vote, they mean very little because next year we will have lost some of our rights. We must not let ourselves and future generations down and be victimized by the likes of Thomas, Alito and the three disgusting Trump judges. We must vote against the Republican Party because the right wing now controls it.
Sen. Mitch McConnell has already said if Republicans take over Congress he will consider passing a law outlawing abortion nationally. We cannot allow that to happen. It is only Congress and state governments that can act to counter what the court with Republican support is doing. We must do more than show the nation with the January 6th hearings about Trump's attempted coup. Even if through that we can put the likes of Ginny Thomas in jail for her role in it.
The results of the midterm elections will show the world where America stands. These elections will play out over a range of issues. We will see if people vote more based on inflation and the cost of gas, or vote for their right to privacy and freedom. Those of us who promote the right to privacy and democracy must stand together if we are to win. We cannot fight each other, creating internal battles, rather must fight the enemy, the Republican Party, as it is constituted today.
It won't be easy but we can win this fight. We can keep the House of Representatives and win at least two additional Senate seats making it easier to move the Senate forward on a host of issues. When it comes to what the court has done to women, their decision on guns, and what Thomas is signaling they will do in the future, it really is clear we are facing life and death issues.
Peter Rosenstein is a longtime LGBTQ rights and Democratic Party activist. He writes regularly for the Blade.
How do we respond to rising anti-LGBTQ rhetoric?
Pastor invokes Bible to call for death of gays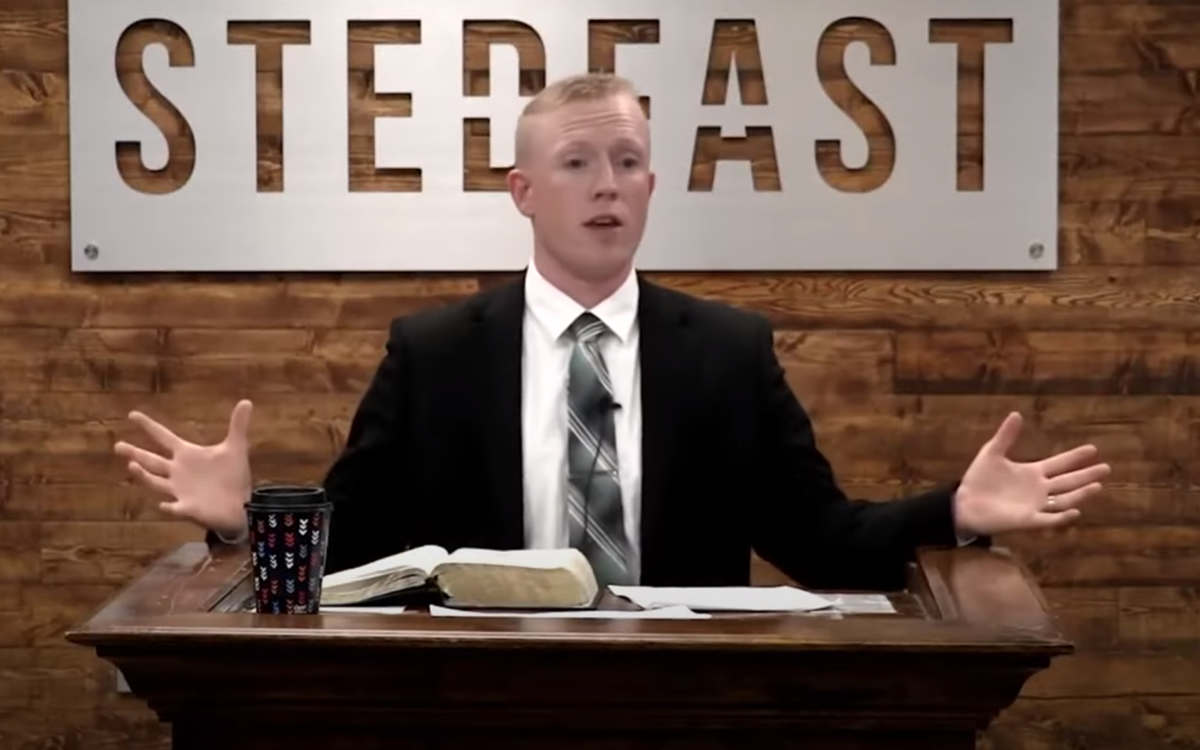 On Sunday, June 4, Pastor Dillon Awes stepped behind the pulpit at Steadfast Baptist Church in Watauga, Texas and declared, "What does God say is the answer, is the solution for the homosexual in 2022?…That they are worthy of death." His statement was greeted by shouts of "Amen" from within his congregation. He continued preaching, saying, "they should be sentenced to death, they should be lined up against a wall and shot in the back of the head." Again, his words were greeted by "Amens" from within his church.
This clip soon spread online, causing widespread backlash from religious and non-religious alike. But for me, an openly gay, former evangelical, Christian pastor, Pastor Awes's words are not surprising at all. In fact, I've heard similar sentiments regularly. The only difference between Pastor Awes and most other conservative Christian pastors across the United States today is that Pastor Awes was willing to say the silent part out loud. After all, Pastor Awes was not wrong — the passage he was preaching on, as commonly interpreted by conservative Christians, does in fact say, "Although they know God's righteous decree that those who do such things deserve death, they not only continue to do these very things but also approve of those who practice them." (Romans 1:32) If you put any evangelical pastor on the spot and asked if they believed that this verse was true and was in reference to LGBTQ+ people, they would have to answer, even if reluctantly, "yes."
In a strange way, I am glad Pastor Awes preached what he did so clearly, because he is revealing the truth that most other evangelicals don't want to acknowledge — that their theology related to the LGBTQ+ community is a theology of death. Despite attempts in recent years by evangelicals to seem more welcoming and inclusive, their core theological claim that the lives and love of LGBTQ+ people is sinful, broken, and abomination is a claim that has resulted in the suffering, oppression, and death of millions of queer people around the world, and it is high time that they own up and are honest about the beliefs they hold and their impact on LGBTQ+ people. Because again, Pastor Awes view is not a minority view, as hard as that might be to believe. He simply said what a majority of evangelical churches teach in a horrifyingly clear way. While most evangelicals would probably disagree with Pastor Awes graphic call for the execution of LGBTQ+ people, the would still affirm the truthfulness of Romans 1:32: "They are worthy of death."
And even if evangelicals attempted theological gymnastics to get out of this horrifying interpretation of scripture that calls for violence toward queer people, their theology, which tells LGBTQ+ people that they must suppress their sexuality or gender identity or seek to change it to be acceptable to God and welcome in the church does, in fact, cause death. A 2015 study published by the National Institutes of Health found that LGBTQ+ people who are subjected to non-affirming religious teachings have a significantly higher rate of attempted suicide. These numbers have been reaffirmed in study after study, and are certainly true in my experience as a young gay evangelical who was forced into conversion therapy by my Christian college in my early twenties. When you're told that a fundamental aspect of your identity is evil and realize that there is nothing you can do to change it, for many, death can seem like the only viable escape from this mental and spiritual anguish.
So how are we to respond to the truth that this dangerous theology is being preached in literally every corner of our nation? How can those of us- religious or not- who are allies to the LGBTQ+ community protect our queer friends and family from violence and harm in the face of millions of people who hold to these dangerous beliefs and are feeling more empowered than ever to say them out loud and to act on them?
First, it's important that we do our work and are informed. The truth is that while this interpretation of the biblical texts is unfortunately common among Christians around the world, it is not an accurate understanding of the biblical texts. The six verses in the Christian scriptures that reference any sort of same-sex behavior are all condemnations of a very particular practice that was common in the ancient world — sexual exploitation related to temple prostitution. Same-sex relationships and queer gender identities were well known throughout the ancient Near East and especially within the Roman Empire — instead of speaking about these realities, every condemnation of homosexuality in scripture is tied to "idolatry," which means worshipping something other than God, and in context is clearly a condemnation of temple prostitution, a practice where people who have sex with priests or priestesses in pagan temples as a way to honor various gods and goddesses. That is what is being condemned in Scripture; there is not a single condemnation of same-sex relationships or queer gender identity anywhere, and we must challenge these teachings the same way we challenged the church's teachings on slavery, the equality of women, and the panoply of other backwards beliefs that have been perpetuated in the name of Christianity.
Second, we must challenge our conservative Christian friends and family members to be honest about what they believe and the harm that it causes. The reason so many Christians shy away from saying things as clearly as Pastor Awes is because they inherently know that these beliefs are dangerous and wrong. How can one follow Jesus, whose central command was to "love your neighbor as yourself" and hold on to a belief that a group of people are abominations who are worthy of death? These are wholly inconsistent, and this inconsistency should be drawn out and turned into an invitation for our friends to change their damaging and dangerous beliefs.
Third, we must continue to uplift and celebrate LGBTQ+ people and relationships in our society. The hatred spewed by Pastor Awes is a clear reminder of why Pride is still so important — Pride celebrations began to increase visibility of queer folks, decrease stigma around our lives and loves, and to use celebration and joy as a tool for resistance in the face of fear and bigotry. Despite the broad progress the LGBTQ+ rights movement has made in the U.S., our lives and rights are consistently under attack and in the post-Trump era, there has been a reinvigoration of anti-LGBTQ+ policies and rhetoric across the nation rooted in fear being perpetuated by the alt-right. Old tropes conflating queer people with pedophilia and sexual abuse have found new life, and the demonization of LGBTQ+ people as a threat to basic morality is now commonly heard on Fox News and across social media. The way we combat such dangerous rhetoric is ensuring more people see and know LGBTQ+ people and for our allies to speak out whenever anti-LGBTQ+ rhetoric is used or policies are proposed, signaling the broad support of queer people by the American public.
During this Pride month, it's time for a renewed commitment to the fight for LGBTQ+ dignity and equality in the United States. It's time for queer people to stand up and let our lights shine brighter than ever before, so that LGBTQ+ youth can see our example and know that there is space for them, in all their uniqueness, in our society.
It's time for allies to be bold in their condemnation of bigotry wherever it occurs. It's time for our nation's leaders to reaffirm their commitment to fight for LGBTQ+ rights in every corner of this nation and around the world. If we remain complacent, fear-based views like those of Pastor Awes will spread and will result in more abuse and violence against LGBTQ+ people. Progress is not inevitable, and the fight has not yet been won. This Pride month, may we return again to the spirit of the earliest Pride marches, standing boldly in the face of fear and bigotry and declaring that love will win in the end. 
Rev. Brandan Robertson is an author, pastor, activist, and public theologian working at the intersections of spirituality, sexuality, and social renewal. He currently serves as the Lead Pastor of Metanoia Church, a digital progressive faith community.