April 30, 2019 at 12:57 pm EDT | by Peter Rosenstein
Will Biden's third try be the charm?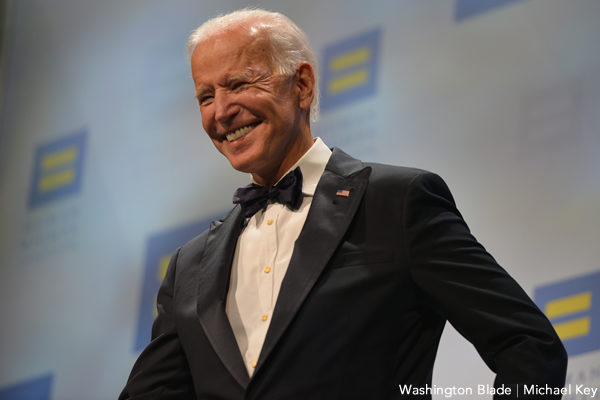 After much prevarication Joe Biden finally threw his hat into the ring becoming the 20th Democrat to enter the primary. He is leading in the polls. The question everyone is asking is whether this will be a replay of 1988 and 2008, his last two tries for the nomination or will the third time be the charm? I admire and respect Biden but think he is too old with too much baggage to run. But now he has actually entered the primary he deserves the same opportunity as other candidates to make his case and along with everyone else I will be listening.
My unsolicited advice would be to beef up his staff with a diverse group of advisers. Had he done this I am sure his announcement video, though well meant, wouldn't have included the line from the Declaration of Independence "All men are created equal." It may have come from a good place but it still came off as tone-deaf considering the #MeToo movement, Biden's own issues with women, and the newly ignited push to include the Equal Rights Amendment in the Constitution.
Following release of the announcement video, Biden went to a Wilmington, Del., restaurant for a pizza and as reported in the Washington Post "was asked by a reporter if he had a message for the world." Biden responded, "America's coming back, like we used to be – ethical, straight – telling the truth…supporting all those good things." I get how he meant to use the word 'straight' but it's just not the word to use when talking about how America used to be when we have made great progress but are still fighting for LGBTQ+ equality. These are all small issues, but remember what helped end Biden's campaign in 2008 was when he said about Barack Obama, then the only African-American serving in the Senate, "I mean, you got the first mainstream African-American who is articulate and bright and clean and a nice-looking guy I mean, that's a storybook, man."
Add to this his clearly unproductive phone call with Anita Hill. Her reaction wouldn't be surprising if he repeated what he said publicly on "The View" and previously when he said "I wish I could have done more." He was chair of the Judiciary Committee and could have done more. Then we find out he called Heather Heyer's mother. Heather is the young woman who was killed in Charlottesville, only after the video was released in which he talked about her. That is clearly another staff, or lack of staff, unforced error.
Joe Biden has a 50-year record to run on and much of it he can be proud of. He has come a long way since being virulently anti-bussing to desegregate schools, and from authoring the 1994 Violent Crime Control and Law Enforcement Act. He will be attacked for his vote to support the Iraq war and is already being attacked by Sen. Elizabeth Warren for his support of the 2005 Bankruptcy Abuse Prevention and Consumer Protection Act.
But Biden has much he should be proud of including his introduction of and fight for the Violence against Women Act. He is a supporter of gun control legislation, the Paris Climate Accords, and he supports raising the federal minimum wage. He has long stood up for the rights of the LGBTQ+ community and is credited for pushing Obama to support marriage equality.
There are some impressive candidates in the Democratic primary. Women, people of color, even a gay candidate. They represent millennials, Generation X, Baby Boomers and the end of the silent generation, Biden and Sanders. They all agree we must ensure good affordable healthcare for every American; fight climate change; provide an affordable if not free education from pre-school to college; ensure an equal chance for every person to get a good job supporting themselves and their family by hard work that is decently paid; and a have a justice system that treats everyone fairly. But they have differing ideas on how to govern and how we go about reaching all those goals. During the next year primary voters will hear from each candidate on all those issues.
My hope is each candidate will pledge when the nomination is decided, when one of them gets the required number of delegates to win, they will support and campaign for that person with all their heart. They will encourage their supporters to do the same by telling them every day how crucial it is to elect the Democrat. One thing they must agree on is any one of them is better than the disgusting lying thug currently occupying the White House.
Peter Rosenstein is a longtime LGBT rights and Democratic Party activist. He writes regularly for the Blade.