May 2, 2019 at 2:41 am EDT | by Lou Chibbaro Jr.
New information surfaces in 1999 D.C. gay murder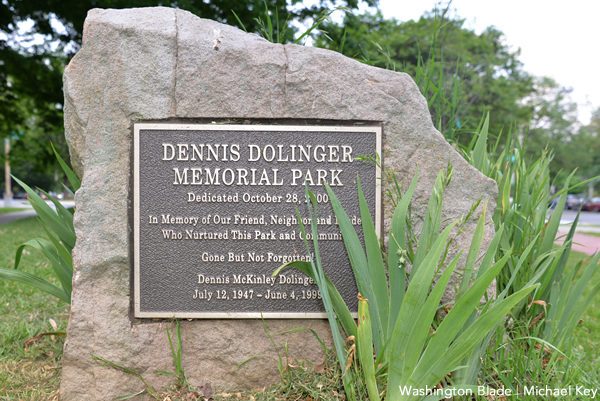 The murder of gay D.C. Advisory Neighborhood Commissioner Dennis Dolinger inside his Capitol Hill house on June 4, 1999 drew citywide attention.
Then-Mayor Anthony Williams, former Mayor Marion Barry, and D.C. Congressional Del. Eleanor Holmes Norton were among the many city officials who attended a funeral mass held for Dolinger, 51, at St. Augustine Catholic Church.
Several of the more than 100 friends and relatives who joined the public officials at the funeral described Dolinger as a beloved neighbor, the founder of his neighborhood Orange Hat crime-fighting group, a vocal advocate for neighborhood beautification efforts, and the gracious host of numerous dinner parties at his house at 1516 Potomac Ave., S.E.
Shortly after Dolinger's death friends and neighbors persuaded the D.C. Council to name a small triangular park located across the street from his house the Dennis Dolinger Memorial Park. A memorial stone with a plaque with Dolinger's name and an inscription honoring him has been placed in the park.
Friends and neighbors have said they were especially troubled over the irony that a dedicated advocate who worked hard to end crime in the neighborhood had his life taken in a brutal act of violence. The city's medical examiner found that Dolinger had been stabbed 25 times in his head and neck with what was said to be a Phillips head screwdriver.
A trail of blood was found leading from the basement of the house, where Dolinger's body was found, to all three floors and in the front yard and sidewalk, court records show. A police report said the house had been ransacked, with some of Dolinger's belongings, including $1,000 in cash, missing.
An analysis of the blood found throughout the house showed that it came from Dolinger and another person, indicating the killer was also cut during an apparent struggle.
From the beginning, police said there were no signs of a forced entry into Dolinger's house, indicating he most likely knew his attacker and invited the perpetrator into his house.
When D.C. police announced the arrest in January 2000 of Arlington, Va., resident Raymond Anthony Jenkins, then 38, on a charge of first-degree murder while armed in connection with Dolinger's death, fellow civic activists joined friends and family members in keeping close tabs on the start of court proceedings that they hoped would bring their loved one's alleged killer to justice.
The road to justice turned out to be a long one. With what seemed like countless twists and turns, the court proceedings against Jenkins dragged on until June of 2015, when he pleaded guilty to second-degree murder and was sentenced to 26 years minus the 15 years he had already served since his 2000 arrest.
Nearly all of Dolinger's friends, fellow activists and family members, including news media outlets that reported on the case, assumed it had ended in 2006. That's when a D.C. Superior Court jury convicted Jenkins on three counts of first-degree murder while armed, armed burglary, assault with intent to rob while armed, and possession of a prohibited weapon, court records show.
Court records show that on Oct. 12, 2006, Superior Court Judge Rhonda Reid Winston sentenced Jenkins to 30 years in prison, bringing about what Dolinger's friends thought was the end of the case.
But in a little-noticed development, just under seven years later, in September 2013, the D.C. Court of Appeals overturned Jenkins' conviction in response to an appeal by the defense and ordered that a new trial be held. The Court of Appeals ruled that the trial judge incorrectly denied a defense request to cross examine at trial the laboratory analysts that helped police identify Jenkins as a suspect by matching his DNA with that of the DNA in blood found in Dolinger's house at the crime scene.
Instead, Judge Reid Winston agreed with prosecutors' decision to bring in as an expert witness Dr. Frank Baechtel, a forensic examiner and the head of the FBI's DNA analysis laboratories, to testify about the findings of the DNA tests conducted by the analysts that work for him and who did the actual testing.
At that time, the FBI rather than D.C.'s medical examiner's office performed DNA related testing for D.C. police in the investigation of crimes.
Court records show that Reid Winston told defense attorneys they could subpoena the laboratory analysts as defense witnesses, but the defense chose not to do so.
The appeals court ruled that regardless of how it came about, the fact that the defense was unable to cross examine the analysts that conducted the DNA testing rather than Baechtel, who testified about the DNA findings at the trial, violated Jenkins' Sixth Amendment constitutional right to confront his "accusers" at his trial.
Court records show that Jenkins was first linked to Dolinger's murder when D.C. police sent the DNA information from the blood found at Dolinger's house from an unidentified person – which they knew was not Dolinger's DNA – to other states, including Virginia, to seek a possible match. Since Jenkins had an arrest record in Virginia on a burglary related charge, Virginia authorities had his DNA information in their criminal records database, court records show.
The "cold hit" match of Jenkins' DNA with that from the blood found in Dolinger's house enabled police to identify Jenkins as a suspect in the Dolinger murder. Court records show police obtained corroborating information linking Jenkins to Dolinger through witnesses from the Dupont Circle area and the Dupont Circle gay bar The Fireplace, where witnesses said Jenkins was known to hang out. Witnesses told police that Dolinger also was known as a customer at The Fireplace, and that may have been where he first met Jenkins.
At his 2006 trial, a witness named Anthony Scott, who knew Jenkins from the Dupont Circle area, testified that on the day after Dolinger's murder he saw Jenkins and noticed he was "all scratched up" on his face, hands, and arm. Scott testified that Jenkins was carrying more than $1,000 in cash, a diamond ring, and a "bunch of little gold chains," items that police believe were taken from Dolinger's house on the day of the murder.
Scott also testified, according to court records, that in the time he knew Jenkins prior to the murder he saw that Jenkins "always" kept a Phillips head screwdriver inside his backpack.
Court records show that Jenkins remained in jail after the appeals court overturned his 2006 murder conviction in 2013. The records show the case appeared to be stalled until 2015, when prosecutors offered Jenkins a plea bargain deal as an alternative to another trial. The proposed deal called for him to plead guilty to a lower charge of second-degree murder and one count of first-degree burglary.
The records show that through his lawyers he agreed to the offer, waived his right to another trial, and pleaded guilty on June 18, 2015 to the two lesser charges.
An online search conducted by the Blade for press coverage of the developments in the Dolinger case since the time Jenkins' conviction was overturned in 2013 found that only one specialized news outlet – The Blog of Legal Times – reported that Jenkins' conviction had been overturned in 2013.
Interviews over the past two weeks with people who knew Dolinger found that none of them knew about the overturned conviction, the plea bargain agreement, or the subsequent new sentence handed down by Judge Reid Winston on June 18, 2015, the same day Jenkins pleaded guilty.
Court records show that Reid Winston sentenced Jenkins to 20 years to life on the second-degree murder charge but suspended all but 21 years. The records show she sentenced Jenkins to 5 to 15 years for the first-degree burglary charge, and suspended all but five years.
According to the records, the judge ordered that the two sentences run consecutively so that the total sentence came to 26 years. However, the records show she gave Jenkins credit for the 15 years he had already served in jail since the time of his arrest for the Dolinger murder in January 2000. That meant he had 11 more years to serve at the time of the 2015 sentencing.
A spokesperson for the Federal Bureau of Prisons told the Blade in an email this week that Jenkins is currently an inmate at the Federal Correctional Institution at Petersburg, which is located in Hopewell, Va. The spokesperson said the projected date of Jenkins' release from prison is Sept. 7, 2026.
The spokesperson, who did not disclose his or her name, said in their email that "federal sentencing law allows inmates to earn up to 54 days good time credit for each year served." The spokesperson didn't say whether or how much good time credit Jenkins may have earned since he has been in the federal prison system.
Since the closing nearly 20 years ago of D.C.'s long-term prison located in Lorton, Va., all people sentenced to prison in the D.C. court system serve their sentence in the federal prison system.