May 9, 2019 at 1:41 pm EDT | by Mariah Cooper
Andy Cohen talks fatherhood, 'Housewives' and threesomes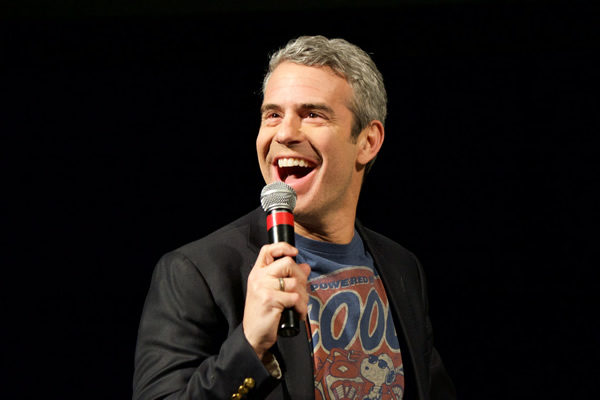 AC2: An Intimate Evening with Anderson Cooper and Andy Cohen

'Deeper Talk and More Shallow Tales'

Hippodrome Theatre

12 N. Eutaw St., Baltimore

Saturday, May 11

8 p.m.

$93-137
Andy Cohen has become a media mogul as executive producer of "The Real Housewives" franchise, host of SiriusXM radio show "Radio Andy" and the first openly gay talk show host of an American late night talk show on "Watch What Happens Live."
He's also a New York Times best-selling author and Vito Russo Award winner at the 30th annual GLAAD Media Awards.
In February, Cohen, 50, added yet another accolade to his list of accomplishments, the father of Benjamin Allen Cohen.
The proud new dad is hitting the road with his best friend and CNN anchor Anderson Cooper for their AC2 tour, which stops in Baltimore on Saturday, May 11. The unscripted night of conversation promises to include "deeper talk" and "more shallow tales."
From New York City, Cohen spoke on the phone with the Washington Blade about fatherhood, why he loves the cast of "Real Housewives of Potomac" and his dream celebrity threesome.
WASHINGTON BLADE: Congratulations on becoming a father. How's fatherhood going so far?
ANDY COHEN: It's going great.
BLADE: Has there been anything you didn't realize about yourself until you became a father?
COHEN: Every day is a new learning experience. Just falling a little bit more in love with him every day is something that you can't describe. You just have to go through it. It's great.
BLADE: On your Instagram you have photos of your parents with your son. What's the best piece of advice that your parents gave you that you want to pass along to him?
COHEN: Speak up for yourself and be yourself and follow your bliss.
BLADE: Any plans for more kids?
COHEN: I would love to but I just have to see how this goes.
BLADE: Have you found dating to be difficult since becoming a father?
COHEN: I haven't dated much so I don't really know.
BLADE: In a pinch, which of the housewives would you call to babysit?
COHEN: I wouldn't call any of them to babysit. Most of them are parents and I don't think they would want to mess up the boss's kid.
BLADE: "The Real Housewives of Potomac" is our local "Housewives" series. The season four trailer shows Katie Rost has returned. Is she back as a housewife and what was the decision behind bringing her back?
COHEN: She's a friend. We always look at people who are part of the show. It's like the mob, you never leave.
BLADE: What's your favorite thing about the ladies of Potomac?
COHEN: You know what, they're really funny. I think it was a surprise for people that we chose Potomac but it's a really beautiful community. This is a group of people who've known each other for a long time. They're very funny, outspoken and unique. I loved launching them. I'm about six episodes into the new season and I'm really into it.
BLADE: Can you give us a sneak peek at what's to come this season?
COHEN: It's good because the reunion kind of brought Karen (Huger) and Gizelle (Bryant) back together a little bit. It's interesting to see them figure out their friendship. Juan (Dixon) and Robyn (Dixon) are at an interesting place in their relationship. There's a whole lot of drama with Ashley (Darby) and Michael (Darby). Candiace (Dillard) gets married in the second episode. A lot happens.
BLADE: "The Real Housewives of New Jersey" also has an interesting storyline with Joe Giudice's deportation issues. Will you guys follow that on the show?
COHEN: Yeah. We always follow whatever is going on in their lives.
BLADE: There hasn't been a new "Housewives" series in awhile. Will there be a new city anytime soon?
COHEN: No.
BLADE: Recently, there's been a call for a Brunei-owned hotel boycott from celebrities like George Clooney and Ellen DeGeneres. Do you stand with them?
COHEN: I absolutely do. I said on my show that I think the gay porn companies should start making gay porn at those hotels and making sure that you can tell where it's being made. I think that would really piss the Sultan of Brunei off. I was kind of only half joking. But of course, I stand by that boycott. But you know the workers could go on strike too, which was Lisa Vanderpump's idea and I think she's right. It's gotta hit them from all sides.
BLADE: Another popular news topic has been Pete Buttigieg running for president as an openly gay candidate. What you do think about that?
COHEN: I think it's great. I'm really intrigued by him. I had him on my radio show a couple weeks ago. He's so smart. I think what's so great is he just happens to be gay. He's also a military veteran, a mayor, a husband, he's a million other things. He's really great.
BLADE: Switching gears to your talk show "Watch What Happens Live," one of your popular segments is when you do "Plead the Fifth" with your guests. What was the most jaw-dropping confession someone made on there?
COHEN: There's not been one. It's been 10 years of the show so there's a new one every week, really. Last week it was John McEnroe revealing that his mortal enemy on the courts Ivan Lendl was the most well-endowed person he's ever seen in the locker room. That was surprising.
BLADE: Speaking of confessions, you told Howard Stern about your failed threesome attempt with a man and a woman. If you had to choose, what celebrity male and female would you have a threesome with?
COHEN: This is so hard. Whoever Cristiano Ronaldo is with right now.
BLADE: You and Anderson Cooper are bringing your AC2 tour to Baltimore. You've done this show together before. What about this show is different?
COHEN: It's an all-new show. Everything is new. It's all new stories. We updated the whole show. It's us telling stories and having fun and bringing you guys into our lives and dishing. We have a blast.
BLADE: You guys are friends and working with a friend can be fun but sometimes you can butt heads. What's the most controversial behind-the-scenes moment you've had with Anderson?
COHEN: Well we're in something right now where we're trying to decide if we should take the train to Baltimore or drive or fly. He hates the train and I love the train. I think we're going to wind up taking the train and then he's going to wind up getting mad at me because he's not going to like it. That's what we're into now. We don't fight hard. We kind of quibble with each other but we never fight. I think that's part of the reason the friendship is so great.
BLADE: Anderson has mentioned his mother having a fling with Marlon Brando. Does he ever tell you little tidbits like that and you want to share but can't?
COHEN: Oh yeah, absolutely.
BLADE: What do you want audiences to take away from the show when they leave the theater?
COHEN: Just that it's a lot of fun. I think people will be surprised by how funny Anderson is. I don't think people are usually prepared for that. It's just a great night out. It's not political. It's just fun.
BLADE: What don't people realize about you until they come to see the show?
COHEN: I think what they see is what they get actually.