May 9, 2019 at 1:10 pm EDT | by Joey DiGuglielmo
QUEERY: Luke Frazier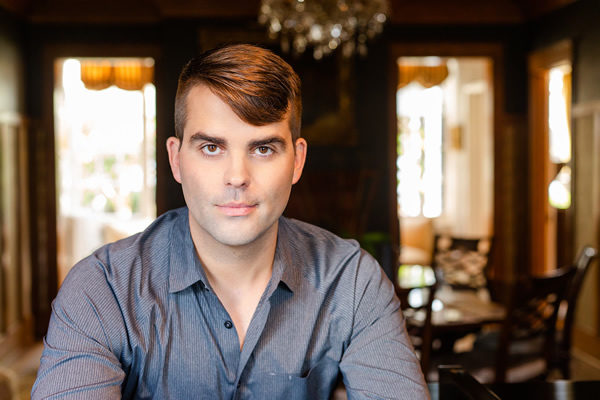 The great American songbook — the popular standards of yesteryear — is important to conductor Luke Frazier because it connects people.
He prefers the term "American popular music."
"It's so important to me because it's a way to immediately share something with people," Frazier, who founded the American Pops Orchestra in 2015, says. "You can have a martini and talk about your favorite artists and remember where and when you heard it, what was going on in your life, what it always reminds you of."
Frazier's vision for the orchestra is "to keep classic American music alive while bringing new people to orchestras."
The APO, which performs 20-30 concerts per year mostly in Washington, will perform "I Am What I Am: The Music of Jerry Herman" on Saturday, May 18 at 8 p.m. at Arena Stage (1101 6th St., S.W.) with a bounty of guest musicians including Kathy Najimy, Paige Davis, Mauricio Martinez, Alexis Michelle (from "RuPaul's Drag Race"), Congressional Chorus, the Gay Men's Chorus of Washington, up-and-coming singer Paul Roeckell, who won an APO vocal competition, and others. Tickets are $25-75 at theamericanpops.org.
Frazier became interested in conducting in high school and began studying in his native West Virginia (he's from Parkersburg). He went on to get a master's degree at Ohio University and came to Washington 10 years ago to further his career.
"I love the collaborative nature of conducting," Frazier says. "I love taking many pieces of art and combining them to something higher."
He says audiences thrill to Herman's music because it's "so poignant and so joyous" and "immediately relatable."
Frazier and partner Robert (Frazier declined to give his partner's last name) live in Cathedral Heights with their two Shih Tzus Ella and Daisy. Frazier enjoys antiques, cooking, reading and dinner parties in his free time.
How long have you been out and who was the hardest person to tell?
When I went to college at 18. No one was particularly hard to come out to.
Who's your LGBTQ hero?
Mary Oliver
What LGBTQ stereotype most annoys you?
That we're superficial.
What's your proudest professional achievement?
Conducting for concerts with the top artists of every genre, from Harry Connick, Jr., to Joshua Bell, Patti Labelle to Luis Fonsi.
What terrifies you?
Boredom, not moving forward.
What's something trashy or vapid you love?
Absurd comedy shows.
What's your greatest domestic skill?
Cooking and gardening
What's your favorite LGBTQ movie or show?
"The Hours"
What's your social media pet peeve?
That people are on it too much. I hate my phone!
What would the end of the LGBTQ movement look like to you?
When we have no need to differentiate, that people are people.
What's the most overrated social custom?
Small talk
What was your religion, if any, as a child and what is it today?
Methodism, not active.
What's D.C.'s best hidden gem?
Periwinkle, a gift shop near Chevy Chase Circle (and APO of course).
What's been the most memorable pop culture moment of your lifetime?
Not really my scene.
What celebrity death hit you hardest?
Mary Oliver
If you could redo one moment from your past, what would it be?
Nothing — never look backward.
What are your obsessions?
Music, antiques, my two dogs, living life to the fullest.
Finish this sentence — It's about damn time:
We all got along.
What do you wish you'd known at 18?
That everything passes and that your tribe is one of the most important things in life, family is what you make it.
Why Washington?
D.C. is such an international city full of interesting people from many walks of life, while still being very livable.