Trump hails deal with Gilead for PrEP donation as 'great news'
President says agreement will help end HIV epidemic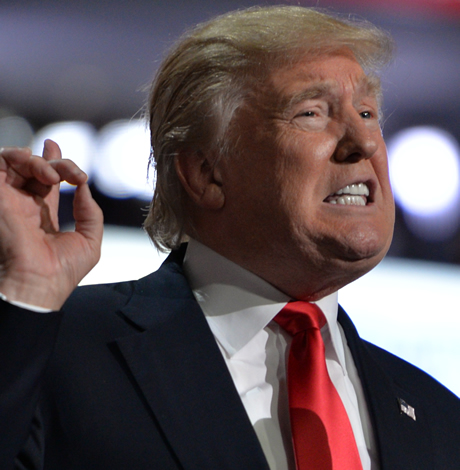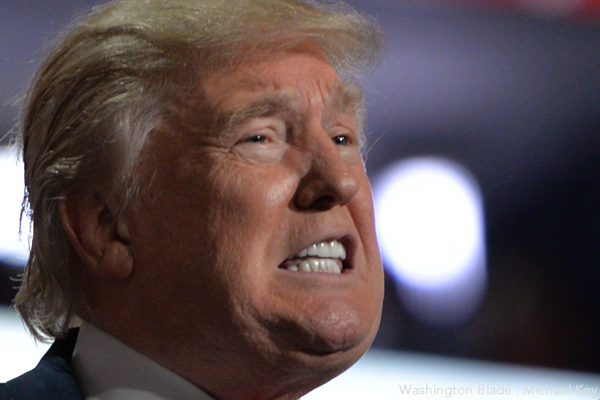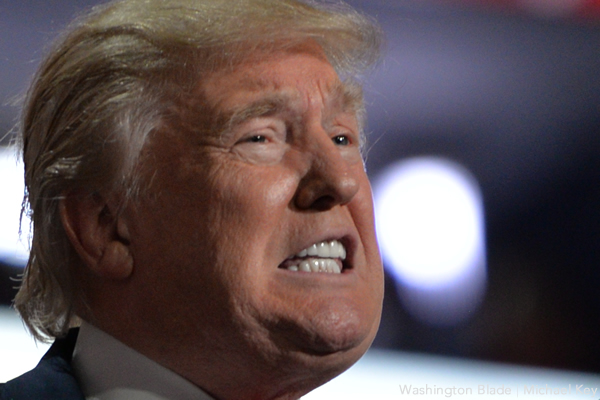 President Trump hailed on Thursday a deal with Gilead for the donation of PrEP for HIV prevention for the uninsured as "great news."
Trump, who announced during his State of the Union address a plan to beat the HIV epidemic by 2030, took to Twitter to declare his pleasure the agreement with the drug manufacturer.
"Great news today: My Administration just secured a historic donation of HIV prevention drugs from Gilead to help expand access to PrEP for the uninsured and those at risk," Trump tweeted. "Will help us achieve our goal of ending the HIV epidemic in America!"
Trump quotes other tweets from Secretary of Health & Human Services Alex Azar, who outlined the general contours of the deal with Gilead and said it consists of a "historic donation of #HIV prevention medication for up to 200,000 individuals each year for up to 11 years."
"The agreement will provide pre-exposure prophylaxis (PrEP) to treat individuals who are at risk for HIV and who are uninsured, including in the states and counties identified as priority areas in @POTUS's plan to #EndHIVEpidemic in America.," Azar added.
Drawing on statistics showing only small portion of individuals vulnerable to HIV infection, including gay men, are on PrEP, Azar adds the majority of Americans "who are at risk and who could protect themselves with PrEP are still not receiving the medication."
Gilead confirmed the donation to the U.S. Centers for Disease Control & Prevention in a statement, calling the agreement among the largest ever in the United States.
"We are proud to partner with CDC to dramatically expand access to medication that can help prevent new HIV infections," Gregg Alton, Chief Patient Officer for Gilead Sciences said. "We believe today's donation, combined with efforts to address the root causes of the epidemic, such as racism, violence against women, stigma, homophobia and transphobia, can play an important role in ending the HIV epidemic in the United States, particularly in parts of the country with the highest burden of disease."
The Trump administration plan seeks to reduce new HIV diagnoses by 75 percent within five years, and by 90 percent within 10 years by targeting 48 counties in the United States, D.C., and San Juan, Puerto Rico, as well as seven states where the epidemic is mostly in rural areas.
Carl Schmid, deputy director for the AIDS Institute, hailed the deal with Gilead in a statement as "a very significant development" in the effort to achieve that goal.
"It will free up the federal government from having to spend potentially billions of dollars over the next 11 years for the purchase of PrEP for the uninsured," Schmid said. "Now, we have to focus on making sure people who need PrEP are aware of it and adhere to it."
The deal was announced one day after Gilead announced a generic version of PrEP would be available beginning in September 2020, one year earlier than anticipated.
Further, the deal comes on the same day the Democratic-controlled House Appropriations Committee approved an increase of $490 million for domestic HIV programs. The allocation surpasses the $300 million the Trump administration sought to combat HIV as part of its annual budget request in addition to rejecting the proposed $424 million cut to AIDS research at the National Institutes for Health.
"After the House Appropriations Committee approval yesterday of an increase of nearly $500 million for domestic HIV programs, today, with this announcement, the administration's Ending the HIV Epidemic initiative just received another boost and is now closer to reality," Schmid added.
Fourth GOP presidential debate sees return of transphobia, anti-LGBTQ animus
Candidates sparred in Tuscaloosa, Ala.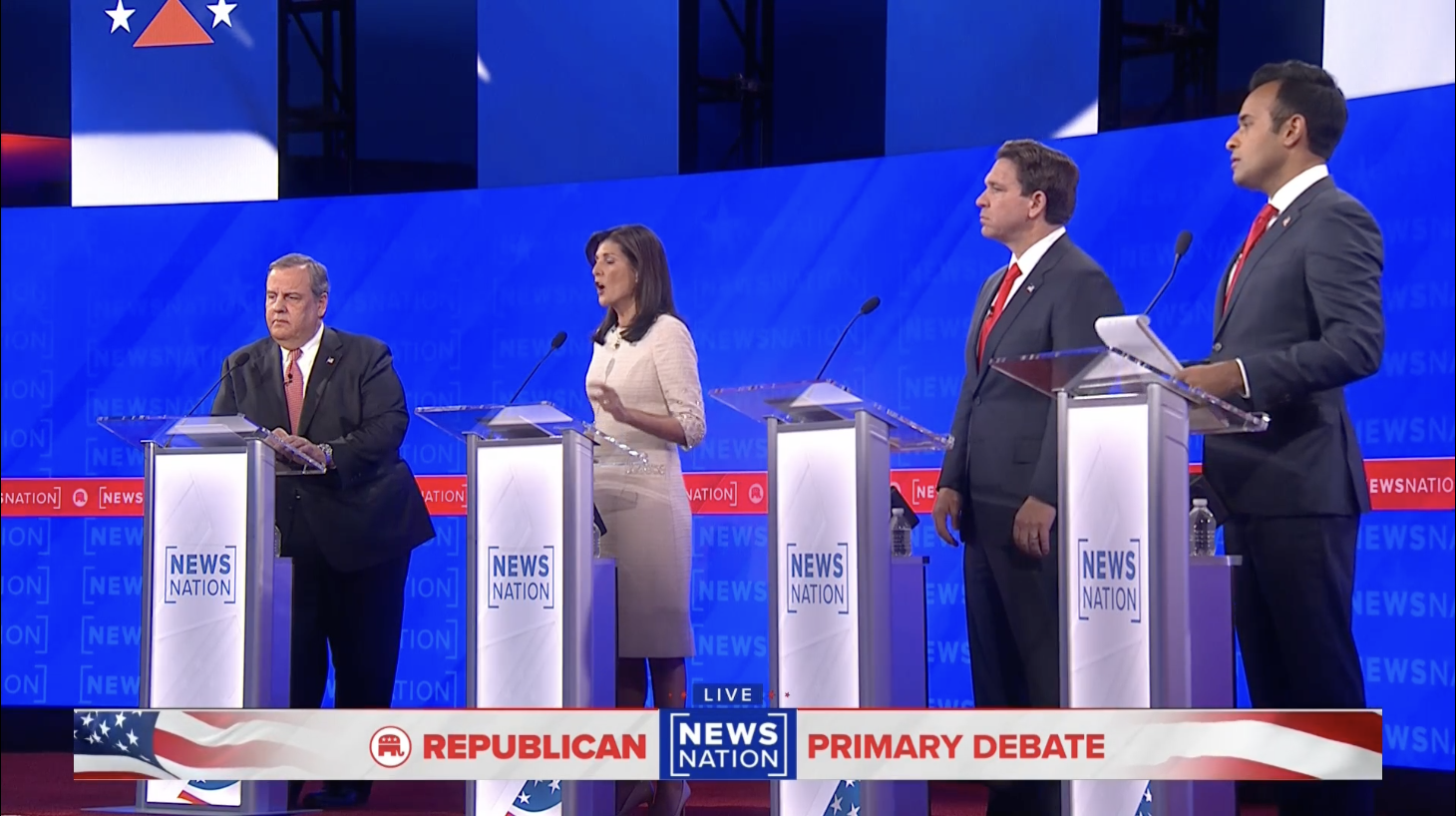 The fourth debate of Republican presidential candidates on Wednesday in Tuscaloosa, Ala., saw a return of transphobic and anti-LGBTQ messages, practically from the outset.
Florida Gov. Ron DeSantis used his introductory remarks to go after former U.N. Ambassador Nikki Haley, who is also a former South Carolina governor, for saying during a recent interview with CBS Mornings that "the law should stay out of it" when it comes to the options available for minors experiencing gender dysphoria.
DeSantis said Haley "caves anytime the left comes after her, anytime the media comes after her," noting that "I did a bill in Florida to stop the gender mutilation of minors."
"It's child abuse and it's wrong," he said. "She opposes that bill. She thinks it's fine and the law shouldn't get involved with it." The governor added, "If you're not willing to stand up for the kids; if you're not willing to stand up and say that it is wrong to mutilate these kids, then you're not going to fight for the people back home."
Haley responded, "He continues to lie about my record. I actually said his 'Don't Say Gay' bill didn't go far enough because it only talked about gender until the third grade. And I said it shouldn't be done at all — that that's for parents to talk about. It shouldn't be talked about with schools."
"You didn't respond to the criticism," DeSantis said. "It wasn't about the Parental Rights in Education bill," using the name of the actual law that is more frequently dubbed "Don't Say Gay."
"It was about prohibiting sex change operations on minors," he said. "They do puberty blockers. These are irreversible."
Gender affirming healthcare is supported by every mainstream scientific and medical society with relevant clinical expertise.
Later, moderator Megyn Kelly asked former New Jersey Gov. Chris Christie, "you do not favor a ban on trans medical treatments for minors saying it's a parental rights issue … aren't you way too out of step on this issue to be the Republican nominee?"
"As a father of four I believe there is no one who loves my children more than me," he responded. "There's no one who loves my children more than my wife. There's no one who cares more about their success and healthy life than we do, not some government bureaucrat."
Gender affirming care, Christie said, "is not something I favor. I think it's a very, very dangerous thing to do. But that's my opinion as a parent, Megyn, and I get to make the decisions about my children. Not anybody else."
"Transgenderism is a mental health disorder," entrepreneur Vivek Ramaswamy said, before pledging his support for bans on gender affirming care until the age of 21.
DeSantis and Haley then sparred over their positions on "bathroom bills" that prohibit transgender people from using facilities consistent with their gender identity.
Not in attendance for this or the previous three debates was former President Donald Trump, the presumptive Republican frontrunner, who is supported by 59.6 percent of likely GOP primary voters according to FiveThirtyEight polling averages as of Wednesday.
He is trailed by DeSantis, who is in a distant second place with 12.7 percent support. They each gained only about three percentage points in the polls since the first Republican primary debate was held on Aug. 24.
Former House Speaker Kevin McCarthy to leave Congress
California congressman to resign at the end of this month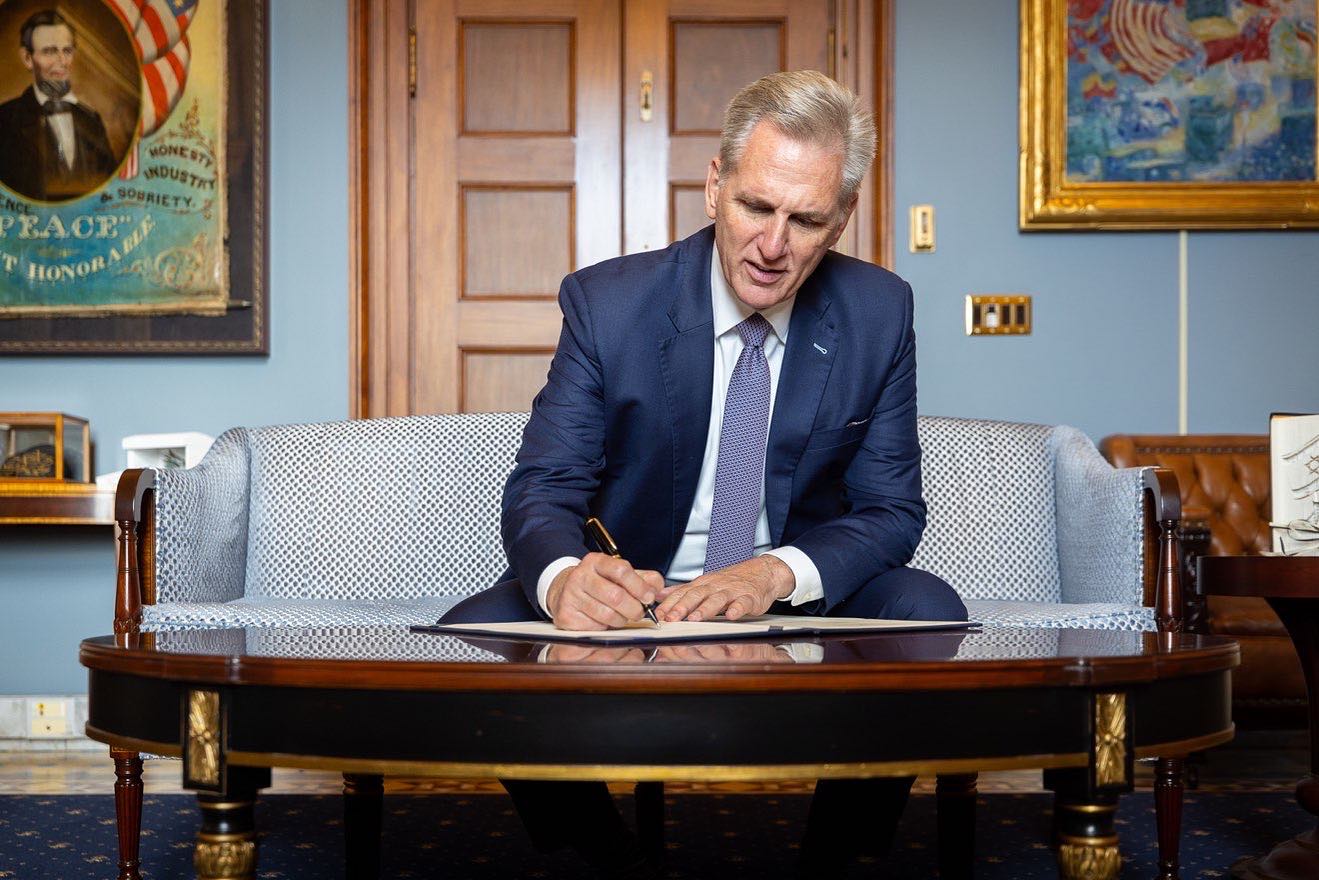 U.S. Rep. Kevin McCarthy (R-Calif.), who was dethroned from the speakership by ultraconservative members of his party in October, announced in a Wall Street Journal op-ed Wednesday that he will resign from Congress at the end of this month.
The congressman pledged to "serve America in new ways," writing "I will continue to recruit our country's best and brightest to run for elected office," adding, "The Republican Party is expanding every day, and I am committed to lending my experience to support the next generation of leaders."
The move puts additional pressure on Speaker Mike Johnson (R-La.), who was elected following McCarthy's ouster and who is now charged with leading a fractious GOP conference that was already operating with a razor-slim majority.
Now, House Republicans might have only three votes to spare before they must seek help from Democrats to pass measures.
Far-right U.S. Rep. Marjorie Taylor Greene (R-Ga.), a McCarthy ally who has repeatedly criticized her colleagues for toppling his speakership and, last week, for voting to expel disgraced former GOP congressman George Santos, posted about Wednesday's news on X.
Well..

Now in 2024, we will have a 1 seat majority in the House of Representatives.

Congratulations Freedom Caucus for one and 105 Rep who expel our own for the other.

I can assure you Republican voters didn't give us the majority to crash the ship.

Hopefully no one dies.

— Rep. Marjorie Taylor Greene🇺🇸 (@RepMTG) December 6, 2023
Meanwhile U.S. Rep. Matt Gaetz (R-Fla.), the Republican firebrand congressman who filed the motion to take the speaker's gavel from McCarthy, posted one word minutes after the news broke: "McLeavin.'"
McCarthy has served in the House since 2007.
EXCLUSIVE: Behind the scenes with LGBTQ staff working on Biden's re-election campaign
Senior advisers say contrast between Biden and Trump will sharpen in 2024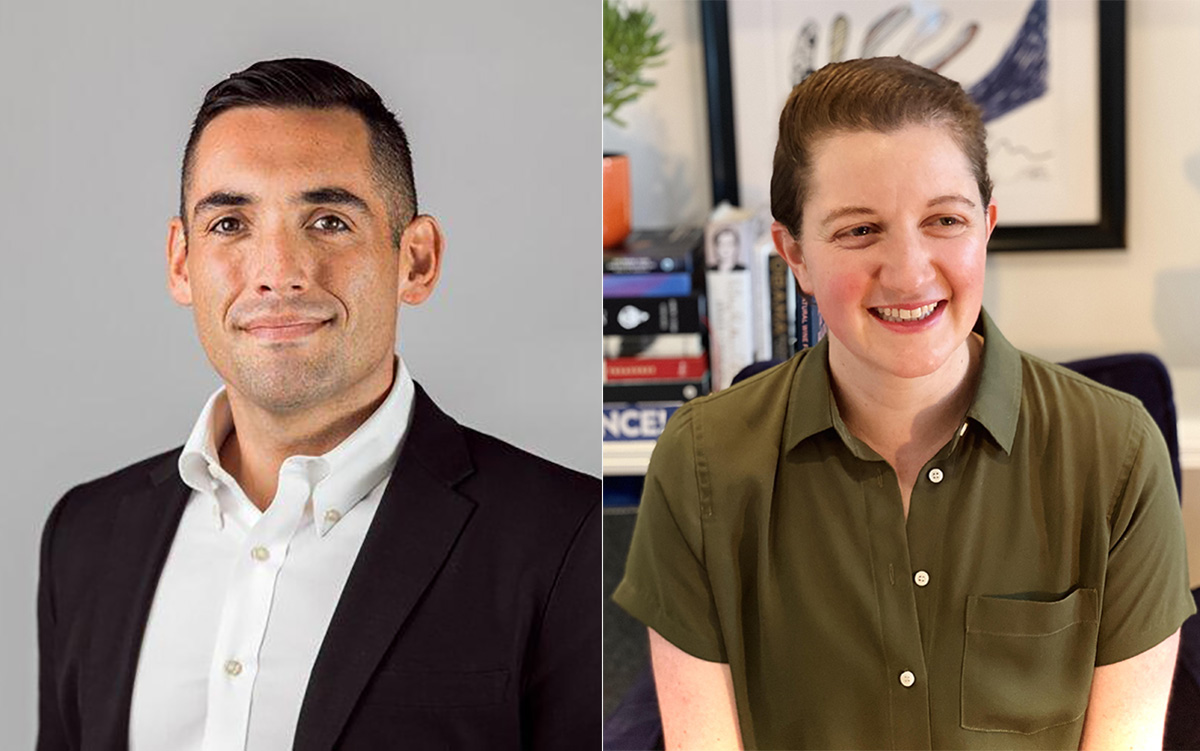 (Editor's note: This is the third in a three-part series profiling senior LGBTQ staff working on President Biden's re-election campaign. Part one was published on Nov. 21 and part two was published on Nov. 29.)

WILMINGTON, Del. — Last month from campaign headquarters, the Washington Blade spoke with Sergio Gonzales, senior adviser to Vice President Kamala Harris and the Biden-Harris reelection campaign, along with senior campaign adviser Becca Siegel.
On the importance of LGBTQ representation in the presidential campaign, Gonzales said, "When it comes to policies that affect the lives of millions of people in our communities across the country, having people who have that experience and that background really does matter."
Moving into next year, he said, the team is working "to ensure that we have people from across the spectrum of America who are able to both bring their own personal experiences and lives into these roles, but also bring a lot of relationships across the country and being able to engage with the community, talk to the community, persuade the community, turn out the community."
Gonzales has worked for Harris since she was elected to represent California in the U.S. Senate, and he said her record supporting and defending the LGBTQ community throughout her career was one of the major factors leading to his decision to join the campaign.
"Especially when it comes to issues related to LGBTQ rights and freedoms, this is something [Harris] has such a long history on," he said. "She has always — both in her office and externally — formed these strong relationships with people in the LGBTQ community and those relationships have always been very, I think, important in not only ensuring her office and the work that she has done reflects the various things that we as a community need, but also just in the way she supports people of color and LGBTQ folks who have worked for her."
In an election where, as the vice president says, so much is at stake for our fundamental freedoms and rights," Gonzales said, "that is especially true for LGBTQ Americans. If you look at the number of attacks by GOP leaders at the local, state, and federal level across the country, so much is on the line in this election."
On the right, Gonzales said, "We have a lot of leaders and a party in this country who are doing their best to try to attack fundamental rights and freedoms of a lot of different folks, including people in the LGBTQ community — and, in some ways, who are trying to turn back the clock on a lot of the progress we've made."
Voters are aware of the fact that, for instance, Republicans elected "a new Speaker of the House who has a very, very alarming and disturbing record of attacking people in our community, including trying to outlaw you know, being gay," he said.
"Both as senior adviser and personally as a very openly and proud gay man," Gonzales said, next year's election "is one of the most important if not the most important election of our lifetime," because "I see what sits on the other side; I see all of these different states who are trying to attack our rights, who are banning books, who are passing 'Don't Say Gay' laws, who are attacking trans people and trying to undo gay marriage, who are — both through policy and through rhetoric — making the country more dangerous for people like me and our community."
"I'm glad and proud to work for a principal and work for a campaign that is about continuing the progress and ensuring we don't turn back the clock and we don't go back on these things," he said.
Gonzales noted the Biden-Harris administration's appointment of record-breaking numbers of LGBTQ folks in senior positions in the White House and across the federal government, but stressed that the commitment to equality runs deeper.
"This administration is an administration that has ensured that not only is there representation for the LGBTQ community, but also has actually driven multiple policy wins, both through the executive level and through Congress, that ensure and afford greater rights and freedoms for people in our community," he said.
Helping voters see the contrast between this and what Republicans — like the party's frontrunner, former President Donald Trump — would do if elected will be an important part of the campaign's work moving into next year, Gonzales said. "As things become much more clear and what we are up against, and Donald Trump comes more into focus, I truly believe that we're going to see a lot of different parts of the country start to engage in this election," he said.
Voters will also remember "the specific things that [Trump] did in his last administration," Gonzales said. "They tried to erase LGBTQ people from the census. They imposed a ban on transgender individuals in our military, which this administration undid. They undid protections for LGBTQ Americans, including transgender individuals, in the workplace, and more broadly," so, "this is not just bluster."
And the Biden-Harris administration "has so much to run on" with respect to LGBTQ matters, Gonzales said, "whether we're talking about health care, whether we're talking about the Respect for Marriage Act, whether we're talking about, you know, some of the ways that we've addressed bullying in schools — these are very real policy wins for our community."
Like Gonzales, Siegel has "worked on many presidential campaigns."
"Your whole life is here when you're working on a campaign," she said. "This is your work, but also your social life and your friends," so "if you are not bringing your whole self to this community, you're not bringing it anywhere in your life."
Our job is to persuade and engage with voters," Siegel said, "and we have to have a campaign that reflects the voters we are trying to engage with."
"Core to my approach to this work is respect and empathy for voters," she said. "That's what we should think about every day. I think we are much better prepared to do that when we have a staff that looks like those voters."
Siegel added, "It's not just so that you walk into the office and it looks like it is a diverse place to work. That's important, too. But it's actually about the work."
With respect to her individual role within the campaign, she said, it comes down to "let's take that strategy" of using data to find a pathway to victory "and then make sure we are executing a campaign that reflects it." When it comes to "travel, comms, which radio stations we're on, what our TV ads say, where we're allocating our money, where we're hiring staff — do those things align with the strategy to get us to 270 electoral votes?"
The importance of representation, LGBTQ and otherwise, may not seem self-evident in data-centric roles, but Siegel noted, for instance, the persistent challenge of combatting bias within datasets.
Like Gonzales, Siegel stressed the contrast between the Biden-Harris administration and campaign and those run by the Republican opposition. "LGBTQ rights feel more under attack now than they have in the past," she said, "and so that rises to the top of concerns for voters — and our policy and position on this is really far away from the Republicans'."
"That's a clear contrast between us and the opposition," she said, adding, "It's at the top of people's minds. It's something they care about, and we have a pretty unimpeachable record on it compared to the opposition."
It is not necessarily so simple, however.
"We who work in politics feel like, of course, this is a choice between, most likely, Donald Trump and President Biden and Vice President Harris," Siegel said, "but voters, especially the voters who are most persuadable, don't feel that way right now, necessarily."
The choice voters will face will crystalize and the contrast between the campaigns will deepen moving into next year, she said.
On lots of LGBTQ issues, Americans are on our side. And when it becomes a choice between, 'there's this version of America and then there's Trump's version of America,' — then, that is really clear," Siegel said.
The campaign is working to reelect the president and vice president to represent the people, the voters, who "have day-to-day things that prevent them from, like, reading Politico," she said. "They have kids, they have to pay their bills, they have to worry about all kinds of things."
Siegel added, "I have a lot of faith in voters. They care about their families. They want a good life. They care about people who are different than them. I think most people care about other people."
For those working on the campaign, she said, "it's really on us" to make sure to "explain and show and demonstrate to them what you are getting from this administration, from these candidates."
"We get to run on issues that help people and are popular," Siegel said. "That's a great place to start from."