May 14, 2019 at 8:27 am EDT | by Lou Chibbaro Jr.
Slain trans woman, others remembered at D.C. service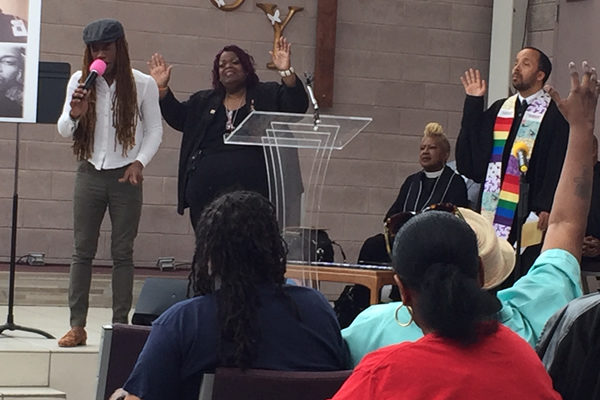 About 50 family members and friends of slain transgender woman Ashanti Carmon and four other members of the LGBT community who lost their lives unexpectedly this year joined four LGBT supportive ministers for a celebration of their lives on May 11 at the Metropolitan Community Church of Washington.
Carmon, 27, was found shot to death on March 30 on a residential street in Fairmount Heights, Md., one block from the D.C.-Prince George's County line. P.G. County police say the investigation into her murder, in which no arrest has been made, remains ongoing and active.
The others whose lives were remembered during the May 11 memorial included Robert Chase "Seven," 55, and Patricia "Cleo" Queen, 57, both of whom died in April of a drug overdose in the midst of the city's opioid crisis, organizers of the memorial said. Also remembered at the service were Kyrell Kris Morant, 47, who died April 14 of as yet unknown causes; and Keisha Washington, 33, who died May 1 of natural causes, according to the LGBT community services center Casa Ruby, where she worked.
"The truth is no one knows when it is time for our sunset," said Rev. Elder Akousa McCray Peters, pastor of Unity Fellowship Church of D.C. and one of the four ministers who spoke at the Celebration of Lives service.
"We wrap our arms around God and say it's not goodbye, it's see you later," McCray Peters told the gathering. "We are not losing our loved ones. We know where they are. We will see them again."
Rev. Kenneth King said he was "annoyed and frustrated" over the violence that led to the deaths of Ashanti Carmon and other trans women in recent years.
"Something is about to move us to the next step," he said. "There is something inside us that can let us turn the table."
Rev. Darren Phelps and Rev. Jason Carson Wilson, the other two ministers that spoke and led prayers, said the presence of parents and other family members of the five people whose lives were being remembered showed that they were loved by those who mattered to them.
Among the family members who spoke was Deborah Carmon, Ashanti Carmon's aunt. She told the gathering that not everyone in Ashanti's family accepted her for who she was.
"People said we don't want you to look like this. You should look like the way you were born," the aunt said. "But I know she was not happy until she was Ashanti. I told her no matter what you choose, you choose what makes you happy."
D.C. transgender activist Earline Budd, the lead organizer of the Celebration of Lives service, said she was disappointed that other family members of Ashanti Carmon, including her father, chose not to attend the service because they disapproved of Ashanti's transition as a woman.
Budd said the outpouring of love and support shown at the service overshadowed the disapproval that transgender people like Ashanti and others like her encounter in life.