May 14, 2019 at 10:32 am EST | by Chris Johnson
Buttigieg to join high-dollar annual LGBT DNC gala in NYC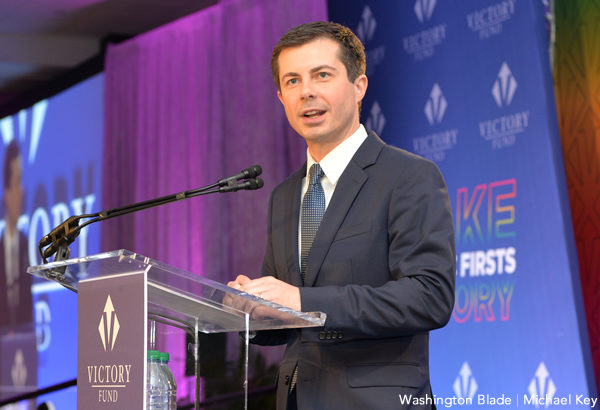 South Bend Mayor and 2020 presidential hopeful Pete Buttigieg is set to join the Democratic National Committee's annual high-dollar LGBT gala in New York City, the Washington Blade has learned.
A copy of an invitation obtained by the Blade lists the gay presidential candidate as a VIP attendee of the gala, which is celebrating its 20th anniversary this year.
Other high-profile attendees are Democratic members of Congress, including every one of the eight openly LGBT members; Karamo Brown of "Queer Eye" on Netflix; and senior DNC officials.
The DNC gala — set this year to take place on June 17 — is an annual fundraiser that in years past has drawn top Democrats like Barack Obama and Hillary Clinton.
This year, 500 attendees are expected and the event is expected to raise more than $1 million, a Democratic aide said Tuesday.
Tom Perez, chair of the Democratic National Committee, said in a statement announcing the gala the event would highlight Democratic wins and the "rainbow wave" of LGBT victories in the 2018 mid-term elections.
"The 2018 midterm election was a landmark moment for the LGBTQ community. LGBTQ representation was boosted all across the country and at every level of government," Perez said. "Now, as we enter the most important presidential election of our lifetime, it's critical that we build on the progress we've made. The new House Democratic Majority is holding President Trump accountable and putting forward a legislative agenda to expand opportunities for everyone, including the LGBTQ community through the Equality Act."