June 16, 2019 at 10:27 am EDT | by Chris McEntee
Inspiring net zero energy building for sustainable future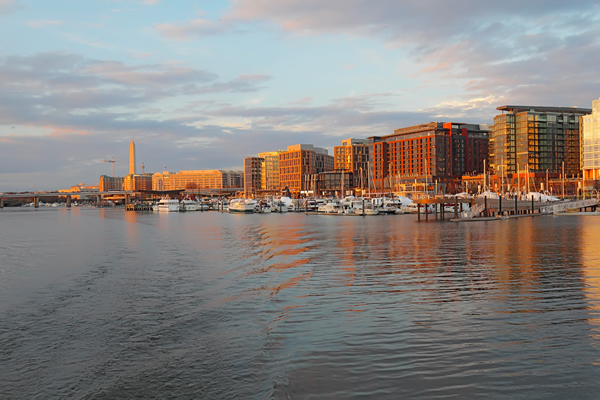 In Washington, D.C., buildings are responsible for 74 percent of the city's greenhouse gas emissions. As threats from climate change become more severe, particularly impacts from more intense heat and rain events, it has become a city priority to rein in those emissions and plan for a more sustainable future.
Just a few months before Mayor Muriel Bowser signed the Clean Energy DC Omnibus Amendment Act into law, the D.C. Department of Energy and Environment finalized its Clean Energy DC plan. This plan highlights more efficient buildings, particularly those that are net zero energy, to curb greenhouse gas emissions.
A building has achieved net zero energy when its annual energy usage is equal to or less than the amount of energy created onsite by using innovative technologies and renewable power generation. Some building owners may not know the best strategies to use to reduce energy usage in their buildings, let alone target net zero energy. While the following tactics may not be applicable to every building, the broader engineering principles of reduction, reclamation, absorption, and generation—especially when implemented together—can help target net zero energy goals.
There are many ways to reduce energy consumption, such as installing LED lights and energy efficient appliances. In addition, reusing as much material as possible during a renovation project can reduce a building's carbon footprint by keeping waste out of the landfill.
The District now requires new construction to capture the first 1.2 inches of rain on-site to stem the flow of water and protect local rivers. A cistern can reclaim rainwater by filtering and treating it for non-potable uses like flushing toilets and irrigating plants.
Installing and irrigating a hydroponic phytoremediation, or green, wall can improve indoor air quality. The green wall allows air to be circulated through the roots of live plants where it is cleaned and filtered before passing back into the building. When working with a building's HVAC system, this process provides a large energy cost savings.
A municipal sewer heat exchange system is an innovative way to absorb thermal energy from wastewater. This system taps into the sewer line and diverts wastewater to a settling tank that is then circulated inside the building. An exchange system extracts energy from the water for heating and cooling before the water is returned to the sewer.
Even when located on a tight urban footprint, a building can still generate enough power with a photovoltaic (PV) array to operate on a yearly basis. By utilizing the direct current power from the PV array, a building can power its lights, computer monitors, workstations, and more.
As a global community of Earth and space scientists, sustainability is also a priority for AGU. AGU's headquarters building is currently undergoing renovation and, upon completion, will be the first net zero energy commercial renovation in D.C.
To help address climate change and lead within D.C.'s sustainability goals, AGU focused on each of the strategies outlined above. For example, AGU cleaned and reused more than 5,000 bricks during demolition and repurposed materials. AGU's terrazzo flooring, as well as the Board room table, is comprised of reclaimed porcelain and glass from the original building.
In addition, AGU was the first in the U.S. to install a Huber system, a type of municipal sewer heat exchanger that uses wastewater energy from a D.C. sewer line dating back to the late nineteenth century. Finally, AGU will generate power through more than 700 on-site solar panels.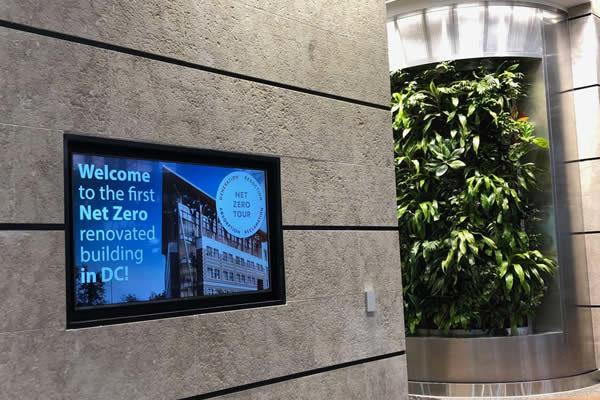 A proud member of the Dupont Circle neighborhood, AGU now welcomes the public for net zero energy "inspire" tours and to rent meeting space. AGU hopes to share best practices and inspire more progress toward sustainability through the organization's award-winning efforts. By implementing just one tactic described here, building owners, communities, local leaders, and members of the broader building industry can make a significant difference for the city and society's future.
Where Science and Sustainability Meet: This green wall is located in AGU's newly renovated net zero energy building at 2000 Florida Avenue, NW, Washington, D.C. AGU's headquarters aims to become the first commercial building in Washington, D.C., specifically renovated to achieve the goal of net zero energy. The green walls, also known as hydroponic phytoremediation (hy-phy) walls, help meet this goal by serving as natural air biofilters. Tours of the AGU net zero energy building are available to the public. Learn more at building.agu.org.
In January 2019, at AGU headquarters at 2000 Florida Avenue, NW, Washington, D.C., Mayor Muriel Bowser was joined by AGU CEO and executive director Chris McEntee and AGU Executive VP, Strategic & Organizational Excellence Janice Lachance, as the Mayor signed clean energy legislation into law. The landmark clean energy bill established Washington, D.C. as a global leader in clean energy to combat climate change. The ceremony was hosted at AGU's headquarters, the first net-zero building renovation in the District, as an example of meeting energy goals in combating climate change.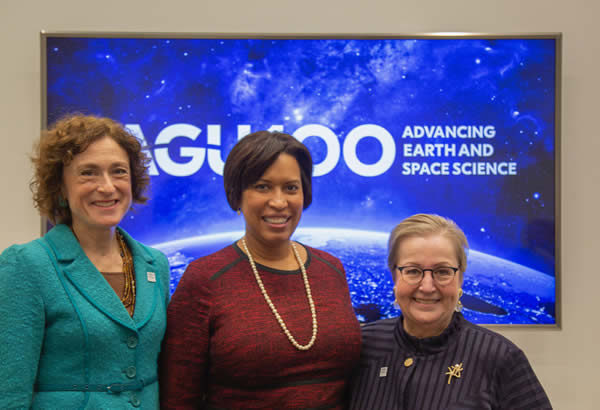 Chris McEntee, agu_execdirector@agu.org, is executive director/CEO of AGU, a worldwide community that advances Earth and space science for the benefit of humanity. For more information, visit sites.agu.org or 2000 Florida Ave., N.W.