July 12, 2019 at 3:36 pm EST | by Philip Van Slooten
SUMMER IN THE CITY 2019: galleries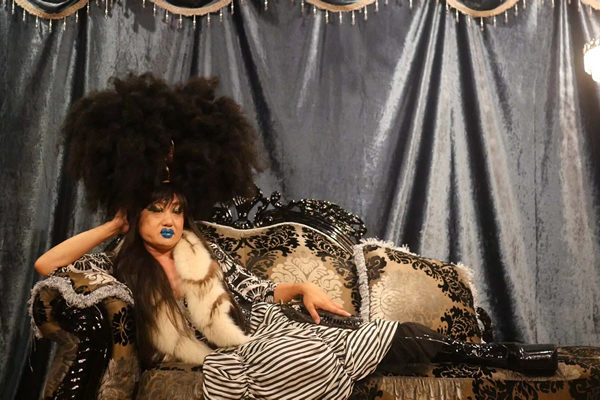 Washington boasts nearly 80 museums and galleries and most are inexpensive with admission prices ranging from free to $30. So, if Stonewall celebrations whetted your appetite to be out in the community, D.C. offers much more arts and culture to feast upon.
Gallery B (7700 Wisconsin Ave., Suite E, Bethesda, Md.) will present an exhibition of work by Maryland Federation of Art members July 3-27. The exhibition is juried by Robert Yi, a recipient of the A.H.O. Roll Prize in Fine Arts and the Mae W. Jurow Scholarship who is also exhibiting at the Hylton Performing Arts Center (10960 George Mason Cir., Manassas, Va.) July 14-Sept. 8 with an opening reception July 25. Yi's portrait paintings have ranged from Mohammed Ali and the Dali Lama to muscular men in tiny briefs. Gallery hours for the MFA show will be Wednesday-Saturday, noon-6 p.m. with a public reception on Friday, July 12 from 6-8 p.m.
The D.C. Center (2000 14th St., N.W.) presents "Queer Japan," a colorful documentary celebrating the triumphs and struggles of being a sexual and gender minority in modern Japan, July 27 at 7 p.m. This film is part of the Reel Affirmations XTRA monthly LGBTQ film series showing at Landmark's E Street Cinema (555 11th St., N.W.). Tickets are $14. August 2-4 is the Outwrite Literary Festival and features award-winning novelists Kristen Arnett and Jericho Brown as well as queer poet and drag performer Wo Chan. Arty Queers continues as the Center's monthly indoor LGBTQ art market featuring work crafted by local artists, and Center Arts Gallery will hold a closing reception for professional photographer and graphic designer Todd Franson Saturday, Sept. 7, from 7-9 p.m. at the D.C. Center. For more information on these and other events, visit thedccenter.org.
The Wentworth Gallery (7101 Democracy Blvd., Bethesda, Md. and 1807 Galleria at Tysons II, McLean, Va.) is exhibiting works by artists Charles Fazzino and Elena Bond this July and August. Fazzino, a 3-D pop artist, uses bright colors and detail to construct lithographs and serigraphs that are finished with either acrylic or glitter paint. His Batman-themed piece has a retro-look. Bond's work is soft and impressionistic with soothing imagery such as crowds meandering down rainy streets. For more details, visit wentworthgallery.com.
The National Gallery of Art (6th and Constitution Ave., N.W.) presents "By the Light of the Silvery Moon: A Century of Lunar Photographs" July 14-Jan. 5. The exhibit marks the 50th anniversary of the Apollo 11 moon landing on July 20, 1969. An exhibition of some 50 works will include a selection of photographs from the unmanned missions leading up to Apollo 11 as well as images taken by Neil Armstrong and Buzz Aldrin. An exhibition of Renaissance artist Verrocchio begins Sunday, Sept. 15. Verrocchio, who never married, was master to other greats such as Leonardo da Vinci. For more information, visit nga.gov.
The Greater Reston Arts Center (12001 Market Street, Suite 103, Reston, Va.) presents "Overlooked," a group exhibition featuring artists who seek to bring awareness to issues often not a part of "polite conversation," July 13-Aug. 31. July 13 there will be an artist talk at 4 p.m. followed by an opening reception from 5-7 p.m. Artists include Leila Abdelrazaq, whose short animated film "Still Birth" was commissioned for the 2018 Palestinian Young Artist of the Year Awards exhibition; Lorenzo Cardim, who explores how queer people and other social minorities question the status quo; former Hamiltonian Fellow Larry W. Cook; Leigh Davis, whose work navigates the line between voyeurism and empathy; Helina Metaferia, whose art asserts the black body into sites of systemic oppression; Matt Storm, whose trans-centric photography explores identity through self-portraiture; and Julie Wolfe, whose work has been reviewed in ARTnews and BBC American. Visit restonarts.org for more information.
National Geographic Museum (1145 17th St., N.W.) presents "Queens of Egypt," which is on display through Sept. 15. This exhibition explores the role powerful women such as Hatshepsut, Nefertiti and Cleopatra played not only in Egypt but on the world stage. The exhibit is open daily from 10 a.m.-6 p.m. with the last ticket sold at 5 p.m. General admission tickets are $15; for seniors, students and military members, $12; and for children ages 5-12, $10. Annual pass members and children under 5 are free. For more information, visit nationalgeographic.com.
The National Museum of African-American History and Culture (1400 Constitution Ave., N.W.) presents "Taking the Stage," an exploration of the history of African Americans in theater, film and television. Located in the fourth floor culture galleries, "Taking the Stage" provides visitors with the opportunity to reconnect with some of their favorite popular culture memories through artifacts such as Eddie Murphy's Detroit Lions jacket from "Beverly Hills Cop" and the outfits worn by Sherman Hemsley and Isabel Sanford in the groundbreaking series "The Jeffersons." The exhibition showcases stories of how African-American artists have enriched American culture through entertainment while also crafting possibilities for social change, such as with "Star Trek's" first televised interracial kiss. The museum offers free timed passes for entry, which can be reserved at etix.com. For more information, visit nmaahc.si.edu.
The Freer|Sackler Gallery (1050 Independence Ave., S.W.) presents "Body Image," one of many multicultural exhibitions displaying at the gallery this summer. "Body Image: Arts of the Indian Subcontinent" explores through art how the human body is central to artistic expression on the Indian subcontinent in terms of sharing fundamental beliefs. The first room considers the perfect bodies of the Hindu gods before turning to the Indian courtly body as site of both pleasure and power. The rear gallery introduces the enlightened bodies of Buddhist and Jain traditions, as well as divine conceptions that transcend physical form. Admission is free. For more information, visit museum.oas.org.
The National Museum of Women in the Arts (1250 New York Ave., N.W.) hosts "Power in My Hand: Women Poets, Women Artists and Social Change" through Oct. 31. This exhibit shows the enduring solidarity between women poets and artists using words and images illustrating the communication and inspiration across geographic boundaries and historical eras. Examples include Muriel Rukeyser's honor poem for the German artist Kathe Kollwitz and Judy Chicago's "Dinner Party" artistic homage to poet Emily Dickenson. Regular admission is $10; $8 for visitors 65 and older and students and free for museum members and children 18 years and younger. For more information, visit nmwa.org.
The Foundry Gallery (2118 8th St. N.W.) offers an alternative gallery experience, through artist talks, workshops, opening receptions, demonstrations and consultations. This summer's exhibition includes "The Habitual Line" by Joseph Shetler July 3-28 with an opening reception on Saturday, July 13 from 5-8 p.m. Shetler's work is post-minimalist reflecting the practice of simplicity in art and life and honoring his Mennonite heritage. The Foundry Gallery is a non-profit organization supported by member dues, sales commissions and community donations. For more information, visit foundrygallery.org. 
Hillwood Museum (4155 Linnean Ave. N.W.) presents "Mid-Century Master: The Photography of Alfred Eisenstaedt" and the art collection of Adelaide Close Riggs. The Eisenstaedt collection features nearly 50 photographs from his career in photojournalism, focusing on his images of mid-20th century life and the era's most celebrated figures. Riggs, eldest daughter of patron Marjorie Merriweather Post, was a notable art collector whose collection includes portraits, clothing and more. The exhibits run through Jan. 12 and suggested donations range from $5-18. Visit hillwoodmuseum.org for details.
Artists and Makers Studios (12276 Wilkins Ave., Rockville, Md.), an art center complex hosting about 150 resident artists, will host Black Artists of D.C. and the National League of American Pen Women for the month of July. Saturday, July 20, 1-3 p.m. is the Black Artists of D.C. talk. Other events include Theremin Music with Arthur Harrison, Solo Acoustic Guitar with David Ziegele and a Montgomery County Camera Club exhibition titled "Photojournalism and Street Life." Exhibits continue through July 24 and viewing hours are 10 a.m.-4 p.m., Tuesday-Saturday and Sundays/Mondays by appointment. For more information, visit artistsandmakersstudios.com.
The Newseum (555 Pennsylvania Ave., N.W.) presents "Rise Up: Stonewall and the LGBTQ Rights Movement" on display through Dec. 31. This exhibit explores the modern gay rights movement in the U.S. and marks the 50th anniversary of the 1969 raid of New York's Stonewall Inn. The Newseum also screens "Into the Streets," a film exploring how the LGBTQ rights movement harnessed the power of public protest to change policy and shift culture, in the Robert H. and Clarice Smith Big Screen Theater on Level 5. Admission is $24.95 for adults ages 19-64, $19.95 for seniors ages 65 and older, $14.95 for children ages 7-18, and free for children 6 and younger. For more information, visit newseum.org.
Hemphill Fine Arts Gallery (1515 14th St., N.W.) presents its summer show July 13-Aug. 23 with a reception on Saturday, July 20 from 4-6 p.m. The exhibition features modern and contemporary art in all media by artist ranging from emerging to mid-career to modern masters. Gallery hours are Tuesday – Saturday, 10 a.m.-5 p.m. and by appointment. Visit hemphillfinearts.com for more information.