July 30, 2019 at 3:11 pm EST | by Drew Brown
Lobbying firm hosts Drag Queen Story Hour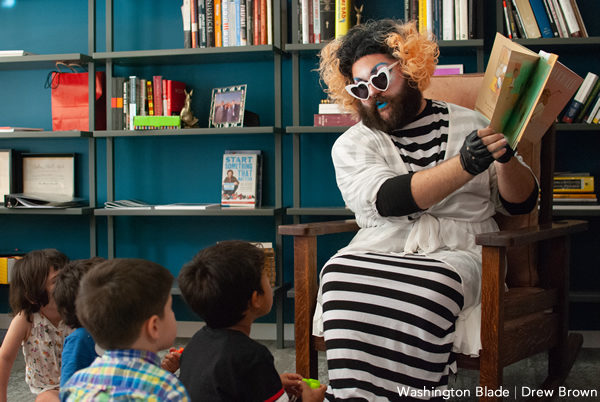 Drag queen JaxKnife Complex read to children of The Raben Group's staff at the firm's office in D.C. on Monday. The event was part of Family Day, when children accompany their parents to work for an afternoon. Other activities included arts and crafts and a scavenger hunt.
During story time, JaxKnife read "Julián Is a Mermaid" by Jessica Love, a picture book about a boy who loves nothing more than mermaids and decides to become one during an afternoon at his nana's house. Afterward, children blew bubbles while learning about aquatic biodiversity. JaxKnife shared silver, blue and "Ursula purple" glitter with her audience.
JaxKnife represents Drag Queen Story Hour (DQSH), which hosts readings for children at schools, libraries and other community spaces. The program introduces kids to gender variance and nonconformity with the goal of reducing bullying and creating a safe environment for youth to express themselves. DQSH has chapters throughout the country with events typically on Saturday and Sunday mornings.
The Raben Group is a public policy firm in D.C. that primarily represents nonprofits, associations and coalitions. A majority of the firm's employees are people of color and numerous staff members including the firm's founder, Robert Raben, identify as LGBTQ. The firm is also a certified LGBT business enterprise.