August 4, 2019 at 4:00 am EDT | by Joey DiGuglielmo
QUEERY: Beverly 'Miss Chocolate' White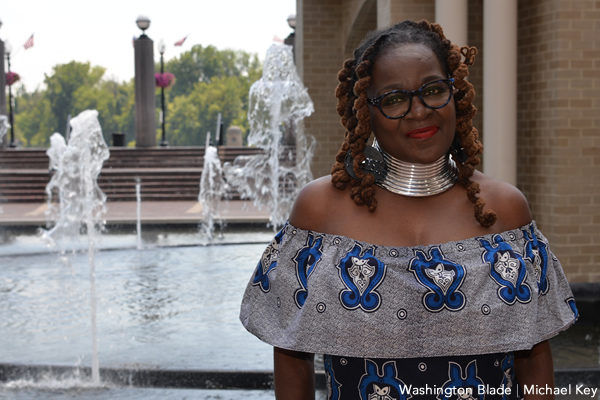 Beverly "Miss Chocolate" White says meeting Rayceen Pendarvis more than 40 years ago was a life-altering event.
"I was just getting my feet wet in this D.C. lesbian world and saw this loud, magnificent person at a Black Pride event at Banneker Field," the 65-year-old ("and sexy AF") Suffolk, Va., native says. "I knew I had to know who this person was."
White started emceeing and doing comedy around age 30. She had been modeling but at one event, the emcee got sick so she stepped in.
"I haven't been able to put a mic down since," she says.
White, who has a grown daughter and two grandsons, will be honored at the next "Ask Rayceen Show" event on Wednesday, Aug. 7 for its "Team Rayceen Spotlight," which will feature live music, burlesque, interviews and more. Doors open at 6 p.m. for the show at 7. It's free at the HRC Equality Center (1640 Rhode Island Ave., N.W.). Details at askrayceen.com. The eighth season continues the first Wednesday of each month through November.
White has performed stand up at the Rayceen Comedy Showcase the last few years and the 2018 edition of Rayceen's Reading Room. In February she and Larry Miller (WUSA 9) were co-hosts of "The Black LGBTQ Experience" with Rayceen at Cleveland Park Library. She frequently stars in Rayceen's pre-show Facebook Live broadcasts, serves as announcer and emcee and accompanies Rayceen to various events.
She'll be at Busboys and Poets on Aug. 7, the "LGBTQ AF Show" at D.C. Arts Center on Aug. 18 and in a play called "Clouded Armour" on Sept. 22. Look for her on social media for details.
White is single and lives with Mr. Wheeler, her mixed Yorkie Terrier in Brookland in Northeast Washington. She enjoys thrift stores, yard sales, sipping Champagne and watching reality TV in her free time.
How long have you been out and who was the hardest person to tell?
I think I knew I was into girls at a very early age but didn't really come out until after my daughter was born when I was 25. Being raised around gays and drag queens no one was surprised. They just thought I was copying off my sister who had dramatically come out a year earlier.
Who's your LGBTQ hero?
My Mama, I think she was the official "fag hag." My heroes are the people who have made an impact on my life. I had 10 drag queens dress me for my senior prom. These are my heroes. It is hard for me to imagine a hero of someone I have never met. Rayceen Pendarvis and Zar will always be my heroes for giving me life at 65.
What LGBTQ stereotype most annoys you?
That all lesbians are butch and dykes and want to be men. I have never wanted to be a man. I love my lipstick and heels. The higher the heel, the closer to heaven.
What's your proudest professional achievement?
Creating my "ONE WOMAN, MANY VOICES" after experiencing domestic and intimate partner violence. Especially speaking for others in the LGBTQ community.
What terrifies you?
Going back to being poor. Not being able to read.
What's something trashy or vapid you love?
Reality TV shows.
What's your greatest domestic skill?
Delegating the work to others. Being the BOSS.
What's your favorite LGBTQ movie or show?
"The Women" with Joan Crawford, a 1939 b/w movie.
What's your social media pet peeve?
When folks ask for your opinion but get testy when you don't agree with them. They call you mean and bitter when you clap back.
What would the end of the LGBTQ movement look like to you?
A world of everybody loving who they want, when they want and how they want. All churches would be inclusive.
What's the most overrated social custom?
Having to get on social media to be famous.
What was your religion, if any, as a child and what is it today?
First Pentecostal, then Holiness and now Baptist. I love church. I could never see myself not fellowshipping and getting a word from God.
What's D.C.'s best hidden gem?
The Goodwill Thrift store on South Dakota Ave., N.E. (shhhhhh)
What's been the most memorable pop culture moment of your lifetime?
Seeing Diana Ross live in Central Park in the rain.
What celebrity death hit you hardest?
E. Lynn Harris, such a remarkable writer that I didn't want his voice to end. James Brown.
If you could redo one moment from your past, what would it be?
Go to Paris with the Ebony Fashion Fair when I was 18.
What are your obsessions?
Shoes! I have over 200 pairs and about 100 pairs of boots! My pearls and jumpsuits.
Finish this sentence — it's about damn time:
Someone put me in The Blade.
What do you wish you'd known at 18?
That I am enough! That my light is beautiful even when it's in your eyes.
Why Washington?
D.C. is like comfort soul food. Even though it's not the Chocolate City I knew as a child, it's the place that even when you leave and live other places, you always come back home to get your soul.