August 15, 2019 at 6:00 pm EDT | by Lou Chibbaro Jr.
Lesbian attorney speaks out against laws to ban LGBT 'panic' defense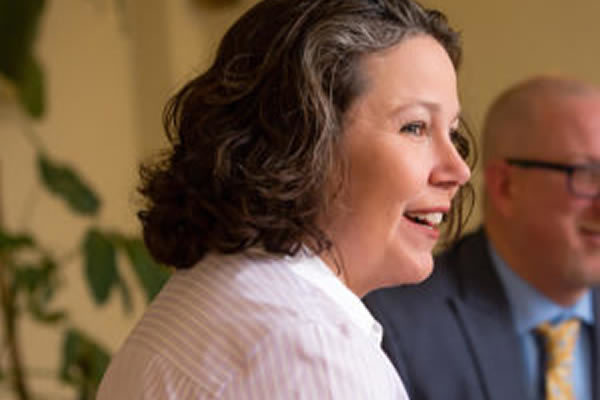 Lesbian attorney Marissa Elkins, who serves on the board of directors of the National Association of Criminal Defense Lawyers, has broken ranks with many of her LGBT colleagues by speaking out against legislation aimed at banning the so-called LGBT panic defense in criminal trials.
Elkins was among the NACDL board members that helped draft a resolution adopted in February of this year arguing against legislative bans on the panic defense on grounds that such bans take away a defendant's constitutional right to use mitigating circumstances as part of his or her defense.
"The right to present a defense encompasses the presentation of any evidence that shows an accused person either did not commit the crime or his or her actions were excused, justified, or mitigated in some way," the NACDL resolution states.
Supporters of legislation to ban the LGBT panic defense, led by the American Bar Association and the LGBT Bar Association, have argued that such a defense is an improper legal strategy that asks juries to find that a victim's sexual orientation or gender identity is to blame for a defendant's criminal act, including murder.
"When the defense is employed, the perpetrator claims that their victim's sexual orientation or gender identity not only explains – but excuses – their loss of self-control and subsequent assault," the LGBT Bar Associations says in a statement.
"By fully or partially acquitting the perpetrators of crimes against LGBTQ+ victims, this defense implies that LGBTQ+ lives are worth less than others," the statement says.
Eight states, including California and New York, have so far passed laws banning the LGBT panic defense.
In D.C., five members of the D.C. Council in February 2017 co-introduced a bill to ban the defense, but the measure has been stalled in committee since that time. Councilmember David Grosso (I-At-Large), the author of the bill, has said he will reintroduce it in September when the Council returns from its summer recess.
Gay D.C. Advisory Neighborhood Commissioner Kent Boese said members of the Rainbow Caucus of LGBT ANC members from across the city met on July 29 with D.C. Councilmember Charles Allen (D-Ward 6), who chairs the Council's Committee on the Judiciary and Public Safety, which has jurisdiction over the bill.
Boese and gay ANC member Mike Silverstein, who attended the meeting, said Allen promised to sign on as a co-introducer of the bill in September and to expedite efforts to move the bill out of committee as soon as possible. Silverstein said Allen said he would consider working with Grosso to introduce the bill as an emergency measure, which under Council rules, would place the bill on a fast track for a vote by the full Council.
Boese, Silverstein, and other LGBT rights advocates in D.C. have said efforts to secure the bill's passage have taken on a greater urgency since May, when an upsurge in violent attacks against LGBT people in the city created a sense of fear among many in the LGBT community.
But it couldn't immediately be determined whether efforts by the National Association of Criminal Defense Lawyers and others who oppose a legislative ban on the LGBT panic defense will have an impact on the D.C. Council.
In another development that some will view as a further sign of concern over such bills, the ACLU's national office has announced it is officially neutral on whether the panic defense should be banned.
"One's fear or disgust of LGBTQ people can never justify violence or discrimination," said Ian Thompson, the national ACLU's Senior Legislative Council. "No one should be targeted for who they are," he said.
"We must also remember that our criminal legal system is often used as a weapon to harm Black and Brown people, trans people, immigrants, and low-income people," Thompson said. "That must be considered whenever there is a proposal to make it easier for prosecutors to secure criminal convictions."
Lesbian attorney Elkins, who has a private law practice in Northampton, Mass., took that thought one step further when she told the Blade that bans on the panic defense could adversely impact LGBT people who are on trial for certain criminal offenses such as domestic violence.
"This legislation is a solution in search of a problem," she said. "I feel judges already have the authority to rule out a panic defense" under existing case law. "As an LGBTQ person myself, I feel this will impact LGBTQ clients of mine," Elkins said. "It could also adversely impact other minorities disproportionately."
Elkins noted that the pending D.C. bill, the Secure A Fair & Equitable Trial Act, expands the categories of crime victims for which a panic defense cannot be used in a criminal trial.
The D.C. bills states, "For any crime of violence, sufficient or adequate provocation for a defense premised on 'heat of passion' shall not exist if the defendant's action are related to the discovery of, knowledge about, or potential disclosure of one or more of the following characteristics or perceived characteristics of the victim."
The bill lists those categories as "disability, gender identity or expression, national origin, race, color, religion, sex, or sexual orientation, regardless of whether the characteristic belongs to the victim or the defendant, even if the defendant and victim dated or participated in sexual relations, or the defendant or victim romantically pursued the other."
Elkins said an improper use of the LGBT panic defense can be addressed in a trial by proper instructions to the jury by the judge. Like others who oppose a legislative ban on the panic defense, Elkins said juries can, as they have in past cases, find a defendant guilty of a crime despite the use of a panic defense when the evidence in a case proves beyond a reasonable doubt that a defendant is guilty.
The LGBT Bar Association disputes that assessment, saying the panic defense has been used successfully in many cases, even when the evidence showed that the defendant should have been found guilty. "Gay and trans 'panic' defense has been used to acquit dozens of murderers of their crimes," the association says in a statement on its website. "Even in instances where juries are instructed not to listen to the gay and trans 'panic' defense, the implicit homophobic bias of hearing the defense at all can still influence the jury's decision."