September 11, 2019 at 8:00 am EDT | by Kathi Wolfe
Valerie Harper's special connection to queer community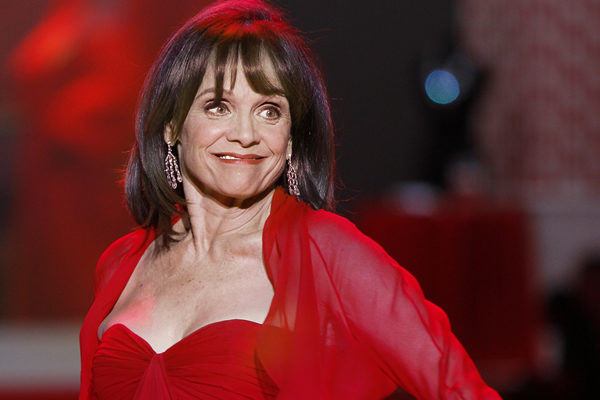 There's nothing worse than losing your BFF. Especially, when your best friend was family to you.
That's how so many of us felt when Valerie Harper, the Emmy Award-winning actress and queer icon, died on Aug. 30 at age 80 from cancer.
We have loved Harper since she first appeared as the irresistible life force Rhoda Morgenstern on the iconic sitcom "The Mary Tyler Moore Show." Harper won four Emmys for bringing Rhoda vividly to life for nine years: in "The Mary Tyler Moore Show" (1970-1977), then in her own show "Rhoda" (1974-1978).
There's our biological family. And the family that we choose. Rhoda is part of our fictional family – the characters who we love as much as our real life fam.
"The Mary Tyler Moore Show's" lead character was Mary Richards (Mary Tyler Moore), the good-looking, perfectly coiffed, Midwestern, associate news producer at WJM, a (fictional) Minneapolis TV station. But, the series' most lovable, fun character was Mary's BFF Rhoda.
At the height of second wave feminism, we admired Mary, the groundbreaking career woman. Yet, especially, if we were gay and/or women, we knew we were more prone to be struck by lightning than to ever be like Mary Richards.
We identified with Rhoda, the Jewish, wisecracking (Bronx native) New Yorker with weight issues, who's landed in Minneapolis. A department store window dresser, she struggles to get a date and fights for every break. Rhoda, like us, is an outsider – often a fish out of water. Like generations of queer folk, she uses, often impolite, humor to cope with insecurity and to puncture pretensions and stand her ground.
This was clear from the get-go. Mary is moving into her Minneapolis apartment. Rhoda, believing the apartment belongs to her, says to Mary, "Hello! Get out of my apartment!"
Yet, Rhoda's humor though at times sardonic, wasn't cruel. Rhoda was frank, sometimes even blunt, but not judgey. This came through beautifully in the Jan. 12, 1973 episode ("My Brother's Keeper") of "The Mary Tyler Moore Show" featuring Cloris Leachman as Mary's eccentric, busybody friend Phyllis. (Phyllis loathes Rhoda.)
Phyllis's brother Ben's in town and he's been spending lots of time with Rhoda . She's dismayed to think that they might wed. "I'm not going to marry Ben," Rhoda tells Phyllis, "he's not my type."
"Why not?" asks Phyllis, "he's educated, he's successful…"
"He's gay," Rhoda says.
I still remember watching this with friends. We nearly jumped off the couch with delight. We were still coming out to ourselves. At the time, the American Psychiatric Association still considered homosexuality to be a mental disorder.
Yet, here on a hit TV sitcom, was Rhoda saying (with no judgement, pity or gay slur-based humor ) someone was gay. (The joke was on Phyllis who, on hearing that Ben can't marry Rhoda because he's queer, says, "I'm so relieved!")
Harper's career encompassed much more than Rhoda. She got her start in such musicals as "Subways Are for Sleeping" and acquired her comedy chops through her work with Second City and Story Theatre. After "Rhoda" ended its run, Harper went on to do other things from movies such as "Chapter Two" to the short-lived sit-com "The City."
A theater actress at heart, she starred in two one-woman shows — "All Under Heaven" about novelist Pearl S. Buck and "Golda's Balcony" about Golda Meir. Harper was nominated for a Tony for her 2010 performance as Tallulah Bankhead in Matthew Lombardo's play "Looped."
Her performance as Tallulah was memorable. When a friend and I saw "Looped," we felt as if we were seeing not Harper, but Tallulah herself.
Yet, in 2012, Harper told the TV show "The Doctors" that her favorite career moment was when she, as Rhoda, said Phyllis' brother was gay. "I loved doing that episode," she said.
Though straight (she is survived by her husband and her daughter), Harper had a special connection with the queer community. She was grand marshal of the 2009 Capital Pride Parade in D.C. In her memoir "I, Rhoda," she wrote that her mother, who'd been a nurse in San Francisco, had gay friends. She called them, Harper said, "my lavender boys."
Harper used her celebrity to fight for justice. She worked for numerous causes and organizations – from the Equal Rights Amendment to rape treatment centers to combating hunger.
Thankfully, Rhoda – cracking wise, cutting to the chase, compassionate, but not sappy – will be with us forever. RIP, Valerie!
Kathi Wolfe, a writer and poet, is a regular contributor to the Blade.