September 26, 2019 at 4:00 am EDT | by Joey DiGuglielmo
QUEERY: Evan Johnson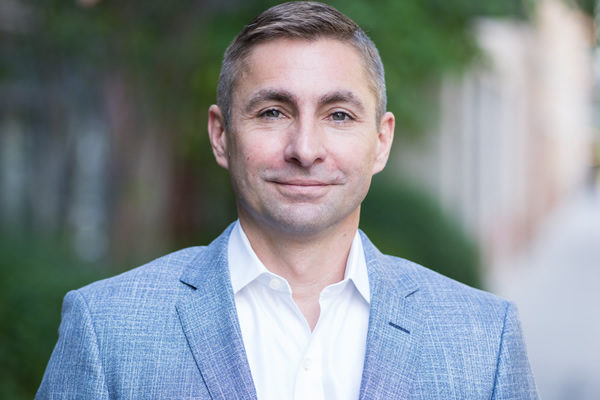 Evan Johnson's "tricks of the trade" for real estate are simple.
"Honesty, integrity and focus on being client centric," the 43-year-old Anchorage, Alaska native says.
And he should know. Johnson, who came to the region in 1989 with his parents, has been in D.C. real estate since 1999. Since 2016, he's been at The Evan+Mark Team of Compass, his third agency, where 2019 team sales to date are $60 million. Find him online at dcrealestate.com or e-mail to team@evanandmark.com.
Johnson lives with husband Tom Bauer in City Center. He enjoys running, boating and travel in his free time.
How long have you been out and who was the hardest person to tell?
Since 2000; my mother.
Who's your LGBTQ hero?
There can't be just one to me. Every person that paved the way for us to live our lives openly and accepted to the degree we can now.
What LGBTQ stereotype most annoys you?
That stereotypes are a thing. We are all individuals and fabulous!
What's your proudest professional achievement?
My dedication to D.C. real estate and mentoring newer agents in the industry.
What terrifies you?
Alzheimer's Disease
What's something trashy or vapid you love?
Going off road in my Jeep and getting muddy.
What's your greatest domestic skill?
Home improvement.
What's your favorite LGBTQ movie or show?
"The Birdcage"
What's your social media pet peeve?
Not posting your true self. Don't be fake.
What would the end of the LGBTQ movement look like to you?
No discrimination at all, from anyone. We are all one people.
What's the most overrated social custom?
The bandwagon on every new trend.
What was your religion, if any, as a child and what is it today?
No organized religion.
What's D.C.'s best hidden gem?
Blagden Alley
What's been the most memorable pop culture moment of your lifetime?
The start and fade of MTV.
What celebrity death hit you hardest?
Robin Williams
If you could redo one moment from your past, what would it be?
Invest even more when I was in my 20s.
What are your obsessions?
Vancouver and Whistler BC Canada.
Finish this sentence — It's about damn time:
To buy a ski home.
What do you wish you'd known at 18?
Time flies. Treat people how you would like to be treated and life will always be great back to you.
Why Washington?
Most of my loved ones are within a couple hours, the vibrant city, diversity of the people and ever changing vibe. What's not to love, it's home!