September 26, 2019 at 4:25 am EDT | by Lou Chibbaro Jr.
Center director David Mariner reflects on 20 years in Washington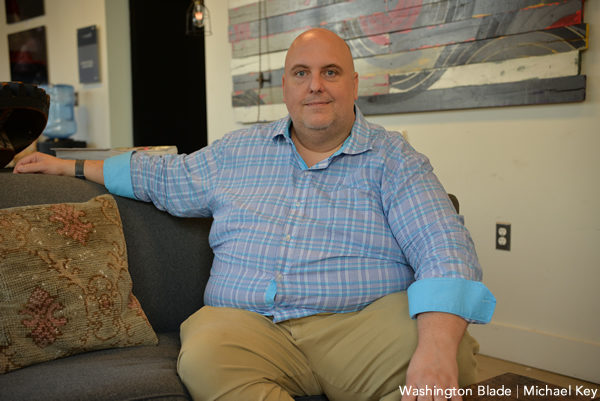 David Mariner began in 2008 as a volunteer and then a part-time employee when the D.C. Center for the LGBT Community had a small office suite in the American Dental Association's building on 14th Street, N.W. next to Thomas Circle.
Mariner, who soon became the Center's executive director, recalls that the center's volunteer treasurer told him back then that the organization had about $2,000 in the bank.
Now, a little over 10 years later, the D.C. Center operates in a comfortable suite of offices in the city's Reeves Municipal Center building at 14th and U Streets, N.W. with an annual budget of $442,000 and an expected 2020 budget that Mariner says will reach the half-million dollar mark.
The Corning, N.Y., native, who moved to Washington in 1999 after graduating from college at Furman University in Greenville, S.C., departs Monday for a similar job at CAMP Rehoboth in Rehoboth Beach, Del., with his husband of one week, Khusan. He spoke to the Blade this week about his decade-plus at the D.C. Center.
WASHINGTON BLADE: When did you start at the D.C. Center?
DAVID MARINER: I began working at the D.C. Center in 2008. I volunteered for the first few months, and then they brought me on part time. When I started volunteering, they did not have the budget to hire me, but we worked up to that.
BLADE: What were things like back then?
MARINER: When I started Jim Marks (gay activist and former Washington Blade feature writer) was our treasurer. And other than a grant to work on crystal meth, which we were doing collaboratively with other organizations, we had about $2,000 in the bank, and for the first few months I would always ask Jim where we were money wise, and he would always say we have about $2,000.
BLADE: And where was the Center located at that time?
MARINER: At that time we had a suite at the American Dental Association Building on 14th Street, near the Green Lantern.
BLADE: That was the first office the Center had when you began working there?
MARINER: Uh-huh. We had no full-time staff when I started, and now we will soon have a team of six or seven people in October. So we're going to have the biggest and most robust team we've ever had at the Center.
BLADE: So when did you begin as the full-time executive director?
MARINER: That was January 2009, one year later.
BLADE: Can you tell a little about how the Center has changed since that time? You've been credited with helping to grow it quite a bit.
MARINER: We have a $47,000 grant from the Department of Aging and Community Living, which is the first time DACL has ever funded an LGBT group, which is exciting. The grant expands our social support network for LGBTQ older adults. We will continue having regular lunches and weekly coffee socials for LGBTQ older adults and expand into other programming, including yoga. We will also have a part-time case manager on site to support our LGBTQ older adults. One of the things we've asked for is for the Mayor's Office of LGBTQ Affairs to get to 20 housing vouchers for LGBTQ seniors. And I still don't know where that stands, but a case manager like the one we will have is really important in helping older adults utilize those vouchers.
BLADE: Was there one other place the Center moved to before moving to the current location at the Reeves Municipal Building at 14th and U Street, N.W.?
MARINER: In 2009, we moved out of the American Dental Association Building at 1111 14th Street, Suite 350 and moved into the Whitman-Walker Space at 1810 14th Street, N.W., where Doi Moi is now. JBG Properties gave us the opportunity to stay there at a very reasonable rent knowing they were planning to demolish the building. When JBG moved forward with demolishing that space, we moved to another JBG property 1308 U Street N.W., in June of 2010. We encouraged the city to release an RFP for vacant space at the Reeves Center. There is still a lot of unused space at the Reeves Center including a hair salon that has not been touched for many years. We submitted our application with others that included a convenience store and a restaurant. At one point after our RFP was accepted there was a proposal for the city to trade the Reeves Center. Ultimately those plans fell apart. However, the future of the Reeves Center is still up in the air.
BLADE: Since moving into the Reeves Center the D.C. Center appears to have grown considerably. What do you see as your accomplishments there?
MARINER: Well when I visited other community centers through my consulting, what I loved most about them is how they created a space for everyone in the community, and how easy it was for community members to organize and support each other because they had a space to gather. I really wanted the D.C. Center to be a place where everyone felt welcome, which is difficult in a city that is so often divided. And I wanted it to be a space where we could work together to make D.C. better for everyone. Some of the work I'm most proud of is not the work I did, but the work community members did. The D.C. Center just made it easier by supporting their work. So for example, I'm very proud that D.C. for Marriage was a program of the Center, and (marriage equality leader) Michael Crawford and others did such amazing work creating marriage equality in D.C. long before it was nationwide. I'm proud of Daniel O'Neal, who worked on HIV prevention when we saw an increase in new HIV cases among younger gay/bi/trans men, and I'm really proud of the work Eddy Ameen and the Youth Working Group did holding forums and advocating for more beds for homeless LGBTQ Youth. As you remember, the Youth Working launched a petition for more beds for homeless LGBTQ youth when there were only a handful of beds. That has thankfully changed. And of course I'm proud of the fact that the D.C. Center is filled with activities almost every evening we are open. Many of our meetings at the D.C. Center are peer-facilitated support groups. There are 18 different peer-facilitated support groups that meet at the D.C. Center including our newest, which is for LGBTQ military members and first responders. In an era where trans people and people living with HIV are being pushed out of the military, I'm very excited we can offer this service
BLADE: What is the D.C. Center's current budget?
MARINER: Our current 2019 budget is $442,000 and next year we will surpass the half million mark. That includes about $190,000 in government grants, $60,000 in private foundation grants and generous community support that comes through monthly donors, special events and our professional partners.
BLADE: What was your vision for the Center when you started and how much of that were you able to make happen?
MARINER: A lot of the goals that I set for myself when I started at the D.C. Center have been met. And 11 years is a long time to be with any organization. For me, I wanted to build an LGBTQ community center that I knew would last after I left and I believe that we've done that. I'm really proud of the work that I've done, but I'm ready for a new adventure and I'm ready to see what someone will bring to the D.C. Center when they take over.
BLADE: Will your new endeavor in Rehoboth Beach bring some changes in your personal life?
MARINER: Personally, this year has had some changes for me as I've gotten married. And I'm excited to be moving to Rehoboth with Khusan and be able to get a bigger place to live and for us to have a new beginning together. We've been together for two years
BLADE: How did you and Khusan meet?
MARINER: Khusan and I met at Trade (the D.C. gay bar) in August 2017, and got engaged in Key West, Fla., on July 13, 2019, and then we got married this past Friday, Sept. 20. Christopher Dyer was our officiant and it was a very small gathering of friends.
BLADE: How did you find out about the job opportunity at CAMP Rehoboth?
MARINER: I saw the Rehoboth job posting through CenterLink, the national association of LGBT Centers, and it felt like a great fit and a great opportunity. I applied and went to Rehoboth for two different interviews and got a chance to meet the team there. I had the opportunity to meet the board of directors and staff, and they are truly an amazing group of people, and Rehoboth itself is simply a very special place for the LGBTQ community.
BLADE: What if any new projects to you expect to be working on when you begin your new job in Rehoboth?
MARINER: Well I think the first task at hand for me when I get to Rehoboth is to really learn more. There are so many programs that CAMP Rehoboth offers and so many amazing volunteers and supporters that I want to learn from. Obviously there is a lot of overlap between what different LGBT Centers do across the country, but CAMP is also a unique place that I need to learn more about. One thing that is going to be unique for me is having a (U.S.) Senator and Representative that can vote, and I'm really looking forward to learning more about local politics. Obviously I could not be more excited that (transgender rights advocate) Sarah McBride is running for office, and CAMP has always played a role not just in Rehoboth, but in the state of Delaware. I'm excited to learn more about how we can support students in our area, and how we can best support LGBTQ older adults as well. I'm also excited to make some connections between D.C. and Rehoboth. For example, I know there are LGBTQ youth experiencing homelessness who've never had a day at the ocean. And being so close to the ocean, I would love to have some D.C. visitors. So I've already started some of those conversations with local organizations about visiting.
BLADE: Do you have any thoughts about carrying on the legacy of the late Steve Elkins, who co-founded CAMP Rehoboth and served as executive director for over 25 years before his death last year?
MARINER: Steve Elkins had such a profound impact on Rehoboth and the entire state of Delaware. The entire team at CAMP Rehoboth continues that legacy. I was impressed when I recently visited Rehoboth for the Sundance weekend and met so many elected leaders and community leaders who are deeply invested in CAMP and our future. Much like D.C., I believe that those of us who are fortunate enough to live in parts of our country that are LGBTQ supportive, have a responsibility to move the ball forward in the quest for full equality, and there is still much work to do.
BLADE: What can you say about the selection of your successor at the D.C. Center and what that person will be dealing with in the next few years?
MARINER: The board of directors is working with our friends at CenterLink to conduct a job search. I believe there has recently been a renewed focus on LGBTQ advocacy locally in D.C. and I very much hope to see that continue. This includes passing the LGBTQ Older Americans and Older People Living HIV legislation, the Bella Evangelista and Tony Hunter Gay and Trans Panic Defense Bill, and the bill to Decriminalize Sex Work in D.C. I know the D.C. Rainbow Caucus (of LGBT Advisory Neighborhood Commissioners) and others will continue to push for more local funding and I hope to see that happen. And if we are pushed out of our current space at the Reeves Center, I hope to see at least twice as much space in our new home, as we continue to grow.