Calendar: Oct. 4-10
Parties, shows and events in the week to come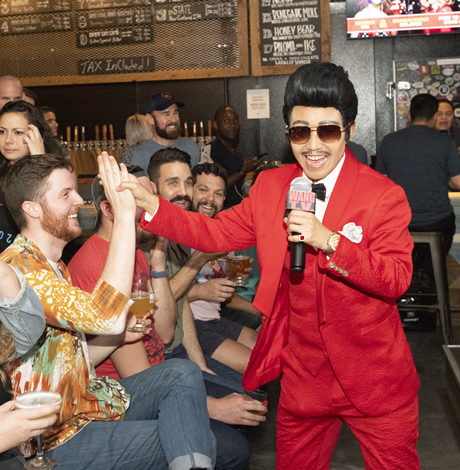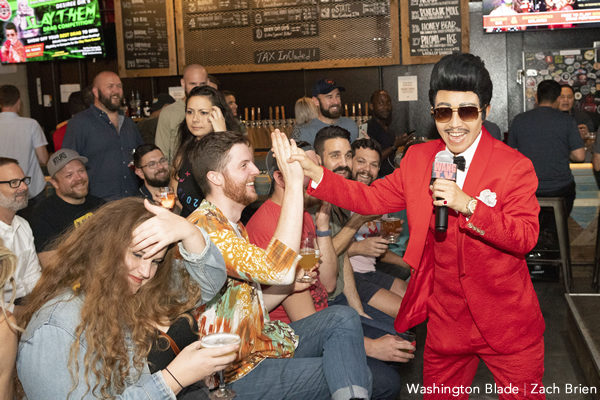 Friday, Oct. 4
The Outrage (1722 14th St., N.W.) hosts the 50 Years of Queer D.C. Photo Exhibit tonight from 6-8 p.m. Admission is free and open to the public. The exhibition includes a one-of-a-kind journey through Washington Blade archival photos and features remarks by Council member David Grosso. Photos will be auctioned off at the Washington Blade 50th Birthday Gala on Oct. 18. Tickets and information at blade50th.com.
Ladies Night in the Park hosted by Sarah Fraser is tonight from 6-9:30 p.m. at various venues along Park Potomac Avenue. Tickets are free, but register to attend. Participating restaurants include Addies, Founding Farmers and SUGO. The Wine Harvest will provide wine and beer for purchase, and area DJs will provide the music. Also available will be Putt Putt, lawn games and raffles to support charity partner I Support the Girls. Visit eventbrite.com for tickets and information.
Desiree Dik hosts "Slay Them!" tonight from 9-11 p.m. at Red Bear Brewing (209 M St, N.E.). Performers are invited to bring their friends to this drag competition happening the first Friday every month. Fans of queer art and drag are encouraged to come out and vote for their favorite performer each month. For more information, visit redbear.beer. 
The Arlington Gay and Lesbian Alliance (AGLA) hosts its monthly First Friday Social at Pinzimini at the Westin Hotel (801 North Glebe Rd., Arlington, Va.) tonight from 6:30-8:30 p.m. AGLA social events enable Arlington LGBTQ and ally neighbors time to relax and spend time together. Attendees are invited to bring friends, enjoy cash bar drinks and meet new people from around the community and the world. More information is available at agla.org.
The Pride Center of Maryland (2530 N. Charles St., 3rd Floor, Baltimore) hosts Giovanni's Room Open Mic tonight from 7-10 p.m. This event is a monthly open mic that seeks to support Baltimore's LGBTQ artists and entrepreneurs by providing a platform to share, sell and support one another. Doors open at 7 and show starts at 7:30. Hosted by DaTruth DaPoet and featuring Hip-Hop artist Malcolm Ivanon. Visit pridecentermd.org for more information.
Ladies First Fridays Super Happy Hour is tonight and every first Friday at Club Elevate (15 K St., N.E.) from 5-9:30 p.m. Entry fee is $5. Hosted by Shari Dee and featuring music by DJ Styles, the venue provides happy hour food, drink specials and hookahs as well as House music, Reggae, line dance and more. More information available at facebook.com/ladiesfirstent.net.
Saturday, Oct. 5
The Center Arts Gallery Opening Reception for Veyron Pax is tonight from 7-9 p.m. at the D.C. Center (2000 14th St., N.W., Suite 105). Pax is an Iranian-American artist, filmmaker and human rights activist currently based in D.C. For more information about this free public event, visit thedccenter.org.
Sheila E. Performs tonight at the Howard Theater (620 T St., N.W.) at 8 p.m. Tickets start at $49.50. For tickets and information, visit thehowardtheater.com.
Run the Rainbow Pride 5K in Virginia Beach is today starting at 5:30 a.m. at 2200 Parks Avenue in Virginia Beach, Va. This 18-and-up event is to celebrate the Hampton Roads LGBTQ community through fun and visibility. For more information, visit hamptonroads.eventful.com.
Avalon Saturdays presents Daddy Issues with DJ's Steve Sidewalk and Sean Morris tonight starting at 10 p.m. at Soundcheck (1420 K St., N.W.). Tatianna from "RuPaul's Drag Race" hosts this 21-and-up event. Tickets start at $10 with $4 Absolut drinks served from 10-midnight. Drag show runs from 10:30-11:30 p.m. Visit soundcheckdc.com for details.
The Transgender Assistance Program of Virginia meets today from 4-6 p.m. at the LGBT Life Center (247 W. 25th St., Norfolk, Va.) to discuss ways to combat homelessness within the transgender community in Virginia. TAP VA is an all volunteer, trans-led non-profit organization created to provide educational opportunities around the intersectionality between homelessness, discrimination, socioeconomic status and racism within the trans community in Virginia. For more information, visit lgbtlifecenter.org.
Sunday, Oct. 6
"Cats" ends its run at the Kennedy Center (2700 F St., N.W.) with today's 1:30 p.m. performance. Tickets start at $49. Tickets and information available at kennedy-center.org.
The National Museum of Women in the Arts (1250 New York Ave., N.W.) presents the Fierce Women 2.0 tour today from 1-2 p.m. No reservations are required, but space is limited. Visitors are encouraged to arrive at least 30 minutes prior to the start of the tour to sign up at the information desk. Tour departs from the Great Hall. For more information, visit nmwa.org.
Drag Queen Tiny Kitten Bingo hosted by Caring Hands Animal Support and Education and the Animal Welfare League of Arlington is tonight from 6:30-9:00 p.m. at the Arlington Drafthouse CInema (2903 Columbia Pike, Arlington, Va.). The Imperial Court of Washington will be on hand to bring sparkle while raising funds for animals in need. Tickets are $25 and include admission and your first bingo card. For more information visit a DJ.arlingtondrafthouse.com. 
The D.C. Sisters of Perpetual Indulgence host their second annual Lavender Mass today at 3 p.m. at the Lutheran Church of the Reformation (212 East Capitol St., N.E.). The public is invited to join the Sisters as they celebrate and fight for social justice and LGBTQ rights. This year's mass will feature the D.C. Sisters' sainting of U.S. Supreme Court Justice Ruth Badger Ginsburg for her lifeline commitment to advancing civil rights. Refreshments will be served. For more information, contact Sister Mary Full O'Rage at [email protected].
Monday, Oct. 7
The Staunton Public Library (1 Churchville Ave., Staunton, Va.) hosts a screening of the American Experience film "Stonewall Uprising" tonight from 7-8:30 p.m. The film explains the history behind the event launching the modern LGBTQ rights movement as well as the history leading up to the uprising. For more information, visit ci.staunton.va.us.
Tuesday, Oct. 8
The National Press Club (529 14th St., N.W.) presents Fired for Being Gay: The State of LGBTQ Rights in the Workplace today from 1-2 p.m. This free event is held on the same day the U.S. Supreme Court is scheduled to hear the case of Bostock v. Clayton County, Georgia which may determine whether sexual orientation discrimination by an employer is prohibited under Title VII of the 1964 Civil Rights Act. This event is in the Club's First Amendment Lounge and is open to credentialed media and members of the National Press Club. Registration is required.
Wednesday, Oct. 9
Lez Read is tonight, and the second Wednesday of each month, at 7:30 p.m. at the Politics and Prose bookstore's coffeehouse, The Den (5015 Connecticut Ave., N.W.). Group members read a wide selection works with lesbian and queer themes or written by lesbian or queer-identified authors. Email [email protected] for more information or to see this month's selection.
The Lambda Bridge Club meets tonight at 7:30 p.m. at the Dignity Center (721 8th St., S.E.) for duplicate bridge. No reservations are needed and newcomers are welcome. Phone 202-841-0279 if you need a partner.
The D.C. Area Transmasculine Society (DCATS) hosts its monthly Transmasculine and Nonbinary Social Hour tonight from 6-9 p.m. at the Red Bear Brewing Company (209 M St, N.E.). Red Bear is a queer-owned brewery that serves food, drinks and has board games. The venue is open to all ages, but the DCATS social hour is a 17-and-up event. Friends and partners are welcome when accompanied by someone who is transmasculine. Visit dcats.org for more information.
The Big Gay Book Group will meet and discuss "Leading Men" by Christopher Castellani tonight at 7 p.m. at 1800 K Street, N.W., Suite 1000. "Leading Men" tells the story of Tennessee Williams and his longtime partner Frank Merlo in a tale of desire and ambition set against an exotic backdrop of 1950s Italy. For more information and to RSVP, email [email protected]. Newcomers welcome.
Thursday, Oct. 10
"Judy Chicago — The End: A Meditation on Death and Extinction" continues today through January 20, 2020 at the National Museum of Women in the Arts (1250 New York Ave., N.W.). For more information, visit nmwa.org.
DC Center to host estate planning seminar series
Three sessions presented by Murray Scheel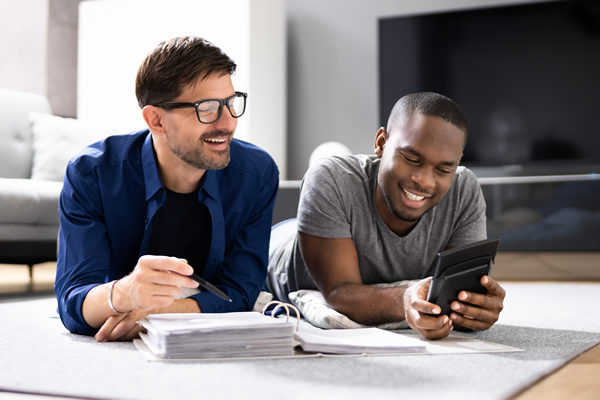 The DC Center for the LGBT Community and the DC Department on Aging and Community Living will host "Estate Planning Tools with Murray Scheel" via Zoom. 
Scheel will walk guests through the process of taking care of the end-of-life planning business that needs to be addressed during the golden years. Scheel is Senior Staff Attorney at Whitman-Walker Health's Legal Services.
This event series will consist of three 1.5-hour sessions:
Jan. 19, 3 p.m. – "Tools for while you're living" (overview, general power of attorney, healthcare power of attorney, disposition of remains, etc.)
Jan. 26, 3 p.m. – "Tools for after you're gone" (living wills, last wills, assets, etc.)
Feb. 2, 3 p.m. – "Healthcare insurance & long term care" (Medicare, Medicaid, correcting misinformation, skilled nursing, hospice care, etc.)
To register for this event, visit the DC Center website.
DC Center to host legal seminar for trans people
Attorney Richard Tappan and paralegal Miranda Shipman to give legal advice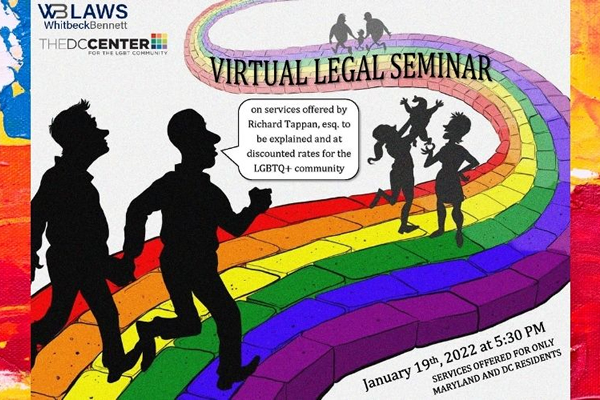 The DC Center for the LGBT Community will host a "Gender and Name Change Legal Seminar" on Wednesday, Jan. 19 at 5:30 p.m. online.
Attorney Richard Tappan and paralegal Miranda Shipman will give legal advice and speak on the importance of the legal community within the LGBTQ community, the difficulties of the LGBTQ community in the legal field and name and gender changes.
Guests can find the link at the DC Center website.
Busboys and Poets to focus on peace in 2022
Special guests include Angela Davis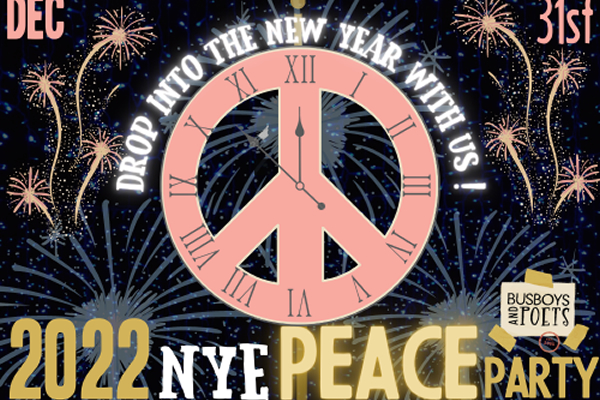 Busboys and Poets will host "The 2022 NYE Peace Party" on Friday, Dec. 31 at 9 p.m. at Busboys and Poets in Columbia.
The event will feature peace activists and literary powerhouses such as political activist, philosopher, academic, scholar and author Angela Davis, activist, scholar and educator Gina Dent, and renowned writer, poet, playwright and activist Sonia Sanchez, among others.
There will also be live music, food, party favors, champagne toast and free parking. Tickets are available on Eventbrite.