November 7, 2019 at 2:43 pm EST | by Patrick Folliard
Mosaic Theater Company's 'Theory' depicts weighty academic experiment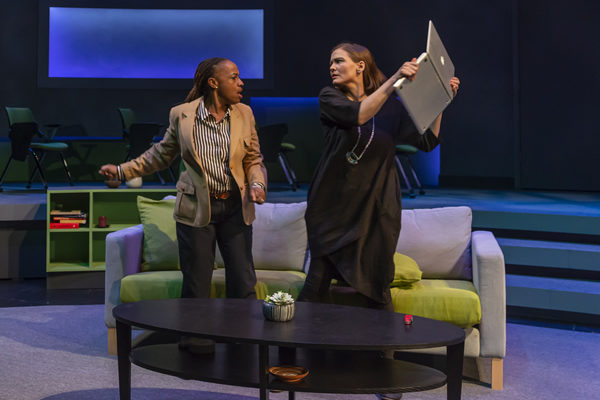 'Theory' 

Through Nov. 17

Mosaic Theater Company

Atlas Performing Arts Center 

1333 H St., N.E.

$10-65
Canadian playwright Norman Yeung doesn't back off from socially relevant topics. In his thought-provoking techno-thriller "Theory," now making its U.S. premiere at Mosaic Theater Company, he takes on the limits of free speech. 
Young, white tenure-track professor Isabelle (Musa Gurnis) wants to shake up academia. On the first day of her introduction to film studies course, she tears up the traditional staid syllabus and replaces it with one featuring more works by women and filmmakers of color rather than one almost exclusively comprised of dead white men. Isabelle also announces that she's created an unmoderated, uncensored online message board where students can freely express their views beyond the lecture hall.
In theory, it's a great idea, but some of Isabelle's more than 100 students are a tad trepidatious, and rightly so. In a short time, the board is littered with homophobic, misogynist and racist slurs. But amid the morass of negativity, some terrific ideas and intelligent exchanges can be found. Heartened by the positive aspects, Isabelle encourages her students to stay on track as she continues with her promise to neither block nor delete.
Not surprisingly, Isabelle's online experiment soon spills over into her personal life. At home, she is suddenly attached to her laptop, obsessively reading every new email and message. Isabelle's wife Lee, a black tenured professor and author, suggests she tread a quieter path, insisting that controversy isn't the surest route to tenure for a young professor. And Lee, once a firebrand herself, has mellowed over time. She's more interested in her personal writing career and starting a family with Isabelle as the couple has planned. What's important to Lee is that she and her wife have tenure in the same city — no easy feat.
On campus, Isabelle's class is represented by a diverse quartet of students (Benairen Kane, Tyasia Velines, Camilo Linares and Josh Adams) who aren't afraid to express opinions ranging from problems with language and content to their professor's performance. It's ostensibly an argumentative but mostly likeable foursome.
But while some students are quarrelsome in class, online they're vicious. Will bold, well-meaning and often annoying Isabelle rethink her policy?
Here's where the playwright veers from near didactic and makes a sharp turn into thriller land. Without giving away too much, the plot quickly changes. One of the message board regulars scarily crosses the line. A Swiss Army knife is involved.
In a scene that gives some insight into the current state of faculty-student relations, Isabelle seeks advice from her boss, the dapperly dressed department head Owen (Tony K. Nam). His thoughts on how to handle students (which I won't reveal here) are exasperatingly weak and unfortunately true to life.
Director Victoria Murray Baatin seamlessly moves the action from classroom to office to living room (all housed on Daniel Ettinger's sleek gray and pistachio, split-level set). Dylan Uremovich's projections of messages and texts, and images from seminal films like D.W. Griffith's silent "Birth of a Nation" and Virginie Despentes and Coralie Trihn Thi's controversial "Baise-Moi" effectively add tension and atmosphere. And while Yeung's script could have been better plumbed for its extant humor and broad-ish performances might have been reined in here and there, it's a lucid, cohesive production.
"Theory" doesn't answer all the questions. But it's undeniably a conversation starter.