November 14, 2019 at 4:37 pm EST | by Patrick Folliard
Auditionees share lives in Signature's 'A Chorus Line'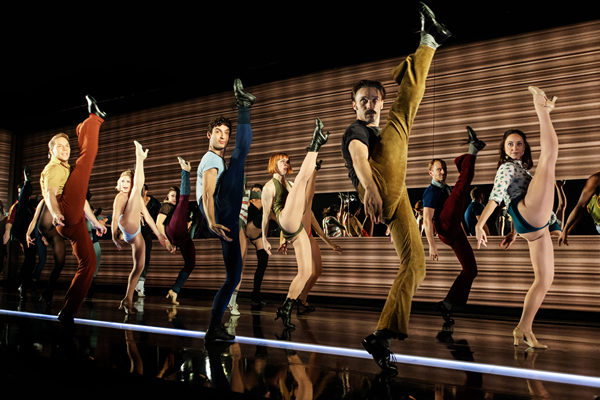 'A Chorus Line'

Through Jan. 5

Signature Theatre 

4200 Campbell Ave.

Arlington, Va.

703-820-9771
Several years back, Signature Theatre asked audiences what topped their wish list for future shows. The majority answered "A Chorus Line," the 1975 Tony- and Pulitzer Prize-winning musical wrought from true life experience and the genius of director-choreographer Michael Bennett. Now that request is being granted with a production that delivers energy, excitement and raw emotion along with polished staging.
During the show's inception, stories were pulled from informal, recorded sessions with Broadway dancers — not stars — sharing their beginnings and lives on the chorus line. Under Bennett's guidance, a hit production with almost no set and not a lot of plot emerged, injecting new life, financially and artistically, into a then-stale Broadway.
Signature's take, staged by talented out director Matthew Gardiner with new choreography by Broadway's Denis Jones, wastes no time in displaying both the seminal work's enduring charms and its capacity to evolve with new ideas. The show opens with "I Hope I Get It," a vigorous number featuring a tight area jammed with young dancers eager to land a new job in the chorus. Eventually, auditionees are whittled down to 17 vying for eight spots, four "boys" and four "girls."
In the audition room, candidates stand side by side along a line facing the audience. This audition is like no other. In addition to learning dance combinations and lyrics, they'll be asked personal questions about their backstories. The queries come from Zach (an intense Matthew Risch), the firm but encouraging director seated visibly at a card table in the middle of the audience (rather than the disembodied voice from the back of the house found in most productions).
Aspirants must prove they're more than an appealing headshot and good technique. After some discomfort, their replies issue forth in words, song and dance. Sometimes, a dancer slips into pantomime and we hear those nervously waiting their turns voice anxieties, fears and thoughts.
One of these stories belongs to Paul (Jeff Gorti), a gay dancer from Spanish Harlem. He shyly recounts a bumpy youth that involved being molested as a kid at the movies, an abysmal stint in Catholic high school and time spent in a professional drag act. It's a touching, understated performance.
During the years since James Kirkwood and Nicholas Dante wrote "A Chorus Line's" book, oversharing has become the norm. Still, their characters' stories grab our attention.
That said, some scenes are by far more interesting than others.
Highlights include upbeat song and dance bit "I Can Do That," in which Mike (Trevor Michael Schmidt) peppily, and here acrobatically, details his first brush with dance.
Body image looms large with dancers. In "Dance: Ten, Looks: Three," better known as "Tits and Ass," Val (Adena Ershow) amusingly explains how plastic surgery has boosted her career. And Connie (Lina Lee) reveals the challenges and advantages of having never grown beyond 4'10."
Mario Rizzo is a delight as sexy, jaded Sheila. At almost 30 (a tricky number for any member of the chorus), she knows her way around an audition. And though quick with the pithy riposte and shady side-eye, she is vulnerable beneath the hardened shell as evidenced in "At the Ballet." Along with fellow dancers Bebe (Jillian Wessel) and Maggie (Kayla Pecchioni), she sings about dance as a respite from an unhappy home life and other unpleasantness.
Bronx girl Diana played by Samantha Marisol Gershman, a genuine triple threat, engagingly describes her entrée to the chorus with "Nothing," and later gives a moving rendition of the chorus dancer's anthem, "What I Did for Love."
With the visually arresting but ultimately bland "The Music and the Mirror," auditionee Cassie (Emily Tyra) makes her case. Hoping to return to the chorus after achieving some success on Broadway but failing in Los Angeles, she needs a job. But that moment in the spotlight and a complicated relationship with director Zach may hinder her chances.
Under Gardiner's helm, the show focuses on the group; what comes to the fore as most important is the ensemble and its ambitions and passions as a whole. It's inspiring.
Signature's routinely stellar musical director Jon Kalbfleisch is especially successful leading the unseen 10-person orchestra. He more than does justice to Marvin Hamlisch's score comprised of show tune favorites and standalone songs with unforgettable lyrics by Edward Kleban.
While in spots a tad more acrobatic and balletic than the original, Denis Jones' choreography mostly retains the spirit of Bennett's choreographic vision. His reimagining of the ensemble number about growing up, "Hello Twelve, Hello Thirteen, Hello Love" is particularly terrific. And while the intimacy of Signature's space almost uniformly adds to the experience, the not-terribly-deep stage doesn't allow for the same impact as Bennett's bigger, iconic finale.
In short, "A Chorus Line" is what's good about musical theater. And Signature makes that point.