November 13, 2019 at 6:06 am EST | by Lou Chibbaro Jr.
Strong support for Check It building purchase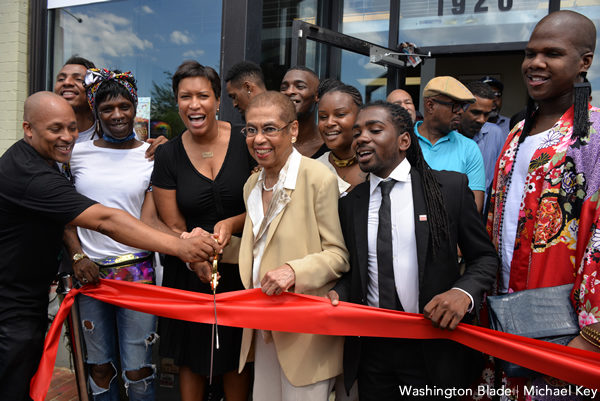 More than 20 Ward 8 community leaders joined an official with the mayor's office as witnesses at a D.C. Council hearing on Nov. 6 to express support for a bill calling for the city to provide a $2 million grant to help the LGBT youth-run company Check It Enterprises to purchase the buildings it currently rents.
D.C. Council member Robert White, who introduced the bill, told the hearing before the Council's Committee on Business and Economic Development, that the three small buildings in the heart of the city's Anacostia neighborhood that Check It Enterprises rents, two of which they sublease to other community organizations, are on the market for sale.
He said that in a rapidly gentrifying area of the city, the LGBT-operated business is in danger of being displaced like many other neighborhood businesses, making it difficult for it to relocate in an area where it can continue to serve the Anacostia community, including LGBT youth who live in the area.
"Check It Enterprises is a small, District business founded by a group of young people and former Check It LGBTQ gang members," White said in a statement. He noted the group now operates a clothing manufacturing and sales business specializing in T-shirts and other apparel.
"Check It went from being a gang engaged in violent and destructive behavior to a business using their headquarters as a home for community activities," he said, adding that it "fosters entrepreneurship and is a safe space for LGBTQ youth."
White and witnesses who testified at the hearing pointed out that in addition to selling fashion apparel, Check It Enterprises uses its headquarters at 1918-1922 Martin Luther King Ave., S.E. to teach young people about the fashion industry through silk screening and sewing classes.
Other witnesses, including Star Bennett, its CEO and co-founder, and Ron Moten, managing member and co-founder who serves as adviser to the youth members, told the hearing Check It also provides space for new businesses and essential services to the surrounding community, including sex education classes, a vegetable garden, community meeting space, and a resource center that links youth to counseling and other mental and emotional support services.
White noted that Check It members have been featured in the National Portrait Gallery and are the subject of a 2016 documentary film.
Among those who testified in support of the bill was Sarosh Olpadwala, director of Real Estate at the Office of the D.C. Deputy Mayor for Planning and Economic Development.
A spokesperson for Council member Kenyan McDuffie, who chairs the Business and Economic Development Committee, said McDuffie and committee members would soon decide the next step for the bill. During the hearing, McDuffie expressed strong support for Check It and its members.