November 27, 2019 at 8:31 am EST | by Peter Rosenstein
Impeachment: Do it now and get it over with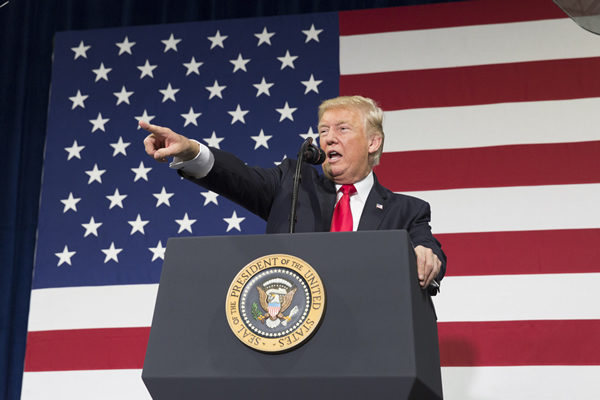 I want to see the House of Representatives return articles of impeachment against President Trump. He has thwarted Congress, tried to bribe a country to investigate his political opponent for personal gain and run roughshod over the Constitution. Congress should impeach him now.
That being said we know the United States Senate will not convict him. There are not anywhere near 20 Republican senators with the guts, decency or commitment to their oath of office to convict. We will be lucky if there are one or two when it comes down to a vote. So the result will be as it was with Bill Clinton and before him Andrew Johnson in 1868, the president will be acquitted.
The reason to get this over with quickly is so the media, the Congress and the Democratic candidates can get back to talking about the issues people seem to care about and understand. I say this with remorse because it is sad more people don't care about Trump's riding roughshod over the Constitution. But all polling is showing except for Democrats they don't. In fact the longer this goes on we are seeing independents, who in many cases want to be rid of Trump and who we hope will vote Democratic, not favoring impeachment believing it will not accomplish much. Fivethirtyeight, which is tracking opinions on this, is finding little change among Democrats and Republicans on impeachment after the public inquiry but independents are moving against it. The Hill reported, "The latest national poll from Emerson College finds 45 percent oppose impeaching President Trump, against 43 percent who support it. That's a 6-point swing in support from October, when 48 percent of voters supported impeachment and only 44 percent opposed. More importantly, the poll shows more independents now oppose impeachment than support it, a significant change from Emerson's polling in October. The new poll found 49 percent oppose impeachment compared to 34 percent who support it. In October, 48 percent of independents polled supported impeachment, against 39 percent who opposed."
I wish more Americans would be as outraged with Trump as I am. It is sad and telling about where we are in this country that they aren't. But my view is our focus must be to get Trump out of the Oval Office. If it can't be done by impeaching him then let us get back to focusing on healthcare, education, good paying jobs, foreign policy with particular attention to relations with our allies, dealing fairly with Israelis and Palestinians in the Middle East, immigration and infrastructure — all areas on which Trump is vulnerable.
If the stock market continues to go up, 401k accounts continue to rise, and the unemployment rate continues at record lows a candidate wanting to talk about shaking up the economy won't have a winning message. We will need a candidate to be more empathetic to the crisis in the lives of African Americans who are facing more open racism because of Trump than they have in decades. A candidate who can convince those voters he/she will fight to change the structural racism that exists in our country. A candidate who will fight the epidemic of violence against transgender women of color and turn around the hateful policies the Trump administration has directed toward them. A candidate who can make people feel they will fight for realistic and immediate change to our healthcare policies to lower drug prices and ensure insurance for those with pre-existing conditions today, not in some potential future universal policy. A candidate who can clearly explain what they will do to fight opioid addiction to the millions of families with a member addicted. These are the issues that will win Democrats the Congress and the White House.
I want to see Trump and a host of his sycophants in Congress and administration in jail. I want to see them investigated and called out for their clear lack of living up to their oath of office among so many other crimes. But my first and overwhelming priority is to get Donald J. Trump out of the presidency and moving impeachment forward quickly is one way to help do that.
Peter Rosenstein is a longtime LGBT rights and Democratic Party activist. He writes regularly for the Blade.