Game Changers: Capital Tennis Assn.'s Shawn Stingel
'It feels good to stay active, give back and make an impact'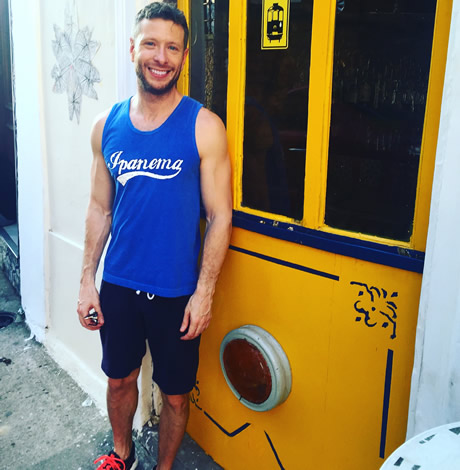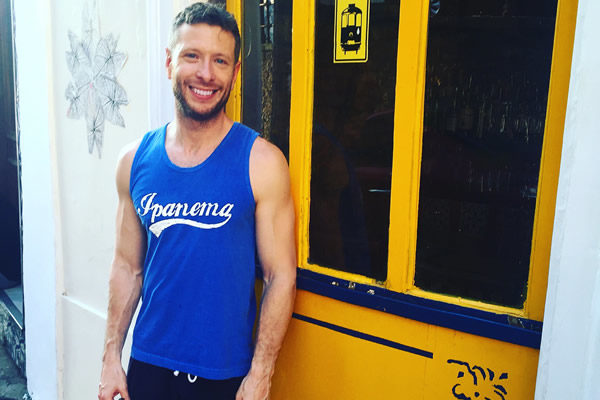 This week in the Washington Blade Game Changers series, we meet an athlete with Capital Tennis Association who has taken the club to new heights regarding social responsibility.
Growing up in Smithfield, Va., Shawn Stingel discovered tennis by playing in the streets with his brother and friends. Inspired by Venus and Serena Williams, he tried out for his high school tennis team in Windsor, Va., and made the cut playing all four years.
Stingel only played recreationally while attending William & Mary but after graduating and arriving in Washington in 2005, he was eager to rejoin the sport with the Capital Tennis Association.
"I was looking to anchor myself in D.C. and discovering an LGBT-based team was a really comfortable feeling," Stingel says. "I have met my best friends on the tennis court and being an out athlete has been part of my evolution as an adult. I wasn't out when I was playing in high school."
As Stingel became a better tennis player with the Association, he started becoming more involved in a leadership role. When he stepped into the role of social director for the club, he began looking for more diversity and recruitment of young athletes.
"We ramped up our social media, started attending mixers and increased our presence in the community," Stingel says. "From my own perspective, I could see where I would have fit into all of that as a young adult as I wasn't seen in high school. Young adults today want to be out and they want to play sports. They should be given spaces where they can be comfortable."
Already active in LGBT community events, Stingel pushed for the Association to expand its social impact and branch into other communities.
"My agenda was to transcend the tennis court and also have a presence in heteronormative communities," Stingel says. "I wanted to break down that barrier and allow diversity to thrive."
Partnering with local organizations, Stingel created events surrounding Breast Cancer Awareness Month, organized CPR training for American Heart Month and helped coordinate the club's Earth Day invitational while engaging local eco-friendly organizations to raise awareness for their efforts.
"Being progressive in our outreach lets our members know we are more than an LGBT tennis club," Stingel says. "Creating awareness campaigns gives people exposure to these topics and starts a conversation that will affect change."
As for his tennis career, Stingel was a doubles specialist for seven years with his playing partner Horatio Oliveira before segueing into a singles career.
Stingel, who works in IT at the Office of Air & Radiation for the Environmental Protection Agency, plays in leagues with the Capital Tennis Association and travels the country competing in tournaments on the Gay Lesbian Tennis Alliance World Tour.
He says his career highlight thus far was qualifying for the GLTA World Tour year-end championships in Prague in 2016. This weekend he will be playing in the Citrus Classic tournament in Tampa.
"I love the challenge and the competition. It brings me joy. We play at a lot of venues where I see older people still competing, so I don't see myself stopping any time soon," Stingel says. "It feels good to stay active, give back and make an impact."
IOC: 'Trans Women Are Women' Laurel Hubbard set to make sports history
Laurel Hubbard is set to make sports history on Monday and the International Olympic Committee clearly has her back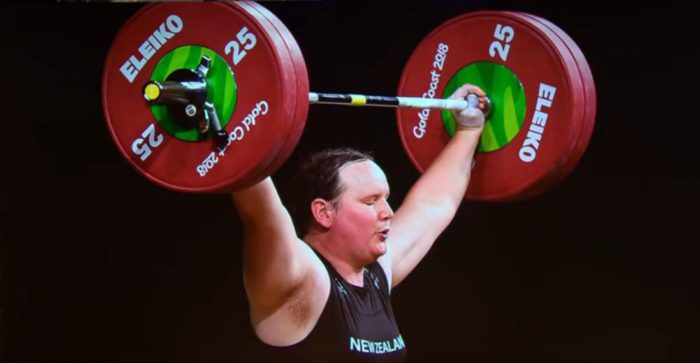 TOKYO – The director of medicine and science for the International Olympic Committee praised weightlifter Laurel Hubbard's "courage and tenacity" as she prepares for her upcoming competition as the world's first out transgender woman Olympian.
In speaking to reporters in Tokyo Thursday, Dr. Richard Budgett directly addressed those who have attacked and mocked the 43-year-old New Zealander and claimed she shouldn't be competing with cisgender women, saying "everyone agrees that trans women are women."
"To put it in a nutshell," he said, "the IOC had a scientific consensus back in 2015. There are no IOC rules or regulations around transgender participation. That depends on each international federation. So Laurel Hubbard is a woman, is competing under the rules of her federation and we have to pay tribute to her courage and tenacity in actually competing and qualifying for the Games."
Hubbard herself has not made any public comments except for a statement following her qualifying for the Summer Games, saying she was "humbled" by the support which had helped her "through the darkness" following a near career-ending injury in Australia in 2018.
Reports around the world have claimed Hubbard is the first trans Olympic athlete, which is actually not the case. As the Los Angeles Blade has reported, Quinn, a trans nonbinary soccer midfielder for Team Canada, last Wednesday became the first out trans athlete ever to complete in the Olympic Games. They posted about it on Instagram, saying, "I feel proud seeing 'Quinn' up on the lineup and on my accreditation. I feel sad knowing there were Olympians before me unable to live their truth because of the world."
The IOC is expected to review and likely revise its policies on transgender participation following Tokyo. Trans athlete and researcher Joanna Harper, who has advised the organization and other sports policy groups, told the Los Angeles Blade her recommendation will be for the IOC to continue to regulate trans athletes sport-by-sport. "There shouldn't be a one-size fits all policy," said Harper.
She also noted how the mainstream cisgender media is consumed with coverage of Hubbard and missing out on the bigger picture, and what it will mean for the next generation watching on TV and online.
"The lack of attention paid to Quinn and to Chelsea Wolfe has been interesting," said Harper.
"A few news outlets have commented on their presence in Tokyo and in Quinn's case the comments have been mostly favorable. On the other hand, the storm of mostly negative press heaped on Laurel Hubbard has been disappointing, although predictable. I hope that the negative press that Laurel has gotten won't dissuade young trans athletes from following their dreams. I think that the next trans woman to compete in the games will get less negative press, and eventually (although probably not in my life) there will come a time when trans women in sport generate little or no controversy."
Hubbard issued a statement Friday via the New Zealand Olympic Committee in which she said: "The Olympic Games are a global celebration of our hopes, our ideals and our values. I commend the IOC for its commitment to making sport inclusive and accessible."
According to a French news outlet, NZOC spokesperson Ashley Abbott told reporters the committee had seen a "particularly high level of interest" in Hubbard's Olympic debut, and much of it has been negative.
"Certainly we have seen a groundswell of comment about it and a lot of it is inappropriate," Abbott said. "Our view is that we've got a culture of manaaki (inclusion) and it's our role to support all eligible athletes on our team. In terms of social media, we won't be engaging in any kind of negative debate."
Abbott reminded the media that the NZOC's job was to support its athletes, including Hubbard. "We all need to remember that there's a person behind all these technical questions," she said. "As an organization we would look to shield our athlete, or any athlete, from anything negative in the social media space. We don't condone cyberbullying in any way."
RELATED: CBS This Morning from 22 Jun 2021
Non-binary Olympian leaves games without a medal but still a winner
For the first time in my entire life, I'm proud of the person I've worked to become. I chose my happiness over medaling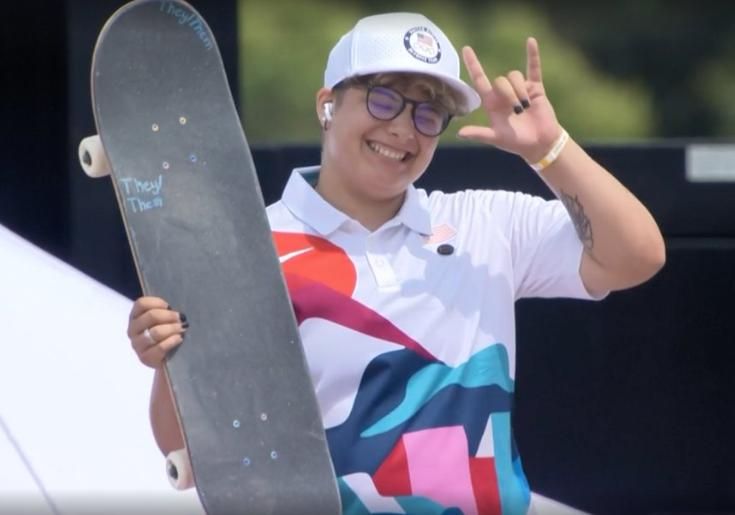 TOKYO – In a series of firsts for the Summer Olympic Games, Alana Smith left the Tokyo games with a sense of accomplishment and a couple of firsts. The 20-year-old non-binary skateboarder competing in the debut of their sport noted on their Instagram account, "My goal coming into this was to be happy and be a visual representation for humans like me."
Smith wrote: 'What a wild f***ing ride…My goal coming into this was to be happy and be a visual representation for humans like me. For the first time in my entire life, Im proud of the person I've worked to become. I chose my happiness over medaling. Out of everything I've done, I wanted to walk out of this knowing I UNAPOLOGETICALLY was myself and was genuinely smiling.
The feeling in my heart says I did that. Last night I had a moment on the balcony, I'm not religious or have anyone/anything I talk to. Last night I thanked whoever it was out there that gave me the chance to not leave this world the night I laid in the middle of the road. I feel happy to be alive and feel like I'm meant to be here for possibly the first time in a extremely long time. On or off day, I walked out of this happy and alive… Thats all I have ever asked for.
Thank you to all the incredible humans that have supported me through so many waves of life. I can't wait to skate for the love of it again, not only for a contest. Which is wild considering a contest helped me find my love for it again. 💛🤍💜🖤"
Smith's Olympic debut was slightly marred by their being misgendered during news coverage of their events by BBC commentators misgendering Smith discussing their performance, which led to protests from LGBTQ+ groups and allies including British LGBTQ+ advocacy group Stonewall UK.
Alana Smith (they/them), American pro-skater in the #Tokyo2020 Olympics has been repeatedly misgendered by journalists. We hope there will be swift corrections. All athletes deserve to be respected & celebrated as part of the games.#OlympicsForAll https://t.co/EO1JiHZOgT 💛🤍💜🖤

— Stonewall (@stonewalluk) July 27, 2021
During the competition, Smith proudly held up their skateboard, which featured their pronouns they/them written across the top. The misgendering was addressed by NBC Sports which issued an apology Tuesday for streaming coverage that misgendered Smith.
"NBC Sports is committed to—and understands the importance of—using correct pronouns for everyone across our platforms," the network said. "While our commentators used the correct pronouns in our coverage, we streamed an international feed that was not produced by NBCUniversal which misgendered Olympian Alana Smith. We regret this error and apologize to Alana and our viewers."
Alana Smith slaps, and I gotta say it was so incredibly cool to see someone so much like me thriving and expressing so much joy at the Olympics. pic.twitter.com/tA9bWWDcj4

— Mel Woods 🌾🌈 (@intothemelwoods) July 26, 2021
NBC also reported that this is the first Olympics in history that has featured skateboarding, with 16 athletes traveling to Tokyo to represent the United States. Smith qualified for the third Olympic spot in the women's street category after competing at the World Skate World Championships in 2019, according to Dew Tour, which hosts international skateboarding competitions.
According to Outsports, the online LGBTQ+ Sports magazine and NBC Sports, Smith is one of more than 160 openly LGBTQ athletes competing at this year's Tokyo Olympics and one of at least three openly nonbinary or Trans athletes.
Quinn, a midfielder for the Canadian women's soccer team who goes by only their first name, is the first openly Trans athlete and nonbinary athlete to compete in the games. Laurel Hubbard, a Trans woman from New Zealand will compete in the super heavyweight 87 kilogram-plus (192 pound-plus) weightlifting category on August 2.
Canadian soccer player first out Trans and non binary Olympian
I feel proud seeing `Quinn' on the lineup- I feel sad knowing there were Olympians before me unable to live their truth because of this world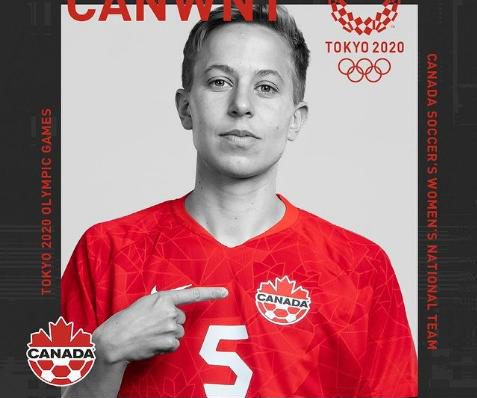 TOKYO – The Canadian professional soccer player, a midfielder for OL Reign and the Canada women's national soccer team, made history this week as the first openly transgender and non-binary athlete to participate in the Olympic games when they started Wednesday night in a 1-1 draw match in Sapporo between Canada and opposing the team Japan.
"I feel proud seeing `Quinn' up on the lineup and on my accreditation. I feel sad knowing there were Olympians before me unable to live their truth because of this world," they wrote on Instagram. "I feel optimistic for change. Change in legislature, Changes in rules, structures, and mindsets."
Quinn, who came out as trans in 2020, was also a member of the Canadian team that won the bronze medal at the 2016 Olympics held in Rio de Janeiro, Brazil.
"Mostly, I feel aware of the realities," Quinn continued. "Trans girls being banned from sports. Trans women facing discrimination and bias while trying to pursue their Olympic dreams. The fight isn't close to over […] and I'll celebrate when we're all here."
ABC News Sports reported that the International Olympic Committee has allowed transgender athletes to participate at the Olympics since 2004, but until this year, none had done so openly. In addition to Quinn, Hubbard and Wolfe, some transgender athletes are competing without discussing their transition. Some have been outed and harassed online by people who oppose transgender athletes competing.
The current rules specify certain conditions for transgender women to compete in women's sports. Among them, athletes must demonstrate lower testosterone levels for 12 months before competing, and athletes can only qualify four years after transitioning, at the earliest.
Quinn is not the only transgender athlete participating in this year's summer Olympic Games in Japan. Laurel Hubbard, a trans woman from New Zealand competing in weightlifting for the Kiwi team and Team USA women's BMX freestyle team has a trans BMX racer, Chelsea Wolfe, holding down a reserve spot on the team.