March 6, 2020 at 10:04 pm EST | by Kevin Majoros
Game Changers: D.C. Gaymers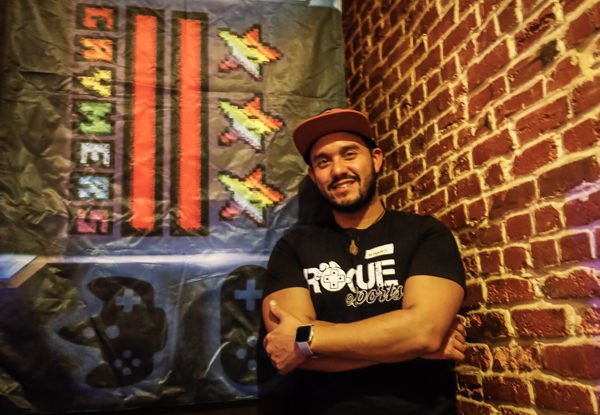 The LGBTQ gaming community in Washington has grown to a point where the need arose to distinguish between casual gamers and hardcore gamers.
This week in the Blade's Game Changers series, we meet the leader of D.C. Gaymers and the newly minted Rogue eSports.
D.C. Gaymers began as a Meetup group back in 2016 and they were meeting every three months at someone's house to play video games.
Miguel Miranda took over their leadership in 2017 and moved the group to Cobalt where he created an LGBTQ-focused gaming venture that met once a month on Tuesday nights.
Their numbers grew quickly to 80 people and they switched to a biweekly schedule to accommodate the growing interest. They began offering more events and systems including PlayStation, Wii, GameCube, Xbox, handheld games on iPads, board games and card games.
"Gamers are self-labeled as introverts, people who avoid crowds and people who stay behind the scenes," Miranda says. "Over time I discovered that there are a lot of gamers who share my desire to make real-life connections and friendships."
Miranda was born in the Dominican Republic and grew up in Providence, R.I. He received his environmental engineering degrees from University of New Hampshire and Virginia Tech. He followed his husband Oscar to the D.C. area and is employed as an engineer at a wastewater treatment plant.
"I grew up in a very religious household and video games were an escape from reality for me. I was my happiest when I was behind the screen," Miranda says. "I get a different enjoyment from them now because I have recognized that there is a need for this gaming community. My husband isn't a gamer, but he supports my addiction."
Miranda says many players have told him they feel nervous telling other adults they're gamers because there's still a stigma that gaming isn't socially acceptable for adults.
"People want a safe space where they can be nerds and be themselves," Miranda says. "It's been rewarding to watch people step in as greeters, come out of their shells and connect to other like-minded individuals. It can often be one step at a time."
Miranda noticed that the hardcore gamers weren't coming as often to the casual Tuesday game nights. To keep them engaged, D.C. Gaymers introduced Super Smash Bros. and Mario Bros. on Saturdays once a month.
"Two different personalities emerged — casual and competitive," Miranda says. "With the closing of Cobalt, we moved over to Uproar in February and decided to create a second group."
Rogue eSports will launch March 17 as a 10-week competitive league that plays bi-weekly on Tuesday nights at Uproar. Their list of games include Overwatch, Super Smash Bros., Hearthstone and Mortal Kombat.
As this new venture plays out for local LGBTQ gamers, Miranda already has an eye on reaching another part of the community. He has doing outreach at events such as Awesome Con, MAGFest and Blerdcon and can visualize another direction.
"I eventually want to find a space for LGBTQ gamers who are under 21. Gaming can be a powerful tool for teenagers coping with hardships," Miranda says. "I am hoping to build a community where young gamers can feel safe and make human connections."