December 3, 2019 at 7:25 pm EST | by Peter Rosenstein
Even a flawed Democrat is better than Trump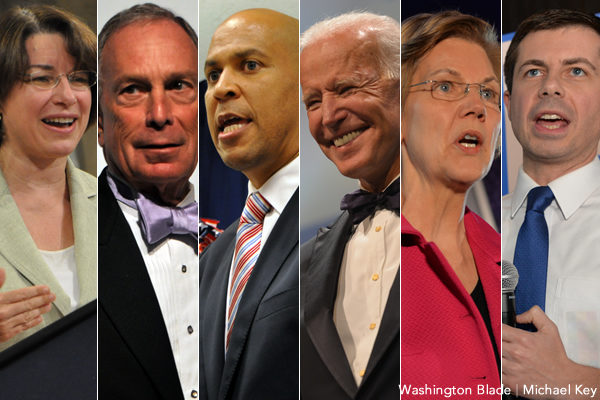 I have lost count of how many candidates are still in the Democratic primary with some dropping out and others dropping in. They are all different but all have one thing in common: each is far better and more qualified to be president than Donald J. Trump. No candidate is perfect but then neither is any voter.
We are only two months from the Iowa caucuses when voters will finally get their chance to chime in about what they think. Until now it has been a game of polling and the media seeming to decide whom they think is best. I have been a little disappointed in some of the mainstream media reporting on this race. It seems they are lemmings; if we see a story in one outlet we are sure to see the same story in all of them and usually without any original reporting. Yes they report on the ups and downs of the polls, and they try to tell us why that person is in the lead. It seems political reporting in the print media has often become more like opinion pieces than real journalism and that's sad.
Now I am an opinion writer, a columnist. I try to adhere to what I see as the truth but what I write is clearly my opinion. That is not what reporters should be doing. We see headlines claiming one or the other candidate is failing and people are no longer interested in them and we read the column and that reporter has gone to one event and spoken to three people. We read columns from a reporter who has gone to an event in Iowa for a candidate where 100 people attended and they end up quoting two people they talked to who didn't even go. I may just be nostalgic but in the past that wasn't the case.
The press recently seemed to dismiss Sen. Kamala Harris's campaign citing an employee who wrote a letter saying they were terrible to staff. I remember the original attacks on Sen. Amy Klobuchar about dealing with her staff long since forgotten. They are now writing about how smart Mayor Pete Buttigieg is but forgetting to mention Sen. Cory Booker has the same credentials. Some had close to written Joe Biden off because of his flubs and suggested Sen. Elizabeth Warren is the odds on favorite only to see that dynamic turn around again. Many wrote off Sen. Bernie Sanders after his heart attack and yet he just doesn't seem to fade away. The dynamic keeps changing and now three candidates who initially said they weren't going to run — Tom Steyer, Deval Patrick and Michael Bloomberg — have entered the race. Bloomberg announced he is willing to spend $1 billion. Someone suggested he spent about $100 million to buy his third term as mayor of New York and figured at that rate to buy the presidency he would have to spend at least $12 billion. Some thought that was a joke but who knows?
So we will know soon who Democrats will vote for when they actually attend a caucus or go to the ballot box. Let's hope political reporters will be more open to the broad spectrum of candidates and not try to shut things down as they have seemed to try to do.
It will also be important for Democrats to stop charging someone who disagrees with their candidate's positions of using 'Republican talking points.' The Democratic Party has worked for many years to make sure the party is a big tent, welcoming to everyone, which results in strong opinions and often strong disagreements. It also means there is great agreement on a host of issues. As we continue to fight out the primary let us try to focus a little more on the agreements. It will be hard enough without the rancor for all the candidates and their passionate supporters to figure out how to unite after all the strum and drang of the long primary season.
Democrats will first have to agree, which shouldn't be hard, that all of their candidates are better by far than Trump. They are all decent human beings and the world will be better off with them than with Trump and his acolytes. The country will be better off with judges nominated by a Democratic president and confirmed by a Democratic Senate. To ensure that happens Democrats will have to put their hearts and souls into supporting whoever is the nominee. 
Peter Rosenstein is a longtime LGBT rights and Democratic Party activist. He writes regularly for the Blade.