December 5, 2019 at 10:26 am EST | by Joey DiGuglielmo
QUEERY: Darryl Pilate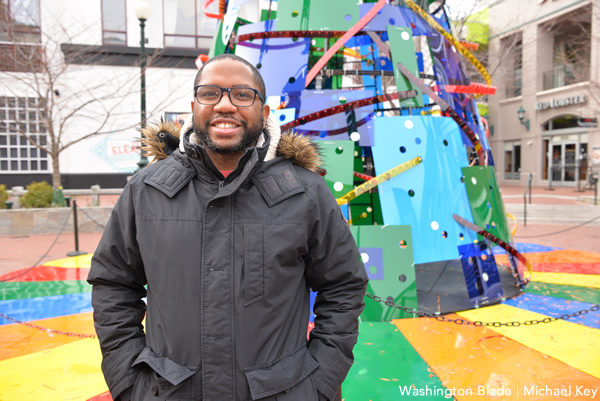 Darryl Pilate just joined 17th Street Dance, the dance ensemble under the Gay Men's Chorus of Washington umbrella, this fall and is gearing up for his first GMCW holiday show.
He studied dance (modern, ballet, jazz and hip-hop) at Texas State University and now teaches high school dance in Maryland. He heard about the troupe from Aaron Jackson, another dancer. This will be Pilate's first performance with the group.
"The choreography is fun and high energy," the 36-year-old Houston native says. "Each dancer adds their own flair and attitude in the movement. We perform several genres of dance during the concert."
"The Holiday Show," a GMCW December tradition, is Dec. 7 at 8 p.m., Dec. 13 at 3 and 8 p.m. and Dec. 15 at 3 p.m. at Lincoln Theatre (1215 u St., N.W.). Tickets are $25-65 at gmcw.org.
This year's show is being billed as "bigger and better than ever" with disco dancers, muscle boys, candlelight procession, handbells, snow, singing, Santa, a seven-foot-tall Christmas tree in heels and more. Songs include "The 12 Days of Christmas," "It's the Most Wonderful Time of the Year," "O Come All Ye Faithful," "What a Gay Ol' Christmas Tree" and more.
The dancers have been rehearsing every Sunday since Labor Day. Pilate says the veteran dancers have been "very welcoming." He's heard the chorus rehearse as well and says they "sound amazing as always."
Pilate came to Washington two years ago. He lives in Northeast Washington and enjoys karaoke, flag football, darts, concerts, movies, dancing and more in his free time.
How long have you been out and who was the hardest person to tell?
I have been out since 1999 to most importantly, myself. The hardest person to tell was my mother, whom I did not come out to until 2009.
Who's your LGBTQ hero?
My cousin Jamal. He came out to our entire family back in the mid-'90s and was completely unapologetic about it. I admired and envied his courage.
What LGBTQ stereotype most annoys you?
Any LGBTQ stereotype annoys me. Not one of us fits into a box or category based on our sexuality.
What's your proudest professional achievement?
As a high school dance teacher, I am proud of the many students who share my love of dance becoming performers, educators and choreographers. Additionally, I am proud of the ones who become good people.
What terrifies you?
November 2020. Vote!
What's something trashy or vapid you love?
Kanye West
What's your greatest domestic skill?
I can properly fold a fitted bedsheet! (I worked in home fashions at Sears in high school.)
What's your favorite LGBTQ movie or show?
I cannot finish an episode of the new "Queer Eye" without crying. #jvn
What's your social media pet peeve?
My biggest social media pet peeve is there are too many social media outlets. It's difficult to update my Facebook, Twitter, Instagram and Snapchat. I know, first-world problems!
What would the end of the LGBTQ movement look like to you?
Sadly, I cannot imagine what the end of the LGBTQ movement would look like because I cannot imagine a world without hate or discrimination. Fortunately, we will continue to fight for our rights!
What's the most overrated social custom?
Gender roles
What was your religion, if any, as a child and what is it today?
As a child, I grew up Baptist. Today, I consider myself spiritual but do not align with any one particular religion.
What's D.C.'s best hidden gem?
Gay Men's Chorus of Washington
What's been the most memorable pop culture moment of your lifetime?
The creation of YouTube and Vine — hands down.
What celebrity death hit you hardest?
She is not dead yet (thank goodness), but my heart skips a beat when people falsely report Betty White is dead.
If you could redo one moment from your past, what would it be?
I would redo the first time I kissed a guy back in high school.
What are your obsessions?
"The Crown" on Netflix. My Wikipedia search history has been Queen Elizabeth II and her relatives for the last week.
Finish this sentence — It's about damn time:
I have been waiting for 2020 since November 2016. It is finally here! VOTE!
What do you wish you'd known at 18?
I wish I had known life gets better and better the older you get. I think I would have had more fun and taken more risks in my younger days.
Why Washington?
I used to write about one day living outside of Texas as a young boy. As a high school student, I applied to Howard University, but chose to stay local for college. I enjoy D.C.'s culture and arts, its diversity and progressiveness and the many people here I call friends.