December 13, 2019 at 8:31 pm EST | by Brian T. Carney
Dolly tugs at gay 'Heartstrings' in new Netflix series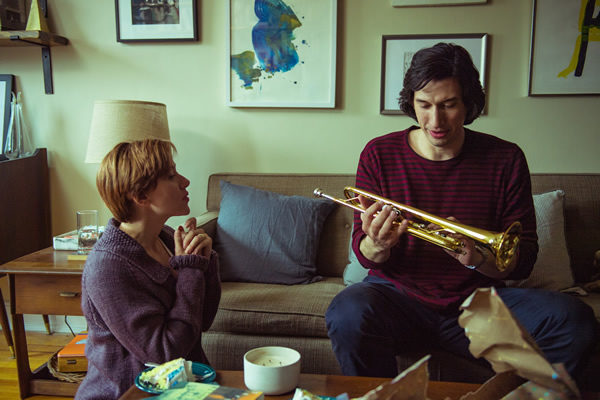 When it comes to diversity in general, and LGBT representation in particular, two recent debuts on Netflix show how to get the job done right.
Written and directed by Noah Baumbach, the gripping "Marriage Story" centers on the divorce of Charlie (Adam Driver) and Nicole (Scarlet Johansson), a power couple in the New York theater scene with an 8-year old son (Azhy Robertson). He's a famous director and she's his leading lady, but she's been offered the chance to star in a television show in Los Angeles. Her imminent departure forces them to realize that their marriage is over, but they decide to divorce amicably and minimize the involvement of lawyers.
Things change when Nicole gets to L.A. and is advised to retain the services of Nora Fanshaw (Laura Dern), forcing Charlie to hire his own lawyer (first Jay Marotta played by Ray Liotta, then Bert Spitz played by Alan Alda, then Marotta/Liotta again). The legal and emotional stakes continue to rise until the divorce papers are finally signed.
Baumbach is remarkably even-handed in depicting both spouses and all their strengths and weaknesses. In fact, the movie starts out with Nicole and Charlie reading from essays praising each other (it's an exercise from their soon-to-be-fired mediator). It's a remarkably effective technique; instead of rooting for one spouse over the other, the audience is encouraged to focus on the breakup of a once promising marriage and its toll on the extended family.
Baumbach also creates a wonderfully diverse cinematic world. While most of the principal characters are white and (apparently) straight, Baumbach fills the screen with a rich kaleidoscope of people. Veteran film and stage actor Wallace Shawn, who plays one of the actors in Charlie's theater company, gleefully underscores this theme when he advises the separated Charlie to "fuck as many people as you can." He makes it clear that he means both men and women and it's a delightful and powerful way for Baumbach to open up the world of his film.
Netflix's commitment to diversity is also proudly on display in the new eight-episode series "Dolly Parton's Heartstrings." Each hour-long episode is inspired by one of Parton's hit songs, and the installments range from love stories and inspirational tales to family dramas, westerns and revenge comedies. Each chapter is introduced by the long-term ally for LGBT rights who sings the title song and often appears as a character in the narrative. The uplifting stories bear a family resemblance to the formulaic Hallmark Christmas movies, but they're marked by a deep commitment to inclusion and representations.
Take for example, the funny and moving "Two Doors Down" episode. From her Dollywood theme park, Parton tells the story of how she wrote the song and encourages viewers to "accept the love of the people around you" and says that "what it all comes down to is love is love."
The action then shifts to a small Southern town. The Meegers clan is gathering for a wedding, but as the family matriarch (the wonderful Melissa Leo) ruefully observes, "It certainly is raining surprises tonight." By the end of the nuptial weekend, things will be very different for the wedding party, including the uptight mama, the bride with dreams of becoming an actor (Katie Stevens), her closeted brother and his boyfriend (Andy Mientus and Michael J. Willett), the stoic family patriarch (Ray McKinnon) and cousin Ren (Aidan Langford), a non-binary teen who is one of the "bridesmates."
Other episodes include a lively variety of LGBT themes and assorted actors. Tammy Lynn Michaels plays a lesbian entrepreneur who is reunited with her high-school friends in "Cracker Jack;" Kathleen Turner plays a mysterious mountain woman in "These Old Bones;" Julianne Hough offers a fine breakout performance as the misunderstood country singer "Jolene;" and Delta Burke makes a stirring comeback of sorts in "If I Had Wings."
These surprisingly progressive and thoroughly heart-warming stories may be a perfect way to spend time with your family, whether biological or "logical," this holiday season.